Water sports in Malta are a thrilling way to explore the island. With its clear blue waters, Malta invites everyone from beginners to experts to dive into activities like snorkelling, kayaking, scuba diving, and parasailing. This guide will highlight the top water activities, the best places to experience them, and some beginner-friendly tips.
Why Choose Malta for Your Next Water Sports Vacation?
Diverse water activities: From scuba diving to parasailing, Malta offers a wide array of water sports.
Excellent visibility and conditions: Clear waters and favourable weather make Malta suitable for various water activities.
Accessibility: Malta makes water sports easy for everyone, no matter your skill level. And since Malta is a small island, you can quickly move from one spot to another to try different activities.
Warm water all year round: Malta's seas stay warm, even during winter. In summer, the water can get up to 30C, and it cools down to 16C in winter. So all you need is a wetsuit and you will stay comfortable.
Water Sports in Malta: Scuba Diving
Scuba diving is the top activity in Malta. Seaside towns have many professional diving centres. Even if you're a beginner, these experts will ensure you're safe and comfortable.
Malta is a top spot for scuba diving because of its clear waters, shipwrecks, caves, and reefs. While diving, you can spot fish like groupers, amberjacks, breams, and octopi. You might also see flying fish, gurnards, and colourful parrot fish. Keep an eye out for moray eels and stingrays on the sandy sea floor.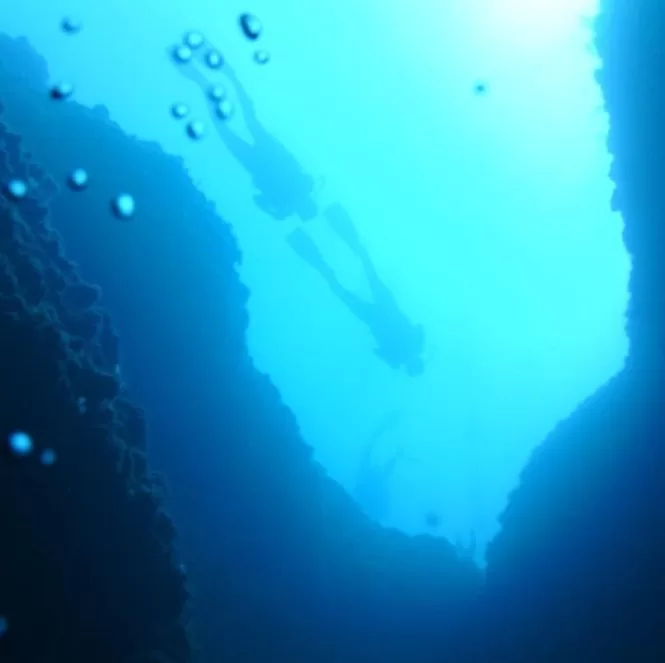 What's So Special About Scuba Diving in Malta?
Visibility: In Malta, scuba divers can see clearly up to 40-50 meters, even when diving at 30 meters depth. Malta is a top diving destination.
Marine life: Malta's waters are filled with creatures like octopuses, moray eels, groupers, and snappers, showcasing its diverse sea life.
Underwater wonders: Malta's seas have amazing caves and cool rock shapes, making every dive an exciting adventure.
Dive site options: Malta, Gozo, and Comino have over 100 dive spots. Many are right by the shore, and others are a quick boat ride away, close to the coastline.
Best diving sites: Cirkewwa Wrecks, Blue Grotto, Blue Hole and the Inland Sea.
Experience required: You need an Advanced Open Water Licence to dive into most sites because they are typically 20-30 meters deep.
Beginner's guide: New to scuba diving? Malta is the most ideal place to begin! Every dive centre here offers test dives and courses for beginners, ensuring you feel comfortable and safe underwater.
These courses teach everything from using equipment to finding your way underwater. Thinking about diving for the first time? Check out this one-day course. It's an excellent way to feel confident and enjoy your first dive safely.
Water Sports in Malta: Snorkelling
Snorkelling in Malta is awesome because of its clear waters. You can see rock formations, caves, and sea creatures like seabass, sea urchins, and moray eels. If you're lucky, you might even see an octopus.
Malta's best snorkelling spots are rocky beaches. Small sandy beaches are great too but swim along the rocky shores to find more marine life. There is one exception though, in Ghajn Tuffieha and Golden Bay you can see stingrays or flying fish on the sandy bottom. Swim farther out, about 3-4 meters deep. I always spot them, so you will too.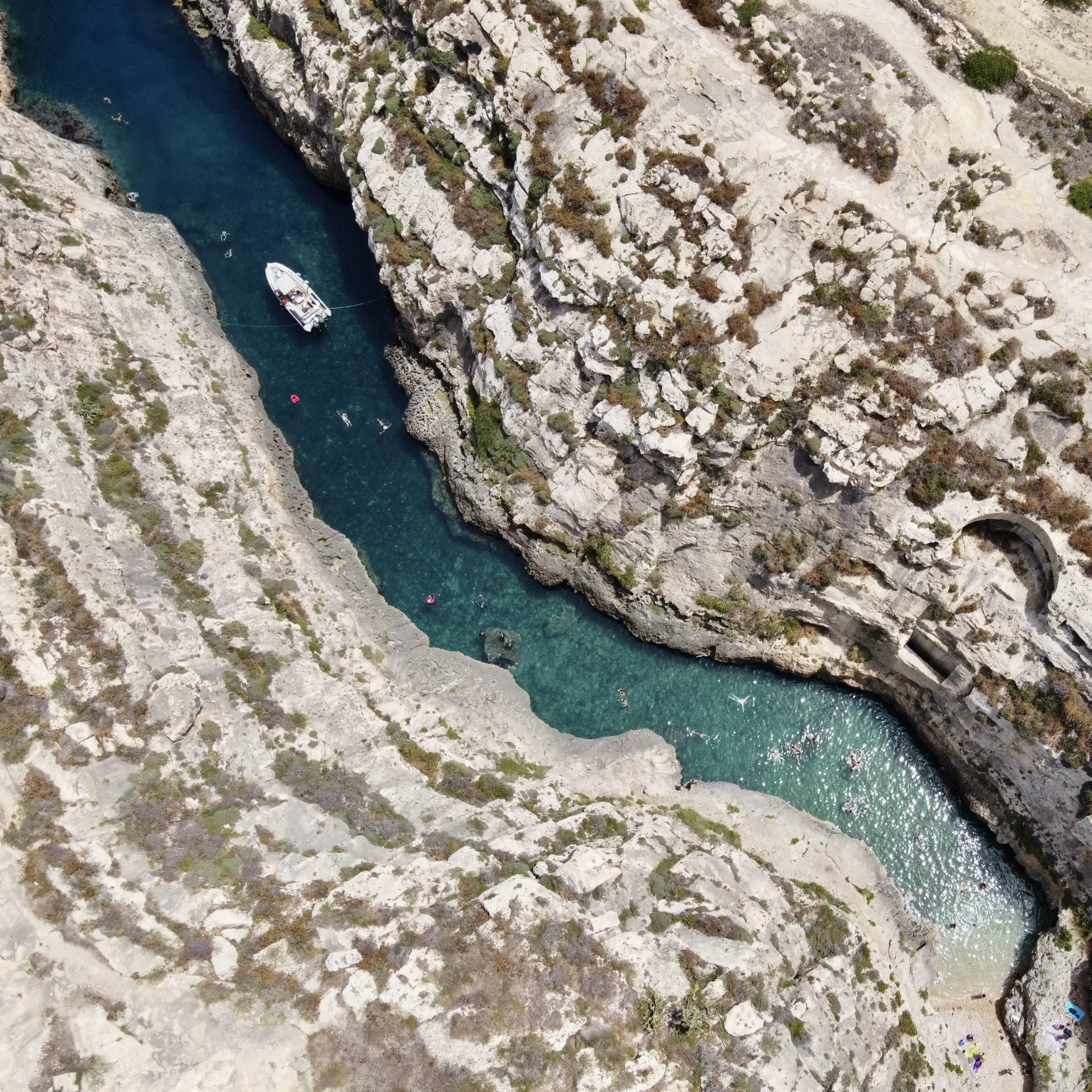 What's So Special About Snorkelling in Malta?
Visibility: Malta's waters are super clear, making it one of the finest places for underwater views. There's not much current or tide, so it's calm. Plus, bright sunlight makes underwater photos look amazing.
Rich marine life: Malta's waters are full of colourful fish, crabs, and octopuses.
Suitable for all levels: Snorkelling in Malta feels like being in a calm pool. There are gentle currents and hardly any tides, so it's great for everyone, from beginners to experts.
Best locations: Malta has many great snorkelling spots. If you're a newbie, try sandy beaches like Ghajn Tuffieha, Imgiebah Beach, Paradise Beach, or Golden Bay. They have calm waters, and if you swim near the rocks, you'll see lots of sea creatures. For those with experience and comfortable with depth, Wied il-Ghasri, Blue Grotto and Comino's Blue Lagoon provide more challenging and rewarding snorkelling experiences.
Tips for beginners: If you're just starting out, stick to shallow spots. Always use a buoy when outside swimming areas to be seen by boats – safety first! Wearing fins helps you swim easier and saves energy. You can buy gear at local dive shops.
Water Sports in Malta: Paddle Boarding
Paddle boarding in Malta lets you see the island's waters in a new way. Imagine standing on a board, floating over crystal-clear waters. Even though it seems tough, it's easier than it looks. Just give it a few minutes, and you'll get the hang of it.
What's So Special About Paddle Boarding in Malta?
Amazing sights: On your paddle board, you get a unique view of Malta's scenic coast. It's especially magical in the early morning or as the sun sets.
Peaceful and relaxing: Paddle boarding lets you enjoy the quiet sea. Feel the gentle rhythm of the waves and the warm breeze as you paddle along.
Discover secret spots: With a paddle board, you can reach Malta's tucked-away coves and hidden beaches, giving you an unforgettable adventure off the beaten path.
Places where you can rent a paddle board: Head to Ghadira, Golden Bay, Ghajn Tuffieha, or St Thomas Bay. These spots have rental shops and are beginner-friendly with their shallow waters. For a truly memorable experience, consider joining a guided tour to explore the Blue Grotto caves on a paddle board or try SUP yoga.
Beginner's tip: If you're a beginner, choose sheltered bays with calm waters. This helps you learn to paddle and balance easier and safely.
Water Sports in Malta: Kayaking
Kayaking in Malta provides a special way to explore the island's beautiful waters. Imagine paddling through clear seas, with views of Malta's historic sites and natural beauty. It's more than just paddling; it's a true adventure. Plus, you can kayak in Malta at any time of the year, thanks to its mild winters and sunny summers.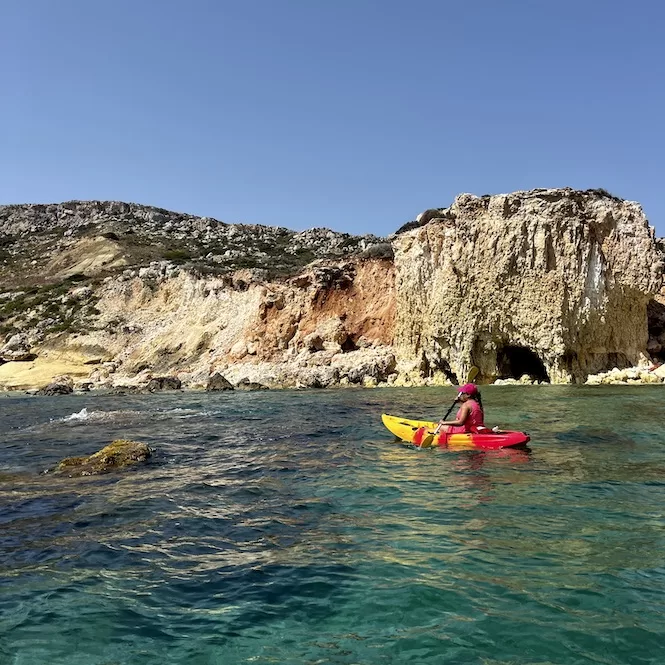 What's So Special About Kayaking in Malta?
Diverse landscapes: Malta's coastline is varied, offering kayakers the chance to discover hidden coves, paddle alongside dramatic cliffs, and explore sea caves.
History from the water: See ancient forts and sail through old harbours that echo Malta's 7,000-year story.
Beaches where you can rent a kayak: Head to locations like Ghadira, Golden Bay, Ghajn Tuffieha, Paradise Bay or St Thomas Bay. In Gozo you can rent a kayak at Xlendi, Ramla or Mgarr Ix-Xini. For those seeking a guided experience, there are tours available from Gozo to Comino Blue Lagoon (book here) and St Thomas Bay (book here).
Beginner's tip: If you're kayaking for the first time, choose calm bays to start. Listen to the safety instructions from the rental shop, always wear a lifejacket, and consider teaming up in a two-person kayak with someone experienced. It's safer and more fun.
Water Sports in Malta: Parasailing
Parasailing in Malta offers an unparalleled opportunity to soar above the island's crystal-clear waters and capture breathtaking views of its historic coastline and vibrant bays. The island's consistent weather conditions and scenic beauty make it an ideal destination for this aerial adventure.
What's So Special About Parasailing in Malta?
Bird's eye views: Parasailing offers unparalleled views of Malta from 550 feet. It's like seeing a live map unfold beneath you.
Thrilling adventure: Feel the adrenaline rush as you soar high above the sea.
Parasailing Locations: Try parasailing in Comino or St. Julians. At these spots, experienced operators guide you on an unforgettable flight. You can even enjoy this activity with friends or family, with group flights accommodating 2, 3, or 4 people, based on safety and weather considerations. To book your parasailing adventure in St. Julians, click here.
Beginner's tip: Safety first! Always listen to the instructor and captain's guidelines. While the thrill is undeniable, the captain makes the final call on all flights. If the weather conditions aren't ideal, be prepared for rescheduling. Remember, it's all about enjoying the experience while staying safe.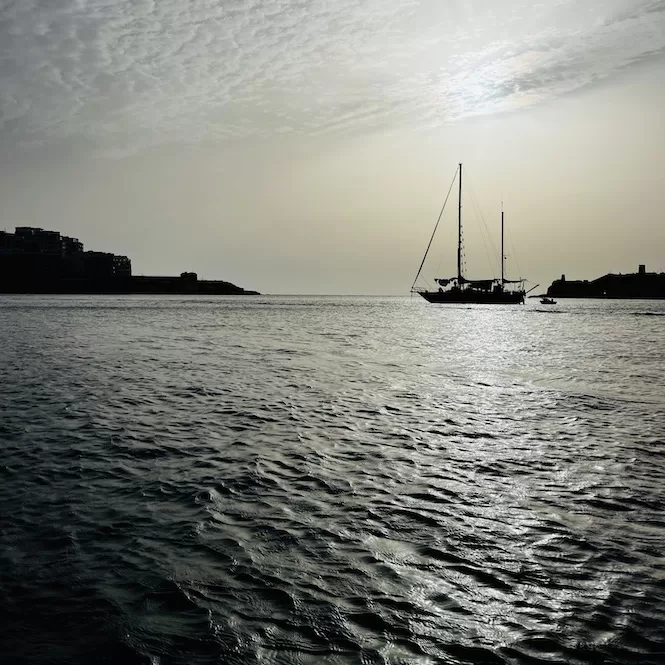 Malta has lots of fun water sports to try, but that's just the start! This island has cool places and stories to share. Check out our other guides to see beautiful beaches, take a boat trip or walk around old parts of Valletta, learn about the Three Cities, and visit the old town of Mdina. Also, don't miss the nearby islands of Gozo and Comino. They have their own special things to see and do. Malta has so much to explore, whether you're in the water or on land.