Gnejna Bay is an ideal beach for those seeking a quieter beach experience away from tourist hotspots. It has a more local feel and attracts fewer crowds. Having lived in Malta for years, I'm excited to offer some insider tips for your Gnejna Bay visit.
My Top Reasons to Visit Gnejna Bay
This is why Gnenja Beach is great for soaking up the sun and having fun.
Less crowded: If you're looking for a less crowded beach than Golden Bay and Ghajn Tuffieha Bay, Gnenja Beach is the place for you.
Convenient: A nearby car park makes it easy to bring all your beach essentials, whether it's a tent for shade, toys for the kids, or a barbecue for a delicious seaside cookout. No need to haul everything a mile away!
Natural surroundings: Gnenja Beach is surrounded by beautiful natural scenery. There are cliffs, green hills and turquoise waters, a background for beautiful photos.
Family-friendly: Gnejna Beach has shallow water perfect for kids to splash around in. They can also build sandcastles or enjoy the gentle waves. Also, nearby parking makes it easy to bring toys and other beach necessities.
What Might Make You Not Like Gnejna Bay?
Gnenja Beach might not be the most suitable choice if you want an unspoiled beach getaway. There is a large car park right next to the sand, which is convenient for some. Those seeking untouched, pristine beaches may be disappointed, though.
Another thing to remember is that Gnenja Beach lacks fancy restaurants or eateries. Instead, there are a few kiosks where you can grab a beer or ice cream.
Moreover, Gnenja Beach is quite popular with families, especially with young children. Children having fun is fantastic, but it also means there will be plenty of excited screams and laughter echoing around. So, if you'd rather be in a tranquil environment, you might not enjoy children's joyful noises. Check out my guide to quieter Selmun Beach.
How to Get to Gnejna Bay
Gnejna Bay lies on Malta's northwest coast. It is one of three beaches separated by rocky hills – Golden Bay, Ghajn Tuffieha Bay, and Gnejna.
It's easiest to get there by car since the nearest bus stop is a mile away. I recommend renting a car at the airport and using it throughout your trip. Check out Discover Cars for cheap car rentals.
Buses can take you to Mgarr, but you must walk for 25 minutes to Gnejna Bay. A 30-40 minute hike along the coast will take you to Ghajn Tuffieha. You will see the stunning Malta coastline along the way. If it's not too hot, I highly recommend it. The hike from Ghajn Tuffieja to Gnejna is described here.
Travelling by car is easy! Gnejna Bay has a spacious car park for your convenience. Hop into your car and follow the signs to this small piece of paradise.
Getting There:
---
Location: link to Google Maps
Frequency of the buses: every 60 minutes or less
Parking available: car park near the beach
---
Gnejna Bay Nearby Attractions
Here are some amazing nearby attractions that will make your visit to Gnejna Bay even more memorable.
Clay Cliffs: On the right side of the beach there are clay cliffs, fascinating geological formations. Don't forget to bring your camera as the view from above is stunning! You can see Ta' Babu Cove, a rocky plate amidst a crystal-clear sea. You have to descend the clay cliffs to reach Ta' Babu Cove. Getting there may seem challenging, but with proper shoes and determination, you can achieve it. If you prefer, you can take a paddleboard or kayak for a more adventurous journey.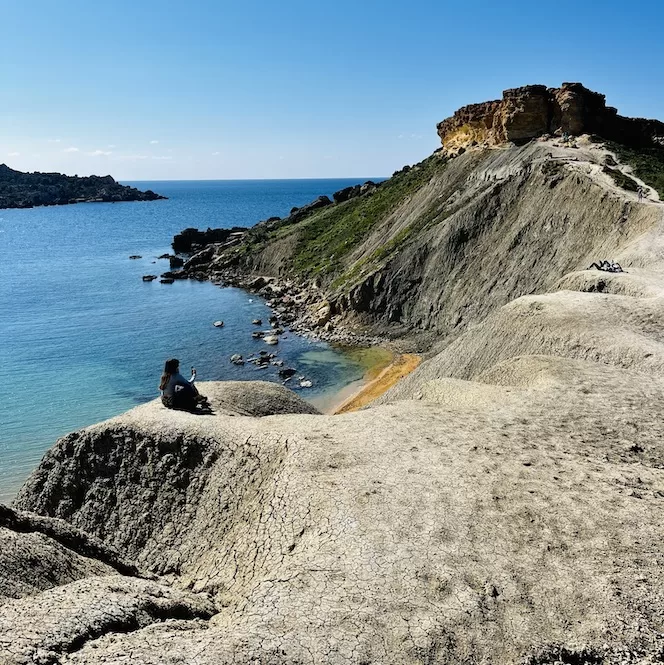 Ta Marija Cave: This cave is a true natural wonder near Gnejna Bay. Grab a kayak and embark on an extraordinary adventure to explore this stunning cave. You're in for an unforgettable experience.
Scenic hiking: You're in for a treat if you like hiking. The surrounding area offers beautiful paths and trails to explore. See one of Malta's most impressive coastlines on my hike from Ghajn Tuffieha to Gnejna Bay.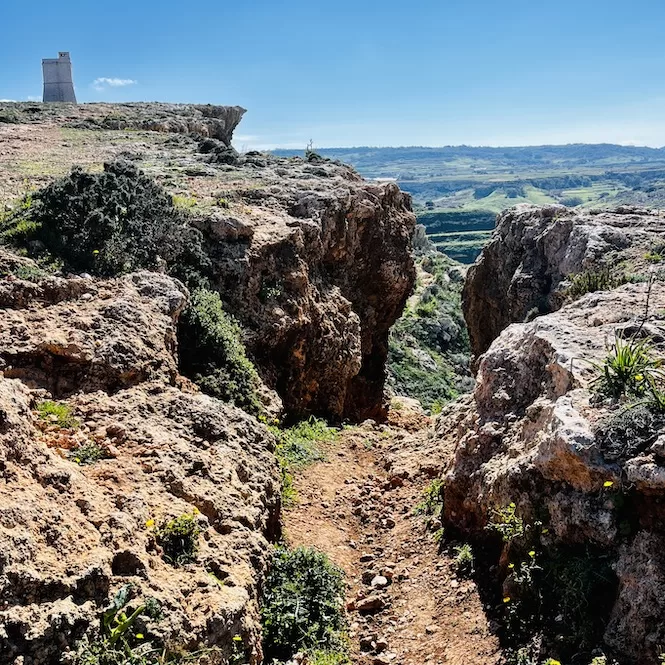 Lippija Tower: You will find the Lippija Tower to your right. This historical watchtower was built in 1637 by the Knights of St. John. Despite being on the verge of collapse in the early 2000s, the tower stands tall today, showing off its rich heritage. This is thanks to government restoration efforts.
Tips for a Great Experience
While Gnejna Bay is less crowded than other popular beaches, it still sees lots of beachgoers on weekends in summer. You can maximise beach bliss and minimise crowds by visiting during off-peak hours or on a weekday.
The facilities here may not be as extensive as at other beaches. There is a parking lot, public toilets, and kiosks that sell drinks and snacks to keep your energy levels high.
Gnejna Bay's sandy beach is generally safe for swimming, but keep an eye out for hidden rocks beneath the water's surface. Also, consult my jellyfish guide or other online resources before heading to the beach, to ensure that it is jellyfish-free.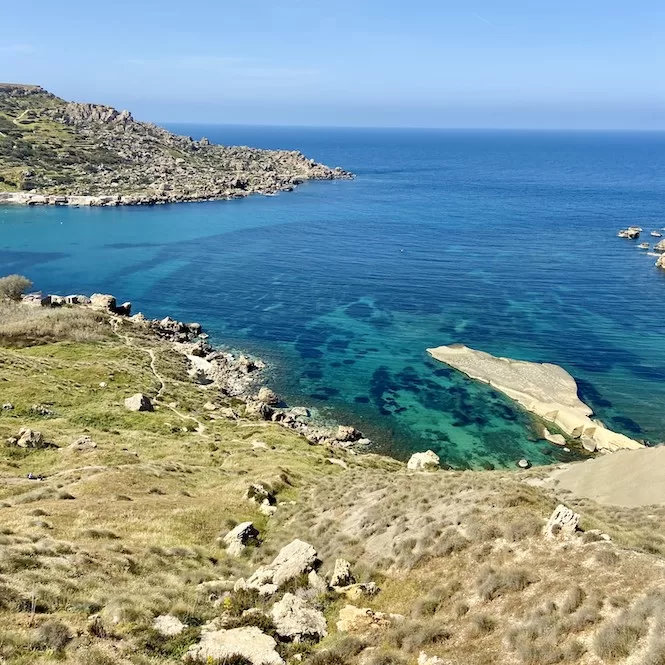 Gnejna Bay is an ideal destination for families with young children or people looking to get away from crowds. However, there is also something for the more adventurous visitors – you can hike or explore Ta Maria Cave by kayak.
But wait, the fun doesn't end at Gnejna Bay! Be sure to check out other Travel2Malta beach guides for hidden gems and sandy havens waiting to be discovered.