Are you interested in discovering Malta's coastline? Then you have to hike from Ghajn Tuffieha to Gnejna Bay! You will be mesmerized by this area and its colours. The surrounding landscape looks even more spectacular in winter, with lush green hills and blue skies. You'll find hidden beaches, secluded coves, and picturesque views that make you feel like you're on a postcard.
A Map of the Hike from Ghajn Tuffieha to Gnejna Bay
What to Know Before Starting the Hike
This hike is a few kilometres long. Yet it provides a fantastic opportunity to explore the Mediterranean coastline. The view is breathtaking.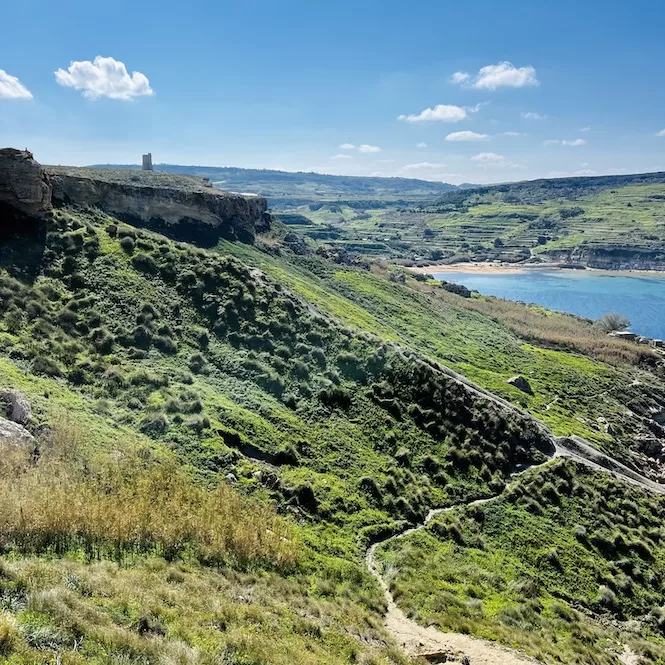 This coastline route is one of my favourite hikes. I have taken it many times and want to share my tips so you can make the most of your trekking experience. 
While the hike is short, it can be challenging. You must climb a few hills and navigate slippery rocks and loose gravel. It is crucial to wear proper shoes; flip-flops are not an option! 
Also, take plenty of water, sunscreen, and a hat to protect yourself from the sun. You can buy food at either end of the hike, but it's always wise to pack snacks. 
There are many options to get from Ghajn Tuffieha to Gnejna Bay. On the map, I marked my favourite path. It goes through the top part of the rocks to get the best views. However, there are also lower paths that cross the clay cliffs. Those paths are picturesque but slippery. I once walked there and ended up on the slippery clay. Moving up or down was scary. 
---
Distance: 3.95 km
Walking Time: 1 h 19 mins
Level: Intermediate
Uphill: 130 m
Downhill: 120 m
Highest Point: 80 m
The midday heat in June and September should be avoided.
---
Hike through Malta's Coastline: The Starting Point
Ghajn Tuffieha Beach, also known as Riviera, is a beautiful sandy beach. It has a long flight of stairs leading to the beach, so it doesn't get as busy as Golden Bay, a beach nearby.
It's a pretty beach with golden sand and crystal-clear water, perfect for swimming, snorkelling, relaxing on the beach, and of course, visiting it on a hike. If you're feeling adventurous, you can even learn paddle boarding or surfing.
Starting point of the hike is the car park of Riviera Beach.
Getting There:
---
Location: link to Google Maps
Nearest bus stop: Riviera
Walking distance from the bus stop: 50 meters
Frequency of the buses: every 30 minutes or less
Parking available: in the car park or along the road here
---
Do not walk down the stairs from the parking area. Instead, go up the small path. If you use the map above, you will easily find the path. It will take approximately five to ten minutes to reach the top of the hill. You will get a beautiful view of the Ghajn Tuffieha beach. This place is ideal for sunsets or picnics. There are some abandoned buildings nearby. I don't know what they used to be.
Beaches, il-Qarraba and Clay Cliffs
Shortly after, you'll walk downhill into a valley. There are trees around, and it's usually very green. I've seen people camping there a couple of times.
On your left, walk uphill until you reach a rocky plateau called Wardija Ridge. Turn right and walk to the cliff's edge. Both beaches are visible, as is the peninsula separating them. This peninsula is called il-Qarraba. It's possible to walk around it. And you can reach it from Ghajn Tuffieha.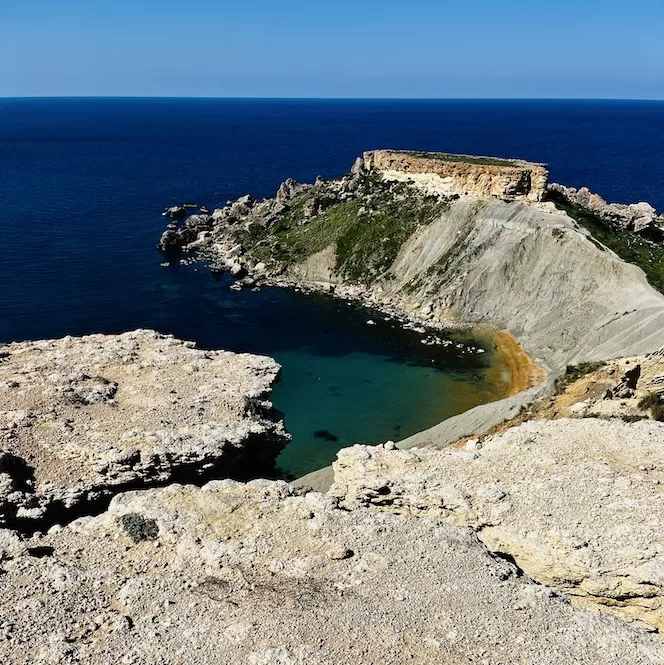 In addition, you'll see clay cliffs reaching 50 meters. I like the way they look – like a dried lake bottom. Also, the greenery and blue sky contrast nicely with the grey clay. 
There are lower paths visible too, and people might be walking there. It's okay there too, but on the clay cliffs, it might be slippery. Also, the cliffs are steep, so it's not for the faint-hearted.
Ta' Babu Cove along the Hike
From above, you can also see Ta' Babu Cove. It is a rocky plate in a crystal clear sea. I took some photos by drone there, and it looks incredible. How to get there? You have to go down the clay cliffs. It is challenging, but it is doable if you have good shoes. You can also swim there or use a paddleboard or kayak to reach it.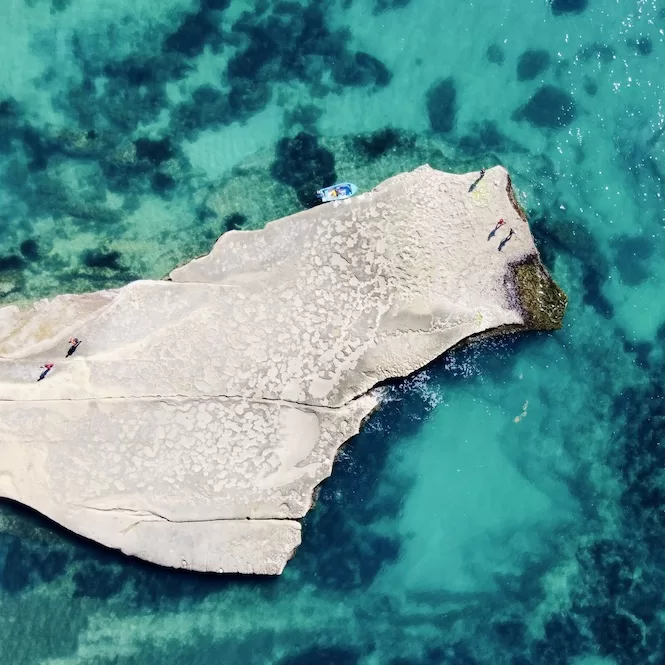 The greatest thing about this swimming area is that usually there is no one. So, it can be your private paradise. All you need is an umbrella because there is no shade.
Lippija Tower
The Lippija Tower will be visible to your left in the distance. It was built in 1637 by the Knights of St. John on the Wardija Ridge overlooking Gnejna Bay. In the early 2000s, the tower was danger of collapsing. However, in 2003, the government restored it.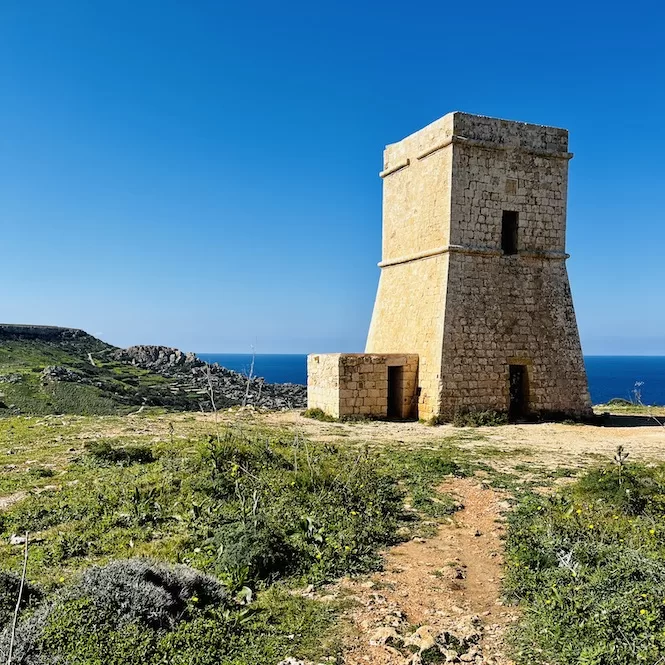 You will see a narrow path leading down from the cliff edge after passing through the tower. The map above can help you to find the exact location. It is difficult to descend from here because the path is sometimes unclear, and the rocks are unstable. Be extra careful and slow down. Go down and get on the road that leads to Gnejna Bay.
Gnejna Bay – Ideal Spot for a Break during Malta's Coastline Hike
Malta's Gnejna Bay is a quiet and natural beach. Since it isn't well-known to tourists, locals are more likely to visit it. It has old boathouses all around it. The water is clean, and the scenery is beautiful. Getting to it is convenient because of the large parking lot nearby.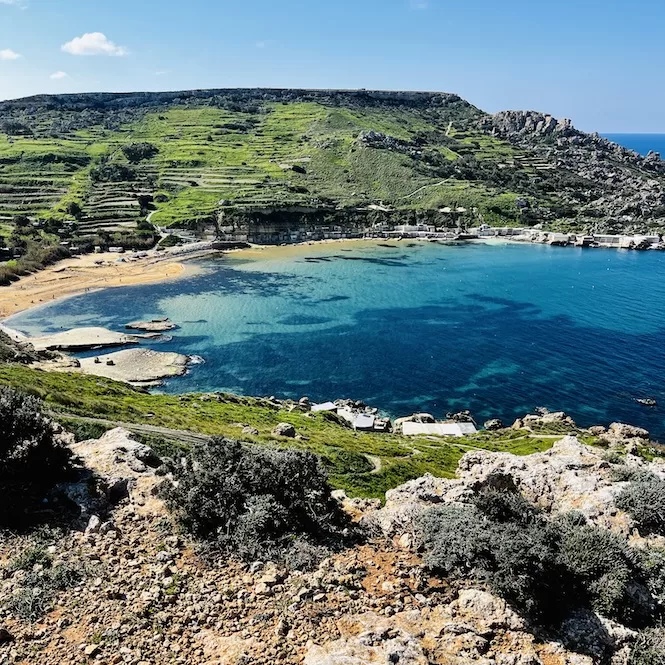 Gnejna Bay makes a great stop during the hike. There are food vans, so you can get some food and drink.
Returning to the Starting Point
Return to the road and climb up using the same route. You can take the same trail back or an alternative way. I chose the path on the left side of the Lippija tower (opposite side to going down). 
After passing Ta' Babu Cove, I stayed closer to the cliff edge and found a path that led down to the clay cliffs. I reached Ghajn Tuffieha beach directly from there. 
It's worth visiting Ghajn Tuffieha beach during your hike. I love taking off my shoes and walking in the water. Even in winter, it's not cold. The water rarely reaches below 14°C.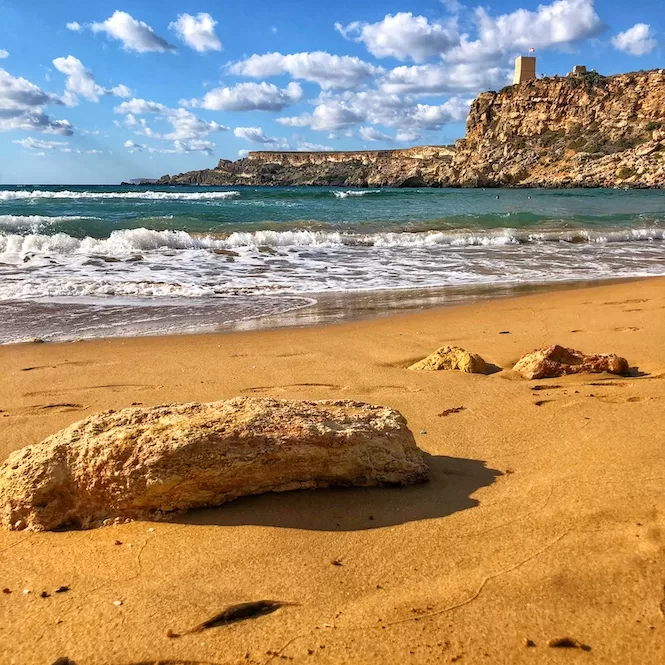 Hopefully, this trekking guide inspired you to take on an adventure. So, get your hiking shoes on and explore Malta's coastline.
Interested in more Malta trekking adventures? Check out my other blog posts: