The Fawwara hike is a fascinating trek in Malta near the Dingli cliffs. The area is untouched by development, making it a true gem. You'll see fantastic sea views, green fields, and the islet of Filfla. This hike of about 6.7 km long. On the way, you'll also see some little churches and iconic prehistoric sites.
Here's some info and a map about the hike.
---
Distance: 6,7 km
Walking Time: 3 h 20 mins
Level: Intermediate
Uphill: 120 m
Downhill: 110 m
Highest Point: 230 m
The best time to go: anytime, but try to avoid the midday heat from June to September.
---
Fawwara Hike Map
The Beginning of the Fawwara Hike: St Mary Magdalene Church
The hike starts at St Mary Magdalene Chapel, a Roman Catholic church dedicated to Mary Magdalene. It is also known as the Chapel of the Cliffs because of its spectacular view of the Dingli Cliffs.
No one knows precisely when the chapel was built. It was first mentioned in 1446. Local farmers used to go to this chapel, but it fell apart by 1575 and eventually collapsed. In the seventeenth century, it was rebuilt.
Getting There:
You can reach St Mary Magdalene Chapel by bus or car. Look for direct buses from Valletta or take the Rabat bus and change there. See this website for schedules and routes.
It's faster and easier to drive. Below is the exact location and parking lot.
Generally, it takes a long time to get around on public transportation in Malta, especially if you want to visit natural parks. So I recommend renting a car. Try Discover Cars.
---
Location: link to Google Maps
Nearest bus stop: Maddalena. There is a bus 201 that connects the airport with Zurriew, Rabat, and Dingli.
Frequency of the buses: every hour
Parking available: Along the road, there is plenty of parking
---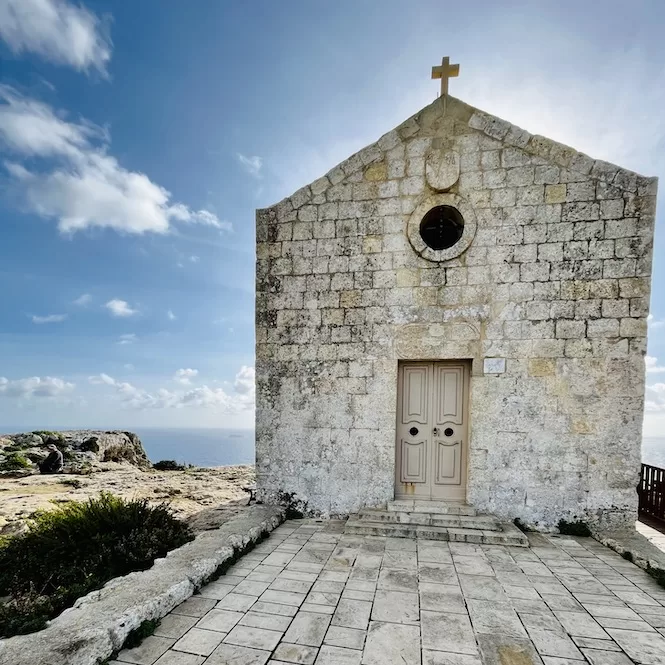 Make sure you explore the cliff behind the church. Dingli cliffs, fields and the Mediterranean Sea are all visible from here. You will be able to take in a magnificent panoramic view.
Dingli Cliffs: A Spectacular View of Malta's Coastline
You can take a walk left and enjoy the view of Dingli cliffs. There are spectacular views of the Mediterranean Sea from the Dingli Cliffs. These cliffs are 253 metres above sea level, making them one of the highest points on the Maltese Islands. In the past, the Maltese used them as lookout points to defend against Ottoman invasions.
You can see the lush terraced fields and observe birds from the Dingli cliffs. And watching the sunset is a great adventure. There is a tiny, uninhabited island called Filfla visible in the distance.
The View of Filfla, a Protected Island
This protected and uninhabited island is located 4.5 km from Malta. It is a limestone plateau with cliffs that reach 60 meters high. Until 1971, it was used by the Royal Navy for target practice. 
In addition to bird species, Filfla has an endemic wall lizard, and there is also lots of marine life around the island. However, it's not allowed to go on the island. Scuba diving and visiting the island's coast by boat are restricted. You need a permit to get there.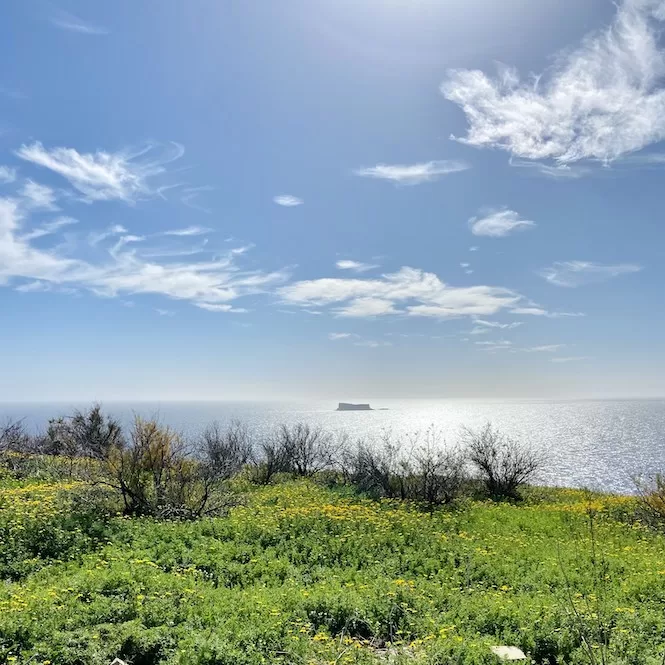 Il-Wardija ta' San Ġorġ Viewpoint
Continue walking along the road until you see a small path on the right leading to the tip of the headland. Pay attention to the uneven surface and wear sturdy shoes. Then, wander around and explore the area. 
It is a typical Bronze Age village site called Il-Wardija ta' San Ġorġ. The view of the cliffs and surrounding area from here is breathtaking.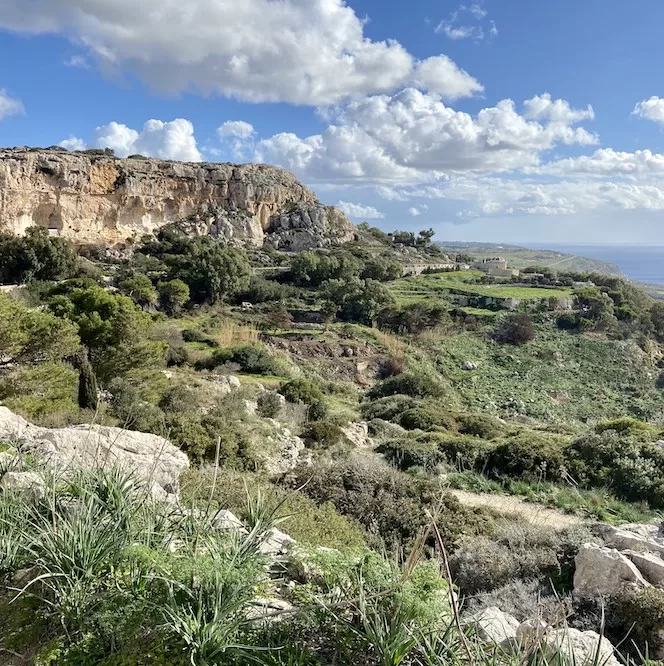 After you explore the area and take in the views, go back to the path and turn right. It might take a bit to find it, but it's just before the entrance to the prehistoric site. Start walking downhill. 
The path follows the side of the cliffs. There are several cave openings on your left. Farmers use them as shelters. This area is called Fawwara. It's an idyllic area with well-cultivated fields and countryside tranquillity.
Fawwara Hike – Charming Chapels
First mentioned in the 16th century, Fawwara is named after the natural springs. 
A legend says that the Fawwara area experienced a severe drought in the early 17th century. Water reserves in the springs dried up. Farmers in the area were concerned about the lack of rain. One of them, Gerolama Ciantar, said she'd build a chapel in her field if the spring water came back.
A water overflow followed her vow, saving farmers from a draught. In keeping with her promise, Gerolama Ciantar built the Our Lady of Mount Carmel Chapel. Outside the chapel is a marble plaque commemorating the donation. Unfortunately, the chapel is closed and in bad shape. There was an announcement, however, that it would be restored.
Credit: Photo by Tranceliner, licenced under CC BY-SA 4.0
Continue walking for about five to ten minutes. You will soon reach a small Annunciation Chapel. This chapel has a square shape and a small dome. Stunning views of the sea and surrounding fields can be seen from the chapel's entrance.
If you wish, you can continue walking until you reach a wider road with cars passing by. Once you have finished, it is best to return the way you came. On this stretch of road, you will see many flowers and also a couple of isolated converted farmhouses.
Thank you for taking the time to read this post, and I hope you enjoy exploring the picturesque Fawwara hike. It is an absolutely stunning hike. In addition to offering breathtaking views of cliffs and lush fields, it is brightly coloured with flowers.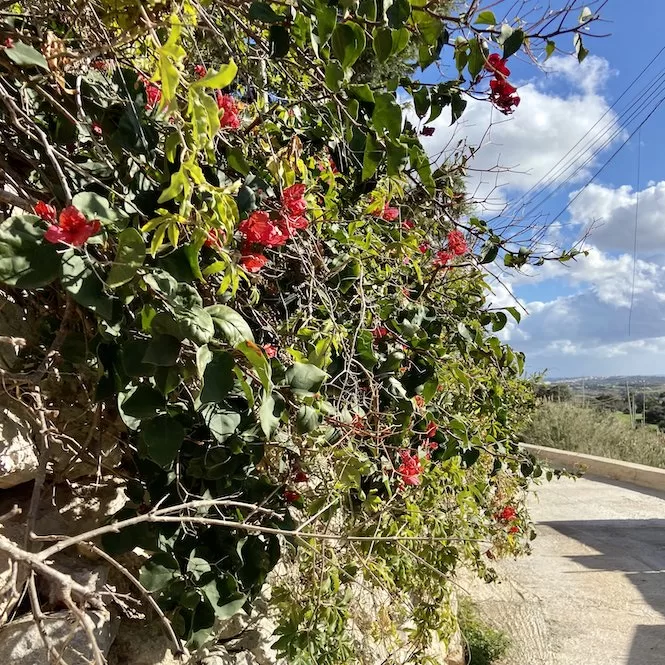 If you like trekking, check out our other guides for more amazing trails in Malta! Here is my post about my favourite hikes. In addition, explore places like Il-Blata tal-Melh, walk the coast from Hagar Qim Temples to Ghar Lapsi, or trek from St Thomas Bay to St Peter's Pool. See the Dingli Cliffs or circle from Paradise Bay to the Red Tower.