Are you looking for a hike in Malta with stunning views? Look no further. The circular walk between Paradise Bay and Red Tower is among Malta's prettiest. This hike takes you through some of the most beautiful parts of Malta's north. So check out this post and get ready to explore the Maltese coastline.
---
Distance: 8 km
Walking Time: 2 h 18 mins
Level: Intermediate
Uphill: 180 m
Downhill: 170 m
Highest Point: 120 m
The best time to go: anytime, but from June to September, avoid the midday heat.
---
Here's a table of contents to jump to different sections.
A Map – Paradise Bay to the Red Tower
Paradise Bay – a Starting Point of the Hike
The northern region of Malta has a stunning Paradise Bay Beach. Cliffs and rocky outcrops surround this beach, making it a beautiful natural setting. Swimmers, sunbathers, and snorkelers love its clear waters and sandy beach. A restaurant and bar are open during the summer months. There are umbrellas and chairs available for rent.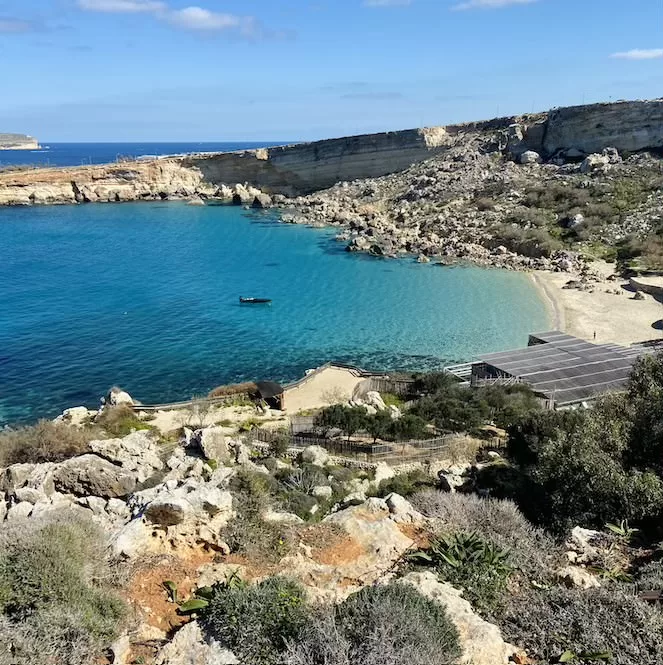 In summer, it gets crowded at Paradise Beach. But this place is empty from December to April. Even in winter, you can enjoy a true paradise. Sea temperatures rarely drop below 16C. So it's okay to take a dip. Plus, most of the days are sunny. Find out how Malta's weather changes throughout the year in this post.
Paradise Bay offers some excellent hiking opportunities. Hiking is incredible from November to March because Malta's winter is like spring. It rains more often, and the temperature drops, so the landscape becomes green and full of blossoms. During the summer, you can hike too, but don't go mid-day. Bring a hat and lots of water. The good thing about hiking in the summer is that you can jump into the sea along the way.
---
Getting to Paradise Bay:
Location: link to Google Maps
Nearest bus stop: Paradise, but buses are infrequent. I suggest Musa, a bus stop for all buses headed to Cirkewwa. It's 15 minutes walk from Paradise Bay.
---
Paradise Bay to the Cave
A circular hike to the Red Tower starts at the parking of Paradise Bay. There are broad steps down from the parking area. After a minute, you'll see small steps on your right that lead to the beach. Only go there if you want to see the beach or swim. Keep walking straight.
When you hike from Paradise Bay, the path could be more visible. But don't worry, walk along the cliff edge. Use the map to guide you. You'll see a cave on your left about 20 minutes from the start.
This cave is a natural limestone sinkhole that looks like a hole in the ground. It's pretty deep, maybe 8-10 meters. On the left side are small stairs. Don't rush; the rocks aren't stable. It's cool and fresh in the cave, and you'll even see water dropping off the walls in the winter. A few almond trees bloom in white in the spring, contrasting the cave's darkness.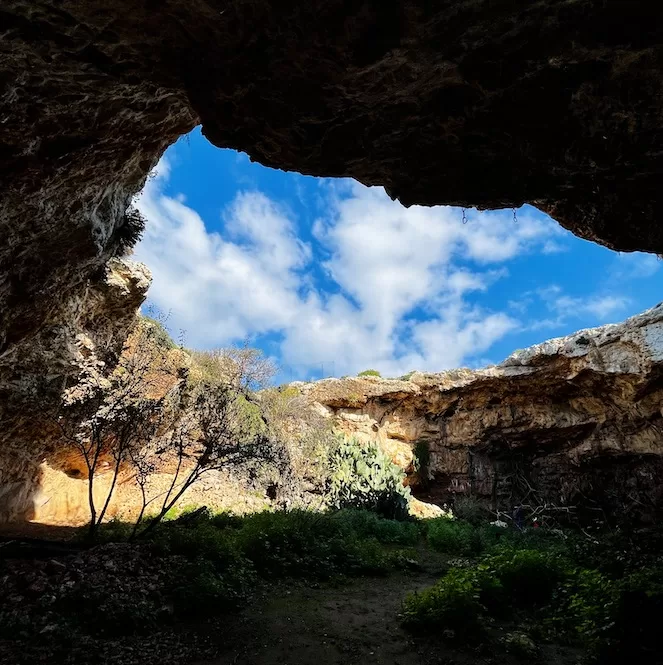 This cave is suitable for training to climb. You can see a few carabiners left by climbers. There are also times when Scouts camp in the cave. It even has a fireplace.
From the Cave to Il-Minzel l-Abjad
Turn left after you have visited the cave and walk till you read a little road. Soon, you will have to climb a rocky trail. But don't worry. You won't have to climb all the way up. Instead, walk for a few minutes until you see a small path heading down on your right. Follow it, but be careful since it's slippery. This area is greener, and you can a variety of wildflowers growing on the rocky terrain.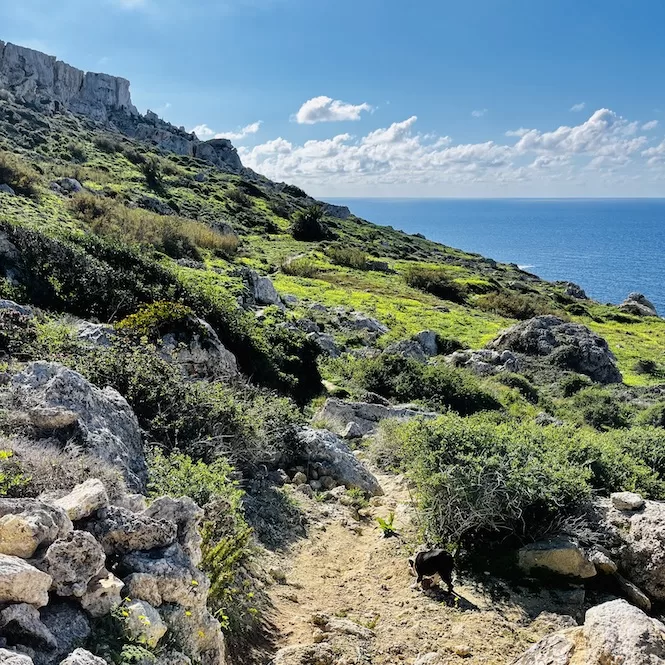 After walking for around 15 minutes, you will see a rocky plate full of huge stones. This area on Google maps is called Il-Minzel l-Abjad. There's nothing else like it in Malta. The rocks are dark and sharp and have a lot of holes filled with water.
What a sight! I can't stop wondering how those vast stones got there.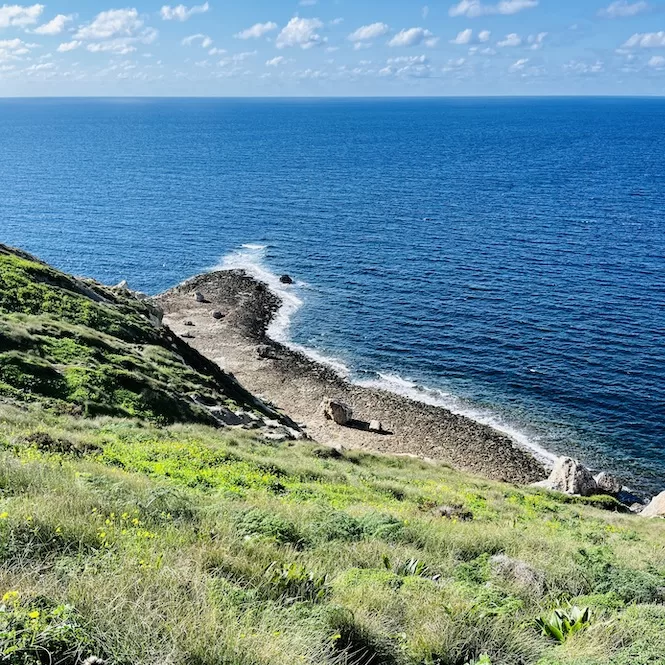 This place looks fantastic from above. Yet, if you want to visit this place, you'll have to take a right turn here. Climbing over rocks is the only way to get there. It's doable, but be careful. The walk over the stones will take around 5 minutes.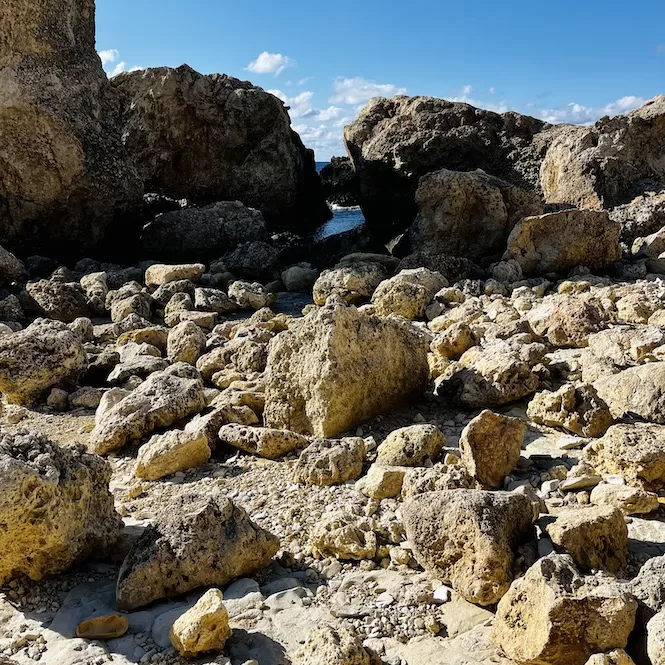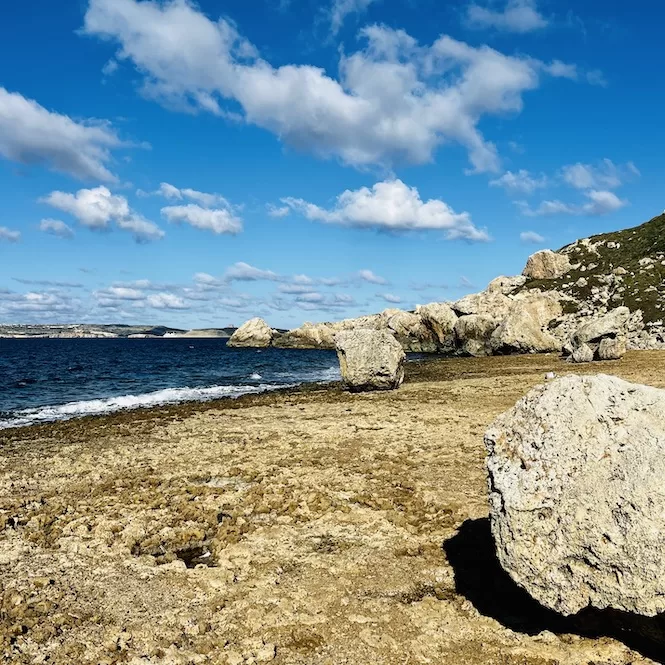 Panoramic Walk with the Views of Majjistral Park
Continue walking south along the path after visiting Il-Minzel l-Abjad. The clay cliffs are on your left, beautiful natural creations with rugged and uneven slopes. The clay cliffs reach a height of 30 meters. It is fascinating to see how greenery and blue sky contrast with the blue-grey clay.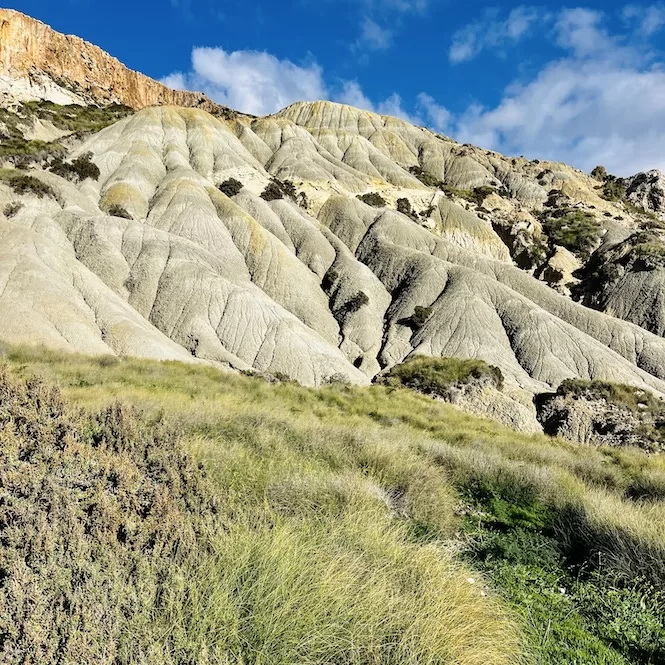 The path will end soon, and you'll have to walk down a clay slope. Don't rush and take small steps. You'll find yourself on a peninsula with some huge rocks. This landscape always amazes me with how wild and remote this place is.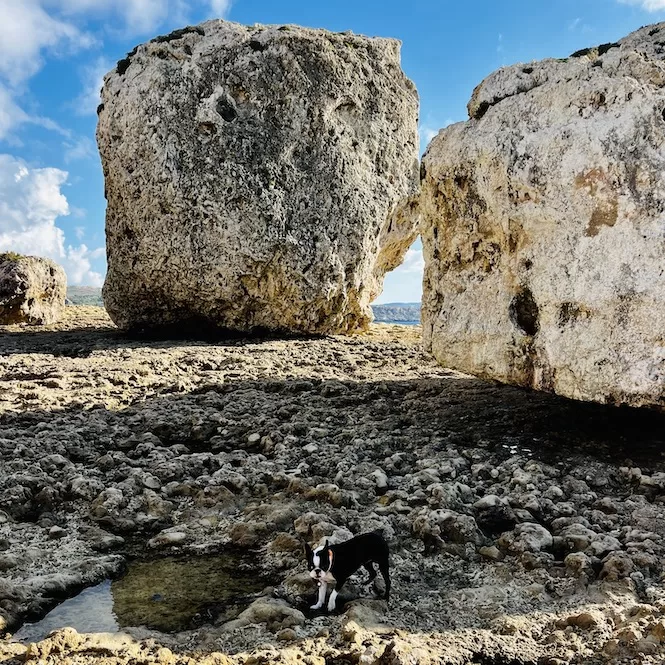 There's a beautiful panoramic view of Majjistral Park and the famous rocky bays of Golden Bay and Fomm ir-Riħ behind. There are also a few caves to be seen. I usually take my lunch break here. Bring your food since there is no option to purchase anything along the way.
Uphill to the Red Tower
Walk along the coast after the break. Take a look at how the landscape has changed. There were dark grey rocks before, but now they're golden limestone. You can find fossilised sea urchins and shells under your feet.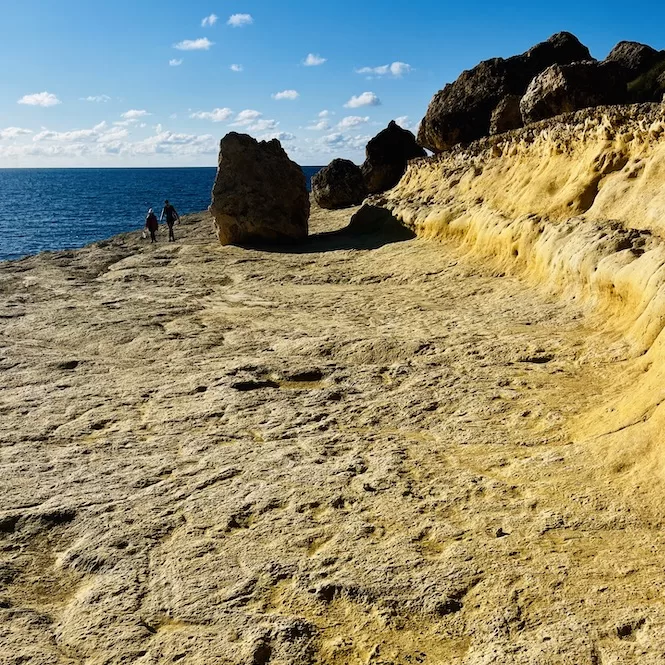 Keep an eye on the map because you'll soon have to climb up. There's a steep stretch of around 7-10 minutes. After that, it'll get easier. Walk until you reach a tiny road. Farmers use the road to get to the terraced fields around here. Enjoy the scenery as you walk along the route. 
You'll reach the last steep segment in 10 minutes. It's a steep path up the hill. Halfway there are the old stairs. No one maintains them, so they might wobble. Be extra careful.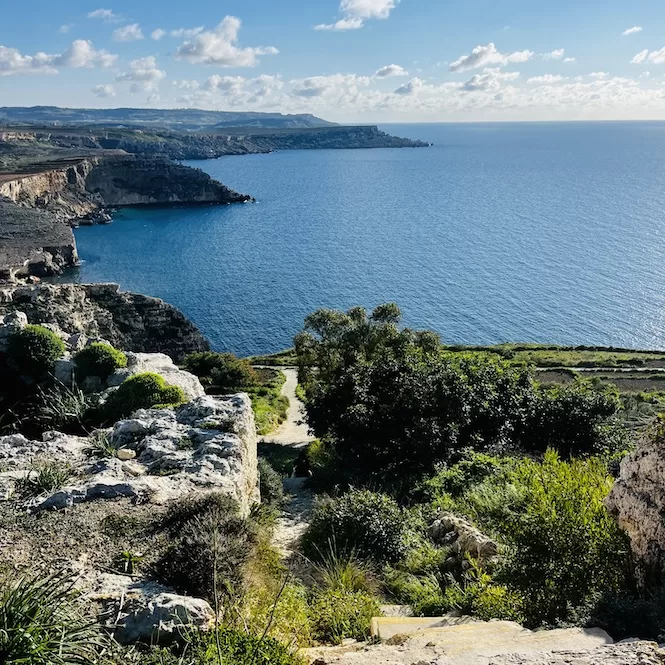 Take in the view from the top. You'll see the Mediterranean all around you. Head right to get to the Red Tower. Keep an eye out for cars. There is little traffic here, but people come here to enjoy the views and take pictures.
Red Tower
The Red Tower is a fortification from the 17th century. With its bright red colours and breathtaking views, it's one of the most prominent towers in Malta. Views of Ghadira Bay, Majjistral Park, and the sea between Comino and Gozo are fantastic. You can go up to the tower's roof for even better views.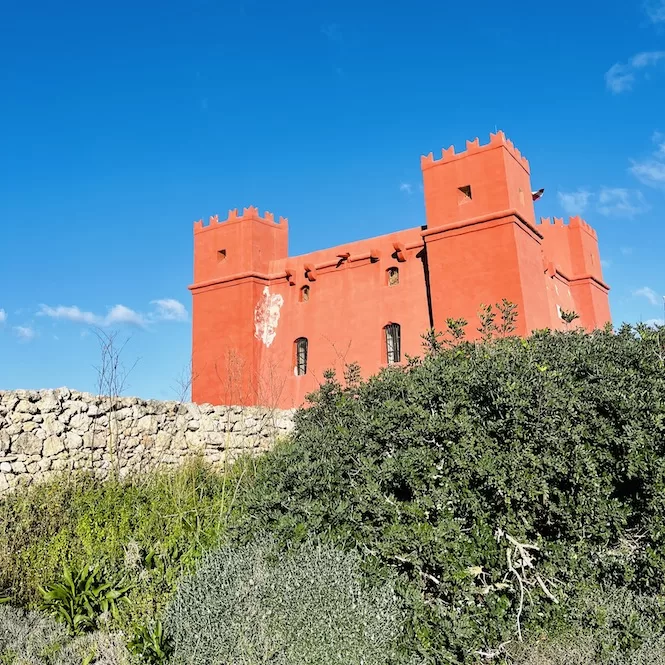 The tower is open from 10 am to 4 pm. The only day with shorter hours is Thursday – from 1 pm to 4 pm.
Back to Paradise Bay
You should walk back the same way you went to the Red Tower. But instead of going down the stairs, you should walk on the road. After about 20 minutes of walking, you should see a path on your right leading north. Follow this path back to Paradise Bay.
I'm sure you'll love this hike. It's one of the prettiest in Malta. Along the way, you'll see wild natural areas, terraced farmers' fields, and clay cliffs. You'll get a bird's eye view of the whole island – north, south, east, and west.
On this site, you can also find other trekking guides:
Enjoy hiking in Malta!