Ghadira Beach is the most popular and largest beach in Malta. It's famous for its soft sand and shallow water. The beach is on Malta's main island, and even though it's further from central places, it's worth the trip. In this blog post, I'll tell you about the best things to see and do at Ghadira Beach. I'll also tell you how to get there, cool places nearby, and some handy tips to have the best day at the beach.
My Top Reasons to Visit Ghadira Beach
Here's why Ghadira Beach should be on your must-visit list:
Soft sand and shallow water: Ghadira Beach is famous for its soft sand that stretches far into shallow water. This makes it an ideal place to sit by the sea or play with kids. You can walk quite a way into the water, and it stays shallow, so it's safe and fun for everyone!
Amenities available: Ghadira Beach has lots of things to make your visit comfortable and fun. You can rent sunbeds and umbrellas to relax under. There are also showers and bathrooms to use. Plus, lifeguards watch over the beach to ensure everyone is safe. You can have a fun time at the beach without worrying about anything.
Food and drink options: If you get hungry or thirsty at Ghadira Beach, there are lots of choices! You can even get fancy drinks like cocktails brought right to your sunbed. If you want something to eat, there are simple options like sandwiches, burgers, and chips. But if you're in the mood for something fancy, there are some delicious restaurants nearby. I recommend trying Amami for tasty sushi or Munchies for tasty Mediterranean food like pasta, fresh fish, pizza, and salads.
Easy Access: Getting to Ghadira Beach is straightforward, with convenient access via public transport or private car. You can take a bus from different parts of Malta. There are nearby parking options if you travel by car. The beach is right next to the road, so it's easy to get to, even if you have a pushchair with you.
Water sports: If you like water fun, Ghadira Beach has lots of cool activities for you to try. You can paddleboard, kayak, sail, or windsurf. And guess what? There is even an inflatable water park in summer for kids to jump into and play in.
This beach has something for everyone. Some people like to relax and read, while others prefer an active day swimming and trying water sports. And if you love food, you'll be happy too, because there are lots of restaurants to choose from. No matter what you enjoy, you can find it at the beach!
Why this Beach Might Not be for You?
It's crowded: Since Ghadira Beach is the biggest beach in Malta, it draws many people. If you're looking for a quiet and secluded beach, you might want to pick a different spot. I suggest Imgiebah Beach. You can find more information in my guide.
Close to the Road: Ghadira Beach is near the main road to Cirkewwa, where ferries travel to Gozo. Because of this, you might hear traffic noise while at the beach.
No snorkelling opportunities: If you want to see fish and snorkel, you usually need rocky shores. But Ghadira Beach doesn't have any because of buildings on both sides. If you want to find the most suitable places to snorkel, check out this guide.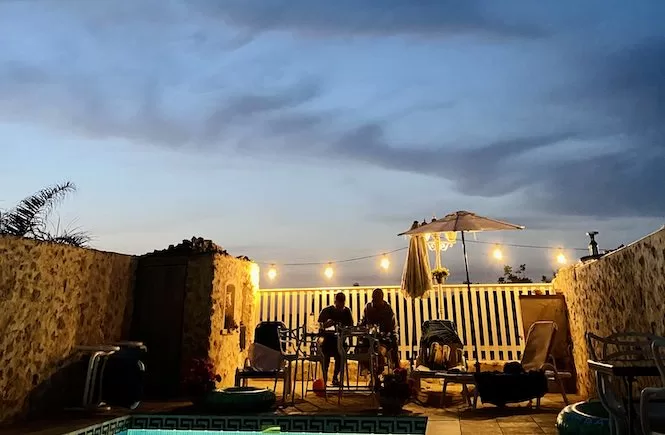 How to Get to Ghadira Beach?
Ghadira Bay is in the northern part of Malta. It's a little bit away from the usual tourist places, but don't worry, it's not hard to get to.
If you're driving from Valletta or Sliema, it'll take you about 30 minutes to reach Ghadira Beach. You can park your car on the road or use the parking areas close by.
Taking the bus? That's easy too! Buses go to Ghadira Beach from many Malta towns. Find a bus heading to Cirkewwa. You can check schedules and routes on this website. But remember, the bus ride might take around an hour.
If you're planning to be in Malta for more than a few days and want to explore, you might consider renting a car. It's an excellent way to see some of Malta's hidden treasures without spending too much time travelling. You can check Discover Cars to find the best deals.
Getting There:
---
Location: link to Google Maps
Nearest bus stop: Ghadira is in front of the beach
Bus frequency: every half an hour
Parking available: free car park near the beach or else park along the road
---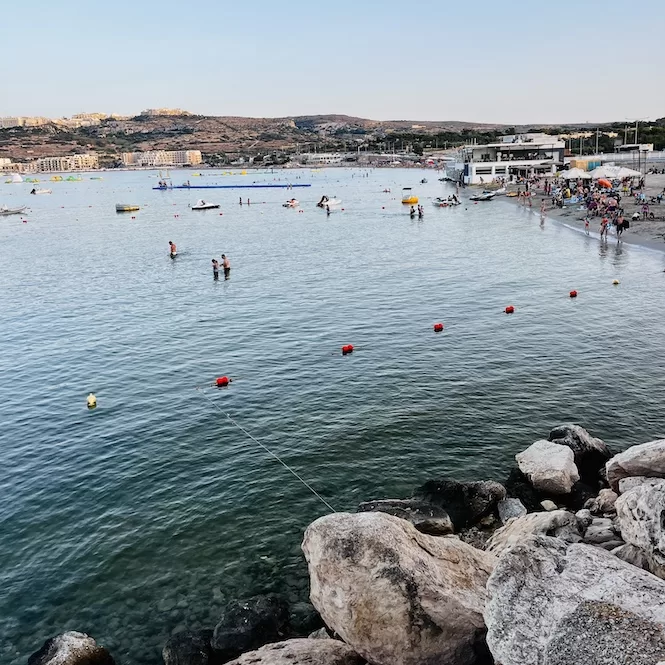 Ghadira Beach Nearby Attractions
Here are some cool places to visit near Ghadira Beach:
Mellieha Village: Just a short way from the beach, Mellieha Village is full of charm with its old buildings, narrow streets, and tasty places to eat. It's perfect for a relaxing walk and a taste of history.
Popeye Village: Close to Ghadira Beach, Popeye Village is a purpose-built film set village that has been turned into a small attraction and fun park. It's made up of rustic wooden buildings, all designed to look like Popeye the Sailor Man's cartoon world. It's an exciting and entertaining place for families to explore.
Coral Lagoon: To the north of Ghadira Bay, there's a cave that opens into the sea, offering amazing views of Comino and Gozo. You can even kayak into the cave if you like adventure. Want more details? Check out my guide here.
Red Tower: Also north of Ghadira Bay, the Red Tower is a 17th-century watchtower. It's the biggest in Malta, and you can enter inside and climb to the top for a small fee. The views are breathtaking, especially at sunset.
Tips for an Unforgettable Ghadira Bay Experience
Best time to visit: If you like things quieter, go during the week or outside the busy season.
Arrive early: The beach can get crowded, especially in the summer. So, get there early to find the perfect spot.
Pack your essentials: Don't forget to bring sunblock, a hat, snacks, and anything else you might need for a fun day at the beach.
Safety first: The beach is a wonderful place, but always be careful. Pay attention to sea conditions and listen to local authorities' instructions.
Ghadira Beach is a fun place for families, swimmers, or anyone who wants to relax in the sun. You can even rent umbrellas and sunbeds for a relaxing day on the beach.
Want to see more of Malta? There's lots to explore! Check out my guides to find other beautiful beaches, have a fun day in Comino, the best sunset spots in Malta and Gozo or learn about cool things to do in Gozo. If you're tired of the beach, you can walk around Valletta, visit Mdina, or see the Three Cities. Malta has something for everyone, so come and find your next adventure!