Kayaking in Malta is an exciting adventure for water sports lovers. With its crystal-clear waters, diverse sea life, caves and stunning coastline, Malta is an ideal place to practice this water sport. It's not just about paddling, it's about exploring the island's rich history and natural beauty. In this post, you'll learn all you need to know about kayaking in Malta from the top locations, and rental spots to safety tips.
What Makes Kayaking in Malta Unique?
Kayaking in Malta isn't just about the sport; it's about the adventure, history, and natural beauty that make it so special. 
Diverse landscapes: Malta's varied coastline offers many kayaking spots. Discover hidden coves, paddle along dramatic cliffs, or explore sea caves.
Marine life: The Mediterranean Sea's crystal clear waters are full of marine life. You'll see fish and sometimes sea turtles or dolphins.
History from the water: There's nothing like kayaking on Malta, with its rich history spanning over 7,000 years. You can learn about the island's storied past by seeing ancient fortifications from the sea or paddling through historic harbours.
Access to remote locations: Getting out on a kayak lets you explore parts of Malta that aren't accessible by land. Find secluded beaches, explore caves, and find secret spots only locals know about.
Year-round kayaking opportunities: Kayaking is possible all year round in Malta, thanks to its mild winters and warm summers. Even during winter, the sea remains warm, making it suitable for off-season trips.
A Map of the Best Kayaking Spots in Malta
Spots in Malta:
Spots in Gozo:
Best Places for Kayaking in Malta and Gozo
Top Spots in Malta
Paradise Bay
Known for its crystal-clear water and sandy shores, Paradise Bay is a must-visit spot for kayakers. You can rent a kayak and explore the natural window or find remote bays along the coast. If you paddle for an hour or so, you'll get to Ras il-Qammieh, a rock area with big boulders and moon-like terrain.
---
Kayak rental: The shop is below the restaurant.
St. Thomas Bay
Rent a kayak at St. Thomas Bay in Marsaskala and explore Munxar Arch and Munxar Bay caves. You'll swim along white cliffs, and you may even see dolphins if you start early in the morning.
---
Kayak rental / Guided tours: SIPS Watersports Malta offers to rent kayaks and other watersport equipment. Also, you can get a guided tour here. Make sure you book at least a day in advance.
For a fun day in the water, check out St. Thomas Bay's water activities.
Golden Bay
From Golden Bay you can kayak south to discover secluded bays or head to Ghajn Tuffieha for an epic sea adventure. Don't forget to stop for a swim!
---
Kayak rental: You can rent a kayak on the right side of the beach (click here for the exact location).
Ghadira Bay (Mellieha)
Ghadira is the gateway to Imgiebah Bay's unspoiled beauty. Rent a kayak, paddle through the serene waters, and swim in the blue sea. The contrast between the blue sea and the surrounding yellow cliffs is truly amazing.
---
Kayak rental: There is a watersport rental shop here.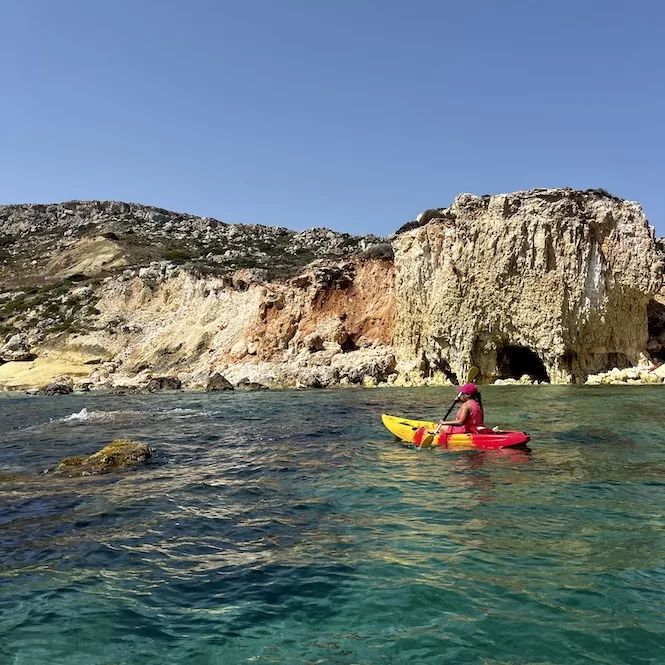 Coral Lagoon
Kayak from Tortuga Beach to Coral Lagoon, a natural sea pool surrounded by cliffs and connected to the ocean through a tunnel. Kayaking in this picturesque natural setting is sure to be memorable.
---
Kayak rental: The rental shop is here.
Gnejna Bay
Gnejna Bay is a gateway to Santa Maria Cave, one of the area's hidden treasures. You can also paddle to Ghan Tuffieha and explore the rocky coast on the way.
---
Kayak rental: You can rent a kayak here. 
Top Spots in Gozo
Xlendi
Discover the Xlendi cliffs, caves and the Tower by kayak. You can paddle into the Kantra Valley, which resembles a small canyon.
---
Kayak rental: The water sports centre is here. 
Mgarr Ix Xini
Mgarr Ix-Xini is a fjord-like location, sheltered from the wind, which makes for a peaceful kayaking experience. Beautiful rocky inlets and coves can be found along the coastline.
---
Kayak rental: A van with kayaks for rental is usually parked close to the beach.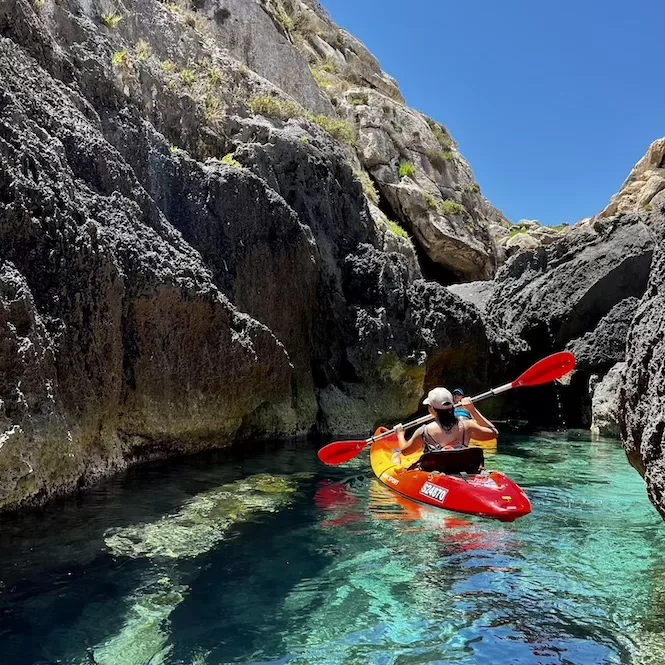 Ramla Bay
Ramla Bay offers an excellent opportunity to kayak along the coast beneath striking clay cliffs. You can paddle south to San Blas, a secluded beach with beautiful coastal views.
---
Kayak rental: You will see kayaks close to the water in the middle of the beach (click here for the exact location).
There are lots of enjoyable kayaking spots in Malta, each unique and with rental shops nearby for on-the-spot equipment rental. In general, you don't need to book in advance – show up and grab one. Most of these shops also offer guided tours. Links to Google Maps are included for each rental shop, so you can get contact info quickly. Call them and book your guided adventure.
Safety Tips for Kayaking in Malta
There's nothing like a kayaking adventure in Malta, but safety should always be your top priority. Here are some tips to keep you safe and have fun:
Wear a lifejacket: No matter how proficient you are at swimming, a lifejacket is necessary when kayaking. It will keep you safe.
Check the weather forecast: You should check the weather forecast before kayaking. Avoid kayaking in high winds or storms.
Stay hydrated and sun-protected: Keep hydrated, apply sunscreen regularly, and wear a hat to protect yourself from the sun in Malta. Even though you might not feel hot while kayaking, the sun is very strong. I have sunburned while kayaking.
Stay close to the shoreline: It's safer to stay close to the shore. If the weather changes unexpectedly or other problems arise, you can easily return to land.
Respect marine life: Keep your distance and avoid direct contact with marine life if you encounter it while kayaking.
Learn to reenter your kayak: If your kayak overturns, you need to know how to get back into it while in the water. Practising this skill in a controlled environment is a smart idea before heading out.
Have the rental shop's phone number in case of emergency: Put your phone in a waterproof case and save the kayak rental shop number. If you run into any difficulties, they can help, often deploying a dinghy to get you back.
Never venture too far: Kayaking can exhaust you, even if you're fit. Rent for a short time and stay close to the coast so you don't strain yourself. It's safer to stay close to the shore.
Your kayaking adventure should be thrilling, but safety always comes first. By keeping these tips in mind, you'll ensure a safe and enjoyable kayaking experience in Malta.
Guided Tours vs. Independent Kayaking
Whatever your experience level is, deciding between organised tours and independent kayaking in Malta can make a big difference. Guided tours have many advantages. First of all, they're safe since they're led by professional guides who know how to handle different situations and know the local weather. Second, they'll tell you about the marine life, geography, and history of the region, which will make your kayaking trip more enjoyable. Last but not least, guided tours are convenient, since they usually include everything you need, including equipment, insurance, and sometimes even refreshments.
Despite the advantages, guided tours have drawbacks, like less flexibility and higher costs because of a set schedule, route, and services. Independent kayaking is an exciting option for adventure seekers. It lets you set your own pace, explore areas you're interested in, and gives you a sense of accomplishment when navigating Maltese waters. Furthermore, it's more economical, especially for short trips. However, kayaking can be riskier, especially if you're unfamiliar with the waters or just starting out. Additionally, kayaking independently also means equipment rentals, route planning, weather checks, and safety measures.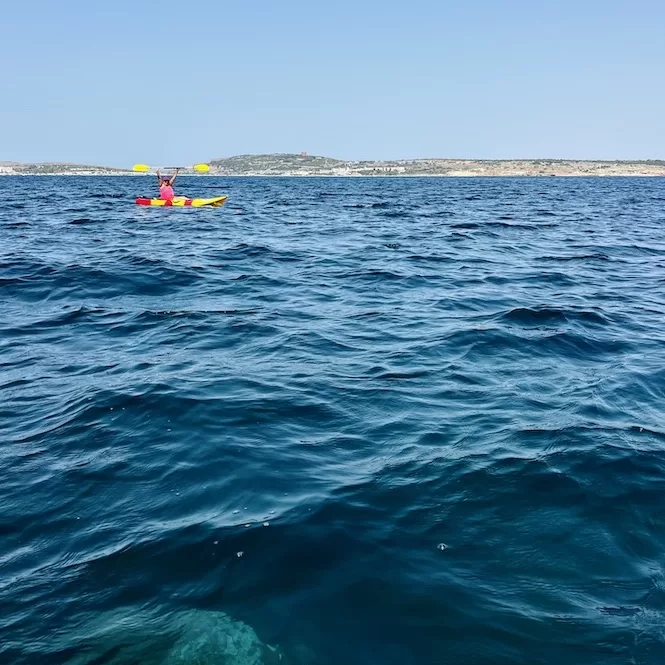 It's fantastic to kayak around Malta's coast. It's a combination of physical challenges, thrilling adventures, and scenic views of the island's finest spots. If you're choosing a guided tour or renting a kayak, follow all safety rules. Hopefully, this guide has given you all you need to know about kayaking in Malta.
Malta also offers other water and land-based activities. If you like kayaking, you might also like paddle boarding, another enjoyable way to see the coast. If you want to explore the underwater world, you can try scuba diving and snorkelling in Malta's crystal-clear waters.
In addition to water sports, hiking in Malta is another must-try. The island's varied terrain and breathtaking scenery make it an ideal hiking destination.