Top things to do in Gozo? You bet! When visiting the Maltese islands, dedicate at least a day to discovering the captivating gem called Gozo. You can find stunning beaches, ancient sites, and nature attractions. Dive into crystal-clear waters, explore fascinating archaeological sites, or simply unwind on the beach. So, get ready to experience the wonders of Gozo and create lifelong memories.
---
Here are some facts about Gozo:
It's the second-largest island in the archipelago after Malta.

Ancient human settlements date back to the Bronze Age on the island. 

Around 37,000 people live on the island.

Victoria is the main town and also Gozo's capital.

There's a lot of artisanal stuff on the island, like cheese, honey, and wine.
---
Got a passion for history, a thirst for water sports, a love for nature, or a craving for beachside relaxation? This article is your ultimate guide, catering to all those interests and more. See the table of contents below to jump right to the section you're interested in.
An Interactive Map of the Best Things to Do in Gozo
Check out the map below. See all those small markers? Just hover over any of them to get the site's name and a handy link to its location below. You can discover Gozo at your own pace.
If you want to visit these Gozo sights using public transport, it will take a lot of time and you'll have to walk to some places. I suggest renting a car. Check out Discover Cars for cheap rentals.
But if you'd rather enjoy Gozo without worrying about directions, book a guided tour. You'll be chauffeured to all the main sites, no stress! And if you prefer quieter experiences, no worries. You can always book a private tour – just you, the breathtaking sites, and no distractions.
Best Things To Do in Gozo If Love History
The island of Gozo is the ideal destination for history lovers who want to learn more about the past. These are the top attractions you shouldn't miss.
Visit the Ggantija Temples
Among the oldest megalithic temples in the world, these ancient structures are a must-see for history buffs.
Built around 3600 BCE, the Ggantija Temples are one of the oldest still standing in the world. Their name comes after the Maltese word for "giant" since they were believed to have been built by giants. Ggantija Temples are on the UNESCO World Heritage Sites list. They are a popular tourist attraction on Gozo and are open daily to the public.
In addition to Ggantija, there are other megalithic temples in the Maltese archipelago. Check out this blog for more information.
Discover Victoria and the Citadel
Victoria is the capital city of Gozo and is located in the centre of the island. The town was initially called Rabat, but in the 19th century, the town was renamed Victoria in honour of Queen Victoria. However, most Gozitans, especially older ones, still refer to it as Rabat.
The Citadel is Victoria's top historical attraction. It is a fortified city located in the centre of Victoria. Also known as Castello, it has been inhabited since the Bronze Age. There's evidence that this area was an acropolis for the Punic-Roman city of Gaulos. During the medieval period, a castle was built on top of the Acropolis, providing shelter to Gozo's citizens. In 1551, Ottoman forces invaded and destroyed the Cittadella. 
The Knights of Malta undertook a major reconstruction of the Citadel in 1599. They have built a gunpowder fortress on the Citadel's southern walls. Northern walls were also rebuilt, although they retained their medieval look.
As the Citadel has been renovated and expanded over the years, it is now a popular tourist destination with museums, churches, and cultural attractions. It is also a popular photography spot that offers stunning views of the surrounding countryside.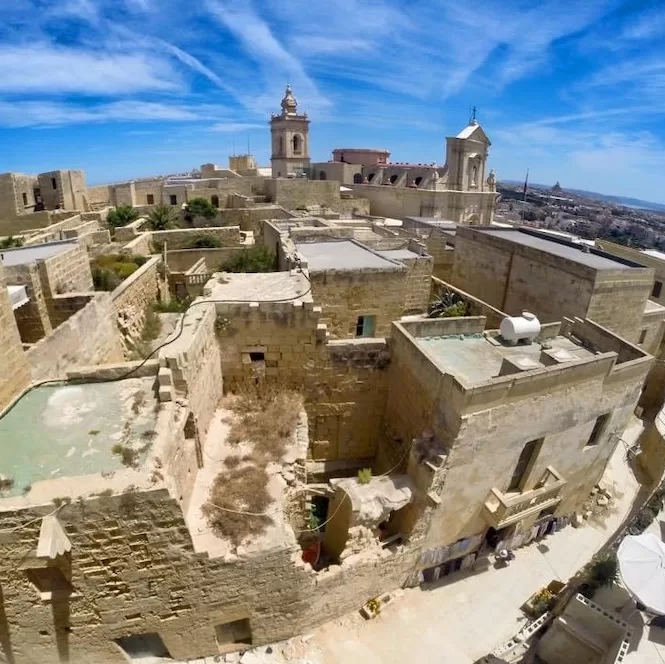 There are also several museums in the Citadel of Gozo:
The Gozo Museum of Archaeology: This museum has a collection of ancient artefacts and displays about Gozo's history.
The Gozo Nature Museum: This museum exhibits the natural history of Gozo. Various collections can be found here, including minerals, geology, marine life, habitats and ecosystems, and national plants.
The Gran Castello Historic House: The museum's collections portray everyday life on the Maltese Islands through artefacts that tell the story of agricultural society, customs, and crafts.
Old Prison: There are two parts to the prison complex – an open cell and a separate building with six solitary cells. The prison operated from the mid-16th century until 1962. Knights who had been acting up were held there, including Fra Jean Parisot de Valette (a later Grand Master of Malta). There are many carvings on its limestone walls. They include images of vessels, handprints, crosses, names, dates, games, and drawings.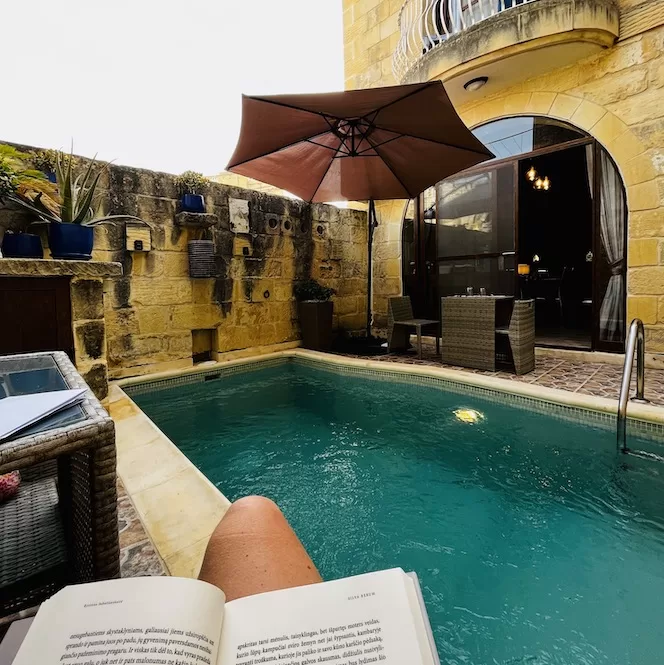 Best Things To Do in Gozo for Watersports Enthusiasts
With crystal-clear waters and scenic beaches, Gozo is a popular destination for water sports. You can try these activities while you're on Gozo:
Scuba Diving: Several dive centres on the island offer courses and guided dives for beginners and experienced divers. Gozo's underwater scenery, wrecks, and marine life make it one of the best diving spots in the Mediterranean.
Snorkelling: As the Gozo waters are clear and offer excellent visibility, snorkelling is very popular. You can snorkel anywhere near rock-covered shorelines. My favourite snorkelling site is Dwejra's Blue Hole.
Kayaking: Discover hidden coves and beaches while kayaking the island's coastline. You can rent a kayak in Mgarr ix-Xini, Ramla Beach and Hondoq ir-Rummien Beach.
Paddle Boarding: The calm waters of Gozo make stand-up paddle boarding an ideal activity. Several rental companies are offering both stand-up paddle boards and guided tours.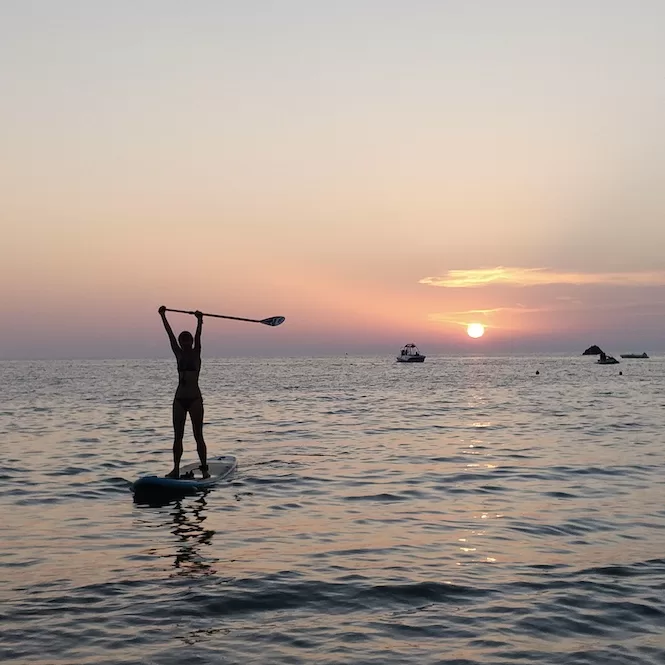 Gozo offers a wide range of water sports. Whether you like diving, snorkelling, kayaking or stand-up paddleboarding, there's something for you. 
Swimmers and beach lovers will also love Gozo. Keep reading and learn about some of Gozo's top beaches for swimming and beach lovers.
Best Things to Do in Summer
What could be better than a day at the beach? Gozo takes beach bliss to a new level. Beachgoers love its pristine shores and crystal clear waters. Here are some incredible beaches you won't want to miss:
Ramla Bay: On the east coast of Gozo, Ramla Bay is a large, sandy beach with red sand. It's a popular spot for swimming and sunbathing. There are a few restaurants and kiosks near the beach. You can also rent water sports equipment. You can try banana boating, kayaking, stand-up paddleboarding or waterskiing. 
Marsalforn Bay: With a few small sandy beaches, and a laid-back atmosphere, Marsalforn Bay is a popular tourist destination. There's a beautiful contrast between the blue Mediterranean Sea and the white rocks lining the left side of Marsalforn Bay. They're made of white limestone and make an excellent spot for pictures.
Hondoq ir-Rummien: The clear waters of Hondoq ir-Rummien make it a popular swimming spot, especially among locals. This bay offers breathtaking views of Comino and Malta. The Gozitans love this bay for barbecues in the summertime and for relaxing in the evening. 
Xwejni Bay and Qbajjar Bay: Two shallow bays are next to one another, both with rocky stretches and pebbly beaches. There are several bars along the waterfront. Xwejni Bay is amazing for snorkelling. You will find naturally formed rock formations with tunnels and arches underneath. There is a nice play of light and dark blues due to the varying depth of the water. You might also see octopuses, crabs, and colourful fish.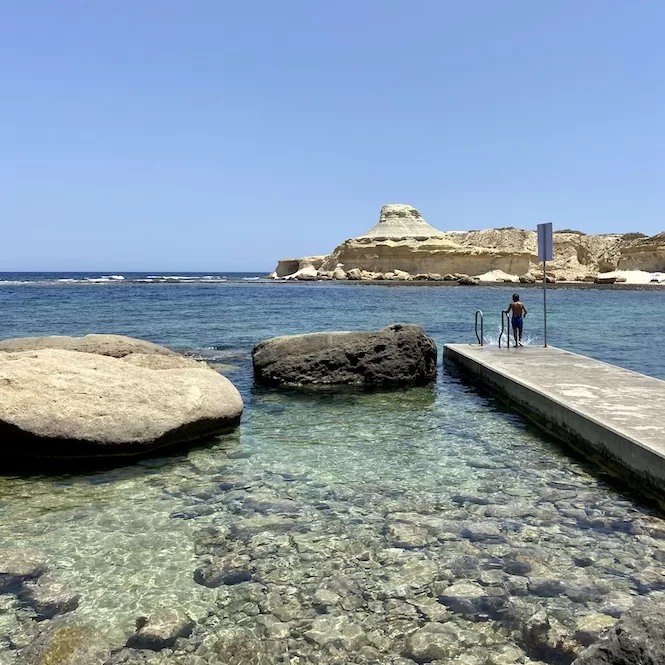 In summer, tourists and people from Malta visit Gozo, and the most popular beaches can be crowded. Check out my guide to lesser-known beaches if you want peace and quiet.
Nature Lovers' Top Things To Do in Gozo
Get ready to fall in love with the island's natural beauty. There are several scenic areas on Gozo, including Mgarr ix-Xini, Dwejra and the Xlendi Cliffs.
Visit Mgarr ix-Xini Bay
A standout feature of Mgarr ix-Xini Bay is its secluded location, making it a perfect place to escape the crowds. It's also famous because Angelina Jolie and Brad Pitt filmed "By the Sea" here.
Despite the small beach and pebbly shore, I recommend this place because of its setting and landscape. This bay is surrounded by cliffs, making it a great photo backdrop. In summer, you can swim or snorkel and jump off the rocks along the bay's sides. But be aware of anything dangerous, like strong waves or sharp rocks.
You can also rent kayaks to explore the area from the water and enjoy the scenery from a different angle.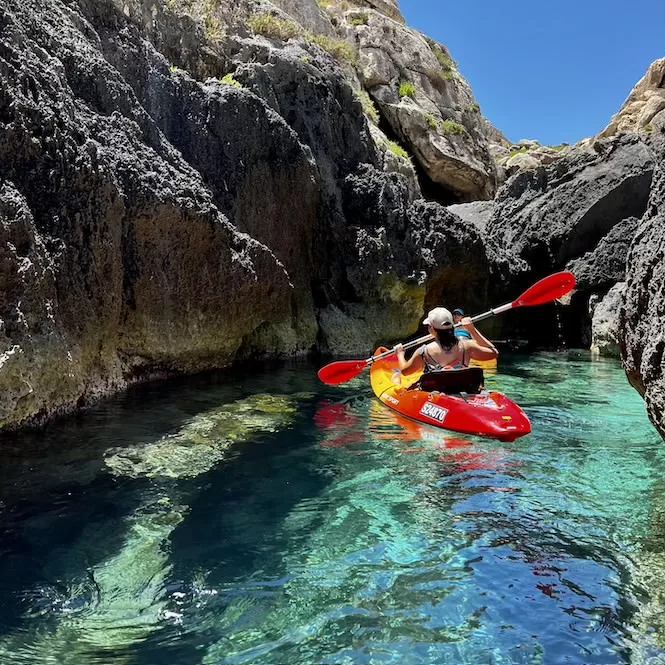 Located a short walk from the beach is the Knights' Watchtower. It's open to the public, and visitors are welcome to see the watchtower built by the Knights in 1661.
The bay is only accessible by a narrow road. Parking is limited, so get there early. Bring your own food and drinks, because there's only one restaurant on the beach.
Explore Dwejra
On Gozo's west coast, Dwejra offers stunning natural beauty and is a popular tourist destination. There are lots of interesting things you can see here, like the Blue Hole, the Inland Sea, the Fungus Rock, and the Azure Window.
Blue Hole: There's no better diving spot in Malta than Dwerja's Blue Hole. It's perfect for snorkelling, freediving, and swimming. The Blue Hole is a circular limestone sinkhole with an area of five metres across and ten metres wide. The depth of the hole is 15 metres. At nine metres deep, there's an underwater window that leads to the open sea. Large boulders line the exterior, while coral and marine life decorate the walls.
There's a 200-meter walk over sharp rocks to get to the dive, but it's worth it! It's best to wear waterproof sandals or aqua shoes.
Fungus Rock: This place is named after a plant called Maltese Fungus. The Knights found a Maltese fungus on the flat surface of the rock. Despite its appearance, it's a parasite, not a fungus. It doesn't have any healing properties. During the Knights of Malta, getting to the rock without permission meant three years in jail. Apparently, the Knights were trying to save the Maltese fungus, thinking it had healing properties. It was even given to famous noblemen and visitors to the Maltese islands.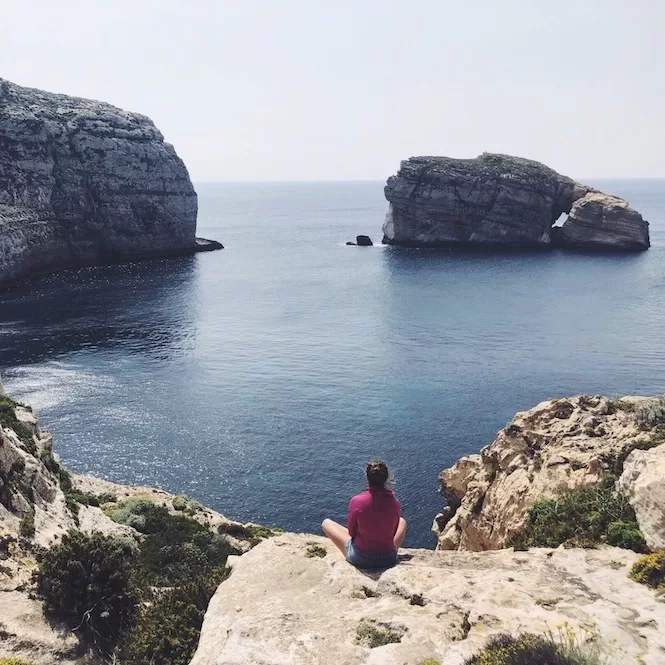 Fungus Rock is a natural reserve, but you can swim and snorkel nearby. A breathtaking sunset and high cliffs are my favourite things about this place.
Dwejra Inland Sea: The Dwejra Inland Sea is a shallow, semicircular lagoon about 60m wide. It is connected to the Mediterranean Sea by an 80-m-long tunnel. The Inland Sea is a popular destination for divers. But non-divers can also enjoy it by taking a boat trip to observe the cliffs and caves along Gozo's western shore. 
Azure Window: There was a natural arch called the Azure Window on the coast of Dwejra. It was a popular tourist attraction and was known for its stunning beauty. As a result of natural erosion, the Azure Window collapsed in 2017. But despite its collapse, it's still an iconic symbol of Gozo.
Check Out Xlendi Bay
Gozo's Xlendi Bay is at the bottom of a steep valley that starts from Kercem. This locality is popular with tourists and Maltese alike. It has many restaurants, cafés, kayak rental services and diving centres.
The seashore has a beautiful promenade lined with tables to enjoy a relaxing picnic.
People can also swim in this bay. On the left is a stone path with benches where they can leave their belongings and jump into the sea. Several ladders are available for swimmers to climb out of the water.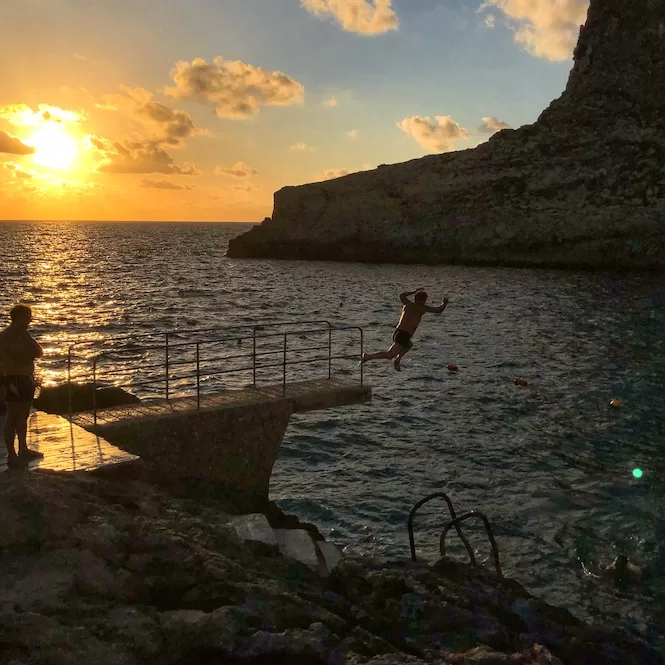 I recommend walking up to the Xlendi watch tower to get a great view of the cliffs and the sea. You can reach the watch tower by walking along the promenade. Once you see a bridge over the valley, cross it and walk uphill along the path. 
From the tower, walk down to the limestone coast. It's a nice, quiet spot, away from the tourist crowds. It's a great place to relax, sunbathe, and admire the spectacular coastline.
Learn More About Salt Pans
Gozo's salt pans are near Marsalforn, north of Xwejni Bay. Salt pans are shallow pools of seawater where you evaporate the salt. 
Salt pans have been used on Gozo for centuries to produce high-quality salt. The salt pans are a popular tourist destination. Visitors see how salt is made and learn about the island's culture and history. It's not only historically significant but beautiful too. The salt pans glisten in the sun, creating a moon-like scene.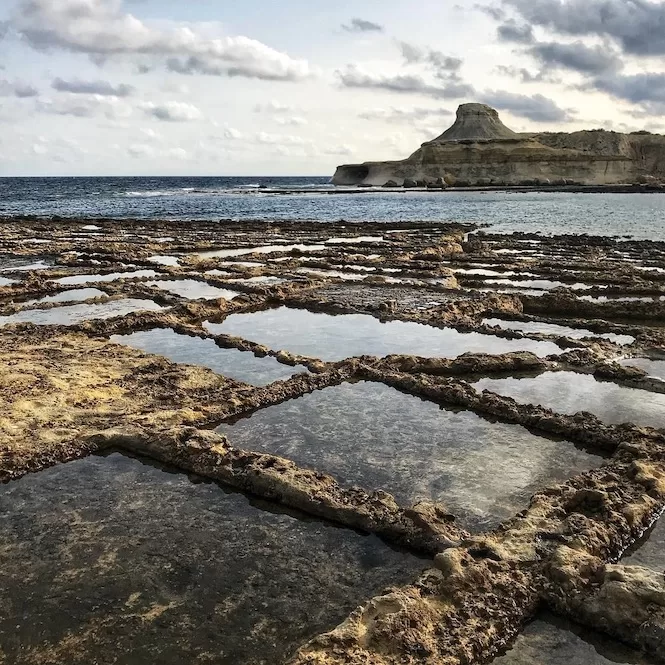 Discover Il-Għasri Valley
Il-Gasri Valley is a secluded canyon-like area surrounded by steep limestone cliffs. I love the view from the top of the cliffs. You'll be blown away by the natural beauty there. You can walk down the steps to a small pebble beach. Once there, you feel like you've found paradise, surrounded by nature and crystal-clear water. The canyon is 300 meters long and narrow, which keeps the water quiet, and when it's windy, this is a gorgeous place. You can enjoy the sound of the sea crashing against the rocks. It can get crowded later in the day with people and divers, so get there early.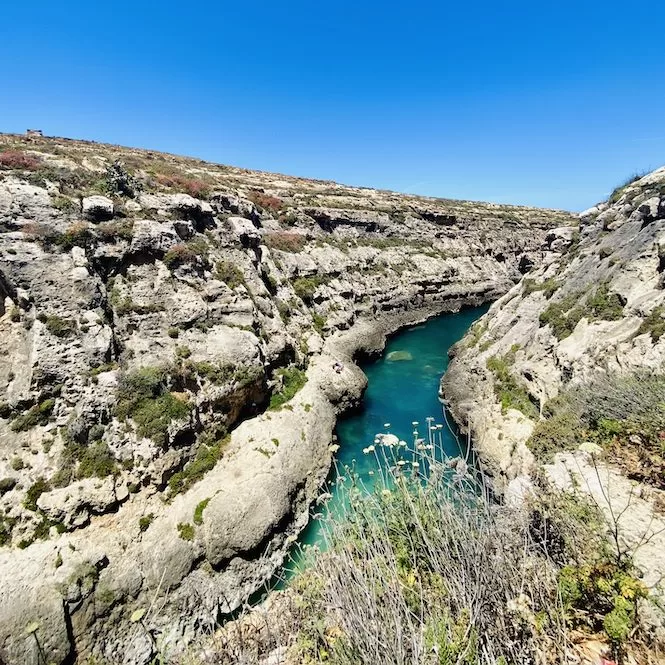 Popular Gozo Hikes
All the nature sites in Gozo can be explored by hiking. It can be hot in the summer, reaching 30°C (86°F). So, the best time to hike is from October through May, when it is cooler. It can get muddy in winter, so wear non-slip waterproof shoes.
Some popular hikes include:
Walk from Xwejni Bay to Wied il-Ghasri: This trail runs along the coast of salt pans to Il-Għasri Valley. 
Hike from Mgarr Harbour to Xlendi: Enjoy stunning views of the sea and surrounding countryside on this walk.
A hike from il Ghasri Valley to Wied il Mielah Arch: This trek includes views of northern Gozo's cliffs, caves, and valleys.
Gozo is a beautiful small island with tons of things to do. It has something for everyone, from exploring its rich history at the Ggantija Temples and Citadel to relaxing on its stunning beaches and admiring the natural beauty of places like Dwejra, Mgarr ix-Xini and the Blue Hole. 
Want a little adventure? How about booking a jeep or quad bike tour? The best is, these tours can usually be tailored just for you, so you pick the places you want to see. You can bounce from one site to another, seeing them all within the same day. Imagine that, huh?