Want some peace and quiet? Pick one of the secret beaches in Gozo. You'll find crystal clear waters and a rugged coastline on the Maltese island of Gozo. Tourists flock here, so it can get busy. Still, there are a few secluded beaches if you want to escape the crowds. Some beaches are so secret that even locals don't know about them. Discover these secret Gozo beaches in this blog.
Here's the table of contents, so you can jump right to the section you're interested in.
Getting Around
Getting around Gozo by public transportation is possible, but time-consuming. You'll have to walk to some of these beaches as well. In this guide, I will include information on how to reach the secret Gozo beaches by car and public transport. Yet, I recommend renting a car. Check out Discover Cars for cheap rental cars.
The Map of the Secret Beaches in Gozo
I've marked all the beaches on this map. If you click on a pin, you'll get the beach's name.
San Blas Bay
There is a small sandy beach called San Blas on the north coast of the island of Gozo, accessible via the town of Nadur. Located at the end of one of Gozo's most scenic valleys, this beach has fantastic views. A fertile valley surrounds this pretty secluded beach. I love how green it looks in the cooler months. The reddish-orange sand and rocky landscape of San Blas are like in Ramla Bay.
The closest bus stop is Weraq. Park close to the bus stop if you're coming by car. From there, a bumpy and steep road leads to San Blas Bay. If you have a small car, I would not recommend driving there. There will be no problem with Jeeps or 4-wheelers. Yet, there is nothing better than walking down the valley. You can enjoy the terraced fields and the panorama.
Due to a storm a few years ago, very little sand remains on the beach. Even so, if you enjoy scenic nature spots, you should not miss this secret beach in Gozo. Since the beach is small, it can be crowded there in the summer, especially in July and August. To find space to lay down your beach towel, try getting there early in the morning or late in the afternoon.
You can swim or snorkel in its turquoise waters around the rocks and boulders on either side of the bay. It is possible to see seabasses, eels, sea stars, crabs, and even octopuses under the water.
In the summer, a small bar offers snacks and drinks.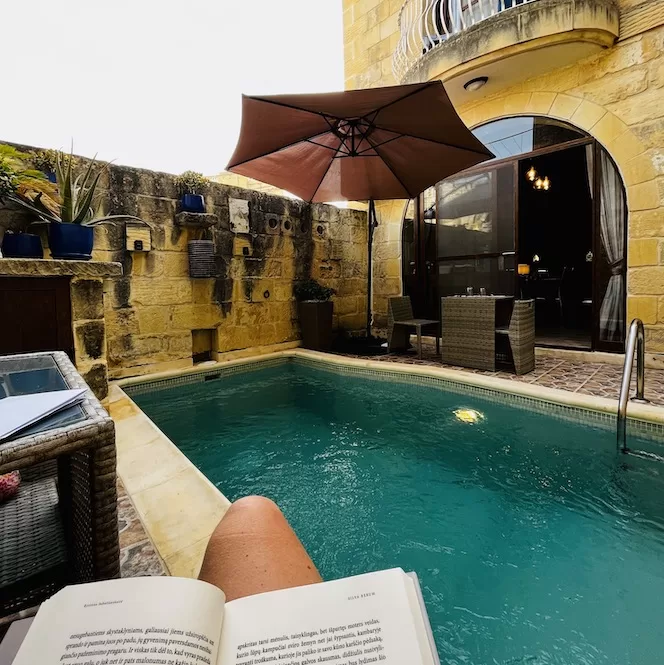 Secluded Swimming Spots on the Outskirts of Qala
A small bay lies at the Barbaggan Rocks. It is possible to walk down to a tiny sandy beach. This is one of the best snorkelling spots.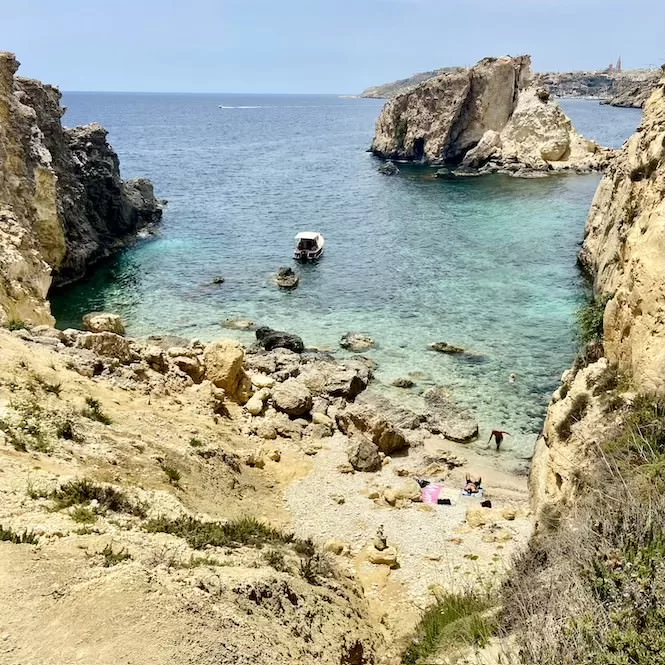 The Barbaggan Rocks are on the coastline between Mgarr Port and Hondoq Bay. It is at the bottom of Qala. 
You can get there in three ways. The first one involves hiking from Mgarr port. Along the way, you will admire the beautiful scenery. Here is where the coastal walk begins. Depending on how often you stop to take pictures, you can finish the hike in about an hour. Very small shrubs cover the shoreline, typical of the Mediterranean. Check out my hiking guide from Mgarr Harbour to Hondoq Bay.
Is it possible to get lost? Nope, definitely not. The path is visible and follows the shoreline, so it's an easy walk. Be sure to wear the right walking shoes and drink plenty of water. Remember to pay attention, especially when the path is close to the cliff's edge.
Walking down the hill from Qala is another option. Follow the road called Triq Tac Cawl. It takes about 20 minutes to walk there. There's a steep hill to climb back up to Qala so it might take longer.
The third and easiest way is to walk from Hondoq Bay. It's a short walk to the right along the beach. You should only use this option if you have no time or when it's very hot. The first two options are way better because you can see incredible views.
Barbaggan Rocks offer stunning views of Comino Island from the Gozitan cliff edges. The place looks pretty wild, thanks to its rock formations. You shouldn't miss the aromatic wild Mediterranean Thyme. This plant grows along the cliffs in this area. It usually blooms in June.
In the same area, there is another secret beach. Between Barbaggan Rocks and Hondoq Bay is a cave called Ta' Bamberin. It's 300 meters from either Barbaggan Rocks or Hondoq Bay. It looks like a mini fjord with crystal-clear waters. The beach is rocky and equipped with a ladder. It's a great swimming spot, especially if you like off-the-beaten-track places.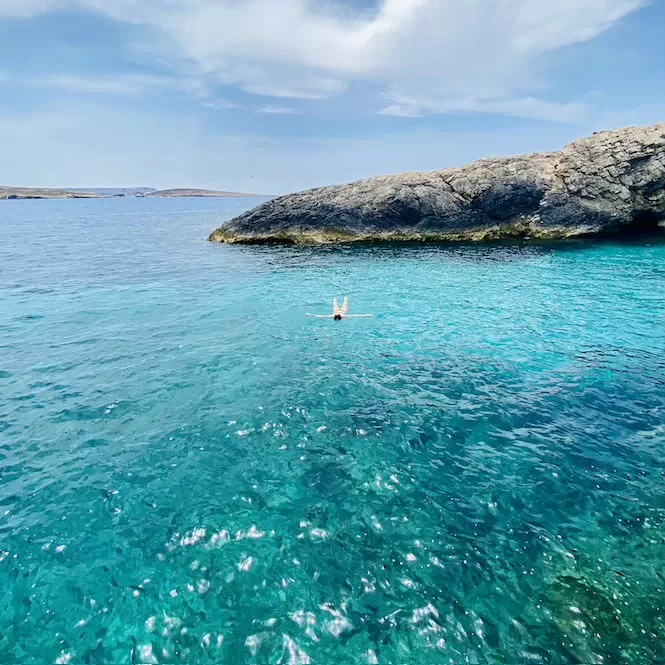 Xatt l-Aħmar Bay
A picturesque bay called Xatt l-Aħmar offers crystal-clear water and a peaceful atmosphere. The name Xatt l-Ahmar means red beach in Maltese. The terraced fields leading down to the bay are reddish brown, hence its name. It is an ideal place for swimming and diving. The beach has gentle slopes that make it easy to get in and out. Clay cliffs and salt pans form a picturesque setting for relaxing and sunbathing. Several fishing boats and houses line the shore of the beach.
The beach is accessible by a narrow road winding from Ghajnsielem village. Chambray is the closest bus stop if you do not have a car and use public transportation. A 10-minute walk takes you to the bay. 
You can also hike from Mgarr Harbour if you want to see Xatt l-Aħmar first. It should take about 25 minutes to walk from here to the beach. You should take this scenic coastal walk unless it's too hot. Don't worry, you won't get lost. All you need is to follow the path along the shore. There are clay cliffs that you will have to pass. After the rain, it might be slippery.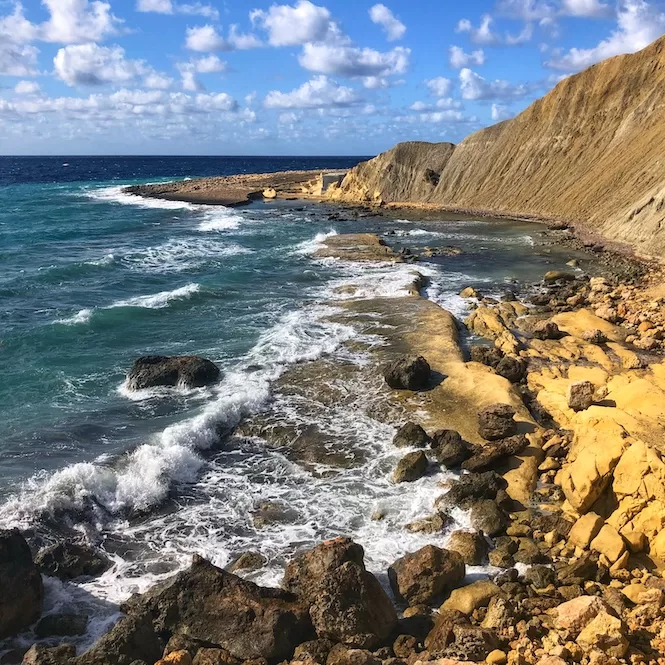 Xatt l-Aħmar Bay is a popular diving site. Three wrecks of former Gozo-Malta ferries lie approximately 40 meters deep underwater. MV Xlendi sank in 1999, while MV Cominoland and MV Karela submerged in 2006. Scuba divers can explore sunken ships and learn all about their history. Besides, they can see the marine life that lives there. As a word of warning, diving wrecks can also be challenging. You shouldn't dive if you're inexperienced.
Il-Għasri Valley
Il-Għasri Valley is a picturesque canyon-like area surrounded by steep limestone cliffs. This site is more famous but still not crowded. It's got amazing natural beauty. 
You can park on the top of the cliffs if you're driving. It's a lot more difficult without a car. The closest bus stop is Xwejni, about 35 minutes away. This walk along the coastline is beautiful, so I recommend it. Along the way, you'll see limestone cliffs and salt pans. Check out this trekking guide for more info. In summer, don't walk there between 11 am and 3 pm because it'll be too hot. 
Get your camera out when you get to the Il-Għasri Valley. From the top of the cliffs, you will see crystal-clear water and lush greenery. There's a small pebble beach down the steps, and it feels like paradise! This place is amazing for swimming and snorkelling. Because the canyon is 300 meters long, the water is calm even in rough seas. On windy days, the waves crashing against the rocks make it even more magical.
Ix-Xtajta Beach – My Favourite Secret Beach in Gozo
Among all the beaches in Gozo, Ix-Xtajta is my favourite. I discovered it on a hike in winter. I wanted to know how to get there in summer without melting in the heat. I found a parking spot close enough to walk even when it is hot. You can park here. It takes about 15 minutes to walk to the beach. From there, go down a steep and narrow road for another 400-500 meters. I saw cars passing it, but I wouldn't drive and risk getting stuck. Cars and 4x4s can make it, though.
Follow the road until it ends, and you'll find a small footpath. That path is not visible on Google Maps. I'm sure you'll find it. You'll walk through bushes and shrubs. After that, take a right and follow the path along the coastline for a few minutes. A beautiful rocky beach will be there.
You can also walk to this beach from Ramla Bay. Look for the path leading upwards on the left side of the beach. 
I love Ix-Xtajta Beach because it feels like a private beach. This place is probably unknown to most locals. When Ramla Beach is crowded in the middle of summer, Ix-Xtajta Beach is empty. I've never seen more than a few people there. 
There's something special about rock formations. There are circular holes in the rocks filled with water. Between the rocks, there are gaps that create natural pools. The interesting thing is that you can see similar rock formations underwater. Marine life is also there. I even saw an octopus once. 
The place is amazing. It's a true natural wonder. Definitely, worth the walk.
Hopefully, this blog will help you discover your favourite secret beach in Gozo. There's something for everyone on this beautiful island, from San Blas Bay to Xatt l-Aħmar Bay and Il-Għasri Valley. Check out this Gozo guide if this is your first trip to Gozo and you're looking for the most famous sites and activities. You'll get tips, advice, and insider info on the island's most popular attractions. Also, take a look at my other Gozo guides – Dwejra Bay, Ghasri Valley, Mgarr I-Xini and Xlendi. 
Also, there are some amazing tours in Gozo that you can't miss, like quad biking, jeep tour or kayaking between Gozo and Comino.
Feel free to get in touch if you have any questions. I'd love to hear from you.