Hondoq Bay is a beach in the south of Gozo. Known by its full name, Hondoq ir-Rummien Bay, a Pomegranate Moat, it promises an unforgettable experience. This beach is known for its crystal-clear waters and local vibes. Are you ready for a beach adventure? Read on to find out what it has to offer.
My Top Reasons to Visit Hondoq Bay
Comino views: From Hondoq Bay, you get a stunning view of Comino. It's like sitting in front of a real-life postcard.
Crystal clear: Hondoq Bay water? It's so clear, it's like looking through the glass!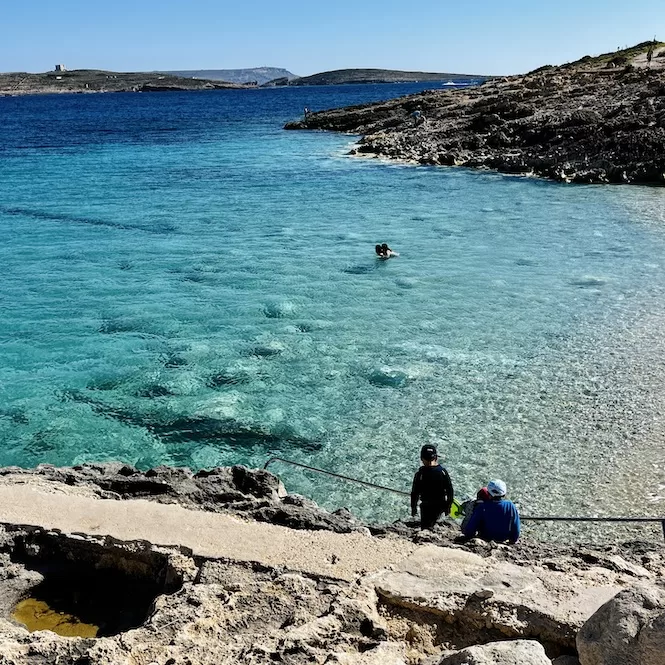 Safe and kid-friendly: The bay is super safe to swim in. Plus, there's a lifeguard around, so you're in good hands.
Local vibes: This bay is where the locals hang out. So, if you want to chill like they do, this is the place.
Adventure time: If you're into fun stuff like jet skiing or kayaking, Hondoq's got you covered. And if you're feeling extra adventurous, book a kayak tour and paddle from Hondoq to Comino.
Jump right in: Ever wanted to dive into warm blue water? You can do that here.
Snack time: Feeling hungry? There's a kiosk nearby. Grab a snack, a drink, and enjoy the beach vibes.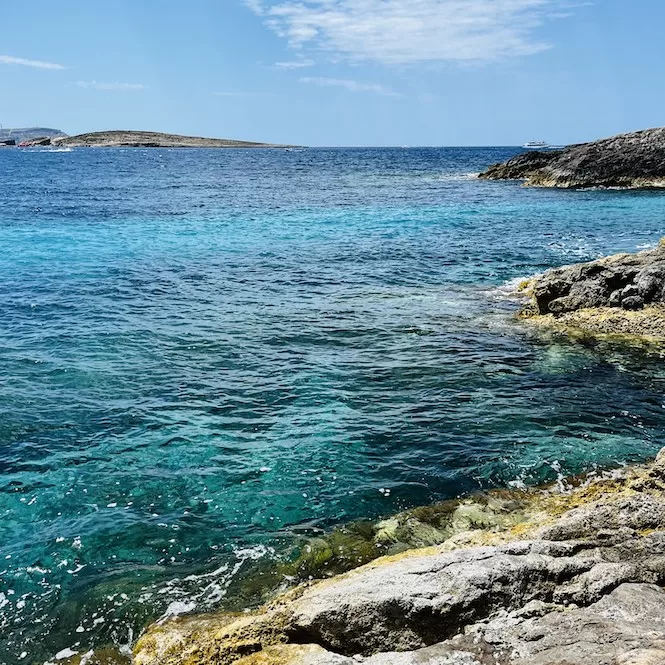 Why Hondoq Bay Might Not Be for You?
Here are some things that might not be everyone's cup of tea about Hondoq Bay:

Crowd alert: Hondoq Bay can get super packed, especially during July, August and September. If you're not a fan of crowds, you might want to visit early in the morning.
Pebbles vs sand: The beach is more pebble than sandy. So, if you're dreaming of soft sand between your toes, this might not be the spot.
Limited facilities: While there are some facilities like a snack kiosk and toilets, don't expect a full-blown resort experience. There are no umbrellas or sundeck rentals, nor fancy eateries.
Noisy: If you're looking for a quiet spot, know there are many water sports happening, like jet skiing and kayaking. It could be fun, but also noisy.
Remember, everyone's experience is different. What might be a downside for one person could be a highlight for another. If you're planning a visit, it's always helpful to know what to expect!
How to Get to Hondoq Bay?
Thinking about taking the bus? Well, it's doable, but the closest bus stop is about 15 minutes away, and it's downhill. So, after a fun day at the beach, brace yourself for an uphill trek back to the stop. Buses depart from Victoria every hour or so. Check this website for routes and schedules.
Feeling adventurous and up for a walk? There's a beautiful trail starting at Mgarr Harbour that leads directly to Hondoq Bay. It's a 30-minute journey, and the path is marked with red spots to guide you. However, be cautious as some parts of the trail are quite narrow. If you're considering this walk, avoid midday in the summer due to the intense heat.
Now, the easiest way to reach Hondoq Bay is by car. Just follow the signs, and you'll find yourself in this beachy paradise in no time. Plus, there's a spacious parking area right near the beach, so no need to stress about where to leave your vehicle. Below are the location and car park details.
If you're vacationing in Malta and want the freedom to explore at your own pace, consider renting a car. It's the ultimate way to uncover Malta's hidden treasures, including Hondoq Bay. I've had a great experience with Discover Cars – they offer a range of options without breaking the bank.
Getting There:
---
Location: link to Google Maps
Nearest bus stop: Kuncizzjoni
Walking distance from the bus stop: 15 minutes walk away or 1.20 kilometres away
Frequency of the buses: every 60 minutes or less
Parking available: car park near the beach
---
Things to do in Hondoq Bay
Here's a list of fun things to do:
Boat ride fun: Rent a boat and feel the wind in your hair! You can zip around and visit other bays. You can hire a boat with a skipper or rent a self-driving boat here.
Water sports: If you're into water action, try jet skiing, kayaking, waterskiing or a crazy sofa ride. Book yours here.
Snorkel time: The water's clear, it's perfect for snorkelling. Dive in and say hi to the fishies!
Beach bites: Hungry? Grab a bite at the Hondoq kiosk. Their tuna ftira is delish!
Jump in: If you're feeling brave, there are spots to jump into the sea.
Hidden bay: Explore the hidden Ta' Bumbarin Bay to the right of Hondoq. It's like a small fjord with a cave to swim into.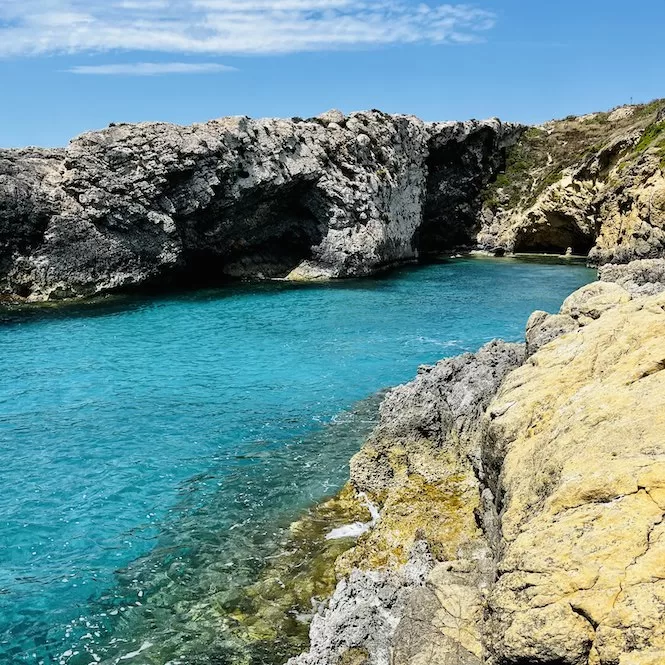 Nature walk: Take a scenic walk from Hondoq Bay to Mgarr Harbour. Follow those red spots, but be careful, some parts are tricky. Get a full hiking guide here.
Chill & swim: The beach might be pebbly, but it's perfect for swimming. And if you just want to relax, grab a sunbed and soak up the sun. 
Kayak to Comino: Book a kayaking tour and head to Comino. It's a nearby island that's worth a visit. Book it here.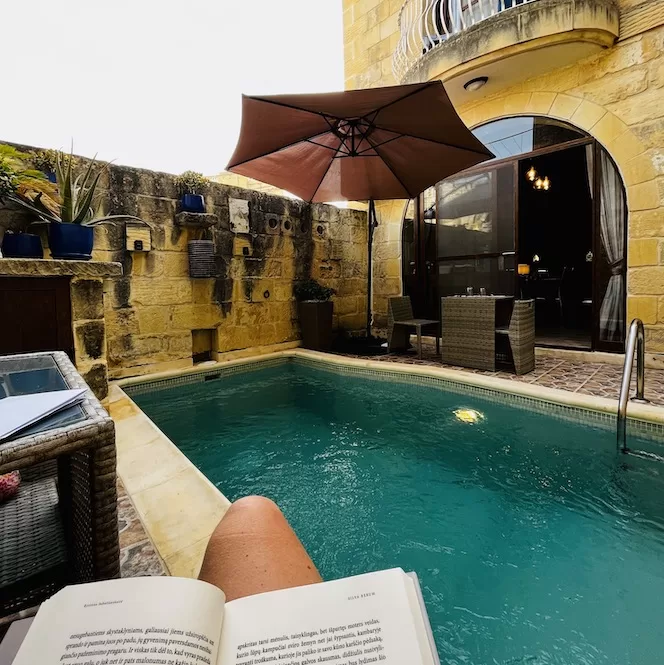 Tips for the Best Experience at Hondoq Bay
Peak times: Hondoq Bay is small and crowded, especially on weekends and bank holidays. If you're more into calm, serene vibes, visit during weekdays or early mornings.
Stay hydrated: Malta's sun is very intense. Always keep a bottle of water with you to stay hydrated. Hey, while we're talking about the sun, put on that sunscreen. Your skin will thank you!
Footwear alert: The beach is pebbly so to keep your feet happy, consider wearing aqua shoes. 
Jumping in: Hondoq Bay has some cool spots where you can jump straight into the blue waters. But remember safety first! Always check the depth and watch out for underwater rocks or people swimming before jumping.
Jellyfish watch: Ah, jellyfish, the uninvited guests of the sea. While they can be beautiful to look at, some can give you a nasty sting. If you're unsure about the types of jellyfish around or how to stay safe, check out my handy jellyfish guide. It's packed with all the info you need.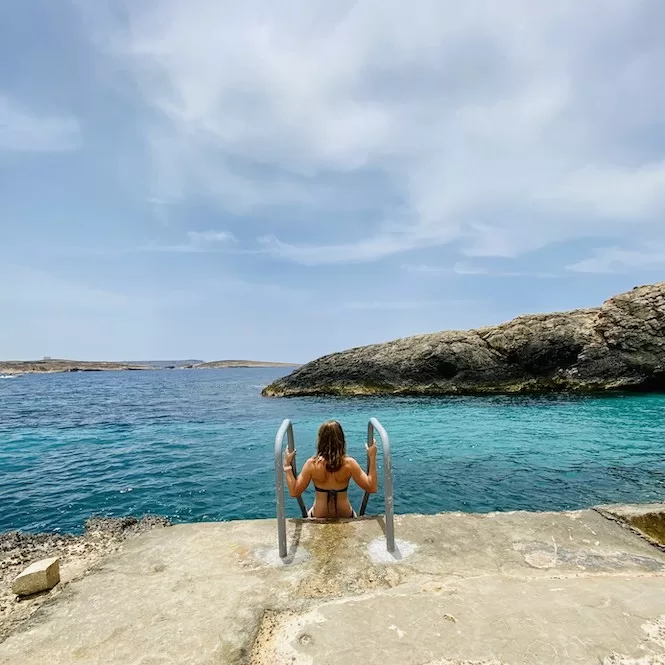 Hondoq Bay is a great beach in Gozo. The water is clear, and there are places to jump into and spots to relax. It's a beach where everyone can find something fun to do.
Guess what? I have more fun guides for you! Check out my guide to top things to do in Gozo, or learn about other beaches like Ramla, San Blas, Mgarr Ix-Xini Bay, Xlendi, and Wied il-Ghasri. If you want a quiet beach, I have a guide to secret Gozo beaches. Have fun exploring, and I hope you have lots of beach adventures!