Ramla Beach is on Gozo, Malta's sister island. The sand is red. The water is clear. Everyone loves it here. But there's more to know about Ramla Beach. How do you get there? What can you do there? This post will tell you everything. It's your guide to Ramla Bay.
Quick Facts about Ramla Beach
Ramla Bay is known as the "red beach" in Maltese, thanks to its reddish sand.
It's located on the northeast coast of Gozo, a 25-minute ferry ride from Malta.
This is Gozo's largest sandy beach, and many consider it the finest in Malta.
Surrounded by cliffs and dunes, Ramla Bay retains its wild beauty, offering a glimpse of what Malta was once like.
My Top Reasons to Visit Ramla Beach
The red sand: Ramla Bay is famous for its red sand. It's something you won't see on many beaches.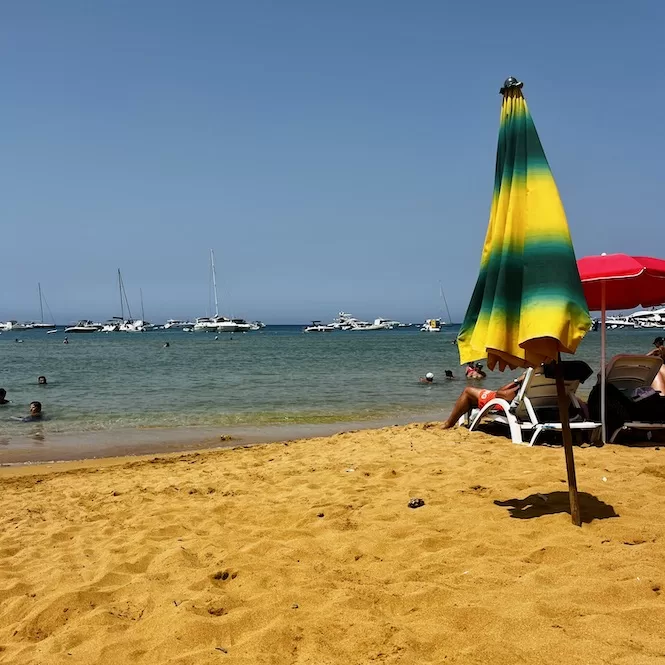 Cliffs and views: There are cliffs on either side of the beach. You can climb them. The view from the top is breathtaking.
The turquoise water: Ramla Bay's water is clear, clean and turquoise. You can see through it. It's great for swimming and snorkelling.
Natural beauty: Ramla Bay is surrounded by wild nature. There are no imposing buildings. It's a place to enjoy Gozo's natural beauty. Also, despite being Gozo's biggest beach, you won't see crowds like in Malta.
Lifeguards on duty: There are two lifeguard stands at Ramla Bay and safety flags are displayed. This is a family-friendly spot and a place for safe swims.
The amenities: There is parking. There are public toilets and showers, and also picnic tables. There are several places to get food. You can rent sunbeds and umbrellas. Also, there is a water sports hire shop. Ramla Bay has everything you need for a great day at the beach.
Safe for kids and non-swimmers: Ramla Bay is safe for everyone. The water is shallow, so kids and those who don't know how to swim can enjoy the water too.
Accessible for wheelchairs and pushchairs: There's a wooden path over the sand, so wheelchairs and pushchairs can get to the beach. In addition, the road leading to the beach is right next to it. There's also parking there, but it might be occupied unless you arrive early.
Suitable for snorkelling: Swim along the rocks and see lots of fish. Malta's waters are full of marine life. You can see groupers, snappers, moray eels, octopuses, sea bass and more. It's like swimming in an aquarium.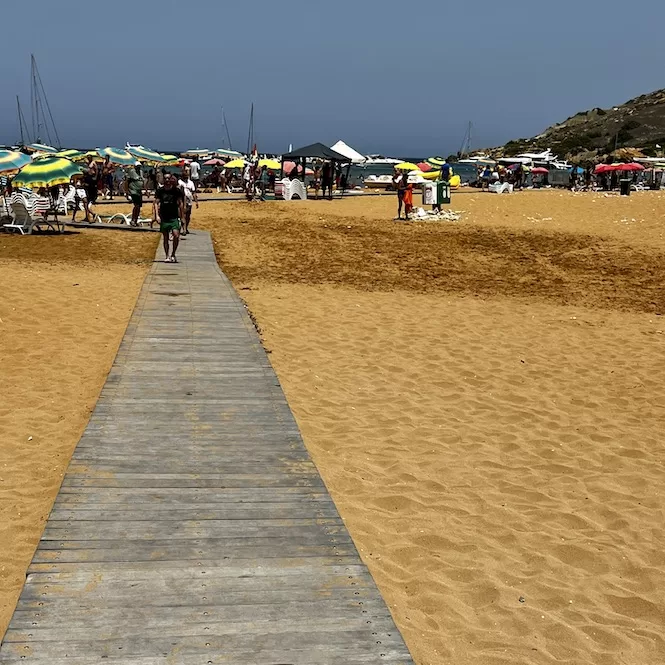 Why this Beach Might not Be for You?
Ramla Bay is a beautiful place, but it might not be right for everyone. Here's why:
No fancy eateries or hotels nearby: In Ramla Bay, there are no plush hotels or fancy restaurants, just a few places that serve simple food like burgers or sandwiches. 
Pebbles at the water's entrance: The beach is sandy, but there are small pebbles when you enter the sea. After a few meters, they disappear. You might find this uncomfortable, especially if you're barefoot.
Not sheltered when windy: Ramla Bay is not wind-sheltered. If it's a windy day, you'll feel it on the beach. If you don't like the wind, you might want to check the weather before going.
This place is mainstream: Many people visit this beach. If you want a quiet secluded beach this might not be it. But don't worry. I have a guide to hidden beaches in Gozo.
No sunset views: Ramla Bay is on the northeast side of the island. That means you won't see the sunset from the beach. If watching the sun go down over the water is something you love, you might be disappointed here. If you are a sunset chaser, check out my blog on the best sunset spots.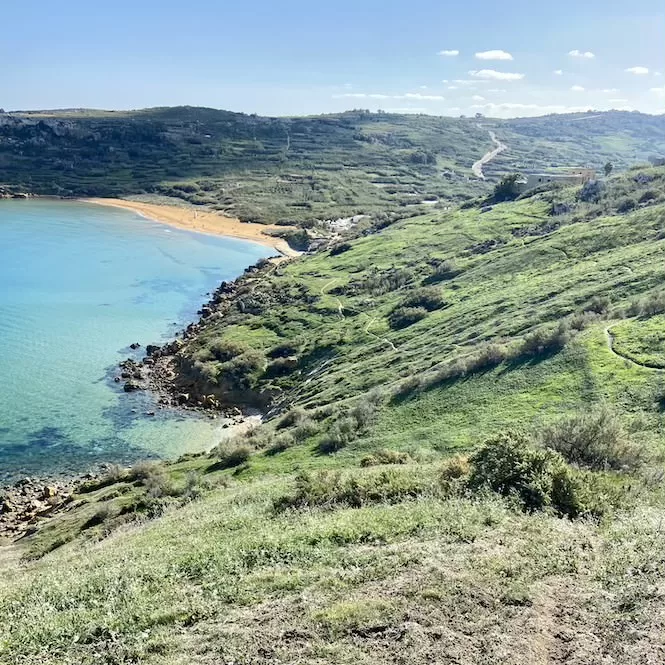 How to Get to Ramla Beach?
Ramla Bay is accessible by public transport. There are buses from Marsalforn, Victoria or Mgarr Harbour. Check this website for routes and timetables. The bus will drop you near the beach.
It's easy to get there by car. Below you can see its exact location and parking area.
If you plan your stay in Malta for longer than just a few days, it is a wise idea to rent a car. A car gives you freedom. It lets you explore, so you can cover more in one day. Discover Cars is an excellent place to look. They have cheap options and lots of cars to choose from.
Getting There:
---
Location: link to Google Maps
Nearest bus stop: Ramla
Walking distance from the bus stop: 450 meters, 5 minutes
Frequency of the buses: every hour or less
Parking available: along the road or private field here (it costs 2 euros per day)
---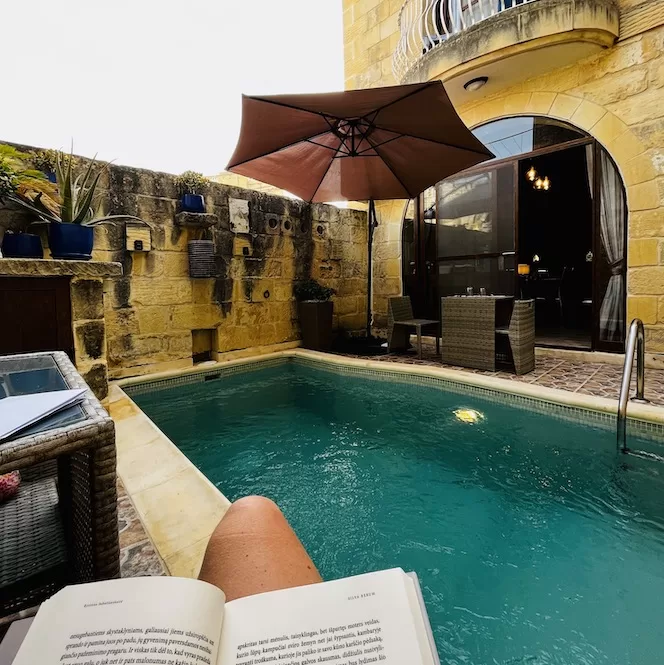 Things to Do in Ramla Beach
Ramla Bay is not just a place to sit and relax. There's a lot to do. Here's what you can enjoy:
Enjoy the red sand and clear water: The red sand is special. The water is clear. You can swim, play and relax.
Climb up to Calypso Cave: Climb up and enjoy the view. There's a path on the right side of the beach. It's steep at the end, so don't wear flip-flops. The hike is 10 to 15 minutes.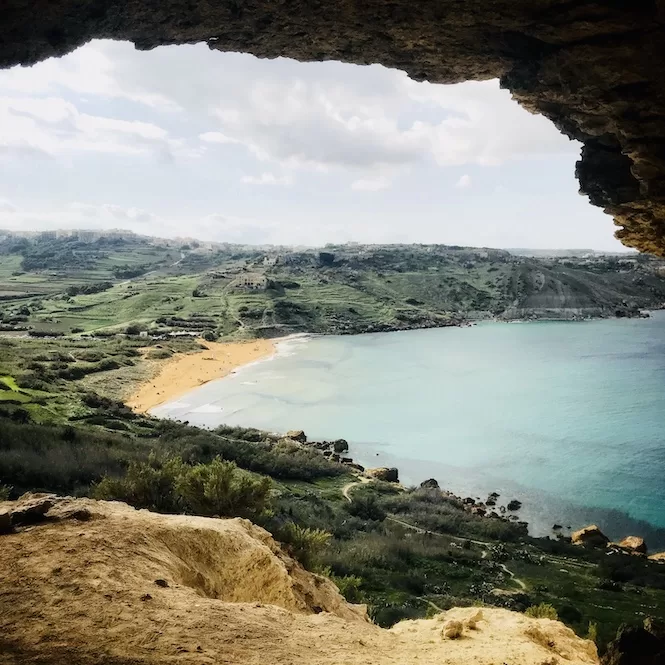 Snorkelling: Swim along the rocky shoreline and you will see lots of fish.
Grab some food: Cafes and stalls are set back from the beach. Enjoy a snack or refreshing drink without leaving the scenic surroundings.
Try water sports: You can rent a stand-up paddle or kayak and explore the rocky coastline. Or take a banana ride for a fun splash.
Some Advice for an Excellent Experience
Here are some insider tips:
Walk to the right side of the beach to avoid the pebbles. There are almost none there. It's more comfortable.

The beach can be pretty crowded in the summer, but it's not as bad as Mellieha Bay or Golden Bay in Malta. You can always find a spot. But getting a prime parking place and a spot to lay down your tower is easier if you get there early.

On your way to Ramla Bay, sto

p at Mekrens Bakery. Y

ou can get Gozitan pizza, called ftira. Also try Qassata, a pastry filled with ricotta or peas. It's delicious and authentic. It's my go-to food for a beach day.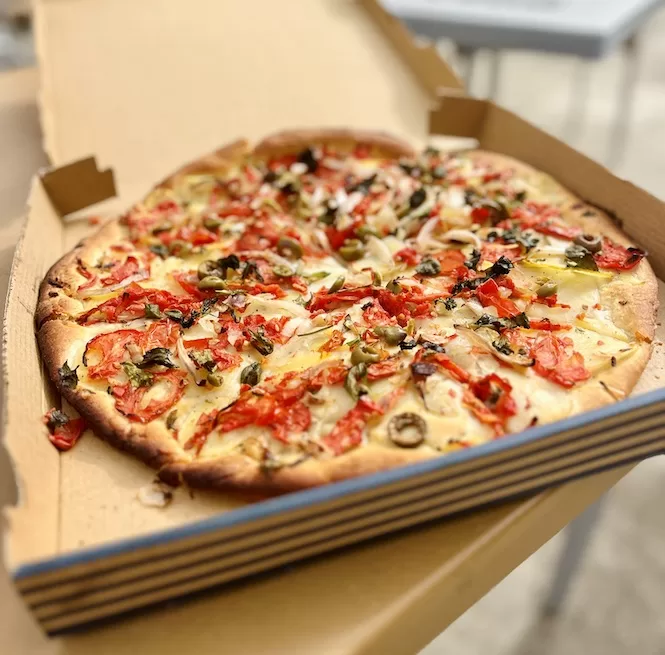 With its unique red sand, clear turquoise water, and natural beauty, Ramla Beach is for everyone. Families will find safety and fun. Snorkelers will discover a world beneath the waves. Nature lovers will enjoy the wild surroundings.
But Ramla Bay is just the beginning. Gozo has so much more to offer. There are hidden beaches waiting for you. There are places like San Blas, Dwejra Bay, Xlendi, Mgarr Ix-Xini, Ghasri Valley, Inland Sea, Hondoq Bay and salt pans.
Also, there are some amazing tours in Gozo that you can't miss, like quad biking, jeep tour or kayaking between Gozo and Comino.