Ever wondered what are the best places to see sunsets in Malta and Gozo? Well, you're in luck! Malta's got some awesome spots where the sky turns pink, purple and red as the sun sets down. So, if you're up for some sunset magic, come along as we check out the top 15 places in Malta to watch the day's goodbye.
Best Places to See Sunsets in Malta and Gozo: An Interactive Map
Best Places to See Sunsets in Malta
1. Ghajn Tuffieha
Located between clay slopes and limestone cliffs, this Ghajn Tuffieha Beach is truly one of the best places to see sunsets in Malta. As the sun dips, everyone in the water turns into silhouettes, like something out of a dream. You can chill on the sand, take a sunset swim or paddle boarding trip. If you want romantic vibes without the crowds, hike up the hill (see the location here). Up there it's like having a private sunset show just for you.
2. Golden Bay
Golden Bay is just around the corner from Ghajn Tuffieha Beach, but it has a different vibe. This beach is wider and more popular, with more bars and restaurants. True to its name, Golden Bay is completely lit up with a golden glow when the sun sets. It's one of those popular spots where you can enjoy sunset views and sip on a cocktail. Many people bring their barbecues and extend their night by munching on food and stargazing.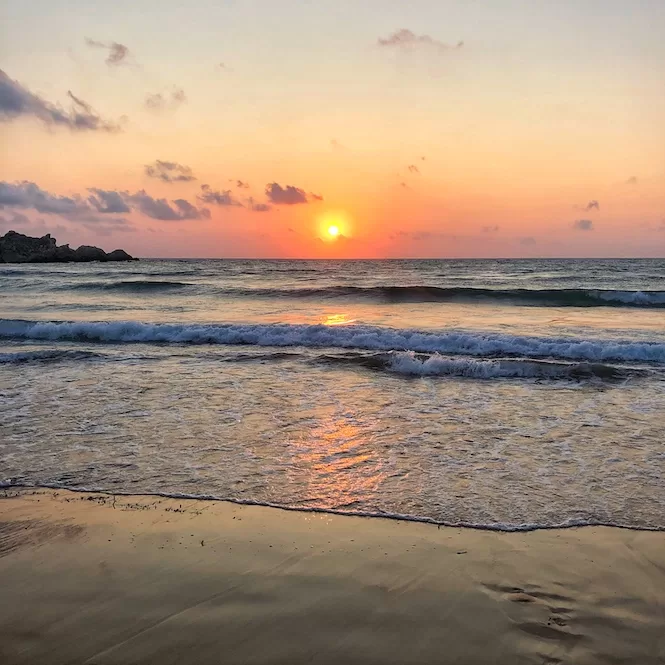 3. Fomm Ir-Rih
Looking for a hidden gem? Fomm Ir-Rih is a secret bay, with dramatic cliffs and pebbly shores, that allow you to enjoy nature unfiltered. Whether you're down on the rocky beach or up atop the cliffs, the sunset views are breathtaking. It's the perfect spot if you crave solitude in a pristine, untouched setting.
4. Dingli Cliffs
Ever wanted to feel above it all in Malta? Dingli Cliffs is your place! As the highest point on the island, the views are just… WOW! You can see fields stretching out, and there's an uninhabited island called Filfla in the distance. Even though it's a popular spot, it's never too crowded. Fancy a walk? There's a path waiting for your footsteps. If you're more of the sit-and-soak-it-all-in type, grab a bench and enjoy the views.
5. Malta Sunset Cruise
Ever thought of catching Malta's sunset from a boat? Sailing at sunset is my favourite! Feel the breeze, watch the coastline, and let the views amaze you. There are several sunset tours available for you to choose from. Below is one I can recommend. So why wait? Book now and let's sail on the golden horizon.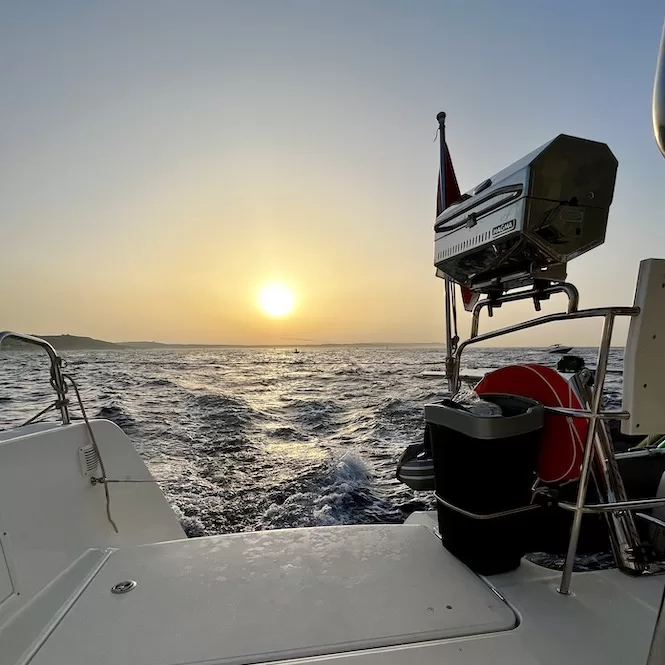 6. Popeye Village, Anchor Bay
Popeye Village started as a film set and now stands as an attraction park and popular tourist site. While visiting it is more suitable if you have kids, for the rest, the real magic is across the bay. The golden light of sunset provides an excellent shot of Popeye Village.
7. Migra l-Ferha
It's the place to catch dreamy sunsets. As you stand high on the cliffs, enjoy epic panoramic views. While locals know this place, it's still a hidden gem for tourists. So, it's never too crowded. There's plenty of parking, so getting there is no problem. Pack your favourite snacks, maybe a blanket, and join the locals for a picnic while watching the golden sunset. 
8. Blue Grotto 
This spot is a top tourist attraction for obvious reasons. The caves there are absolutely stunning, especially with the sun painting them gold. And the waters are so deep and blue. They gave the place its name! Grab a spot on one of the benches and soak in the views. Oh, and don't miss Filfla Island in the distance. Heads up, this place can get busy so if you're looking for a romantic evening, you might want to choose another spot.
9. The Red Tower Area / Radar Station
Red Tower is a 17th-century fort, painted in red, and is on the top of the list of the best places to see sunsets in Malta. From its rooftop, you can admire Ghadira Bay, Majjistral Park, and the waters between Comino and Gozo. And if you're up for a stroll, head over to the old radar station nearby (click here for location). Sure, it's seen better days, but the panoramic views? Absolutely unbeatable! So, whether you're atop the tower or exploring the surroundings, you're in for a sunset treat like no other!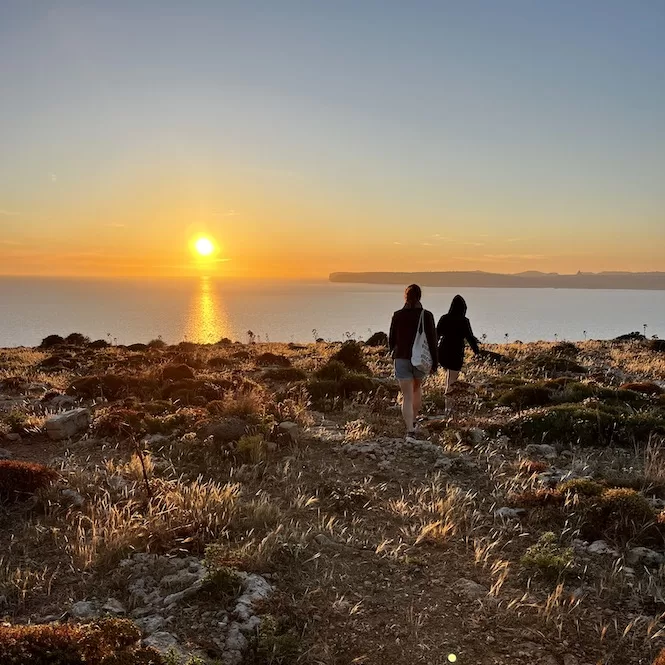 10. Coral Lagoon in Mellieħa
Coral Lagoon is a cave that opens into the sea. From the top, it seems like a big hole in the ground, but you can see the water sparkling in the sunlight. And, oh, the views! You've got Comino and Gozo islands in front and you can watch many boats sailing gracefully. It's a peaceful spot, just right for some 'me-time'. And when the sun dips, casting golden hues over Comino and Gozo? It's a sunset lover's dream come true.
Best Places to See Sunsets in Gozo
11. Sannat (Ta' Cenc) Cliffs
Think of them as the Dingli Cliffs' cousins in Gozo. These cliffs rise tall and proud, diving straight into the deep blue Mediterranean. Pictures don't do it justice. You've just got to be there, feel the breeze, and let the vastness sweep you off your feet.
12. Dwejra Bay
Dwejra Bay in Gozo is my absolute favourite of all the places to see sunsets in Malta and Gozo. Take a leisurely coastal walk and soak it all in. The waters shimmer like a million stars, and those limestone cliffs stand tall, towering over the sea. It's a popular spot for many, but it's big enough to find your own quiet corner. 
13. Xlendi Bay
Xlendi Bay is surrounded by tall dramatic limestone cliffs. And as the sun sets, Xlendi truly comes alive. You can chill at a waterfront restaurant with a cool drink in hand or sit on a picnic bench and enjoy an impressive sunset show.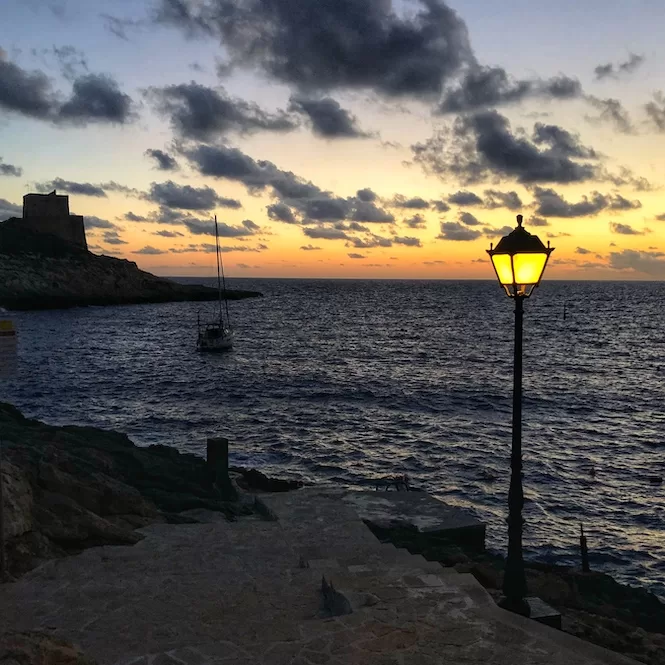 14. Citadel in Victoria, Gozo
It's not just any old spot; it's a Bronze Age fortress located in Gozo. From being an acropolis during Punic-Roman times to becoming a castle in the medieval era, this place has seen it all. Today, the Citadel is a hotspot for history buffs and sunset chasers. Imagine watching the sun set over Gozo from a place that has seen centuries pass by. 
15. Sunset on the Gozo Ferry
Hop on the Gozo ferry and catch a sunset while hopping between islands. If you play your cards (or, well, time) right, you can catch the sun dipping below the horizon from the ferry deck. Think of it as a budget-friendly sunset cruise between Malta and Gozo. Check the ferry schedule and head to the top deck. Secure the prime spot and let the golden skies amaze you.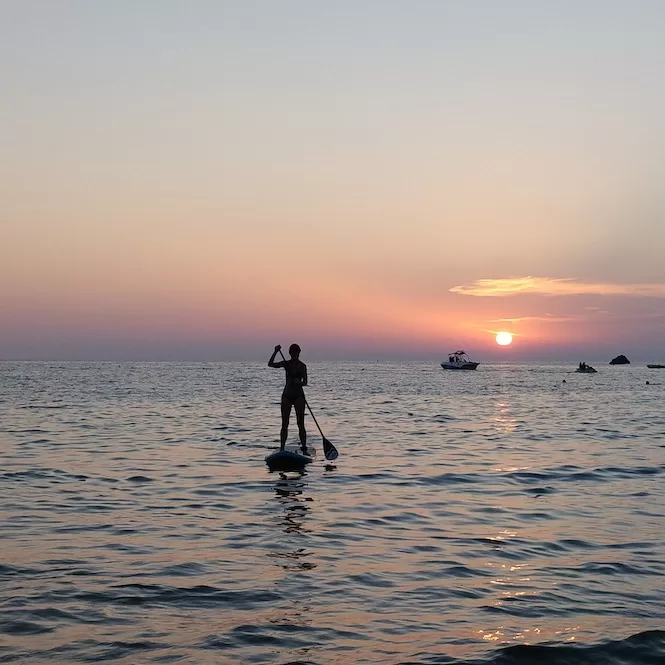 Among the best places to see sunsets in Malta, each spot delivers its own stunning views. From towering cliffs to serene beaches, and even aboard a ferry, Malta's sunsets are magical.
But hey, the adventure doesn't stop here! Dive into my other guides and discover Malta's thrilling water sports, scenic hikes, and rich historical treasures. Happy sunset chasing!