Blue Grotto Malta is a must-see. Located on the island's south coast, this natural gem offers a variety of activities and views. Think boat tours through caves, diving, hiking, and photo ops. It's a top spot in Malta for a reason. Stick around—this blog will break down the best of Blue Grotto, what to do, and tips to make your visit great. Keep reading; you won't want to miss this.
Yet, even top spots like Blue Grotto have their downsides. No worries—this guide has your back. It's your go-to for dodging pitfalls and maximising fun.
Top Reasons to Visit Blue Grotto Malta
Stunning scenery: Blue Grotto is famous for its picturesque views. Imagine deep blue waters meeting limestone cliffs. Add the uninhabited island of Filfla in the background. I love the sea at sunset when it glows gold. No postcard can do it justice.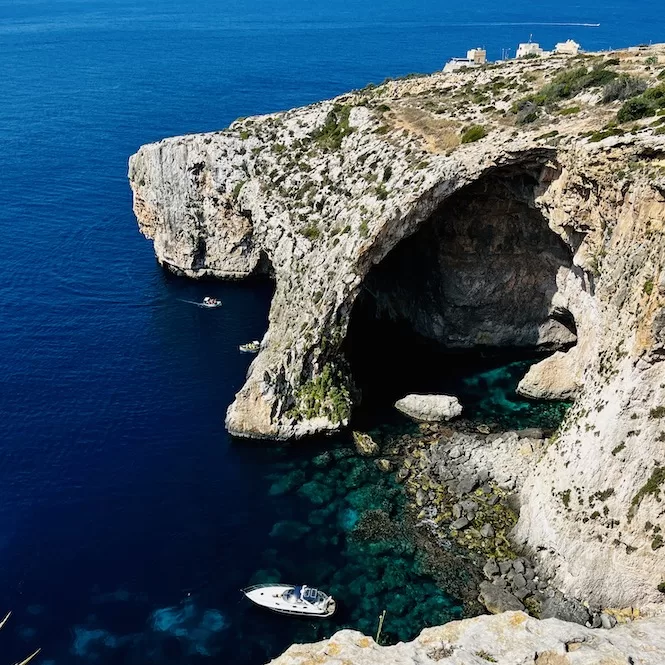 Colour show: Blue Grotto water varies in colour from aqua to turquoise, deep navy to azure. It also changes with the time of day.
Easy to get there: The Blue Grotto is convenient to reach. Car, taxi, bus—you name it. Parking is just a few meters away, and double-deckers pass by. No sweat getting there on foot. 
Affordable boat tours: Boat tours to caves are inexpensive. And they will get you up close to nature's art and learn about the area's geology. What's not to love?
Paddle away: Got a taste for adventure? Blue Grotto delivers. Kayak through clear waters. Explore caves at your own speed. Paddle board tours are available. Book yours here.
Hiking and photography: Love hiking? Into photography? Blue Grotto's got you covered. Scenic trails. Coastline views. Open sea. It's a double win for nature nuts and photo fans. Get those hiking boots and cameras ready.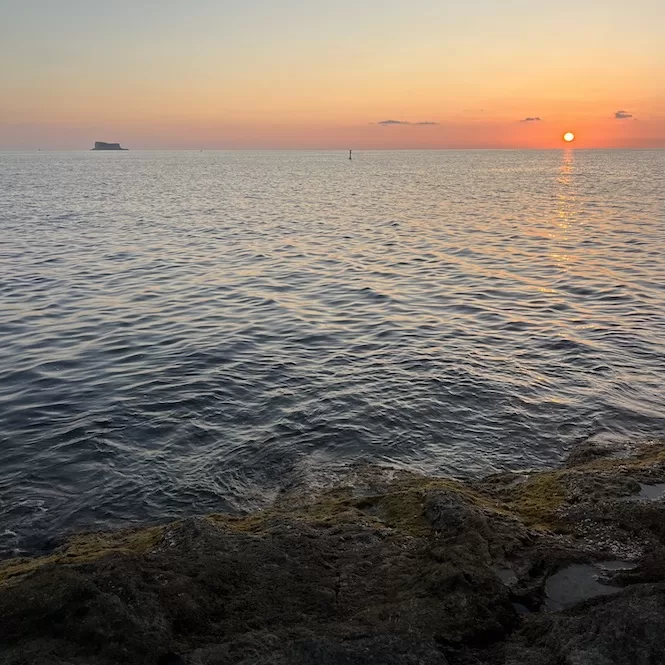 A decent choice of restaurants: Blue Grotto has at least ten restaurants to choose from. But not all win. How to pick? Check Google Reviews. Skip the "nice place" comments. Look for detailed, authentic reviews. That's your ticket to tasty food.
Potential Pitfalls at Blue Grotto Malta
Sure, the Blue Grotto is great. But it's not flawless. Knowing the not-so-great parts helps you plan a better trip. So let's get into it.
It's touristy: Blue Grotto attracts crowds. If you're into quiet time, you might be disappointed. But hey, early morning or late afternoon work. Around 5 or 6 p.m., you can still hop on a boat and catch the sunset.
A boat tour might feel too short: The boat tours are fun but quick. Fifteen minutes for 8 euros. Some folks might want more time for their money. If that's you, think paddle boarding or jet ski tours. You can book those for a longer time in the caves. Links below to get you started.
How to Get to the Blue Grotto?
Blue Grotto is near Zurrieq, on Malta's south coast. There are many ways to get there.
By bus: Buses from Valletta and Mdina drop you there. Malta's buses are solid but packed. And they're not quick. Mdina to Blue Grotto? About an hour. Valletta? Over 40 minutes. For routes and times, check this website.
By taxi: Need a quick ride? Check out Bolt, eCabs, and Uber. Prices can vary big time. Compare before booking.
Take a double-decker bus: Like sightseeing? The hop-on-hop-off bus is a hit. Pick the South route. You'll see Blue Grotto, Marsaxlokk and more. Get your tickets here.
Take a half-day tour: Only got half a day? There's a Sunday tour for that. It pairs Marsaxlokk with Blue Grotto. They pick you up and drop you off. Easy and chill. Book it here.
Drive yourself: In Malta for a week or more? Think about renting a car. I like Discover Cars. Good choices, good deals. Plus, they offer solid insurance and free cancellation for 48 hours before the trip. Book here.
Parking Tip: There's a large parking lot near Blue Grotto. But heads up—the parking guy will ask for a tip. Keep some coins handy. A euro or two will do.
Getting There:
---
Location: link to Google Maps
Nearest bus stop: Grotto
Walking distance from the bus stop: 300 meters
Frequency of the buses: every hour.
Parking available: in the car park here
---
Can You Swim in the Blue Grotto?
Yep, you can swim. But there are some things to know. The water is clear and blue, but deep. Not a spot for novice swimmers. Plus, there are no lifeguards.
In the bay near the boats, the water is at least 3 meters deep. If you swim out of the bay, it's over 10. You'll see fish and deep blue water. But the currents are sometimes strong. Stay safe.
Want to jump in? There's a place for that. But be smart. Watch out for boats.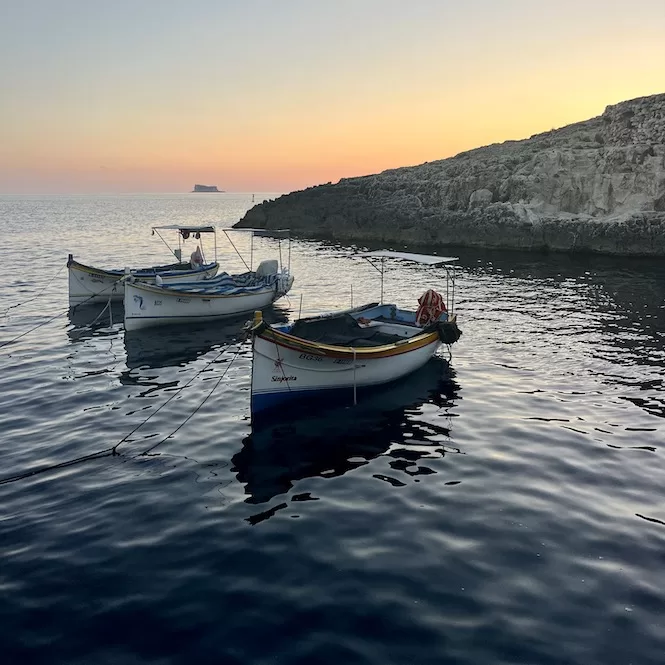 What to do in Blue Grotto Malta?
Blue Grotto isn't short on fun. Adventurer or nature nut, there's something for everyone. Get ready to dive in.
Take a boat tour: You see caves up close. The boat guys will tell you some facts about the caves and the area. It's fun and you learn stuff. What's not to like?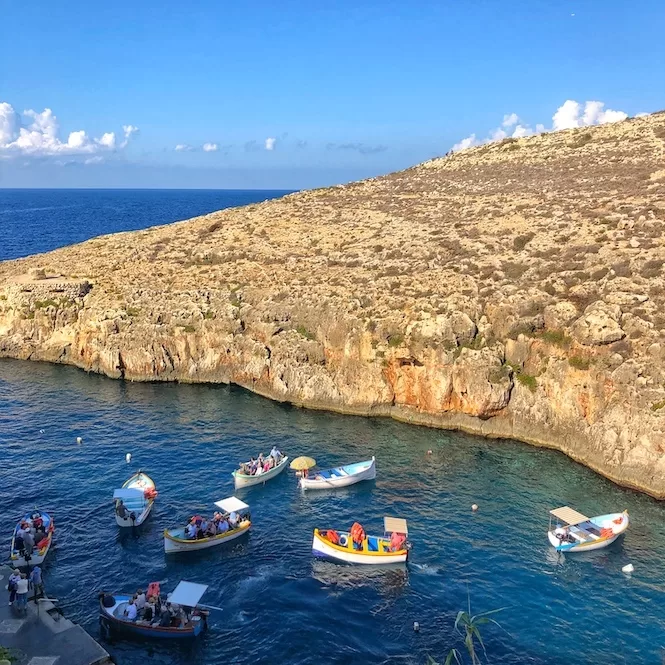 Paddle or Kayak: Want adventure? Grab a paddle. You can kayak around Blue Grotto. See the caves at your own speed. Ready to book a paddle boarding tour? The link's here.
Go swimming: Love swimming? Blue Grotto's water is clear and blue. But be careful, it's deep. 
Take a hike: Blue Grotto's got some nice trails. You can see the coast and the open sea. Try hiking from Ħaġar Qim temple to Ghar Lapsi. It's a top Malta hike. Want my guide? Here's a link.
Have a sunset picnic: Like sunsets? Blue Grotto is the spot. The sun sets over the sea. It's awesome. Pack food and a blanket. Have a chill evening.
Go diving: Scuba diving in the Blue Grotto is popular. You might encounter tuna, jacks, and barracudas. Divers go there to see Um El Faroud, a big wreck near Blue Grotto. It's 36 meters deep and 110 meters long. You'll need a few dives to see it all. Book a guided dive tour with a local dive centre. 
When is the Best Time to Visit Blue Grotto?
Morning wins. Sunlight hits the caves just right. Makes the water sparkle. Plus, there are fewer people.
Sunset works too. It's a different show but just as awesome. Either way, you can't lose.
Safety Tips
Planning to enjoy swimming? Look at the weather first. Rough seas are no joke. 

Local guides and boat guys know the sea. Take their advice. It keeps you safe.
Blue Grotto Malta: Nearby Attractions
The Blue Grotto is located near several other attractions to explore.
Hagar Qim and Mnajdra Temples
These ancient temples are located just a short walk from Blue Grotto. They're ancient and on Unesco's World Heritage List. Hagar Qim temples go back to 3600-3200 BC. 
A short walk from Hagar Qim, you'll find Mnajdra. It's even older, built around 4000 B.C. This site has three temples. People think they were used for healing and watching the stars. The lower temple even lines up with the sun during the vernal and autumnal equinoxes. 
Babu Valley
Tucked between Zurrieq and Blue Grotto, Wied Babu is a lush valley. It's a nature lover's dream. You'll find clearings, big trees, and even ancient pathways. It's wild but welcoming. Climbers love it here, but it never feels crowded.
How to Get There: Start at Zurrieq village. Park near a curve that leads to a dirt road. You'll see rock-cut stairs across the valley. That's your entry (location is here). Wear sturdy shoes, not flip-flops. The path is clear but rugged. You'll find steps cut into the rocks to help you down. It's an adventure, but worth the effort.
Preparing for Your Visit
A few tips to prepare for your Blue Grotto visit:
Want to avoid the crowds? Show up early or for sunset. 

Bring cash. You will need to tip the parking attendant and pay for boat rides.

Comfy shoes are a must if you plan to enjoy hiking or visiting temples. 

The sun's no joke, so pack a hat and sunscreen.
Don't miss the Blue Grotto in Malta. It's got stunning caves, fun stuff to do, and it's just plain beautiful. So come see what all the fuss is about.
Malta's not just about the Blue Grotto. There's a whole island waiting for you. From the busy city vibes in Valletta to the chill beach scenes in Gozo and Comino. Want the full story? Check out my other guides and get the full Malta experience.