Malta is a small island nation but features three UNESCO World Heritage Sites. This is because Malta's strategic location and rich culture have attracted tourists for centuries. Let's take a closer look at these three unique sites and why they are so special.
There are three UNESCO World Heritage Sites in Malta. These include the mysterious Megalithic Temples, the remarkable underground temple of the Ħal Saflieni Hypogeum and the capital city of Valletta.
You will learn about them all in this blog post. Use the table of contents below to jump to the section that interests you.
UNESCO World Heritage Sites: What are They?
UNESCO stands for United Nations Educational, Scientific and Cultural Organization. It works to identify, guard, and maintain areas that are both culturally and naturally important to everyone. In fact, "World Heritage" is a term that categorises certain places as part of the world's collective heritage that is passed on from generation to generation.
There are two types of UNESCO World Heritage Sites. The first category of cultural heritage sites gives a glimpse into the past. In the second category are places of unparalleled natural beauty and value – for example, biosphere reserves and picturesque landscapes.
---
UNESCO World Heritage Sites in Malta: Megalithic Temples
The Megalithic Temples of Malta are one of the oldest freestanding structures in the world. They are considered some of the most impressive prehistoric monuments in Europe. There are seven temples in Malta. They date back to between 3600 BCE and 2500 BCE. These temples are built with complex architectural designs, including monolithic stone circles, altars, and chambers. Their exact purpose is still a mystery. People most likely used them for religious rituals or communal gatherings.
The Megalithic Temples are spread around six sites in Malta. Here's a map. You can see the temple names by hovering over the pins.
The temples are all different, but they all have an elliptical court at the front and a curved facade. It is evident from the horizontal rows of masonry that these structures had corbelled roofs. For that era, this was quite a sophisticated development. In addition, the temples have perforated decorative panels or depict animals, plants, and trees.
Ġgantija Temples
The most well-known temple is Ġgantija on Gozo Island – it's believed to be one of the oldest freestanding structures in the world. In 1980, UNESCO listed the Ġgantija temples as a World Heritage Site. The temples are just outside Xagħra village. These prehistoric structures are made of large limestone blocks with roofed chambers. Dating over 5,000 years ago, Ġgantija remains the oldest of all UNESCO World Heritage Sites in Malta. Visiting these magnificent temples is a great way to experience an ancient era first-hand.
Credit: Photo by Bs0u10e01, licenced under CC BY-SA 4.0
Tarxien Temples
Tarxien Temples are an archaeological complex located in Tarxien, Malta. They date back to approximately 3150 BC. In 1992, UNESCO recognised the Tarxien Temples as a World Heritage Site. The Temples consist of three separate, but attached, temple structures. The site is especially notable for its intricate stonework. It includes carved reliefs of domestic animals, altars, and decorations with spirals and other patterns. A carving showing a bull and sow sits between the South and Central temples, displaying the craftsmanship of the builders.
Credit: Photo by les, licenced under CC BY-SA 3.0
Hagar Qim Temples
The Hagar Qim Temples are the most picturesque among the megalithic temples in Malta. Located on a hilltop, they have a beautiful view of the Mediterranean Sea and the island of Filfla. Initially discovered in 1839, the Hagar Qim temples date back to 3600-3200 BC. There were significant finds, including a decorated pillar altar and two table altars. Also found at Hagar Qim were the famous 'fat lady' figurines. Now they are on display at the National Museum of Archaeology, Valletta. Read more about the National Museum of Archaeology and what else to see in Valletta.
Mnajdra Temples
Five hundred meters away from Hagar Qim is another temple site: Mnajdra. Mnajdra was built around 4000 B.C. Its structure has three temples: the upper, middle, and lower. During the vernal and autumnal equinoxes, sunlight illuminates the central axis. At the solstices, light illuminates the megaliths' edges. That's why it's thought that the temples were used for astronomical observatories. According to archaeologists, the other two temples were used for sacrificing animals because they had flint knives and rope holes inside. Further, they served religious purposes such as curing illness and promoting fertility.
Credit: Photo by Cruccone, licenced under CC BY-SA 3.0
There are also private tours so you can get all the info from the licensed guides. Book one here: 
Ta' Ħaġrat Temples
Ta' Ħaġrat is on the eastern outskirts of the village of Mġarr. This complex has two adjacent temples. Pottery dated to 3800-3600 BC indicates a town once existed there. The complex has two parts, but they're not as well planned as other Neolithic temples in Malta. There were no decorated blocks like other megalithic temples in Malta, but many artefacts were found.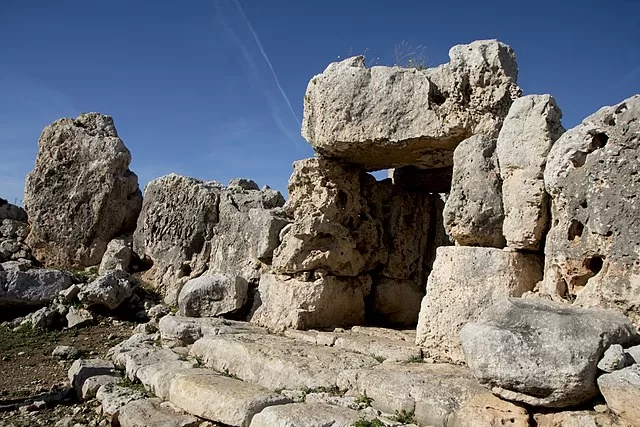 Credit: Photo by Karm photography, licenced under CC BY-SA 4.0
Ta' Skorba Temples
The Ta' Ħaġrat site is about one kilometre from the Ta' Skorba temples. The Ta' Skorba temples were excavated in the 1960s. It turns out that people lived in Skorba way before the temples were built. While excavating, they found two temples dating back to the Ggantija (3,600-3,200 BC) and Tarxien (3,150-2,500 BC) phases. In Skorba, there is a wall dating back to the Ghar Dalam phase (5,300-4,300 BC). Besides this wall, they found wheat, lentils, pottery, animal bones, and stone tools. A few stone foundations of two huts that date back to 4,400-4100 BC were found east of the Tarxien phase temple. The shrines had goat skulls and female figurines, so it appears they were shrines.
The Megalithic Temples of Malta are a must-see for anyone interested in prehistoric architecture. These seven temples are some of Europe's oldest and most impressive structures. They offer a unique glimpse into the lives of our ancestors. If you're curious about how these ancient people lived, add a visit to the Megalithic Temples of Malta to your bucket list.
UNESCO World Heritage Sites: Ħal Saflieni Hypogeum
It's time for the second UNESCO World Heritage site – the Ħal Saflieni Hypogeum.
The Ħal Saflieni Hypogeum is an underground temple complex located in Paola. The Hypogeum was accidentally discovered in 1902 when workers cut cisterns for a new housing development. This structure has several interconnected chambers made of limestone rock decorated with stalagmites and stalactites.
Credit: Photo by Hamelin de Guettelet, licenced under CC BY-SA 3.0
The Hypogeum complex was built around 4000-3500 BC, making it one of the world's oldest surviving structures. The underground structure may have originated in a natural cave but expanded over time by cutting directly into the rock. Based on pottery samples and human remains, the site was used from 4000 BC until around 2500 BC.
Many of the sculptures and paintings in the Hypogeum depict scenes of ancient life, including hunting scenes and religious symbols. Many tombs and chambers were used to bury people. Its acoustics are among its most exciting features; when standing in certain sections of the Hypogeum, sound can travel a very long distance because of acoustic resonance.
Despite its age, the Hypogeum is still relatively well-preserved thanks to its protected location underground, making it an ideal destination for visitors who want to explore Malta's ancient history. Tours are available throughout the year and provide an insight into what life was like centuries ago in this part of the world.
If you're looking for a way to learn more about Malta's incredible history and culture, a visit to Ħal Saflieni Hypogeum should be on your list!
Valletta
Since 1980, Valletta has been a UNESCO World Heritage Site. Due to its many historic buildings dating back to centuries ago when it served as an essential trade port between Europe and North Africa during Ottoman times, Valletta has been called an "open-air museum." Today it's home to Baroque palaces, churches, fortifications, monuments, gardens, and other sights that make up this gorgeous cityscape, and its waterfront area is full of shops and cafes.
In 1566, the Knights of St John founded Valletta. They designed it as one cohesive creation of the late Renaissance, with a uniform grid plan and fortified walls. Though World War II wrecked a lot of the city, most of its fabric has survived. You can see 320 monuments in Valletta. Saint John's Cathedral, Auberge de Provence, Grandmaster's Palace, Auberge de Castille, Auberge d'Arago, Manoel Theater and churches like Our Lady of Victory, St. Catherine and the Shipwreck of St Paul are some of the most notable.
UNESCO has recognised Valletta as a World Heritage Site because of its beauty. You can find all the information you need about things to do in Valletta by reading my blog post "What to do in Valletta – a Complete Self-Guided Tour Map". This will give you all the information you need to enjoy your visit to this historic city.
There are plenty of fascinating historical sites on this small island nation, ranging from ancient temples to an underground hypogeum to its centuries-old capital! The experience of exploring them will not only give you an insight into Maltese culture but will also offer you a chance to experience something extraordinary and unique! So if you're looking for a place where history meets modernity – look no further than Valletta or any other UNESCO World Heritage Site in Malta!