Welcome to Mdina, the Silent City of Malta. Here, every cobblestone whispers tales of the past. Do you want to understand Maltese culture? Well, the silent streets of Mdina are a good place to start.
The Historical Significance of the Silent City of Malta
Mdina, also known as the Silent City, is one of Malta's oldest towns. You won't see many cars here, which makes it very peaceful.
Although only a few hundred people live in Mdina, it feels much bigger. It's connected to Rabat, a town with over 11,000 people. Rabat is an Arabic word, and it means suburb.
Mdina has a rich history. People have lived on Mdina's land since ancient times. Phoenicians built a city here, called Maleth. The Romans renamed it Melite.
Medieval times brought more change. After the fall of the Roman Empire, the city wall was built to make the town smaller and easier to protect. After an invasion in 870, the city's churches were destroyed.
But Mdina made a comeback in 1048 or 1049 when a Muslim community moved in. They built a city that differed from the ancient Melite. It resembled a traditional Arabic city or medina, hence the name Mdina.
Even after the Order of St. John moved Malta's capital to Birgu in 1530, Mdina stayed the place where nobles liked to live. It kept changing, getting Baroque features in the 18th century but keeping its old-timey feel. Tourists today flock to Mdina's blend of Norman and Baroque influences. Its resilience through history makes Mdina truly special.
The Architecture of Mdina
As you wander through Mdina, take a look around. You'll see a maze of narrow streets where each turn brings surprises. Mdina's buildings are as impressive. Some have a Baroque design with lots of detail. There are also some houses from the medieval period, straight out of a storybook. They've stood here for centuries. If only walls could talk!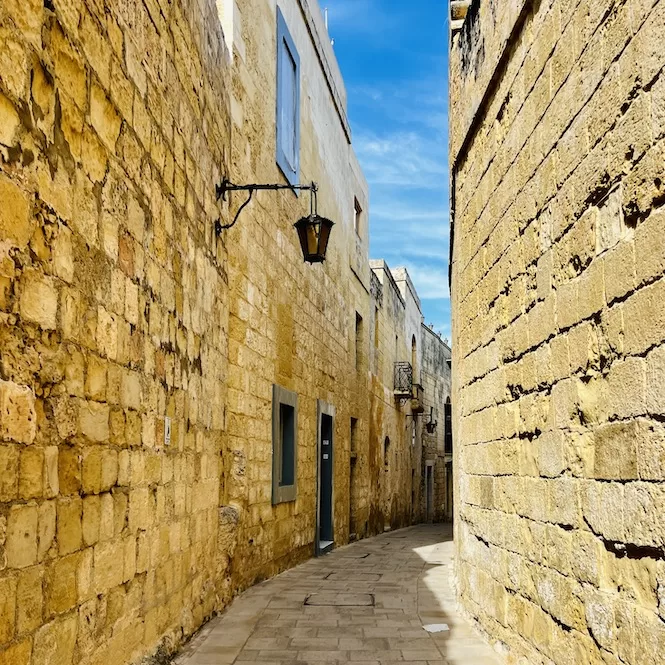 Mdina's Walking Tour: A Map of the Silent City of Malta
Mdina Walking Tour Map
Are you ready for a tour? In Mdina, you will see old houses full of charm. Look at the windows and doors. They're painted in bright, bold colours. Each one is different. You'll see blues, reds, yellows, and greens. And the streets are so small you can touch both sides.
This city is amazing – full of history and friendly people. Don't rush. Enjoy every moment of your walk in the Silent City of Malta.
Here's a map for a self-guided walking tour. Click on the pins for more information.
Do you prefer a guided tour? Book one using this link.
Mdina Gate: The Entrance to the Silent City of Malta
The first stop is the Mdina Gate. It is the main entrance to Mdina in Malta, built from limestone in the Baroque style. That means it's full of detailed carvings and has a grand look.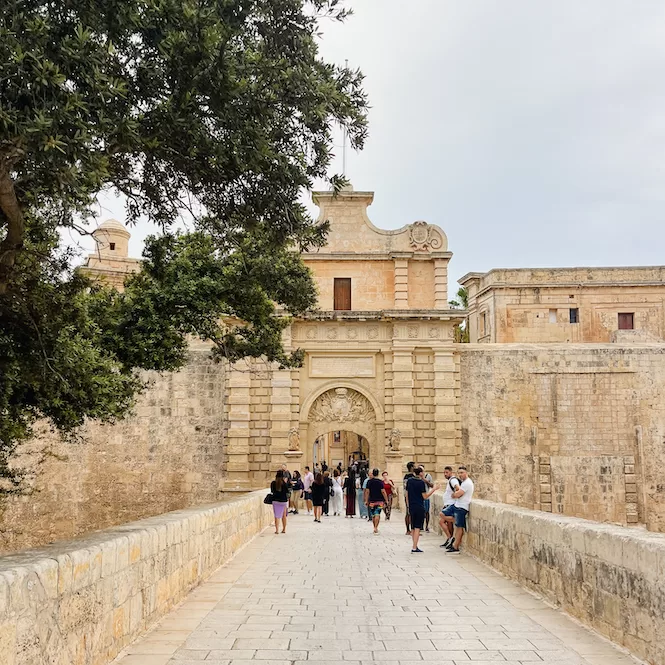 The front has a decoration that shows the coat of arms of both Mdina and Grand Master António Manoel de Vilhena. There's also a Latin inscription. There's a stone bridge leading to the gate with statues of lions holding the coat of arms.
The Mdina Dungeons Museum
The Mdina Dungeons Museum is our next stop. In the museum, you'll learn Malta's scary stories from Roman times to Knights and Napoleon. You'll see tales from the past, told in a way that is real and engaging. This isn't a place for the faint-hearted. So, if you're brave enough, the Mdina Dungeons Museum is a place to check out.
National Museum of Natural History
The National Museum of Natural History is next door to The Mdina Dungeons Museum. It's not the biggest museum around, and it could use a bit of updating, but it's in a really old building Palazzo Vilhena.
Palazzo Vilhena is a beautiful French Baroque building from the 18th century. Over the years, it served many purposes. It was a hospital during a cholera outbreak. Later, it was turned into a sanatorium and then a hospital for the treatment of patients with tuberculosis. In 1973, the palace opened as the National Museum of Natural History. Now, you can see all kinds of cool things there, like rocks, minerals, and animal habitats.
Kappella ta' Sant' Agata
Next on the walking tour is Kappella ta' Sant' Agata. This chapel has truly stood the test of time. The original chapel was built by a noble family in the 15th century. But an earthquake in 1693 changed everything. The old chapel was ruined, but the people of Mdina built it up again in 1694.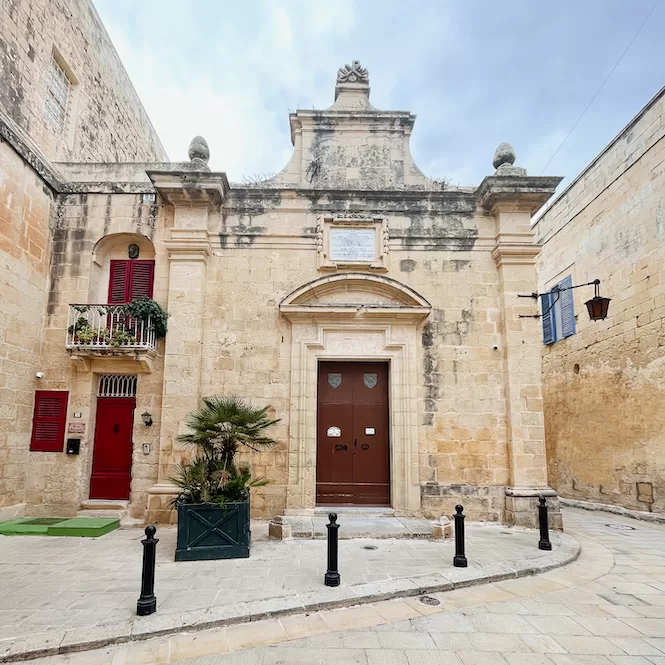 Once, when Mdina was under attack, the townsfolk took St. Agatha's image and marched in a procession. They believed she helped them, and the attackers left. People celebrate this event every year on February 5th. After World War II, the chapel served as a home for two refugee families. It has been beautifully restored recently.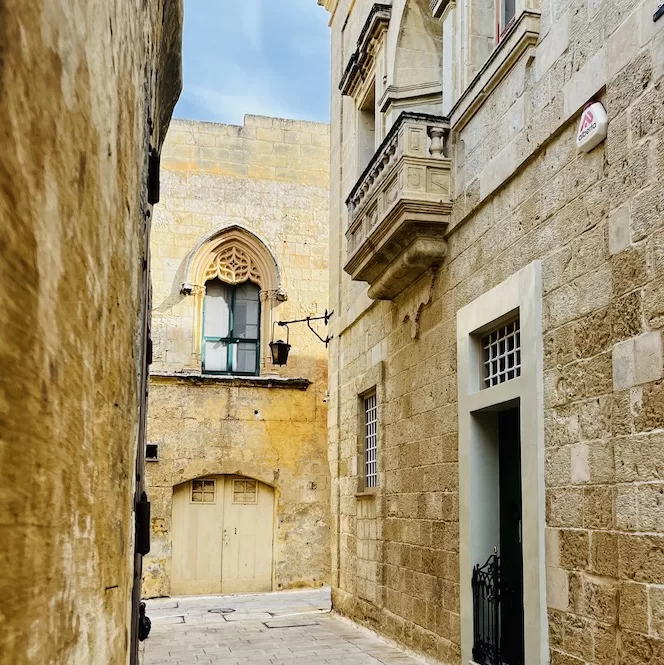 Medieval Places to Stay in Mdina
Palazzo Bifora: Luxury in Mdina with a mix of historical charm and modern comfort, outdoor pool, and attentive staff. Book here.
The Xara Palace Relais & Chateaux: 17th-century palace in medieval Mdina offering luxurious rooms, award-winning cuisine, and stunning baroque surroundings. Book here.
Mdina Cathedral Museum
Mdina's Cathedral Museum is full of surprises and treasures that tell Malta's story. From striking church art and sparkling silverware to ancient furniture and paintings, there's so much to see. You'll find more than 60 prints by Albrecht Dürer. You could easily lose track of time exploring the halls and rooms packed with art and historical pieces.
The most convenient way to experience the area is by getting a combination ticket for both the church and the museum. It's an excellent place to visit if you love art and history.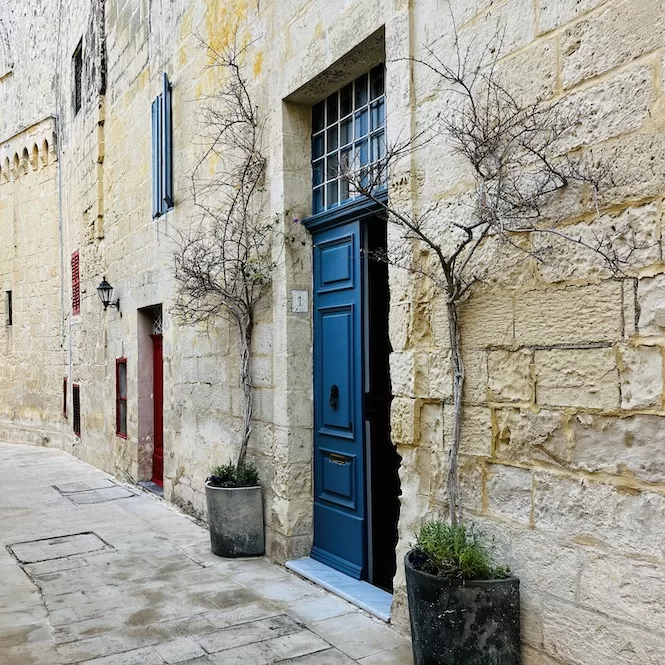 St. Paul's Cathedral
St. Paul's Cathedral is named after St. Paul the Apostle. It's said that it was built where the Roman governor Publius met St. Paul after he was shipwrecked on Malta. The first church here was built in the 12th century. After the earthquake, the old church was taken apart and a new one was constructed in 1702.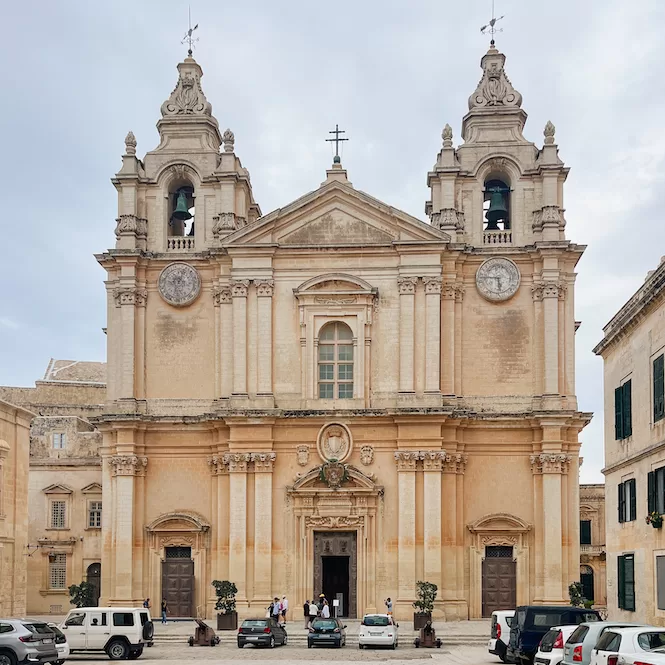 The cathedral is full of beautiful art. The ceiling and dome are covered with detailed paintings, and the floor is made of tombstones and marble slabs. If you visit Mdina, you must visit this special cathedral.
Fontanella Tea Garden
Our next stop is Fontanella Tea Garden. It is a place where you can take a break and taste some of the most delicious cakes in Malta. Sit back, sip tea or coffee, and try something sweet. The cakes there are top-notch, in all flavours. If you're lucky, you might even get to sit at a table with a breathtaking view of Malta. 
Palazzo Falson
Palazzo Falson is like a treasure chest. This house, which is now a museum, was once home to Olof Gollcher. He lived there in the 1900s, but the house itself is even older, from the 1200s! Gollcher was a collector, so he filled his home with things he loved.
When you visit, you can see various items from different times and places. You'll find furniture, jewellery, paintings, and more. An audio guide will tell you all about them. The people there are friendly and will help you out. Plus, there's a cafe on the roof where you can get a bite to eat and enjoy the view. It's a nice place to visit, and you'll probably spend an hour there.
Bastion Square
Next is Bastion Square. It has breathtaking Malta views. And the trees in the square are beautiful when in bloom.
There are wall ramparts from where on a clear day, Valletta and Mosta Dome can be seen. 
On the way to the next spot, The Knights of Malta Museum, you will see some of the most romantic photo spots in Malta. 
The Knights of Malta Museum
The Knights of Malta Museum is next on our walking tour. There's a video show that lasts 30 minutes. Then there's a puppet show that's just as long.
The museum shares stories about the Knights of Malta, including how they defeated the Turks. You can also learn about knights' grand adventures. And you can also learn about the different Grand Masters. They each did their own thing. Some loved coins. Others were into science. You can see all these interests on their coat of arms. 
Pjazza Mesquita
Pjazza Mesquita is a hidden gem in Mdina. It's a quiet square, full of charm and beauty. A quaint well sitting in the middle of the square. 
But that's not all. This place is also a star! It was on the TV show Game of Thrones. And it's a perfect place to take photos.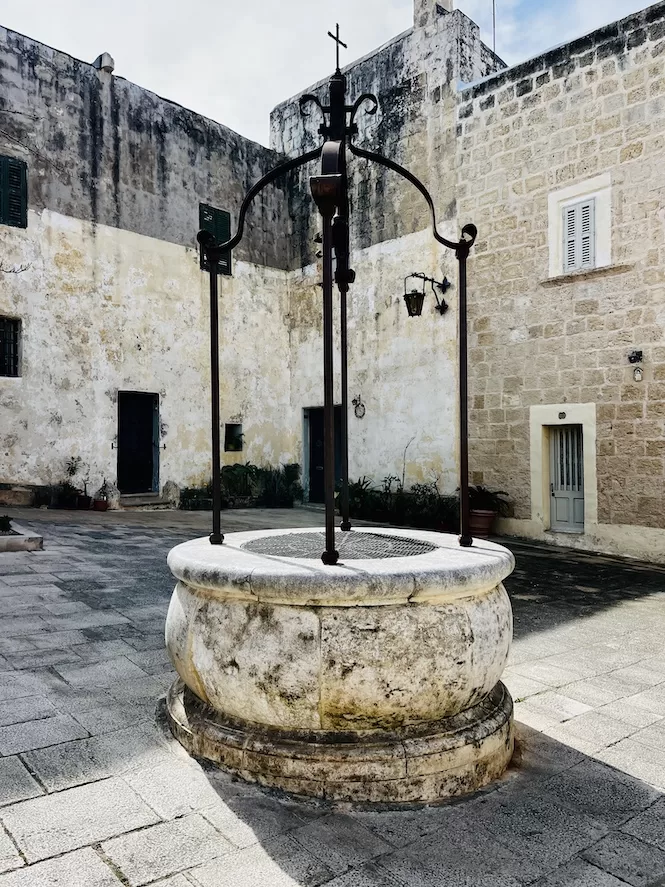 Howard Gardens in the Silent City of Malta
As the walking tour ends, take some time to relax in Howard Gardens. This park is a favourite outdoor spot for many in Malta. It's one of the biggest public gardens on the island and is nestled between the historic city of Mdina and the charming city of Rabat. It got its name from Malta's first Prime Minister, Joseph Howard, and opened in 1942.
This garden is also full of history. Here, you can find the remains of an ancient Roman city called Melite. And there's a column marking where a Middle Ages church used to be. But it's not all about the past. There are benches to sit on and kiosks selling snacks. It's a peaceful place to enjoy nature, with a great view of Mdina.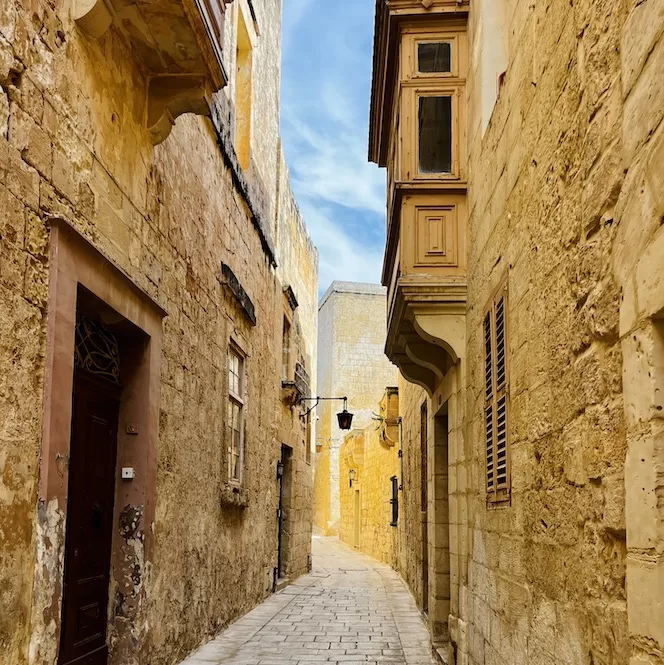 So, that's the end of our walking tour around Mdina, Malta's Silent City. I am sure you will feel like you have stepped back in time. That's the magic of Mdina. There are many more sights, stories, and secrets to discover. Don't miss out.
If you prefer a guided walk, why not book a tour? See if one's available and book it.
But don't stop there. Malta has much more to offer. How about exploring Valletta, the Three Cities, Rabat or the top historical sites of Malta? If you're a fan of UNESCO sites, you'll find some gems in Malta too. Just click on the links to view my guides to all of these.
Let's make your Malta adventure memorable. After all, you're not just visiting places. You're building memories. So, let's make them count!