Sliema beaches may not be as pretty as some of the other sandy spots in Malta. Nonetheless, if you happen to be staying in this vibrant town, you can take a quick dip in the Mediterranean Sea. Sliema has a long coastline so you can access the sea almost anywhere. In this post, I'll share some insider tips to make the most of your beach adventures in Sliema.
Sliema has one sandy beach and a long rocky coastline. The only sandy beach is in Balluta Bay. Rocky shores are further away – Exiles, Fond Ghadir and Qui-Si-Sana Beach. Rocky beaches are more spacious and less crowded. You will for sure have a place to lay down your towel and take in the sea views.
On the map below, you can see their locations, and you can read about each one as you scroll down.
Sliema Beaches Map
Sliema Beaches: Balluta Bay Beach
Balluta Bay Beach is the only sandy beach on a border with St. Julian's. It may be tiny, but it has its unique charm. It offers cityscape views and easy access via a promenade.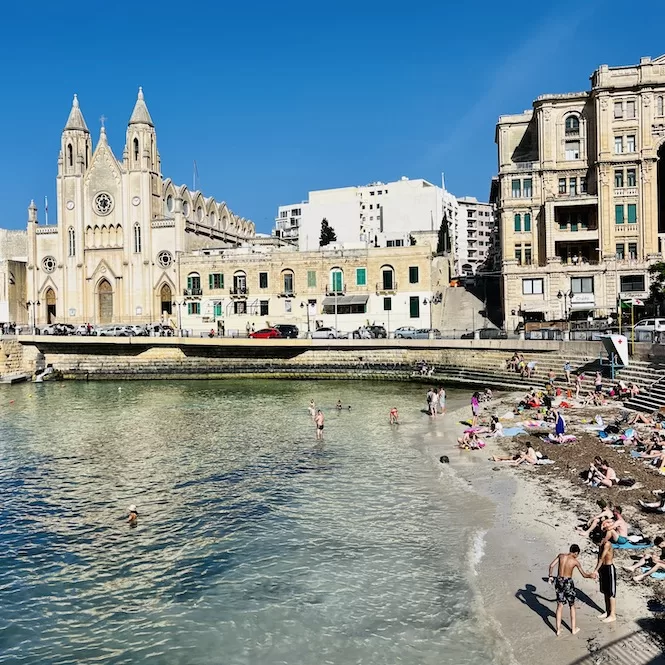 Balluta Bay Beach's biggest advantage is its location. It is close to bars, restaurants, and cafes. So, whether you want to laze in the sun or indulge in delicious food and drinks, this beach has it all.
Families with small children will find Balluta Bay Beach ideal. The water here is shallow, making it safe for kids to splash around. Also, lifeguards are on duty to ensure everyone's safety.
Yet, it's worthwhile to note Balluta Bay Beach's drawbacks. It is near a busy road full of traffic noise. Additionally, the beach itself is not always pristine, and you may find it dirty. Furthermore, there are no changing facilities. Finally, the beach is very tiny, so you might have difficulty finding a spot during peak hours.
Places to Stay in Sliema
D Townhouse: Modern, spacious suites with rooftop access and terraces. Book here.
Hotel Verdi: Stylish rooms bathed in natural light, featuring modern amenities and private balconies with views of Valletta's skyline. Book here.
Land's End Boutique Hotel: Prime waterfront location on Sliema Bay, close to dining options. Highly recommended for sea-view rooms. Book here.
Exiles Beach in Sliema
Located further from the road, Exiles Beach offers a calmer environment. It also has nice city views. The coastal area has walking paths. So, it attracts beachgoers, runners, walkers, and families. Taking a walk along the beach or sitting and enjoying the sea view is quite relaxing.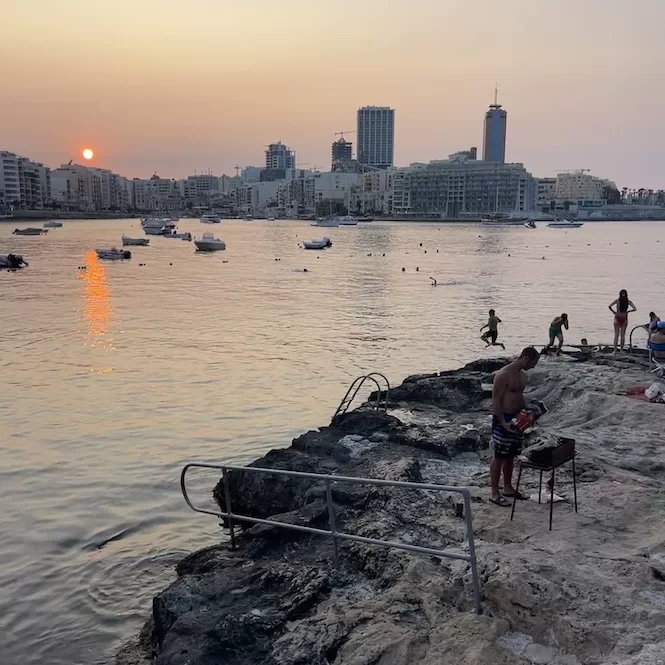 The beach is rocky, so it is suitable for snorkelling. You can see a variety of small fish, including sea bass, sea bream, barracudas, and even octopuses. But, the water in the bay is less transparent. If you're looking for a good snorkelling spot, swim outside the bay where the sea is open. There are ladders to enter the water. This is the location of my favourite swimming spot in Sliema. I once saw a turtle there.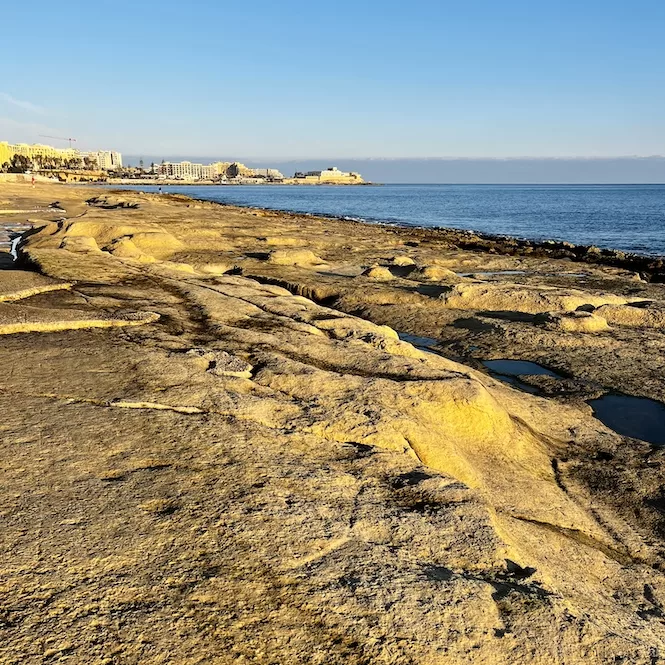 Exiles Beach, unfortunately, may not be suitable for young children. The water is deep so it's dangerous. But nearby there is a playground, a fountain, and a garden. So, the little ones can have a safe environment to play in.
Exiles Beach is close to restaurants, cafes, bars, and shops. So, you will never feel hungry or thirsty during your beach visit.
Moreover, Exiles Beach's popularity extends to evening picnics and barbecues. I love getting takeout and spending the evening at the beach. You can enjoy food while listening to the soothing sounds of the ocean and watching the stars.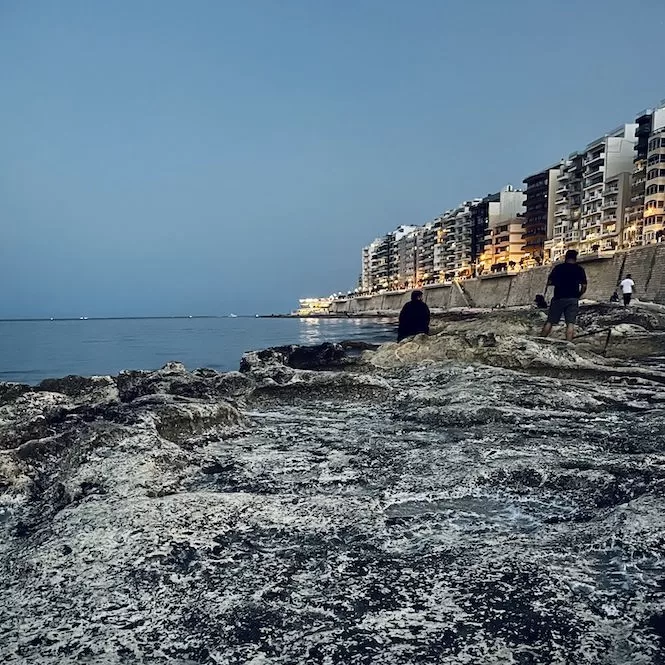 Sliema Beaches: Fond Ghadir Beach
There is another rocky beach further away called Fond Ghadir Beach. This rocky paradise is an excellent alternative to sandy beaches. It's also great for snorkelling. There are restaurants and bars nearby. 
Close to the beach, you will see Roman baths. The name of these baths is misleading. Actually, they date back to the Victorian era when seaside vacations became popular in England.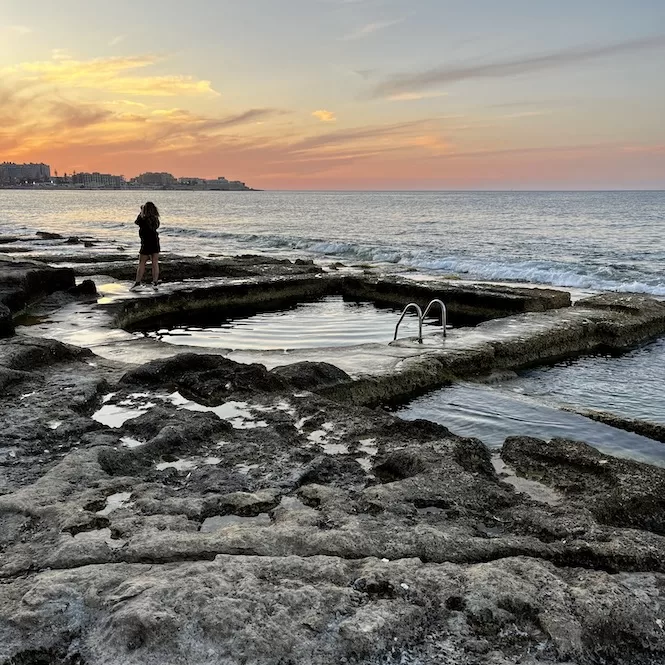 These baths have been used for swimming for many years. They are holes carved into the rock with steps to make it easy to get in and out. With a depth of only three feet, these Roman baths offer safe swimming for everyone. This includes those who don't know how to swim. So everyone can still enjoy the sea.
Kids can splash in the Roman baths, but it is not safe to swim in the sea. The water is deep and there are no sandy shallow areas.
Another thing to consider – there aren't many shade options during the day, so bring an umbrella. There are lifeguards, but no toilets or changing rooms.
Qui-Si-Sana Beach in Sliema
Qui-Si-Sana is another rocky beach with baths cut out of the rock. It's close to Tigne, so it will be convenient if you stay in this area. There are restaurants and cafes nearby, so you will have everything you need for a perfect day at the beach.
Clear waters on the beach make it an excellent place to swim and observe sea life. As with other Sliema beaches, the water is deep and access is via ladders. Children should not swim there because the water is deep.
Be cautious at this beach since the rocks can be slippery. Also, there are no facilities, but you can use bathrooms in nearby restaurants or bars.
Sliema beaches are not the most beautiful beaches you can find in Malta. Yet they offer a city beach experience with cafes, bars, and restaurants nearby. I live in the area, so I swim there often. Having a quick dip in the water without driving far away is very convenient. Also, if you like snorkelling, rocky beaches offer more marine life than sandy beaches.
If you enjoyed this post, explore my guide to jellyfish in Malta, Malta's beaches and uncover hidden gems across the island. Also, if you're a water sports fan, don't miss out on my posts about paddle boarding, kayaking, snorkelling, and scuba diving adventures.
I also recommend going to Comino and the Blue Lagoon. It's easy to get there by boat from Sliema. All you need to do is to book this tour.