St. Julian's – or San Giljan, as the locals would say, is a buzzing coastal town, north of Valletta. This place is a hive of activity, packed with hotels, restaurants, and nightclubs. This is a great place for a holiday base. There are plenty of accommodation and good public transport links. This guide is your go-to for everything in St. Julian's, from its lively hotspots to the tastiest eateries in town.
Interesting Facts about St. Julian's
St. Julian's flag looks like Belgium's:
St. Julian's, named after the hunters' patron saint, Saint Julian, has a flag like Belgium's. Why, you ask? Well, some say Saint Julian himself was Belgian.
Watch 'ġostra' – a thrilling pole run above the sea:
A game called 'ġostra' is only played during local feasts around Malta, including St. Julian's feast. Brave men run up a slick, greasy pole over the sea to grab one of three flags hanging from the end. It's a phenomenal game.
'Musketterija' – a blast from the past:
Then there's 'Musketterija', another fascinating tradition during the feast. It's all about firing blank cartridges filled with black powder from the church's roof when they bring out the patron saint statue. Locals believe this tradition harks back to the area's history as a hunting ground for the Knights of Malta.
Is St. Julian's Worth Visiting?
You should check out St. Julian's! This vibrant town is surrounded by the sea, and it offers lively nightlife and delicious food. It's a place where history blends with contemporary vibes. This town wakes up to stunning sunrises and parties all night. Whatever you do, St. Julian's offers an unforgettable experience. Is it worth visiting? Without a doubt.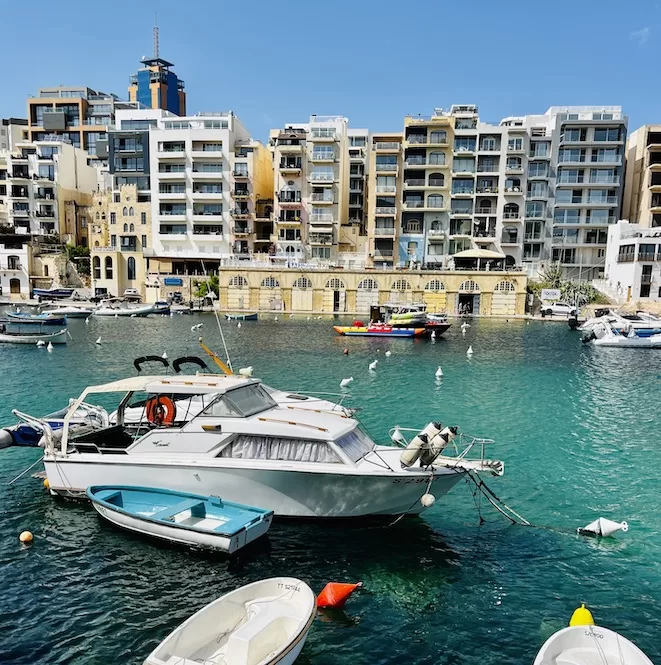 Places to Visit
Below is a list of attractions worth visiting in St. Julian's.
There are many hotels, restaurants, and nightclubs in Paceville, the entertainment hub of St. Julian's.
At Spinola Bay, these vibrant Maltese Luzzu fishing boats bobble around, creating an Instagram-worthy seascape. Just grab a bench and chill, soaking in the pulse of life around you.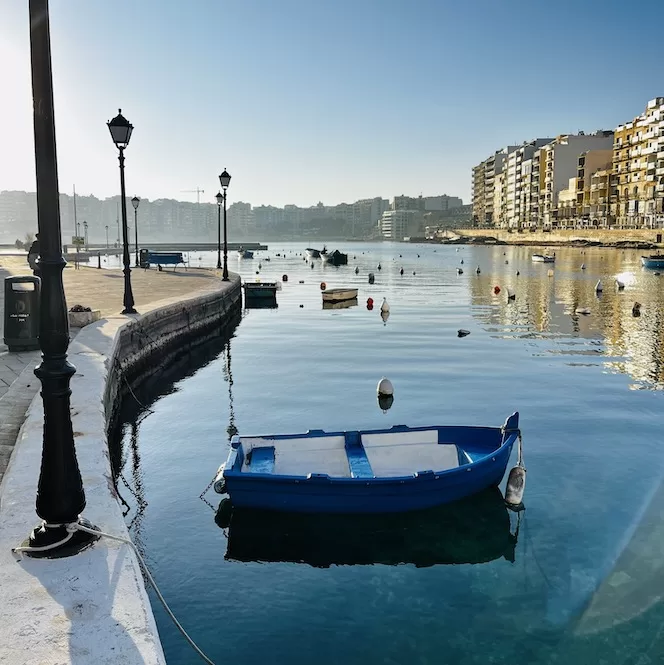 Balluta Bay is popular among visitors for its neo-gothic Knisja tal-Karmnu church and the impeccable Balluta Buildings built in the art nouveau style. There is also a small sandy beach there.
Spinola Palace is an architectural marvel dating back to the 17th century, built by the Knights of St. John. It has a unique Baroque clock at the back. Unfortunately, it is not open to the public.
Is St. Julian's a Good Place to Stay During Your Holidays?
St. Julian's is a great place to stay on holiday. Due to its central location on the island, it's easy to get to many places. From here, you can explore everything Malta has to offer. No matter what you're doing, from visiting Valletta and the Three Cities to taking a ferry to Gozo and Comino, St. Julian's central location makes it easy to get anywhere. Moreover, St. Julian's is well connected by bus if you're planning to travel using public transport.
A wide range of accommodation is available in the town. There's something for every traveller's budget and style, from beachfront resorts to charming boutique hotels, and modern serviced apartments to budget-friendly hostels.
After a day filled with sightseeing, St. Julian's comes alive with an exciting nightlife scene. In the town, you can find a variety of restaurants serving international and local cuisine, trendy bars, and vibrant nightclubs.
If you're travelling with kids or want peace, St. Julian's might not be the right place. The town can be noisy, especially in the evenings. It's better to try quieter towns such as Mellieha or Marsaskala.
Does St. Julian's Have a Beach?
In St. Julians, you can swim almost everywhere. You will see ladders in the water for getting in and out.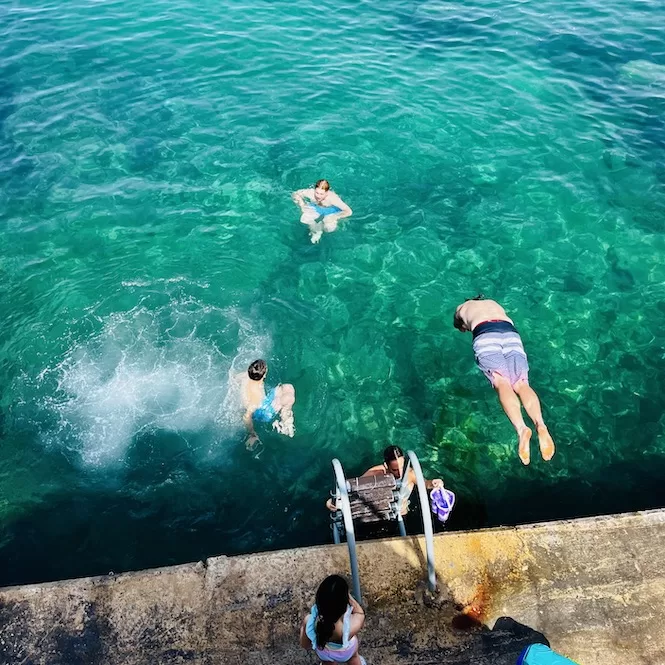 The beaches include St. George's Bay and Balluta Bay Beach. St. George's Bay, in Paceville, always has crowds. Due to its popularity, especially with after-party drinkers, it's sometimes less than pristine in cleanliness.
A small city beach on Sliema's border, Balluta Bay, offers a different vibe. Since the water is shallow, it's suitable for families.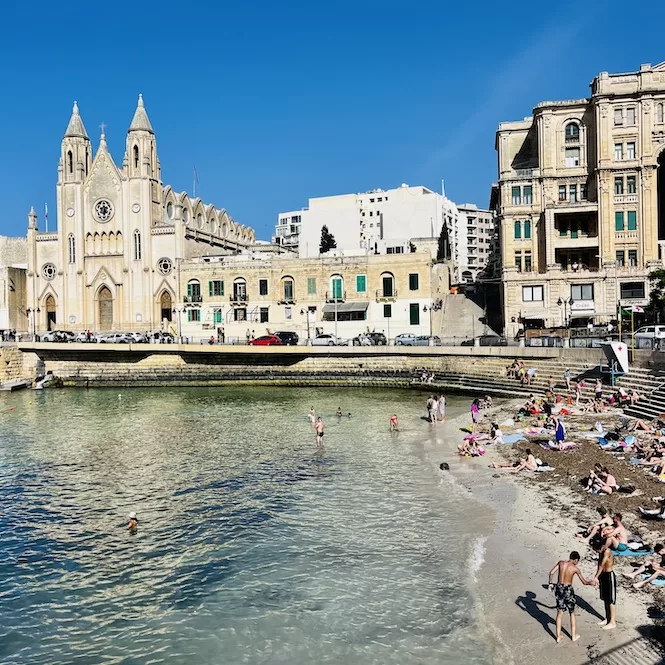 If you're looking for more space to sunbathe and swim, you might check out the rocky beaches of Sliema, just 20 minutes from St. Julian's. Check out my blog to learn more about them.
What is the Nightlife like in St. Julian's?
You can't get wrong with St. Julian's, particularly Paceville, if you want vibrant nightlife on your holiday. Known for its high-energy clubs, pulsating parties, and endless dancing nights, Paceville is Malta's nightlife epicentre. Tourists and locals flock to Paceville, which has the highest concentration of clubs and bars on the island.
There aren't only onshore parties in Malta; there are also boat parties out to sea. There's nothing like dancing under the stars on a boat or watching the sunset with the Maltese islands as the backdrop. As with any nightlife area, keep an eye on your belongings and avoid confrontations to have an enjoyable time.
Insider Tips on Things to Do
Check out these insider tips to make your trip to St. Julian's unforgettable:
Stroll along St. Julian's promenade: Take a stroll along St. Julian's promenade and take in the breathtaking sea views.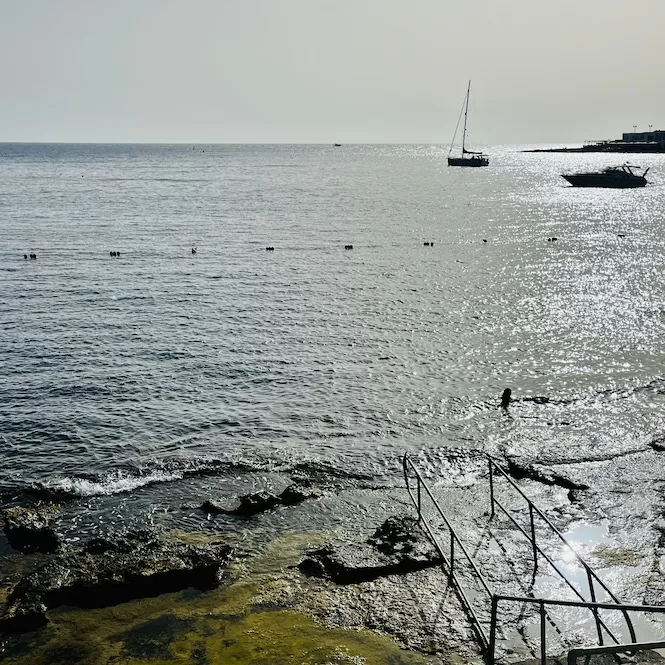 Indulge in delicious food: St. Julian's has tons of restaurants serving traditional and international food. Get a taste of local flavours with Maltese rabbit stew or seafood pasta. Don't miss the famous pastizzerias where you can try local fast food.
Enjoy swimming: St. Julian's is right on the Mediterranean Sea, so swimming is a must. You can go to Sliema if you want rocky beaches. Don't forget the sunscreen!
Try parasailing: In St. Julian's, you can go beyond swimming. Parasailing is a real thrill. It's like being a bird soaring over the sea. And don't worry, it's safe, but remember to follow your guide's advice. Book your parasailing trip below!
Jump on a jet ski: You're not stuck on land in St. Julian's. It's a fun ride and a cool way to see the sea. Ready to ride the waves? Book your jet ski session below now!
Experience nightlife in Paceville: Get a taste of Paceville, Malta's most famous nightlife district. Various clubs, bars, and restaurants cater for all tastes.
Discover Spinola Bay: You can start your day with a visit to Spinola Bay, a picturesque bay filled with traditional and colourful fishing boats. Sunrise is awesome if you get there early.
My Top Three Recommendations for Food and Drink in St. Julian's
Salumeria Gardens: Their pizzas are authentic, and their beers are fresh. You can enjoy your meal in their peaceful garden, which enhances the dining experience. The bar also has a wide selection of craft beers, including local ones.
Two Buoys: It's an Aussie eatery with an excellent selection of food, including brunch food, and a spectacular view of Spinola Bay.
Club Sushi: Those craving Asian cuisine should head to Club Sushi, which serves sushi and Korean dishes. Although the restaurant is small, takeout is available.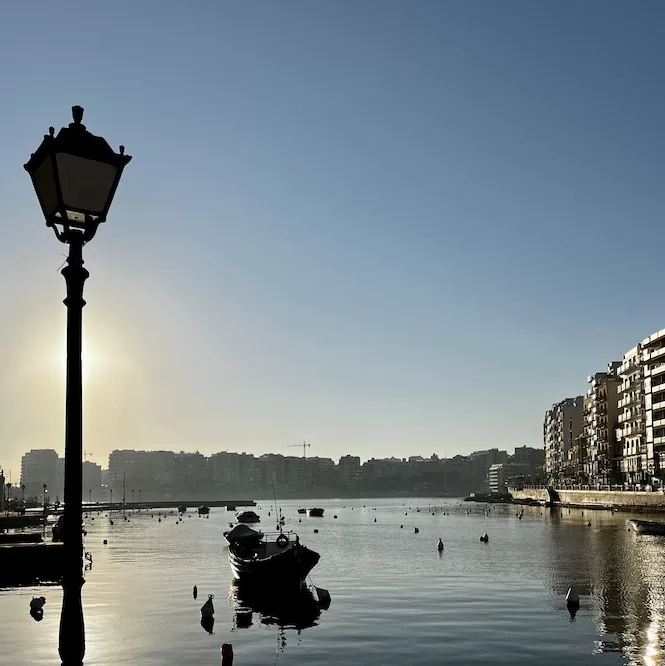 St. Julian's in Malta offers a memorable experience for everyone, with its lively energy and culinary delights. But exploration doesn't have to stop here. Malta's archipelago is filled with fascinating towns, each with its own unique charm.
If you enjoyed this guide, I invite you to learn more about the Maltese islands. Check out my other posts about Gozo, Comino, the gorgeous capital city of Valletta, and other towns – Sliema, Three Cities, Ta'Xbiex and Gzira. I've got insider tips, recommendations, and knowledge to help you get the most out of your visit.