Sliema in Malta is a vibrant town that will not disappoint. From yoga classes and scuba diving adventures to delicious food and stunning views of Valletta, Sliema has it all. I've had the opportunity to explore the town and try out some of the best activities and eateries, and I'm excited to share my top recommendations with you.
Jump to different sections with the content table below.
---
Quick Facts About Sliema in Malta
One of Malta's most densely populated towns, Sliema has around 22,000 people.
Sliema has 3.5 km of coastline. Plus, you can swim anywhere.
It's known for its mix of old and new architecture, with traditional Maltese townhouses next to high-rise apartments.
Because of tourists and expats, Sliema is very multicultural. Sliema's most common languages are English, Maltese, Italian, and Spanish.
---
Sliema: What to Know Before You Go?
Is Sliema Worth Visiting?
Absolutely! You have to visit Sliema in Malta. It's a coastal town that has something for everyone. The promenade is fantastic for a morning stroll or a sunset walk and offers the most incredible views of the Mediterranean Sea. Plus, a long rocky beach is perfect for a swim and a chill barbecue at night with friends. In addition, you will be able to find tasty eats or shopping spots in Sliema. And if you're into architecture, explore the smaller streets of Sliema. The Maltese buildings, with their doors and balconies, are stunning. I had a blast exploring Sliema; I'm sure you will too!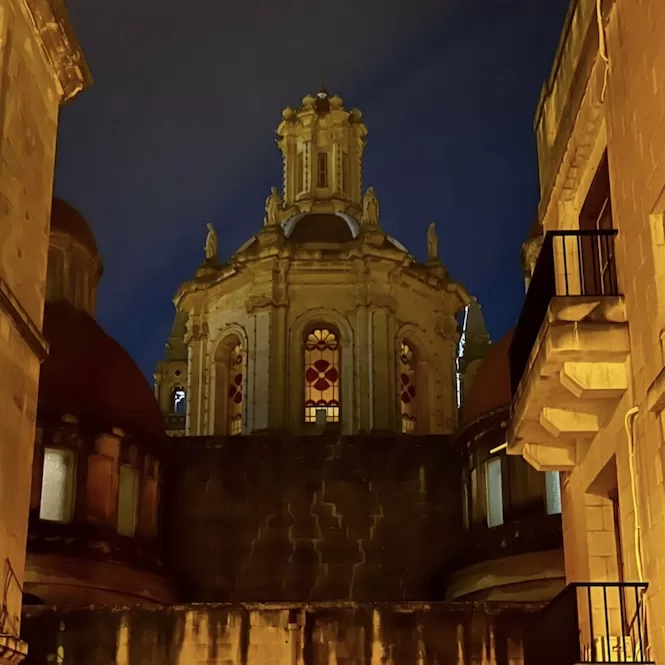 Is Sliema a Good Place to Stay During Your Holidays?
Staying in Sliema during your vacation is a great choice. I love taking morning walks along the promenade and enjoying a coffee in the morning sunlight. The town has a relaxing and charming vibe, making it easy to enjoy the Mediterranean lifestyle. Also, Sliema is a convenient base for exploring other places, such as Valletta, Comino, and Gozo. But what makes Sliema truly special is its vibrant and lively atmosphere in the evenings. The town has a fantastic selection of restaurants, cafes, and bars, making it the perfect place to spend your evenings after a day of sightseeing.
In Sliema, there's a wide range of hotels and apartments. Check out what's available:
Does Sliema have a Beach?
Even though Sliema isn't a beach town in the traditional sense, there are still plenty of places to swim, sunbathe, and enjoy the Mediterranean Sea. There is a small sandy beach in Balluta Bay, on the border with St. Julians. Yet what makes Sliema unique is the rocky coast along the entire town. You can swim and sunbathe anywhere along the coastline, and ladders help you get in and out of the water. I love snorkelling, and I prefer Sliema's rocky beach. The water is clear, and you can see lots of fish. Once, I even saw a turtle there. Check out my complete guide to Sliema Beaches.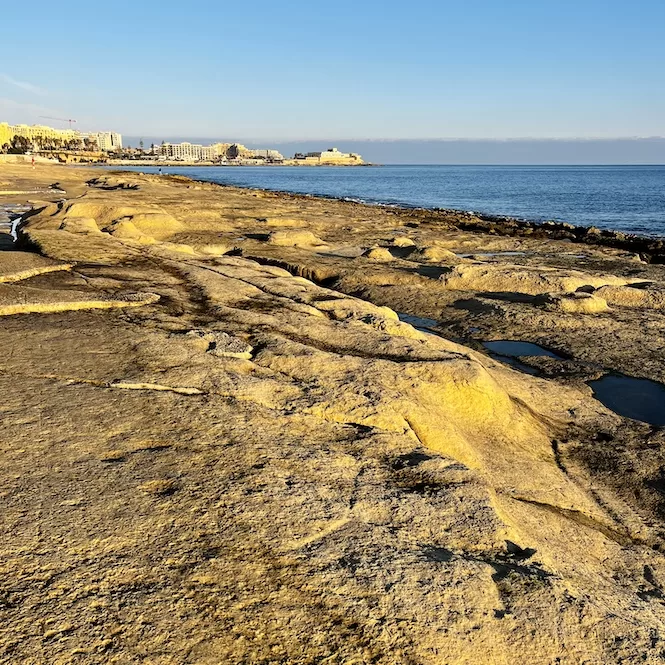 What is the Best Way to Get around Sliema?
Sliema is a small coastal town that's easy to explore on foot. However, there are other options for getting around, depending on your needs. One of the most convenient ways to travel is by ferry, which takes you directly to Valletta in just 15 minutes.
Public transport is also convenient and frequent, with many buses running through Sliema to other parts of the island. If you prefer to drive, on-street free parking is available in Sliema, although it can be challenging to find a spot at times. You can also park in one of four private parking lots. 
You will need a car if you intend to stay longer and want to enjoy nature and the remote areas of Malta. For an affordable rental car, try Discover Cars. Also, here's my guide to renting a car in Malta.
What is the Nightlife like in Sliema?
Sliema is not known for its nightclubs, but there are still plenty of options for those looking to have a fun night out. Many bars in Sliema stay open late so that you can enjoy a drink with friends. In addition, you'll find lively nightlife in nearby Paceville, just a 10-minute taxi ride away. So, you can easily hop over to Paceville for a night of dancing and fun.
Places to Stay in Sliema
D Townhouse: Modern, spacious suites with rooftop access and terraces. Book here.
Hotel Verdi: Stylish rooms bathed in natural light, featuring modern amenities and private balconies with views of Valletta's skyline. Book here.
Land's End Boutique Hotel: Prime waterfront location on Sliema Bay, close to dining options. Highly recommended for sea-view rooms. Book here.
Brief History of Sliema
Sliema's history dates back to the Great Siege of 1565. The Knights of Malta occupied the area after the Turks were defeated.
During the second half of the 19th century, Sliema became a popular summer resort for wealthy Valletta residents. The quiet, inland streets were lined with elegant villas and townhouses. Three kilometres of sea promenade overlook rugged rocks and Victorian buildings. As the town grew, a new church dedicated to Our Lady Star of the Sea ("Stella Maris") was built. By 1878, the religious authorities declared Stella Maris Church a parish.
After WWII, Sliema underwent extensive development, with Victorian houses on Tower Road replaced by modern apartment buildings and hotels.
Insider Tips on Things to Do in Sliema
Take in the Sights and Sounds of Sliema's Promenade
One of the top things to do in Sliema is to stroll along the promenade. You can start your day early and join the joggers who enjoy the fresh sea air in the morning. Or, you can visit in the evening to catch the beautiful red skies during sunset.
While on the promenade, enjoy a cup of coffee to-go at one of the many coffee shops. If you prefer a more relaxing experience, sit on one of the benches and enjoy the sea view. Or else observe the people walking by the promenade. It's a great spot to unwind and soak up the local atmosphere.
Chill on Sliema's Rocky Beach
When the sun sets in Sliema, one of my favourite places to unwind is the rocky beach close to the Exiles. It's always buzzing with people having barbecues, picnics, or enjoying a cold beer and a takeaway burger. There's a great vibe here, and what makes it even better is the music coming from the nearby Exiles bar. 
I love spending summer evenings on this rocky beach, having snacks and a drink, enjoying the sea sounds, and watching the stars. Spending an evening on Sliema's rocky coast is the ultimate summer experience. Don't miss it!
Swim at Sliema's Rocky Beach and Roman Baths
Sliema's rocky beach is a great place to swim. Getting into the water is accessible with ladders, and plenty of people are around. You can even rent an umbrella near the Exiles if you want shade.
A rocky beach is also an excellent place for snorkelling! Sea creatures hide among the rocks, waiting for you to discover them.
But the most fantastic part of the beach is the Roman Baths. The baths were carved out of rocks and have been used for swimming for hundreds of years. Although they are called Roman Baths, they date back to the Victorian era. That's when people in England started heading on vacations to the seaside for fun.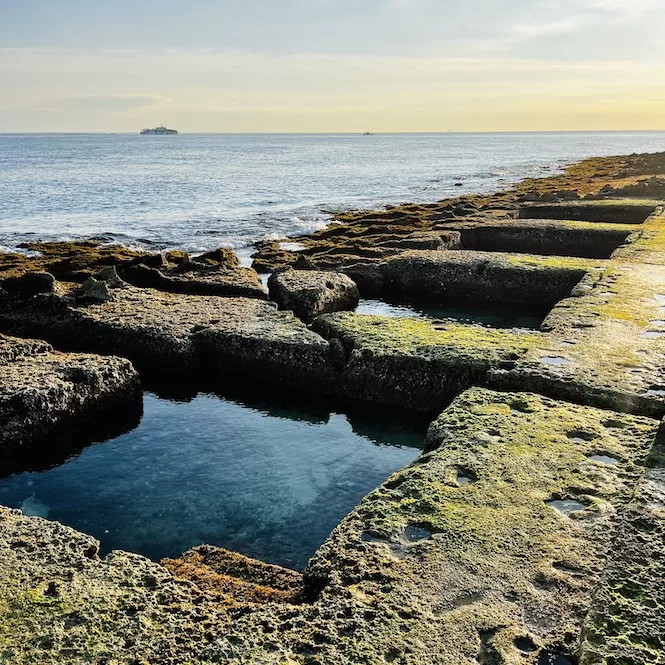 Baths were made by carving holes in the rocks and adding steps so people could climb into and out of the water. They're only three feet deep, so you can still enjoy the water even if you don't know how to swim.
Take in the Breathtaking Views of Valletta from Sliema
Next, you should go to Tigne Seafront and look at the magnificent view of Valletta. It's the best place to see Malta's capital city from a distance. You can see Valletta across the blue sea that separates the two cities from there. The yellow limestone buildings and city walls make the view even more impressive. You can take some cool pictures there.
You can also take a ferry from Sliema Ferries and go to Valletta on the boat's roof. I love it! Despite living in Malta for more than ten years, I still feel excited every time I take the ferry to Valletta. It feels like a bit of adventure. Plus, you get to see amazing views. It's worth a visit!
Get Fit with Outdoor Classes
Take a yoga or Zumba class in the Independence Gardens in Sliema if you want to stay active. Nothing beats exercising outdoors, with fresh air and sunshine energising you. Also, a refreshing dip in nearby waters will help you cool off after your workout. Check out Facebook events for classes in the area. 
SUP yoga is offered in the summer on Manoel Island (it's 15 mins from Sliema). Join us for an unforgettable experience of yoga combined with stand-up paddle boarding! No prior yoga or SUP experience is required. Book it here:
Discover the Underwater World: Scuba Diving in Sliema
Try scuba diving in Sliema for an exciting adventure! There are a bunch of diving centres in Sliema that offer scuba diving experiences for beginners. You can start with a test dive and dive in the shallow sea. Even on your first dive, you can spot some marine life. Trust me; it's way more exciting than learning in a pool.
I learned to scuba dive at Dive Systems and had a blast! They will teach you all the basics and safety guidelines, so you don't have to worry if you have never dived. Plus, they have a small shipwreck close to the Exiles that you can explore during your first few dives. It's such a unique experience!
My Top Three Recommendations for Food and Drinks in Sliema
As a local, I often get asked for recommendations on the best places to eat and drink in Sliema. So I want to share my top recommendations with you, so you can enjoy some tasty meals and drinks without falling into a tourist trap.
So, without further ado, here are my top three recommendations for food and drinks in Sliema.
Best Coffee – La Crema in Balluta
If you're a coffee lover, you should check out La Crema in Balluta. This Sicilian café offers fresh brioches in the morning and delicious pizza in the evening. They also serve sandwiches, salads and other lunch food.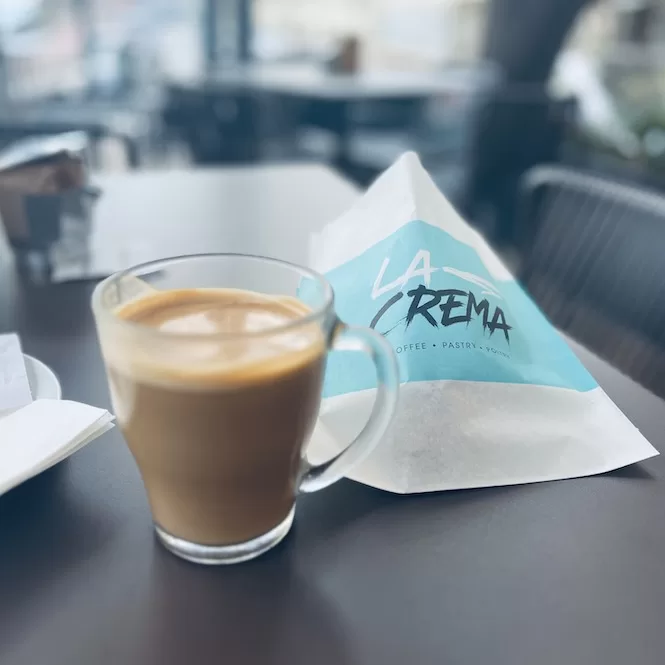 But the real star of the show is their coffee. They have a wide variety of coffee drinks, from strong and bold to smooth and creamy. I often visit this place for my morning coffee, and it never disappoints. Coffee is always fresh and delicious, and the staff is so friendly that they know the regulars by name.
Best Pub – Simon's Pub
Located just 5 minutes from Balluta, Simon's Pub is an English-style pub that has been open since the 1980s. The pub offers a wide range of craft beers to choose from, and what sets it apart is the owner, Simon. He is friendly and loves interacting with his visitors, sharing stories, and providing travel tips. Simon is a traveller himself and has some fascinating travel stories to share. The pub also has a cosy terrace where you can enjoy drinks and relax.
Best Street Food – Kebab ji
Discover Kebab ji for a taste of the Middle East. The staff is friendly and attentive. Enjoy standout dishes like Falafel, Taboulé, and Chicken Wrap. Everything is fresh and made right before your eyes. The hummus? Perfection. Fair prices seal the deal. One of the most enjoyable things about Kebab ji is that you can take your food and enjoy it by the seaside.
Sliema is a vibrant and exciting destination with plenty to offer. Its central location also makes it the perfect base for exploring other parts of Malta. So, if you're planning a trip to this beautiful island, be sure to put Sliema on your list. 
If you liked this post, also check out my other guides to Malta's towns – Valletta, Three Cities, Gzira, Ta'Xbiex, Marsaskala and St. Julian's.