Gzira is a coastal town between Msida and Sliema in Malta. Its name means "island" in Maltese, inspired by its neighbouring Manoel Island. From Gzira, you can enjoy breathtaking views of Valletta's skyline. You can explore Manoel Island, or relax in a marina filled with stunning yachts. Read on to discover what to see, do and eat in this town.
About Gzira
Back in the 19th century, Chevalier Jacob Tagliaferro laid the first stone of change, building a grand villa in Gzira. In the 80s, Gzira underwent a transformation with its coastal town charm giving way to modernity. Today, Gzira is home to hotels, business hubs and a variety of restaurants – from Middle Eastern delights and Asian tastes to local Maltese dishes.
Gzira's community is diverse and multinational. Plus, living in Gzira is more affordable than its neighbours, Valletta or Sliema. This town is close to the University of Malta, Sliema, and Valletta, so it's no surprise that it has become a popular residential town.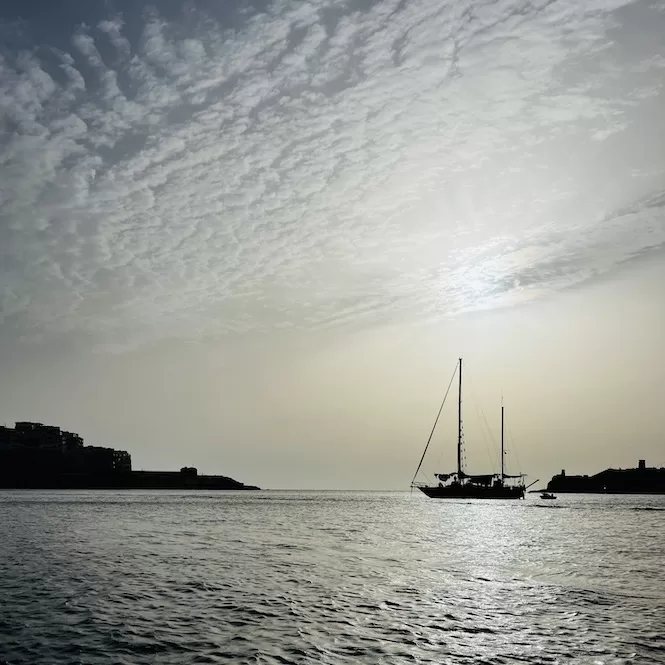 Is Gzira a Good Place to Stay During Your Holidays?
Thinking about your next Malta adventure and looking for a place to stay? Here's why Gzira could tick your boxes:
Benefits of staying in Gzira:
Easy escapes by a ferry: Hop on the Sliema ferry to Valletta or venture to Comino easily – both are just a 10-minute stroll away. Click here to see the Sliema Ferry terminal location.
Great transport links: Short stay and no plans to rent a car? Gzira is well-connected. With frequent buses and nearby Sliema, you're all set.
Budget-friendly: Gzira is cheaper than Sliema or Valletta. Whether it's a nice hotel room or a comfy apartment you seek, Gzira's got it. Click here to find the hottest deals!
Many food and drink options: From sushi to Maltese delights, from morning brews to evening cocktails – Gzira's culinary scene won't disappoint.
But wait, here are some things to consider:
Bring those earbuds: Gzira can get lively but also noisy.
Craving an authentic Maltese vibe? Gzira is pretty modern. If you're searching for an authentic Mediterranean stay in an old limestone house, check out my guide on authentic stays.
Beware, drivers: Parking can be challenging.
Bottom line? Gzira is vibrant, accessible, and packed with conveniences. But if you're dreaming of winding lanes and rustic charm, choose other towns like Three Cities, Mosta, Naxxar or Rabat.
Manoel Island
Manoel Island, known in Maltese as Il-Gzira Manoel, sits in Marsamxett Harbour and is linked to Gzira by a small bridge.
This island has a rich history, from stories of Grand Masters and the Lazzaretto quarantine hospital, established during a plague outbreak in 1592. It also has the iconic Fort Manoel. Built from 1723 to 1733 by Portuguese Grand Master António Manoel de Vilhena, this fort showcases an impressive quadrangle and parade ground, typical of 18th-century military design. Though it has undergone recent restorations, it remains off-limits to visitors.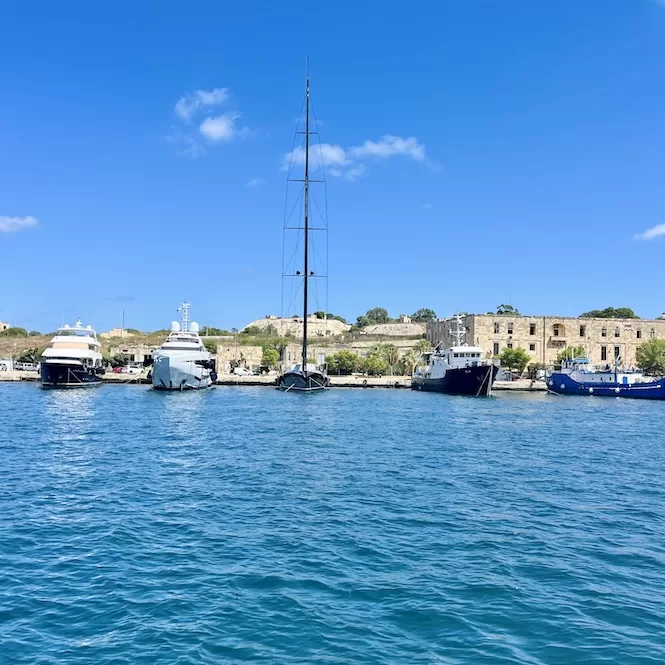 The British era also left its mark. The Lazzaretto hospital was enlarged in the 19th century. During WWII, the island served as a base for the Royal Navy.
I always enjoy strolling along Manoel Island Yacht Marina. You can walk peacefully since the marina's gates are closed to cars. The sight of elegant boats docked side-by-side, some stretching up to 80 meters, is stunning. I love the soothing sound of yacht masts swaying in the wind.
You can also walk inside the island. As soon as you cross the bridge, go straight ahead. You can't access it from the marina, so you will need to return to the bridge and take another route (see its location). As you walk, you'll find shrubs, fields, and old buildings awaiting restoration.
Near the island's edge, stairs lead to the water. There are also ladders for swimmers. I enjoy evenings here. It's an idyllic spot to enjoy the golden hour. You won't see the sunset, but Valletta's golden colours will make up for it.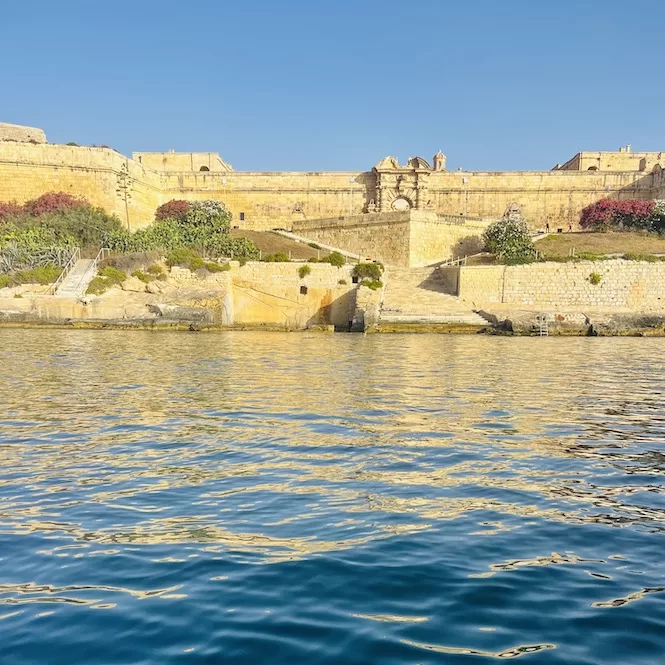 Does Gzira Have a Beach?
Gzira doesn't have sandy beaches. But there are few places to take a dip in the Mediterranean Sea – Manoel Island or Ta' Xbiex Rocky Beach.
Ta' Xbiex Rocky Beach
This isn't your average beach – it's rocky, as the name hints (click here for location). It's small but offers views of Valletta. It's an ideal spot for a morning swim. There's no shade during the day, so it can get hot. Now, a quick heads-up: watch out for rocks – they are sharp in some places. And don't expect showers to wash off salt; consider it a natural exfoliant. 
If you get hungry, there's a restaurant, a takeaway and a food truck waiting to serve sandwiches and ice cream nearby. 
Swimming on Manoel Island
There is a rocky beach at the tip of the island, facing Valletta (click here for location). Yet, navigating its rocky terrain can be challenging, especially if you're carrying many items or pushing a pram
But once you get there, it's nice and not too crowded. Listen to the waves, soak in Valletta's views, and enjoy your swim. Access to the water is from the rocky coast. However, thanks to ladders, getting in and out of the water isn't difficult. 
However, be prepared – bring your own food and drink.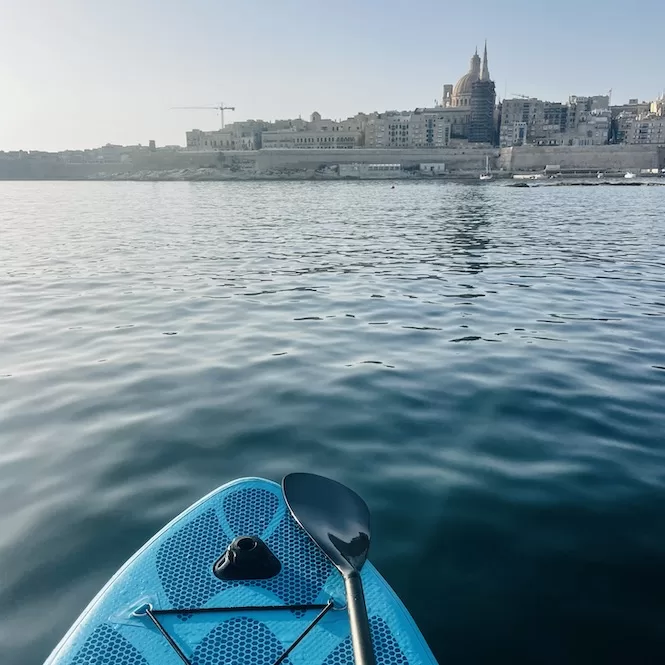 Things to Do in Gzira
Discover Manoel Island: Enjoy its car-free zones, swim on the rocky beach, and soak in Valletta views.
Walk the promenade: Stretch your legs along a 10 km route that leads to Spinola Bay in St Julians.
Admire the marina: Peek at fancy boats, either on Manoel Island or near the public gardens towards Ta'Xbiex.
Relax in the public gardens: Unwind and if you have little ones, let them play in the playground.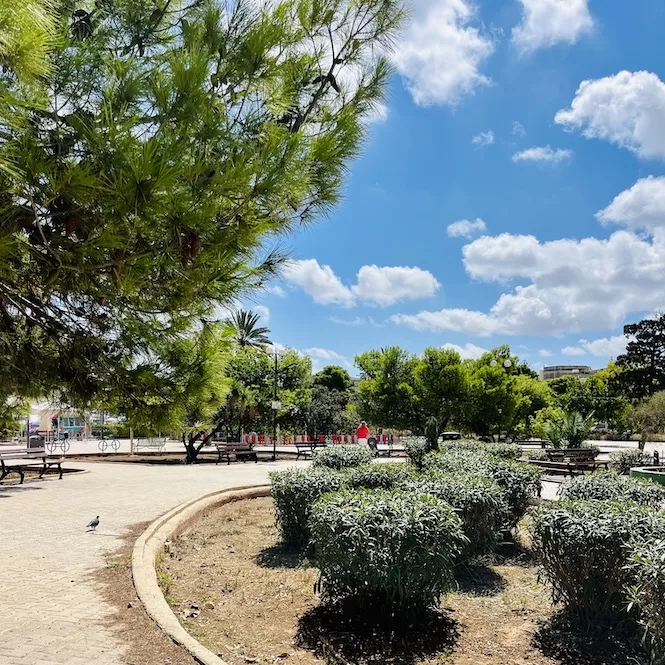 Try SUP Yoga: Challenge your balance and expect playful splashdowns. Book your class here.
Dive into Aqualuna: Fancy a pool day? Dive right in.
Cruise to Valletta on a ferry: Experience the beauty of the Grand Harbour on a budget.
Take a boat trip to Comino: Combine sun, sea, and Comino's beauty for a memorable day out. Book yours here.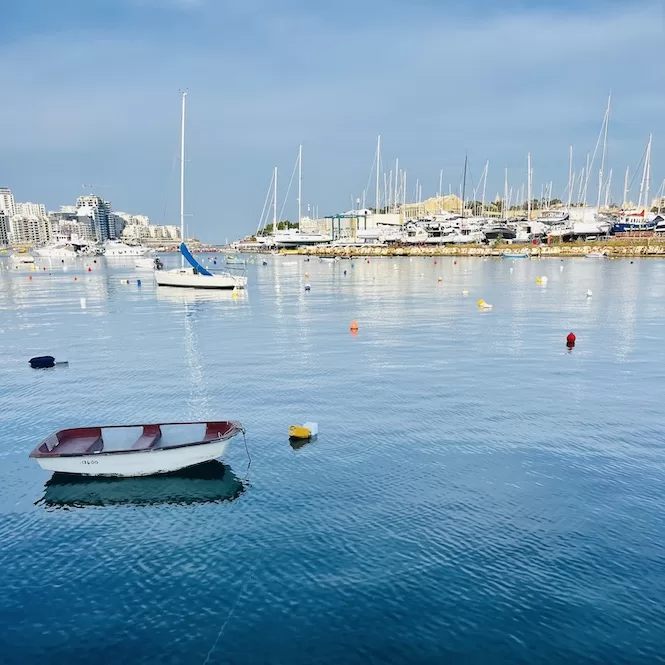 My Go-To Food and Drink Spots
Want to grab a bite or a drink in Gzira? People often ask me for recommendations, probably because they're sceptical about online reviews. While I haven't been everywhere in Gzira (so many places, so little time!), here are some spots I've tried and enjoyed.
Taste Bud Temptations:
Budget-Friendly:
Fatayer: Delicious Syrian takeaway offering falafels, wraps and fatayer pastries.
Bella Sicilia: A Sicilian bar serving aromatic coffee, tasty arancino, pizza slices, croissants, and some of the finest ice cream in Malta.
So, head to Gzira for breathtaking views of Valletta's skyline, Manoel Island and its rich culinary scene. Gzira is an ideal spot for a short Malta getaway due to its convenient transport links. However, if you're seeking a quiet, authentic village vibe or a beach holiday, Gzira might not be your first choice.
Don't miss my other guides! Explore Valletta, the Three Cities, exciting water sports, beautiful beaches, and scenic hiking spots. Travelling alone in Malta or visiting during winter? Looking for budget tips or transportation info? My guides have everything you need.