Just a quick heads up – some of the links I share on this site are affiliate links. That means if you click on one and make a purchase, I may earn a small commission at no extra cost to you. Your support through these links helps me create valuable content.
---
Where is the best place to stay in Malta, you ask? Picture this: Waking up in a commercial hotel with a view of… another hotel. Now, imagine rising to the sound of the local church bells, streets smelling of fresh bread and locals treating you like one of their own. Which would you prefer? I bet the second option feels more like a home away from home. That's the magic of an authentic stay, and that's what you deserve when visiting Malta.
Choosing the Best Place to Stay in Malta: What's in an "Authentic" Stay?
You may wonder, "What's this buzzword 'authentic' all about?" An authentic stay is like a homemade pie—warm, filled with local ingredients, and baked with love. In contrast, the commercial tourist hub is the store-bought version—might look tasty, but lacks a personal touch.
When choosing where to stay in Malta, it's about living the culture, not just observing it. It's about eating where the locals eat, walking the old streets, and absorbing the spirit of the Maltese islands.
The Myth of the "Best" Hotels
Many believe that the swankiest hotels offer the finest facilities, comfort, and the "true" Maltese experience. While they are comfortable, sometimes they offer a watered-down, touristy view of the local culture. In contrast, local accommodations often offer outstanding warmth and hospitality as well as modern amenities.
In this post, I'll share a few gems in Gozo where I've stayed and truly liked.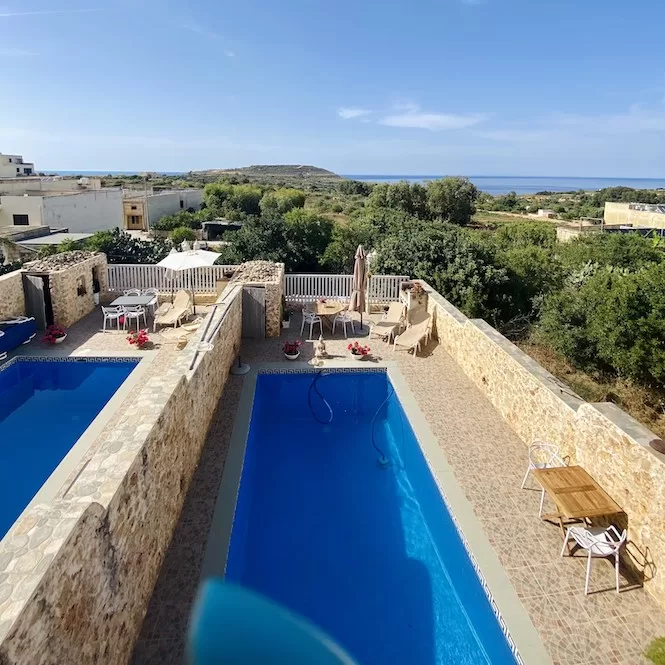 A view from the room window at Gizimina B&B by VeroSole. Book it here.
Choosing the Best Place to Stay in Malta: Locating Authentic Neighborhoods
Do you fancy a spot where cats rule the alleys and fishermen repair their nets by the harbour? Use platforms like Booking.com to find homes enriched with culture. Look for neighbourhoods mentioned repeatedly for their authentic vibes, not just their tourist attractions. And don't be shy to ask me for advice.
Now, after living in Malta for 10+ years, I recommend checking out these towns for an authentic local stay: Zurrieq, Zejtun, Three Cities, Zebbug, Mosta, Marsaxlokk, Naxxar, Rabat, and Valletta or Dingli.
Ah, and Gozo? That's like the cherry on top of our Maltese pie. The villages there are still very authentic, full of genuine Maltese charm.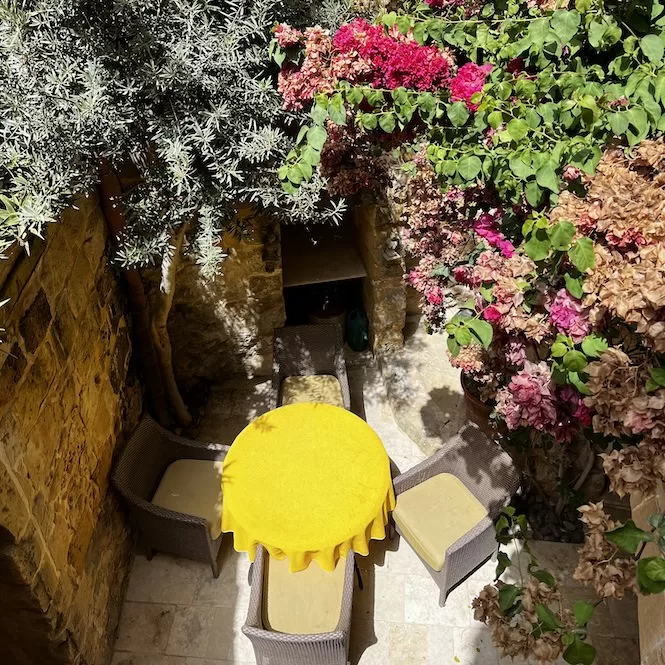 Finding the Best Place To Stay
While Booking.com offers a plethora of options, the magic lies in filtering. Look for stays in farmhouses, bed-and-breakfasts and boutique hotels owned by locals or even centuries-old palazzos.
These are more than just places to sleep; they're experiences in themselves. These are where stories come alive. You'll find a cat lazing in a sun-soaked courtyard, or be invited to a local festa by your hosts.
Tips for finding gold on Booking.com:
Filter with purpose: opt for homestays, farmhouses, bed-and-breakfasts, or lodging with local hosts.

Photos: go beyond the property. Look at the surrounding areas. Do they look commercial or lived-in and homely?

Read reviews, especially from travellers who share your desire for authenticity.
The Art of Reading Reviews
Differentiating genuine from generic: "Great stay!" is encouraging. But "Woke up to the aroma of pastizzi from the local bakery" is a winner!
Red flags and gold stars: Avoid reviews that only mention modern amenities. Instead, gold stars are the ones that talk about hospitality, local interactions or unique architectural features.
Dive deeper: A surprising number of people are convinced by the first five reviews they read. Dive deeper and find genuine experiences.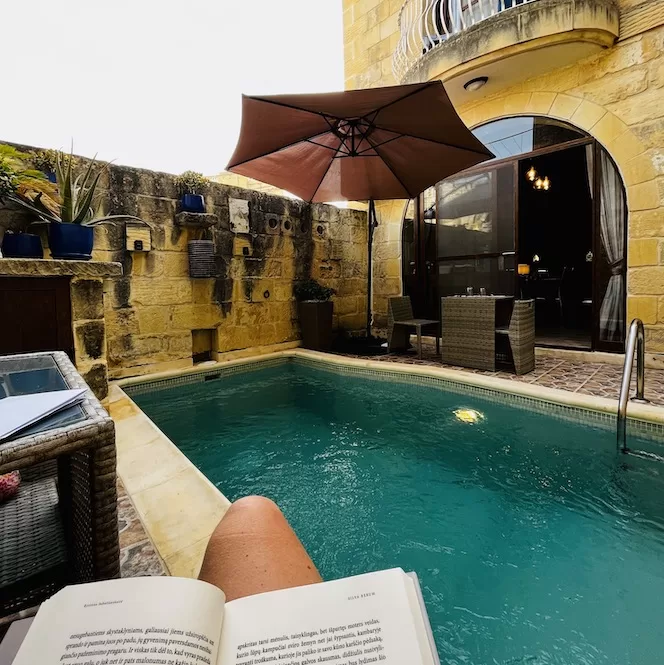 San Pawl B&B in a renovated farmhouse in Gooz. Book it here.
Final Checklist Before Booking
Is it in a commercial hub or a historically rich area?

Are the reviews more about LED TVs or local traditions?

Is there a local event that will take place during your stay?

Remember, authenticity is not a luxury—it's an experience. And it's worth every penny.
Integrating Convenience in Your Stay: Where is the Best Place to Stay in Malta?
Moving around with ease: While knights rode horses, you can hop on a bus. Local transport is a cultural experience alone! If you choose a far-off town for your stay, you might need wheels. For that, take a look at my Malta car rental guide.
Embracing local life: making the most of local grocery stores, cafes, and eateries. Why pay tourist prices when you can savour Maltese pastries from the neighbourhood bakery? Remember, calories don't count on vacation!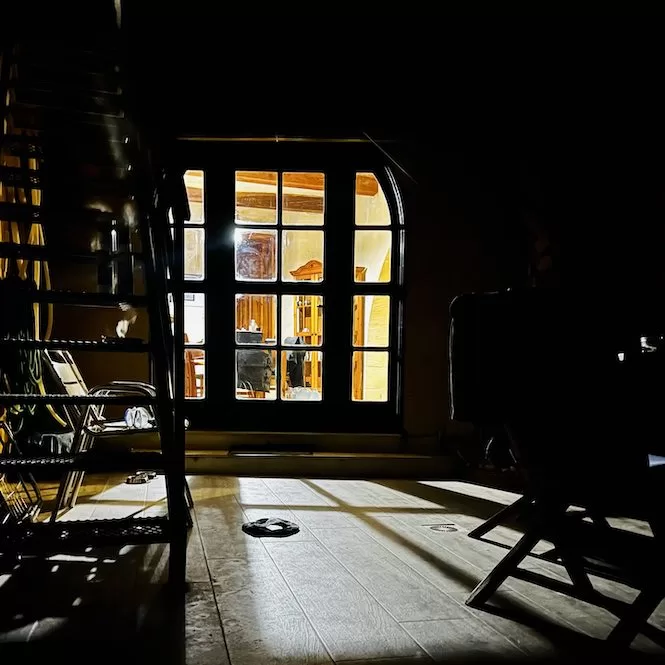 Choosing the right place in Malta isn't about luxury hotels with pools. It's about capturing a slice of Maltese life. It's time to find your home away from home on this beautiful island. And remember, don't just visit Malta – live Malta.
If you're diving into the Maltese adventure, make sure you hit the waters at the right time. Take a look at my post on villas in Gozo with private pools, the best time to visit Malta, solo travel, tips for budget-friendly holidays and a guide to Malta in winter. Got a week? Lucky you! I've got a 7-day Malta guide that'll make those days count. Only here for a short sprint? No worries, my 4-day stay guide has got you covered.