Ghajn Tuffieha Bay is my favourite beach in Malta. It has turquoise waters, red sand, and picturesque views, making it a paradise. Also, the 187 steps to and from the beach add to its charm. This beach is a must-see in Malta – it has gorgeous scenery, and you can also go for lovely walks and watch the best sunsets in Malta.
Where is Ghajn Tuffieha Bay?
The Ghajn Tuffieha Bay is on the northwest coast of Malta. It is one of three beaches separated by rocky hills – Golden Bay, Ghajn Tuffieha Bay and Gnejna. Ghajn Tuffieha is in the middle, 345 metres south of Golden Bay. It is possible to hike between these beaches and enjoy the beautiful scenery.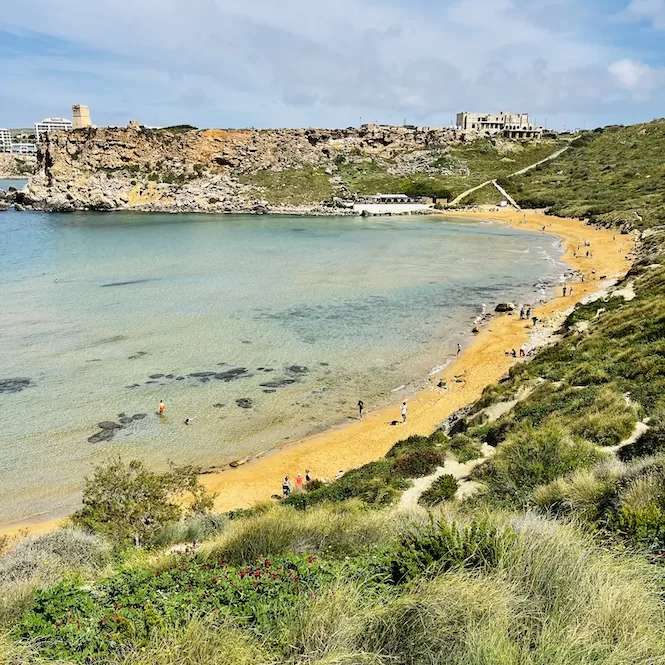 Ghajn Tuffieha Bay Names
In Maltese, Ghajn Tuffieha means Apple's Eye. However, it is rarely called Apple's Eye beach in English. Its English name is Riviera or Riviera Martinique. This name comes from the Riviera Martinique hotel, which closed in the 1980s. It stands abandoned atop the hill, watching the waves and bathers on the beach below (you can see it in the image above).
My Top Reasons to Visit Ghajn Tuffieha Bay
Check out some of the reasons why Ghajn Tuffieha Bay is worth a visit:
Ghajn Tuffieha bay's beach is beautiful with its red sand and crystal-clear water.

It's the best beach in Malta to watch the sunsets. An hour before nightfall, the bay takes on a magical atmosphere. The light creates beautiful silhouettes, and the area becomes quiet and peaceful.

Evening Silhouettes

This beach is wild and natural, with unspoiled rocks and cliffs.

Its shallow water gradually deepens, making it ideal for children and those uncomfortable in deep water.

You have rocky hills around the beach. The views are amazing. There are hiking paths to explore the area. I enjoy hiking early in the morning and having a refreshing dip after.

Ghajn Tuffieha Bay is less busy than Golden Bay. It is partly due to the 187-step descent from the top of the hill. Walking down and up can be a challenge for families or older people, which stops many people from visiting.

There are paddleboards for rent so that you can explore the nearby coastline. Learn more about paddle boarding in Malta here. If the sea is wavy, you can take surf lessons or rent a surfboard. 

Snorkelling is fantastic along the rocky sides. You will see lots of marine life there.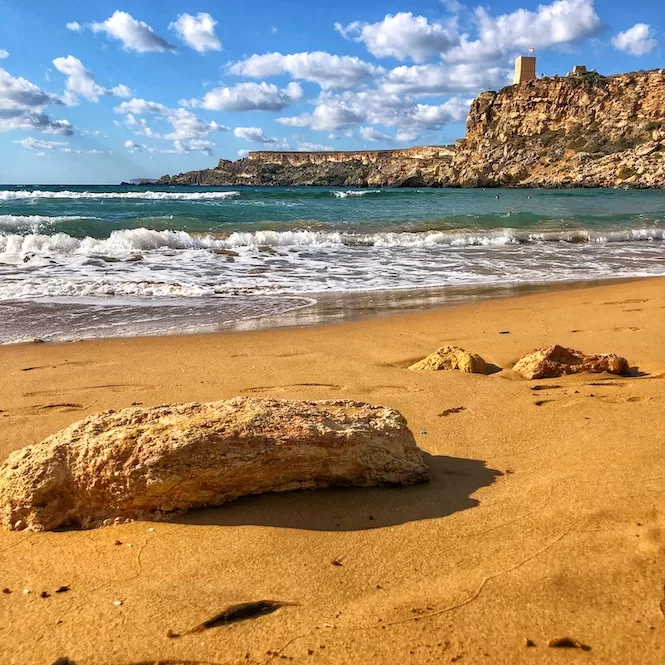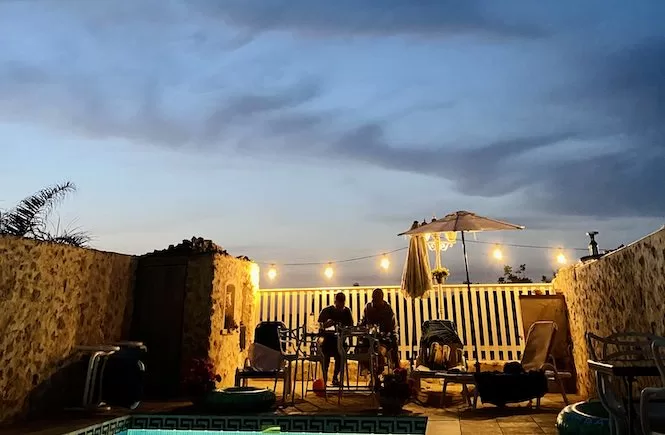 How to Get There?
It is relatively easy to get to Ghajn Tuffieha Beach. By car, it is just a 30-minute drive north of Malta's capital city, Valletta. Alternatively, you can take a bus from Valletta, Sliema or St. Julian's to Golden Bay. Ghajn Tuffieha Beach is just one bus stop from Golden Bay.
There is a small parking lot near the beach, so you should arrive early to get a spot. The parking is free, but you should tip the attendant a few euros.
During the summer, temporary parking is available nearby in a field. Parking at Golden Bay and walking to Gjan Tuffieha Bay is also possible. In addition, there is a new parking lot where you can pay cashless.
Getting There:
---
---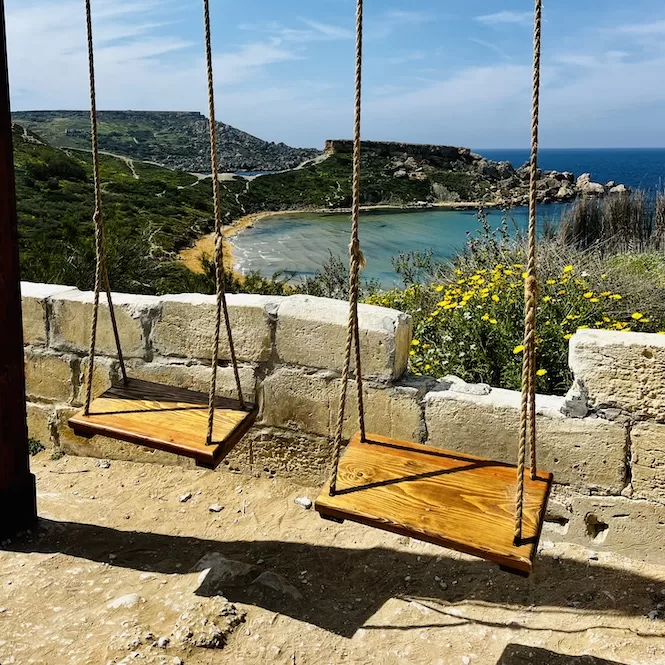 Things to Do at Ghajn Tuffieha Bay
Ghajn Tuffieha Beach offers visitors a wealth of activities.
If you are adventurous, you can snorkel and explore the depths of crystal-clear waters. Many types of marine life are on either side of the bay, including fish, crabs, and octopuses. You can also spot stingrays and flying fish on the sandy bottom. A depth of 2-4 meters makes snorkelling safe.
You can take a hike and explore the surrounding area. For example, if you walk to the left side of the beach, you can explore the clay cliffs, Ta' Babu Cove, visit il-Qarraba Peninsula, or even hike to Gnejna Bay.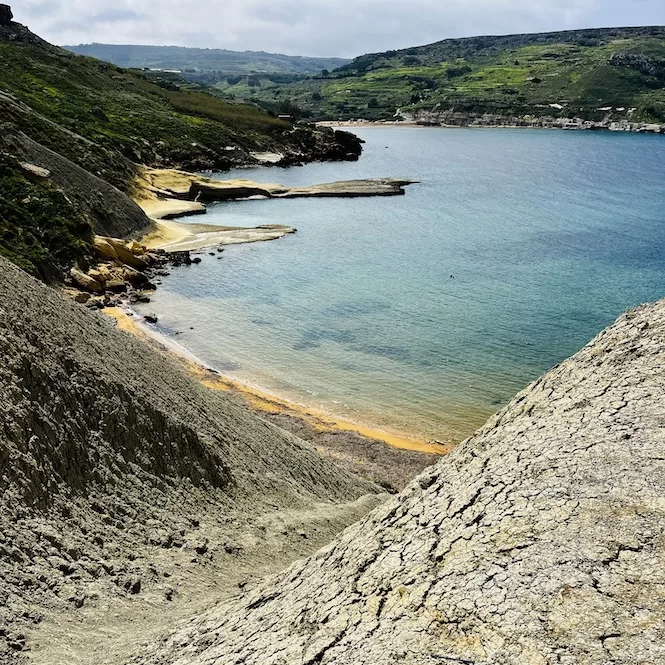 You can also walk towards the Golden Bay and visit the Ghajn Tuffieha Tower. Among its many advantages is the fantastic view. From the tower, you can see the Lippija Tower in Gnejna Bay. It was designed so that you could always see another tower and send signals in case of an attack.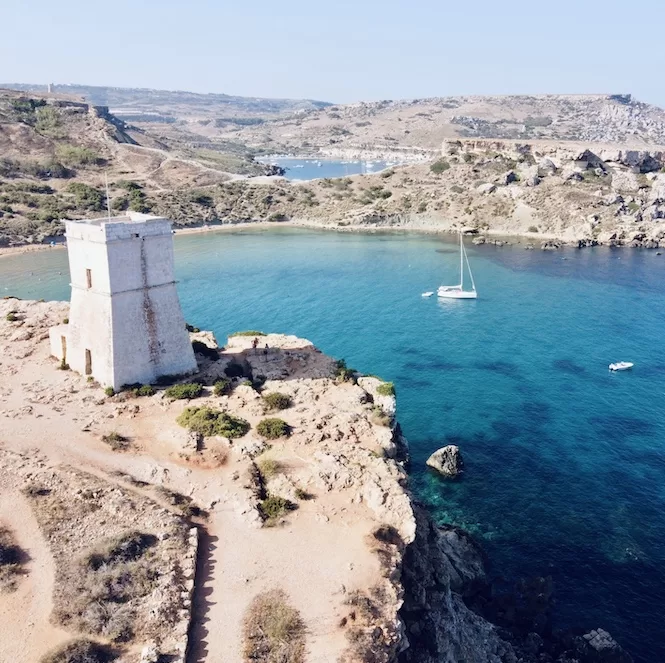 Armed initially with a 12-pounder gun, Ghajn Tuffieha Tower was built by the Knights of St. John in 1637. It was kept under guard by a captain and three men. However, coastal erosion has threatened its existence. During the storm in early 2023, part of the tower was damaged.
Of course, one of the most popular activities is to sunbathe, swim and watch the sunsets.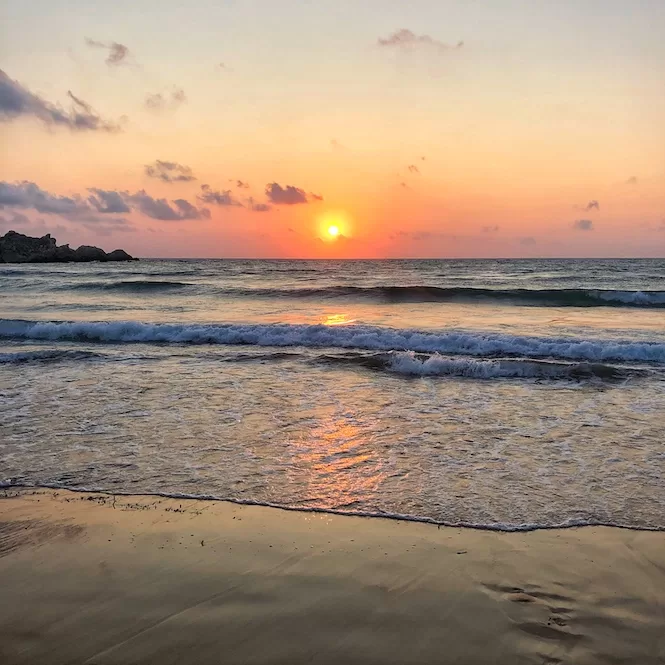 Some Advice for a Great Experience
To avoid the crowds, arrive at Ghajn Tuffieha beach either early in the morning or late in the afternoon.
Remember to bring sunscreen and a hat, as the sun is incredibly intense.
Bring your snorkelling gear.
Be sure to respect marine life and vegetation.
Bring your camera to capture the stunning views.
Take comfortable shoes if you want to explore the area on a hike. Flipflops are not a good idea.
Be sure to confirm that the beach is jellyfish-free – learn more in my jellyfish guide.
If you're coming to Malta, Ghajn Tuffieha Bay is a must-see. The red sand beach, crystal clear water, and stunning views make it an amazing place to visit. You can snorkel, hike, relax, soak up the sun and enjoy sunsets at Ghajn Tuffieha Bay.