Scuba diving in Malta is a fantastic experience for scuba divers. You can find everything from shipwrecks to reefs and rich marine life. This blog post covers Malta's marine life and the famous dive sites in Malta, Gozo and Comino. I will also provide some tips on how to get started if you are new to scuba diving.
What Makes Malta a Great Place for Scuba Diving?
Here are my nine reasons why Malta is a great diving destination.
Excellent visibility.

Even at 30 metres of depth, you'll get 40-50 meters of visibility on the Maltese Islands. Currents are usually weak, and there isn't much tidal activity. You can take some fantastic underwater photos with excellent visibility and intense sunlight.

It is easy to reach a large number of diving sites.

There are over 100 diving sites in Malta, Gozo and Comino. Half of them are accessible from the shore. Getting to the boat sites is easy

since they're close to the coast.
It's easy to get around.

The small size of Malta makes diving sites easily accessible. The island is about 27 km long and 15 km wide. Furthermore, it takes 30 minutes to get to Gozo from Malta.

Once there, it's even easier since Gozo is only a third of Malta's size. Check out the Maltese islands map.
The diving season in Malta lasts all year long.

Malta's winters are mild, so you can dive any time of the year. However, the islands get windy. The most common type of wind is north-westerly. Don't worry; plenty of diving sites are sheltered from this wind

.
Comfortable water temperatures.

In winter, the water temperature drops to 14 degrees, making a dry suit necessary, but it is still comfortable. As summer approaches, the temperature rises to 28 degrees.

Cheap flights in low season, good connections.

Low-cost airlines fly to Malta all year round and offer good connections to many European cities. Flights to Malta are very cheap in the low season. If you are flying in summer, look for good deals in advance.

Plenty of options for wreck diving.

There are 80 shipwrecks and aircraft wrecks in Maltese waters, of which 15 are regularly dived and explored.

You can choose from more than 50 diving centres.

A wide variety of dive centres are available on the Maltese islands. Most of them have been in business for more than 30 years. The dive centres provide all the necessary equipment, so you don't need to bring anything. The most common diving qualifications are those offered by PADI, BSAC and CMAS.

Communicating in English will be fine.

In Malt

a, Maltese and

English are the two official languages. English is widely spoken, so you'll be able to communicate with no problem.
Marine Life in Malta
Caves and wrecks are the main attractions when diving in Malta and Gozo. However, marine life is also abundant.
Unfortunately, there is almost no chance of seeing a big fish. Sometimes people see tuna, dolphins, and bonitos. But they're more likely to appear in winter, attracted by the warmer water at the shore.
When diving in Malta, you will likely see groupers, amberjacks, breams, octopi, flying fishes, gurnards and parrot fish. Moray eels are also among the fish you'll spot while scuba diving.
Credit: Photo by Pierre Mallia
Around Malta and Gozo are also shoals of barracudas. Barracudas are large predatory fish with ray-finned fins and are known for their aggressive nature. Luckily for me, I saw a large group of them. They looked fearless as they didn't swim away from scuba divers when they saw us.
Credit: Photo by Pierre Mallia
It's common to see stingrays on sandy seabeds. In Golden Bay and Ghajn Tuffieha, stingrays are frequent. You can even see them by snorkelling there.
Fish aren't the only marine life you can see. You'll find sea urchins, sea stars and cucumbers, and sea lilies. As you dive, you'll see plenty of marine worms.
There is a lot of marine flora in the Mediterranean Sea. Seagrass and algae grow in some places. The seascape is also filled with marine sponges that look like decorations in a garden underwater.
The Best Sites for Scuba Diving in Malta
There are a lot of exciting wrecks along the coast of the Maltese Islands. Some sank during World War II; others were sunk for divers. In addition to shipwrecks, there are also incredible natural reefs and caves to explore.
The following are Malta and Gozo's most popular diving spots. Click on the map to see their locations.
Wrecks in Cirkewwa, Malta
Cirkewwa has two wrecks accessible from the shore: Tug Boat Rozi and P29 Patrol Boat.
Rozi is a 35 meters long wreck that lies upright on the sand. Rozi used to operate in Valletta's Grand Harbour. The boat was sunk in 1992 to make an underwater tourist attraction. It's still intact, and you can dive inside it.
P29 Patrol Boat is 150 m offshore from Cirkewwa and approximately 150 m from Rozi Boat. It was a former patrol boat of Malta's Armed Forces. She was scuttled in 2007. Divers with experience can explore many areas of the wreck. There's plenty of marine life to see on the outside.
Um El Faroud, Malta
Um El Faroud wreck was an ex-Libyan oil tanker that sank in 1998. It was split in half by a storm in 2005. A 110-meter-long wreck lies at a depth of 36 meters. There's a lot to see inside. There's a lot to see, so it might take a few dives.
Although the wreck was sunk recently, fish like tuna, jacks, and barracudas already frequent it. Divers of all levels will love this dive, whether advanced, sports divers, or technical divers. Be careful on the way out because there are currents. If you're new to the area, try getting a guided dive or an introduction from a local dive centre. The wreck is accessible from the shore at Blue Grotto.
Tunnel and the Inland Sea, Gozo
Inland Sea and Tunnel are one of the most popular dive sites in Dwejra. An 80 meters long tunnel cave through the rock connects the Inland Sea to the Mediterranean Sea.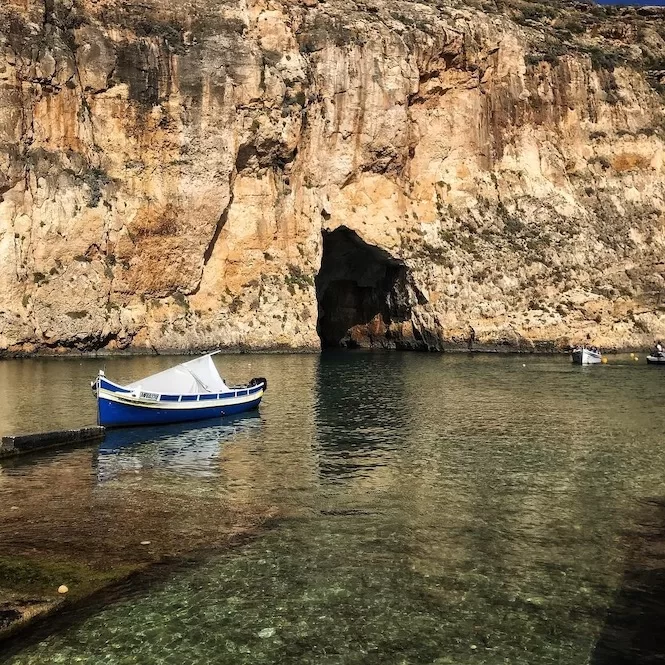 Divers don't have much to see in the Inland Sea, but the tunnel is unique. Initially, the tunnel is 6 meters deep but drops to 15 meters immediately. The seabed is 25 meters deep halfway through the tunnel and 50 meters deep outside. The tunnel has vertical walls and pebbles on the bottom. From the tunnel, you can see the open blue ocean. There is also lots of marine life. In the tunnel, I once saw a big grouper.
After you exit the tunnel, there are more vertical walls and caves. Return to the Inland Sea through the tunnel, or dive south through the Blue Hole.
To learn more about this area and its surroundings, check out my guide to Dwejra.
The Blue Hole and Coral Gardens, Gozo
The Blue Hole in Dwerja is Malta's most famous dive site. You can get to this dive on foot. This site is also great for swimming, snorkelling, and freediving.
The Blue Hole is a limestone sinkhole that measures about ten metres by five metres. Because a rock fringe protects it, the hole is a sheltered pool so divers can get in and out safely.
The Blue Hole is about 15 meters deep. At 9 m deep, there's a beautiful underwater window. The walls of the Blue Hole are covered with sponges, coral tubeworms and other sea creatures. 
The Coral Gardens are located just next to the Blue Hole. There are tunnels and canyons to dive through. There is a sand bottom and boulders all around. 
Its lightning is incredible, and its algae and sponges are colourful. Underwater photographers love this dive. You'll find urchins, starfish, and other low-lying sea life in Coral Gardens.
Billinghurst Cave, Gozo
In Billinghurst Cave, a shore dive site in Gozo, you can descend 30-40 meters and explore its dark, round shape, colourful sponges, and corallites. 
Credit: Photo by grumpyori
Divers reach the cave by jumping off a concrete ramp and following the left wall. It's possible to end the dive at Reqqa Point. A striking contrast between the cavern's darkness and the open water's blue makes this dive stand out.
Double Arch, Gozo
This dive site is about 200 meters offshore in Xwieni Bay in Gozo, so you'll need a boat to get there. This site's name is after two natural underwater arches that are on top of each other. You can get there from shore or by boat. It has an average depth of 30 meters and a maximum depth of 45 meters. Divers love it for its caves and reefs, but it's also known for its barracuda shoals.
Santa Marija Caves, Comino
Santa Marija Caves is a popular diving spot in Comino, accessible only by boat. There are about ten caves divers can explore. There's something different about every cave, so you're in for a unique experience. On the vertical walls, you can see many light reflections. There's a lot of marine life here, like octopuses, crabs, lobsters, red mullets, and moray eels. These caves also make great photo and video spots. The caves are shallow, so divers of all levels can dive here.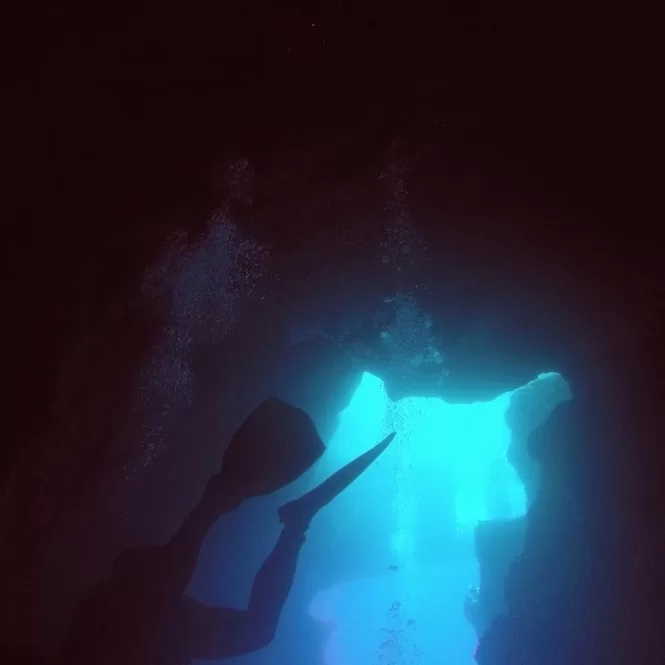 Reqqa Point, Gozo
Reqqa Point is a popular dive site on Gozo's north coast. Diverse marine life and underwater topography make this site unique. At Reqqa Point, you'll find reefs, boulders, chimneys, and vertical drops suitable for all levels of divers.
The site is accessible from the shore. You'll have to walk a bit to get there, and it's not easy to find, so diving with someone who's been there before is recommended. When there's a lot of wind, diving there can be dangerous. At this site, you might see groupers, rays, barracudas, lobsters, and morays.
MV Karwela Shipwreck, Gozo
The MV Karwela is a diving wreck in Gozo, Malta, near Xatt l-Ahmar. Initially, it was a passenger ferry that took tourists around Malta on day trips. The ship was sunk in 2006, so it could serve as an artificial reef for divers. A 50-meter-long wreck sits upright on a sand bottom at about 40 meters depth. There's a lot to see on the three decks of the boat. Before it was scuttled, several openings were made, so diving in is safe.
Safety Tips and Diving Regulations in Malta
The priority should always be safety. Make sure you're safe while diving in Malta by following these tips:
It's critical for divers to be aware of boat traffic and to use a surface marker buoy or a flag

It's never a wise idea to dive alone

Keep hydrated

Make sure you're using the right gear

If there's a rough sea, avoid diving

Mater Dei Hospital has a decompression chamber, and you can call 112 in an emergency.
Diving in Malta is regulated. Here's a quick checklist to make sure you're following them:
The only way to dive independently is if you have a certification that allows you to dive to 30 meters. However, you have to be accompanied by a licensed instructor.

Check-in at a dive centre before diving, complete the paperwork and show proof of qualifications.

All divers must complete a medical questionnaire and may need to present a doctor's certificate.

It's illegal for minors to dive without their parent's permission.

Licensed instructors can only offer diving services. The Maltese Tourism Authority approves dive centres and sets equipment, facilities, and service standards.

Divers must use a flag or buoy to indicate their location to boats.

You need a license to fish or spearfish at dive sites.
Scuba Diving in Malta for Beginners
Malta is a great place to learn scuba diving. You will have your first dives in the sea. So, from the first dip, you'll see marine life.
Diving centres offer introductory dives. You'll learn some basic skills and explore the underwater world. If you get hooked, you can take courses and become a certified diver. Different certifications are available depending on what you want to achieve. You can start by getting a certificate to dive up to 18 meters deep. However, a diving license of up to 30 meters is required for diving independently in Malta. All of these certifications are recognised globally.
There are a lot of reputable diving centres in Malta. I got my PADI Open Water and Advanced Open Water certifications at Dive Systems in Sliema. This dive centre has competent instructors who are also attentive and patient teachers. Apart from courses, Dive Systems offers guided diving around the islands. They also rent tanks and equipment.
There's no doubt that Malta, Gozo, and Comino offer some of the most picturesque and diverse diving experiences in the world. There's something for divers of all levels, from caves and reefs to wrecks. The underwater world is fascinating, and you can see a lot of marine life. Malta has a lot to see and explore, making it a diver's paradise.