Dwejra Bay is sure to impress you. Imagine a place where the waters sparkle like diamonds. Imagine cliffs of limestone standing tall above you like guardians. Imagine the Blue Hole, dipping deep like a secret passage to what lies beneath the waves. And the sunsets? They are to die for. Dwejra Bay is one of Malta's jewels, and it is a sight you can't miss.
Why is Dwejra Bay Worth Visiting?
Dwejra Bay is a nature lover's paradise, with plenty of activities and sights to enjoy. The Azure Window used to be the most iconic sight in Malta. But, it collapsed during a storm in 2017. Yet, even without it, Dwejra Bay is still a fantastic place to visit. I always visit Dwejra Bay when I come to Gozo. I love coming here during the magical golden hour when the site is quiet and the sky red.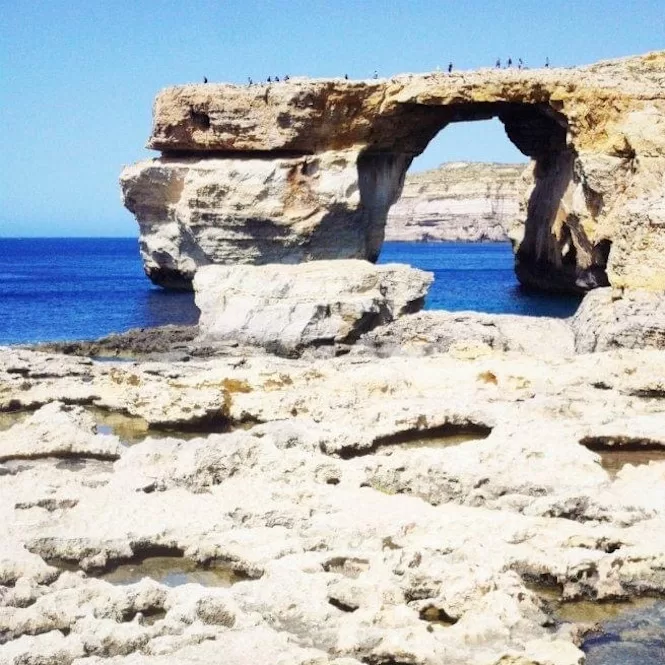 Tips Before Going to Dwejra Bay
There are a few things you should know before you visit Dwejra Bay.
You should wear shoes that are appropriate for walking on sharp cliffs.

The sun in Malta is very intense, so wear a hat and sun protection.

If you plan on swimming, bring your snorkelling gear. Also, take sandals or aqua shoes since the rocks to get into the water are sharp.

You'll find ice cream stands, sandwich kiosks, and a restaurant. No grocery stores are nearby, so bring food and drinks.

It's dangerous to go swimming if it's windy or wavy. You won't be able to exit the water. There aren't any ladders.

Respect the environment and wildlife. Make sure you don't leave any trash.
How to Get to Dwejra Bay?
Dwejra Bay is on the west side of Gozo, and it is easy to access by car. Parking is plentiful. Buses are also available from Victoria, but they don't run late in the evening and only run every hour.
---
Location: link to Google Maps
Nearest bus stop: Dwejra
Walking distance from the bus stop: 50 meters
Frequency of the buses: every hour. Buses don't run late at night, so check the timetable.
Parking available: in the car park here
---
You can also visit Dwejra and many other Gozo attractions on a Jeep Tour. Book it below!
Best Time to Visit Dwejra Bay
The ideal time to visit Dwejra Bay in the summer is the evening. When the sun dips below the horizon, the area becomes so quiet. So enjoy the beauty of the place while watching the sun disappear.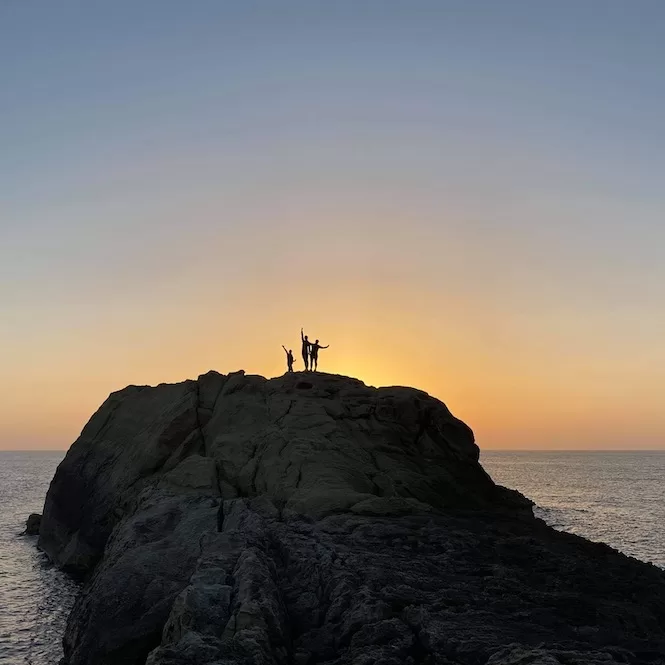 It's also an excellent idea to visit it in the morning when the sun isn't so intense. Then, you can swim and enjoy the views without feeling too hot.
During other times of the year, you can visit Dwejra Bay anytime. In winter and spring, the landscape is alive with lush greenery and vibrant blooms. Unfortunately, the restaurant and kiosks will likely be closed during this time.
Exploring Dwejra Bay
Here's a map with the main sites of Dwejra Bay.
Inland Sea
The Inland Sea is a shallow 60-meter-wide lagoon. It has an 80-meter tunnel that connects the lagoon to the Mediterranean Sea. Scuba diving is very popular in the Dwejra Inland Sea. However, those who do not want to dive can take a boat trip through the tunnel and explore caves along Gozo's western shore.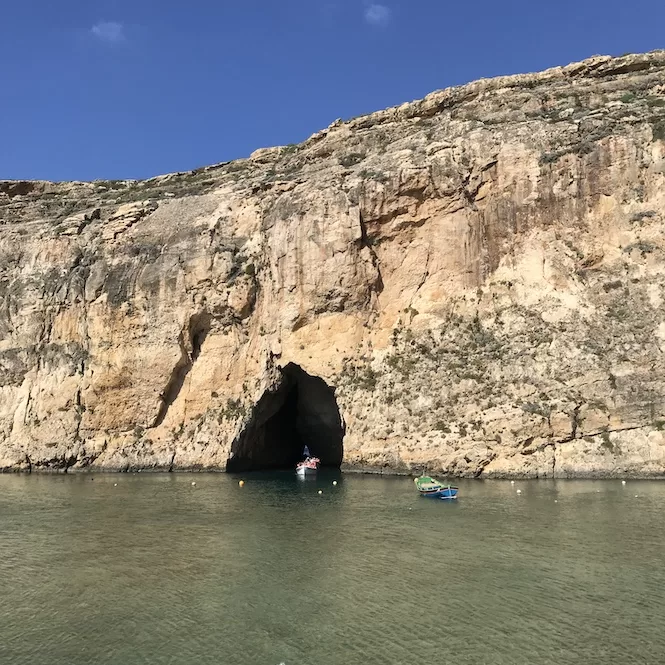 When the sun shines through the tunnel connecting the lagoon to the sea, you get a spectacular view of the inland sea. Therefore, I recommend hiking around the Dwejra Inland Sea. You can experience a stunning panoramic view of the inland sea, the cliffs, and the caves from the top.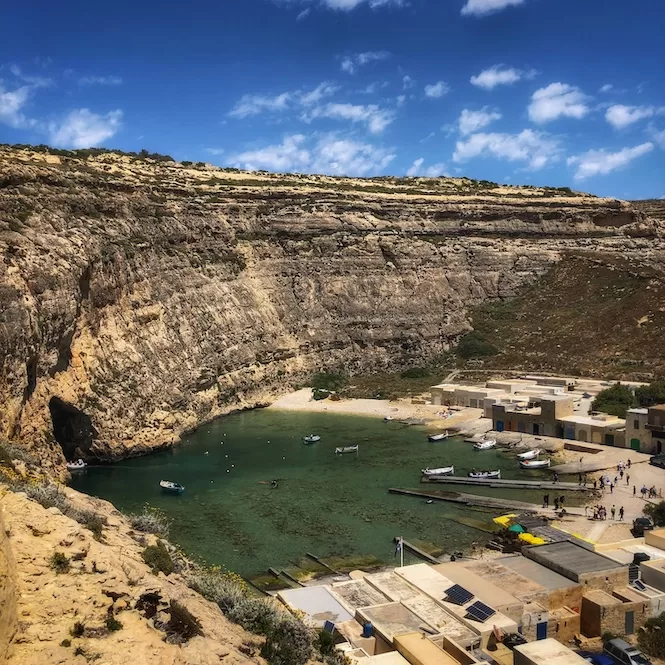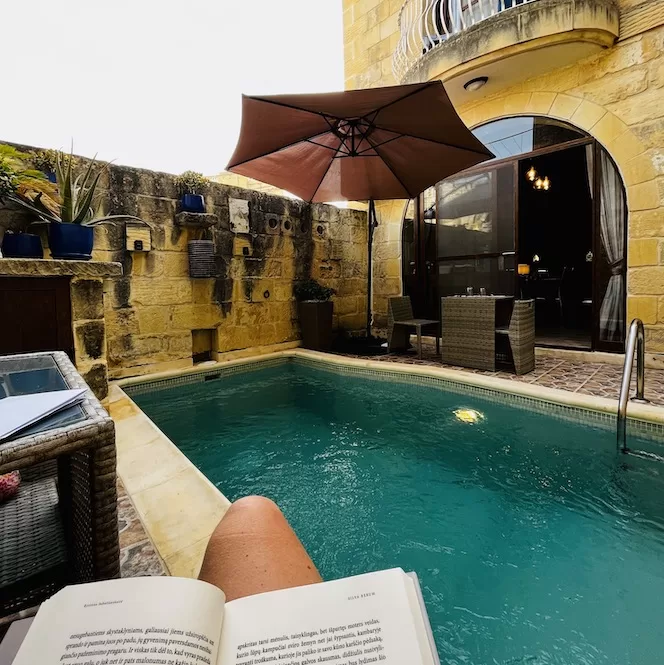 Blue Hole
The Blue Hole is a cave without a roof, but the sunlight shines through the water. Take a look at it from the top first. The viewpoint of the Blue Hole is here. On a still day, I love watching scuba divers' silver bubbles break the water's surface. Also, looking at the same spot from up high offers an entirely different view.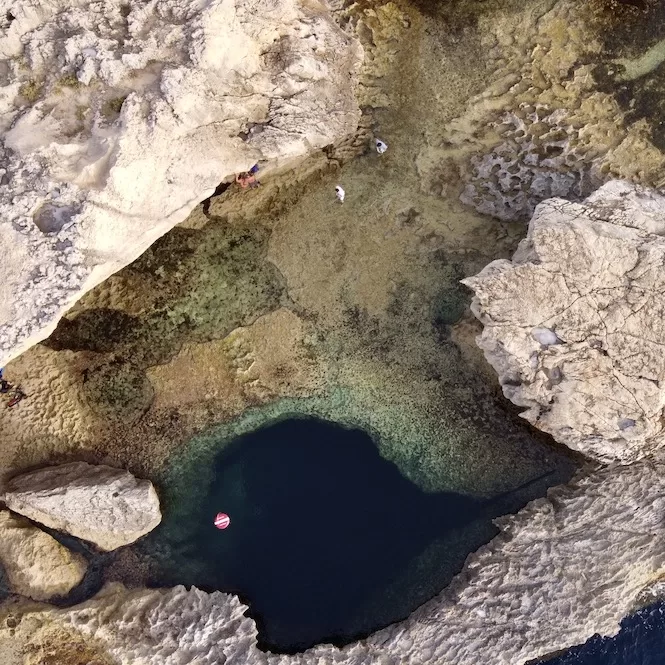 To get to the Blue Hole, you will have to walk down some steps through rocks. At one point, you will have to go along the cliffs on sharp rocks. That part might be covered in water, which is why sandals or aqua shoes come in handy.
Swimming in the Blue Hole is best done from the hole's edge. Barefoot might not be comfortable due to the rocks. Also, there might be sea urchins, so wear aqua shoes or sandals.
I love snorkelling here. It is impressive to look at the sea depths through an underwater window. However, do not dive through it because it's too deep and dangerous.
Swimming in the open sea behind the blue hole is also possible. Make sure you have your snorkelling gear. You can swim along the wall and see plenty of fish. At sunset, the light is beautiful.
You can swim left towards the Coral Gardens. Tunnels and other rock formations are present underwater, as well as many different fish species. There are many snorkelling spots in Malta and Gozo, but my favourite is the Blue Hole and Coral Gardens. If you enjoy snorkelling, I check out my guide to the finest snorkelling spots in Malta and Gozo.
Dwejra Tower
Next, you can visit the Dwejra Tower. From there, you can see fantastic views of Dwejra Bay. It was built in 1652 by the Knights of St John to protect the island from invasion. It has three 6-pounder guns. The tower was restored from 1997 to 1999 and is now open to the public.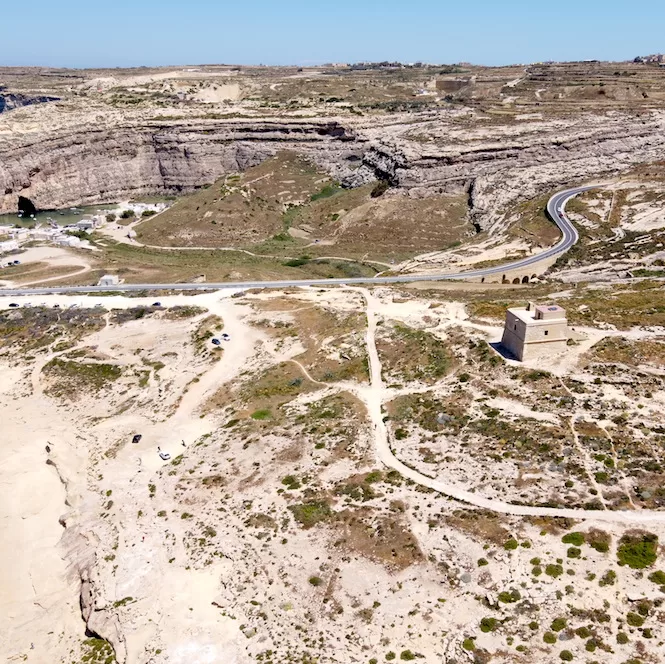 Crocodile Rock
From the Dwejra Tower, you can see Crocodile Rock. Crocodile Rock, another popular dive spot, is shaped like a crocodile hunting in the Mediterranean Sea. It is mid-way between Fungus Rock and the Blue Hole. Can you spot it? 
Fungus Rock
When standing in front of the Fungus Rock, I can't help but wonder about its infamous namesake, the Maltese Fungus. The Knights of St John found a plant and misidentified it as a fungus. It was a parasitic plant, but they believed it had healing properties. They even gave it to renowned noblemen and visitors. Crossing the border of this rock was a severe offence – those caught did not get three years in jail!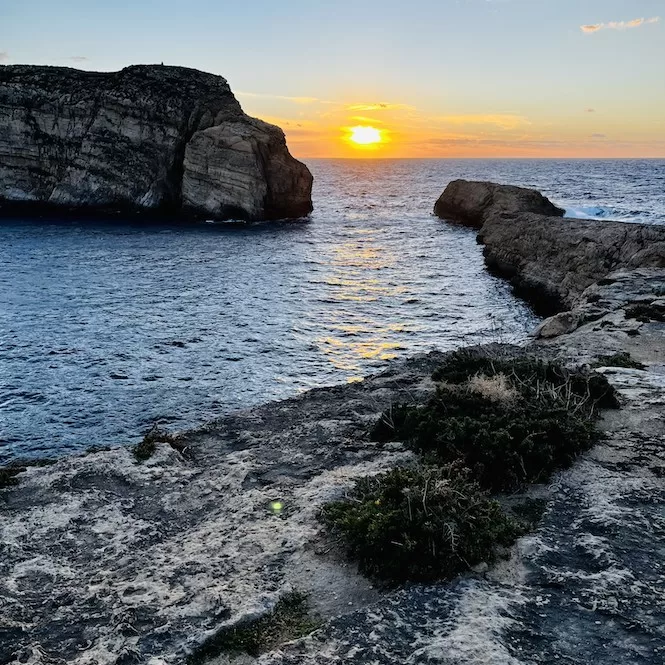 Hike along Dwejra Bay
You can take a pleasant coastal walk. I like to watch the sunset on this peninsula. Take it slowly over the rocks because they may be slippery.
The bay is worth taking a stroll around if you're feeling up to it. Below is a photo of one of my favourite viewpoints. There won't be many people there, so it will be peaceful, and you'll have a unique perspective of Dwejra Bay.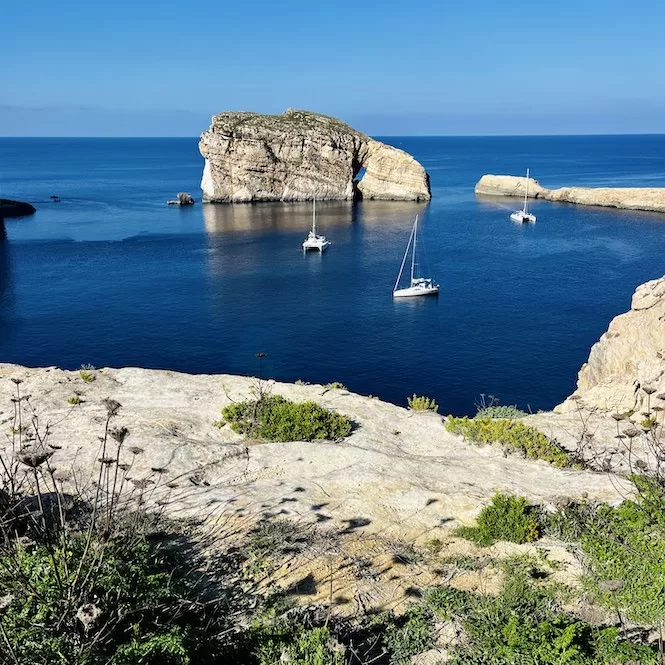 Be sure you don't miss out on Dwejra Bay on Gozo. There are lots to see and do here, from swimming in the Inland Sea and the Blue Hole to hiking and climbing the Dwejra Tower. Be sure to bring snorkelling gear, aqua shoes, sun protection and a hat. If you like this guide, check out my blogs on the best things to do in Gozo, secret beaches in Gozo, Mgar ix-Xini, Ghasri Valley and hidden gems in Malta.