Malta is famous for its stunning beaches, rich history, and cultural heritage. It is a popular tourist destination, but it is also home to many hidden gems that are often overlooked. From secluded beaches to charming villages, Malta offers more than well-known tourist attractions. Here are six hidden gems in Malta that you don't want to miss when you visit the island off the beaten track.
The table of contents below lets you jump to the section you're interested in. 
Getting Around
Public transportation makes it easy to see the popular spots, like Valletta and the Three Cities. But reaching the hidden gems is a challenge.
I'll tell you how to drive and take public transit to each hidden gem, but I recommend renting a car. Try Discover Cars for affordable car rentals.
The following map shows all the sites marked with their names. Hover over any pin to see the location's name.
Red Tower and the Surrounding Area
Many watch towers are scattered around Malta, but none compare to St. Agatha's Tower, also called The Red Tower. It is a 17th-century fortification located on the north coast of Malta.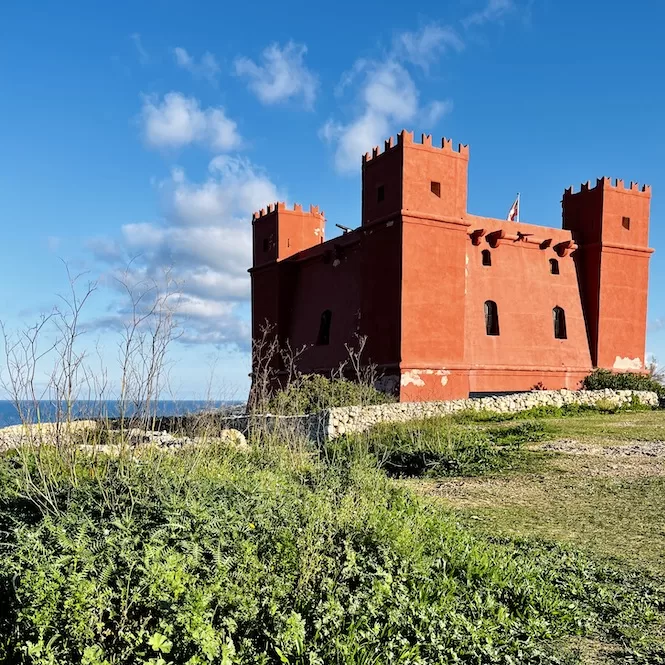 This tower has a panoramic view of Ghadira Bay and the sea between Comino and Gozo. It had a clear view of any foreign boats entering Mellieha Bay. From the tower, you can see other watchtowers and maintain contact between Gozo, Comino, and Mdina. You can see Santa Marija Tower in Comino and the Comino Battery. Also visible from the roof are the White Tower at L-Armier and Lippija Tower above Ġnejna Bay. 
Both the tower and the surrounding area are impressive. The views are panoramic, and you can see both the west and east sides of the Mediterranean Sea. 
It's best to walk for 10 minutes to the west side till you reach this viewpoint. You will enjoy a stunning panorama with views of Majjistral Park, the Golden Bay rocks, and Fomm ir-Riħ. There is a feeling that you can see half the island from here, as this is one of the highest points above sea level in Malta. 
There are small stairs leading down the hill. If you walk all the way to the cliff's edge, you'll be treated to amazing views. These fields are green in winter and spring. There are also small fig trees scattered along the paths.
This area is also good for hiking from Paradise Bay. Check out this guide. That's one of my favourite hikes, so I highly recommend it.
---
Getting to the Red Tower:
---
Limestone Arch and Cliffs at the Munxar Point in Marsaskala
In St Thomas Bay of Marsaskala, you can find a stunning limestone arch at Munxar Point. A limestone arch is a natural geological formation formed when water erodes the rock and creates an arch shape. Munxar Arch has a curved shape and a pale, smooth colour. It looks incredibly picturesque, surrounded by turquoise seawater and greenery.
A shallow bay lies in front of the arch. There are ladders around to allow people to swim. Thus, it's a great area to swim and snorkel. The arch can be swum through in calm waters.
When you have admired the Munxar Arch, climb up for about 200 meters to the viewpoint of white limestone cliffs.
There are tall and steep cliffs, but they are lighter than in other parts of Malta. The pale limestone rock creates a striking visual contrast with the crystal-clear blue waters below the cliffs. The waters below the cliffs are shallow. Depending on the weather and time of day, they appear turquoise or green. The following two images show the exact location but look so different.
You can't walk down the cliffs, but you can watch the cliffs from the top. Also, you can paddle board or kayak closer to the cliffs. Book a kayaking adventure here.
If you like hiking, you will enjoy a hike from Munxar Point to St Peter's Pool.
---
Getting to the Munxar Point:
---
Dwejra Lines Part of the Victoria Lines
Finished in 1897, the Maltese Victoria Lines were built by the British in honour of Queen Victoria's Diamond Jubilee. While never tested in battle, this fortification stretches over 12 km and combines forts, batteries and defensive walls.
Victoria Lines follow a natural barrier. The barrier makes the northern part of the island lower in altitude. Victoria Lines start from Madliena in the east, go through Mosta and finish in Binġemma on the west coast.
Dwejra Lines is one of the most picturesque sections of Victoria Lines. You can walk down the lines for some pics. You can also explore caves off the beaten path. However, there are only a few signs on the Victoria Lines. Plans are to put up signs and boards explaining the history of this historical site.
---
Getting to Dwejra Lines:
---
Hagar Qim and Mnajdra Surroundings
Hagar Qim and Mnajdra were temples built between 4000 and 3200 BC. They served religious purposes and as community gathering places. You can book a tour of these temples here.
The Hagar Qim and Mnajdra Temples draw a lot of tourists, but many people don't wander further. The surroundings of the area are amazing. 
I suggest you walk from Hagar Qim to Tal-Hamrija Coastal Tower. The path leading to the tower is marked. The Tal-Hamrija Coastal Tower is a former defensive tower with a well-preserved exterior. Unfortunately, it is not open to the public. 
From the tower, you can see Filfla. Filfla is a small, uninhabited island with a barren, rocky landscape about 4.5 km from Malta. With a coastline of 988 metres, Filfla is surrounded by 60-metre-high cliffs. It has been recognised as an Important Bird Area. Visitors must get permission before visiting the island.
It is also possible to see a natural limestone arch from the tower. It's called Ghar Hanex Window. The contrast with the greenery, orange rocks, and blue water makes it look stunning. 
If you want to explore the rocks further down, look for red spots. They will show the easiest route. Watch your footing to avoid tripping. Enjoy the sound of the sea and the sight of waves crashing against the shore when you get to the water.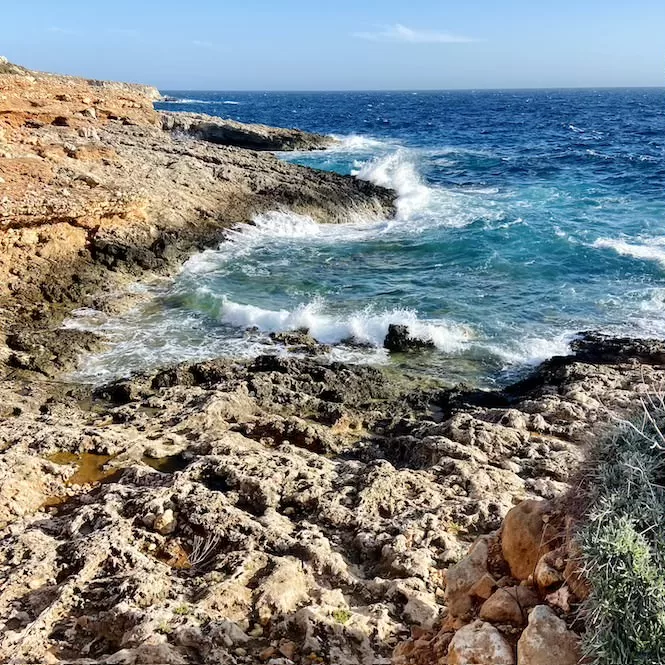 ---
Getting to Hagar Qim Temples:
---
Coral Lagoon
Coral Lagoon is a natural sea pool in Malta's north. This is a must-see destination for adventurers, nature lovers, and photographers. It's nestled between cliffs and connected to the open sea via a tunnel. It offers beautiful views of the sea and Comino Island.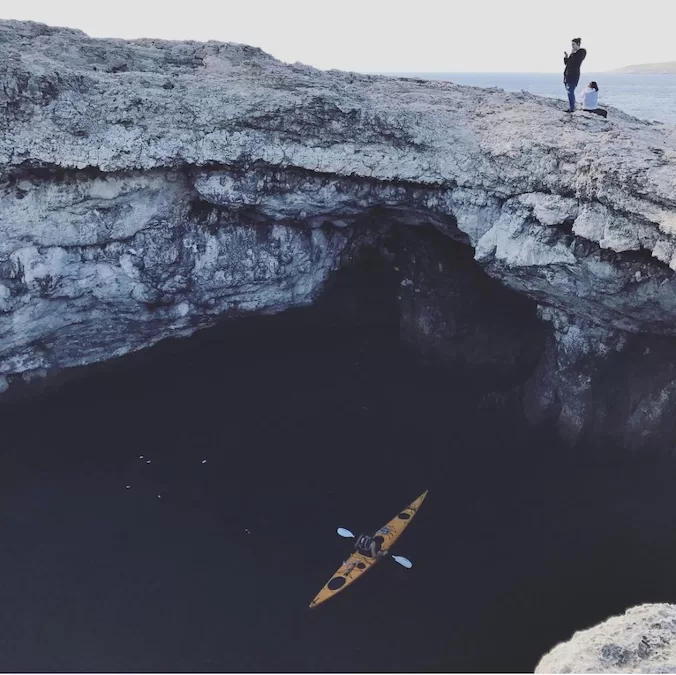 Discover hidden corners and unique viewpoints in the lagoon by renting a kayak at Tortuga Beach. Here you can enjoy a refreshing swim or snorkel, with colourful fish and sea urchins to see. During winter, nature enthusiasts can enjoy the area's raw beauty by hiking around it. Find my complete guide to the Coral Lagoon here.
---
Getting to Coral Lagoon:
---
The Gorge in Miġra l-Ferħa Area
This gorge is easily accessible from Miġra l-Ferħa. The gorge was created by water erosion. There are old stairs that lead to the sea. At the end of the gorge, the water is deep, and depending on the weather, there may be rough waves crashing against the rocks.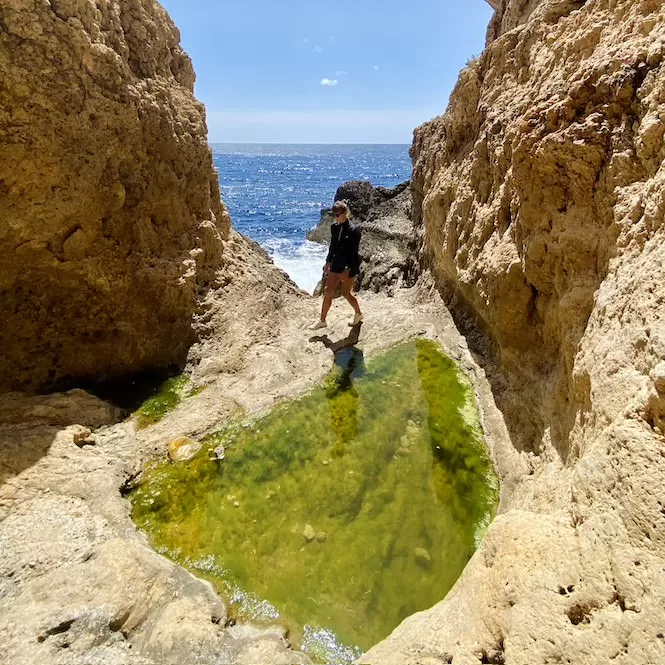 You can also walk around Miġra l-Ferħa. There are amazing views of the cliffs and the sea from here. There aren't too many people here, which I absolutely love. You can watch sunsets here, or have a picnic and relax. Here's one of my favourite cliffs among the many offered in Malta.
---
Getting to Miġra l-Ferħa:
---
Despite being a small island nation, Malta has a lot to offer. There's something for everyone in Malta, from stunning beaches to historic towns, parties, and nightlife. If you've already seen all the top sights or want to avoid crowds, don't miss these off-the-beaten-track spots. I'm sure you'll like them.
I hope this blog post was helpful. These blogs have more info on Malta's top attractions if you haven't seen them yet: