Are you looking for a walk surrounded by peace and stunning scenery? If so, take a hike in Majjistral Park. As the only nature park in Malta, it offers stunning coast views. It also offers a rich cultural heritage and natural beauty.
What is Majjistral Park?
The Majjistral Nature and History Park is a natural reserve in Mellieha, north of Malta. The park's name comes from Majjistral, the Maltese word for northwestern wind. It stretches six kilometres from Golden Bay to Anchor Bay. National park status was granted to this unique conservation area in 2007.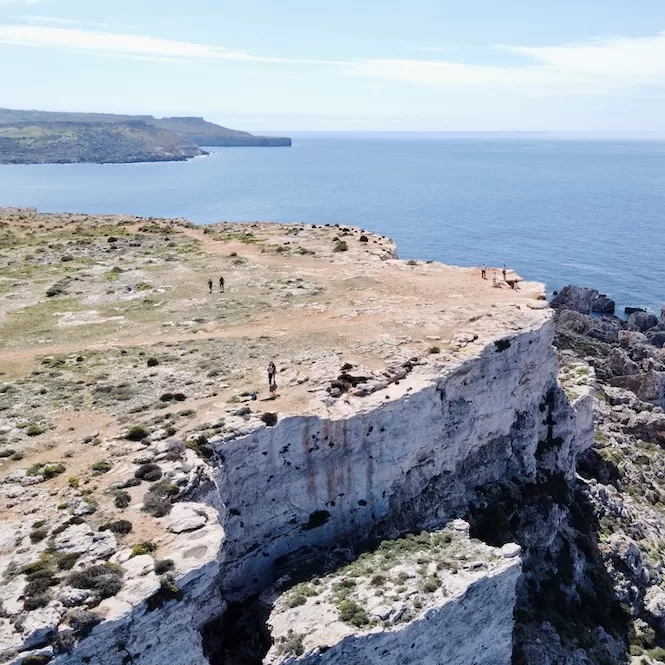 Majjistral Park's coastal zone is home to habitats of high ecological significance. This park is included in Natura 2000, a network of nature protection areas. Previously, the site was used for military training. Since its designation as a national park in 2007, the Majjistral Nature and History Park has become increasingly enriched with various plants and flowers. This area's beauty grows every year.
What Makes this Hike Worth Taking?
The Majjistral Nature and History Park is an excellent getaway from Malta's hustle and bustle. The park offers spectacular coastal views, pristine biodiversity, and a rich cultural heritage.
The park has plenty of natural wonders, such as untouched pebble beaches and flowers. There's a sea view everywhere you look. You can stop for a picnic and enjoy the beautiful scenery. There are also several cultural and historical sites in the area, including drystone walls, farmhouses, and beehives.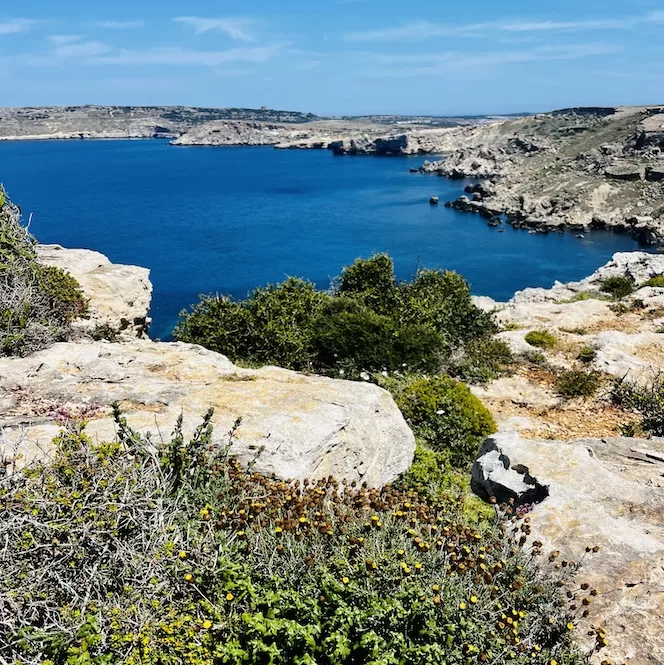 Autumn and spring are the best months to enjoy the park, when it is not too hot and the weather is pleasant. In winter, when it's not windy, the park is also a great place to visit. The landscape is lush and green with flowers everywhere.
What to Know Before the Majjistral Hike?
It is a moderate hike in Majjistral Nature Park with some ascent. The terrain is uneven with rocks, so shoes that provide good traction are essential. The hike can certainly be cut and made shorter.
---
Distance: 8,95 km
Walking Time: 2 h 29 mins
Level: Intermediate
Uphill: 160 m
Downhill: 160 m
Highest Point: 90 m
During June and September, avoid the midday heat.
---
There are a few things to remember before hiking in Majjistral Nature and History Park. The park lacks toilets, so use them at Golden Bay, Popeye Village, or the Visitor Center. You will also need a trash bag since there aren't many garbage bins.
As Majjistral Park is a protected area, barbecues are not permitted. It is fine to have a picnic, but you should leave the area as it is.
Within the park, there are privately owned areas. Do not trespass on private property.
Lastly, remember to care for the environment. Make sure you stay on the path and don't step on plants.
What Should You Bring to Your Majjistral Park Hike?
You'll need a few things to ensure a safe and enjoyable hike in Majjistral Nature and History Park. Bring plenty of water and energy snacks. A hat, sunscreen, sunglasses, and a light raincoat are essential for sunny days. Put on comfortable clothes and sturdy shoes. Download a map because data connectivity might be an issue. Last, but not least, remember a garbage bag.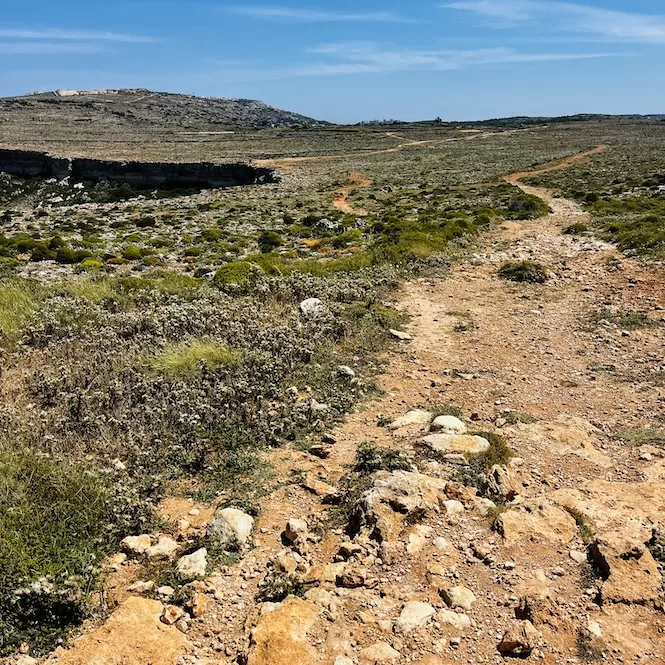 Entrance to Majjistral Park: the Starting Point of the Hike
Several entrances access the Majjistral Nature and History Park.
The easiest way to get to the trailhead is from behind the Radisson Blu Hotel. The entrance is on the left side of the hotel. This is the starting point. There is a bus stop nearby, as well as free and paid parking lots.
Getting There:
---
---
Alternatively, you can start at the Visitor Center. Parking is, however, limited. The Visitor Center hosts a variety of events, including guided hikes. Also, lots of information is available about the park there. Toilets are available in the facility. The visitor centre is not open late. Please check their website for opening hours.
You can also start the Majjistral Park hike from Popeye's Village. Here is the entry location. Public transport is, unfortunately, less convenient. There is a parking lot, but it might be full on a busy day.
The Majjistral Park Hike Map
The park has no signs showing the route, only small signs indicating where private property is. To follow the route as you walk, I recommend downloading the Kamoot app and using the map below.
The Hike's Starting Point: Golden Bay's Viewpoint
Once you pass the hotel, you can get closer to the cliff edge and see Golden Bay. Golden Bay is one of the most popular sandy beaches. It's famous for its soft red sands and natural beauty.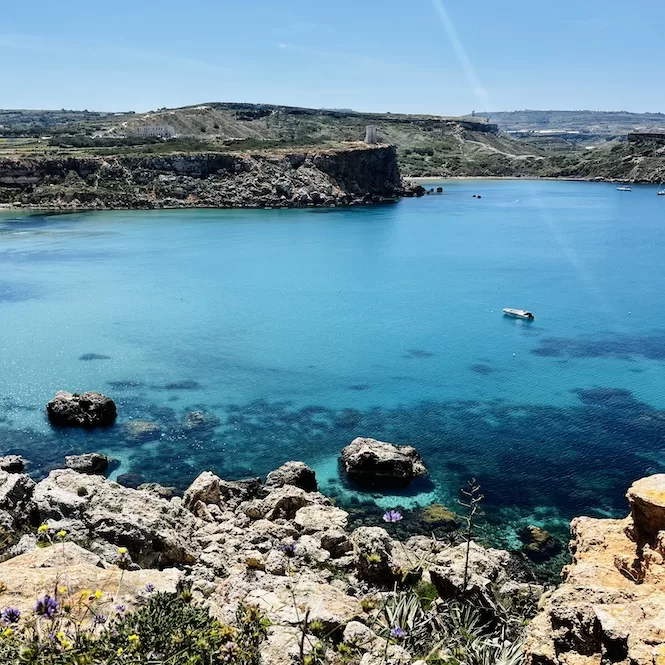 A stunning view of Golden Bay can be seen from the top of the cliffs. Boats and kayaks shimmer in the sun while the blue sea stretches for miles. Despite the summer crowds, the cliff is quiet, providing a peaceful break.
Waterside Path to Secluded Beaches and Blue Clay Cliffs
Follow the coastline path and you will soon see another bay. The water is shallow, and on a sunny day, you can see the sea bottom. It's one of the prettiest places for paddle boarding or kayaking. You can even snorkel there from Golden Bay if you're fit and brave.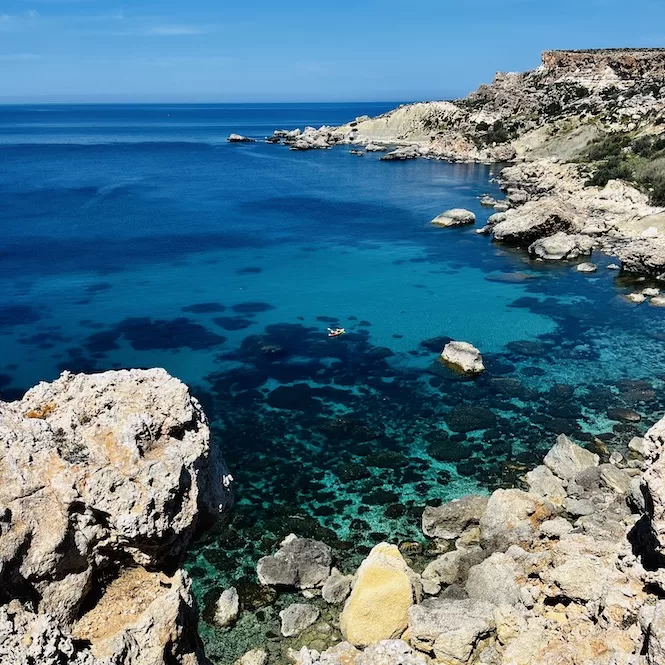 It is also possible to go down and explore the area. Here is where you can start the downhill path. On this path, you'll see the upper coralline limestone, which became visible when the cliff was cut to construct a track.
Along the way, you'll find large boulders, trees, and other plants. There are small secluded beaches from which you can reach the sea. The coast is rocky, but you may find a pleasant spot to relax.
You'll see blue clay slopes before returning. The light-coloured layers contain more calcium carbonate, while the darker layers have more clay minerals. Erosion causes trenches on slopes, which drain water. If erosion continues, the trenches will become deeper and wider. After you visit, head back the same way you came.
Rock Cut Observation Post in the Majjistral Park
After visiting the waterside, return to the main path. Continuing uphill, you will reach a rock cut observation post with stairs leading up to it. The stairs leading to the post are hidden, so you might miss them.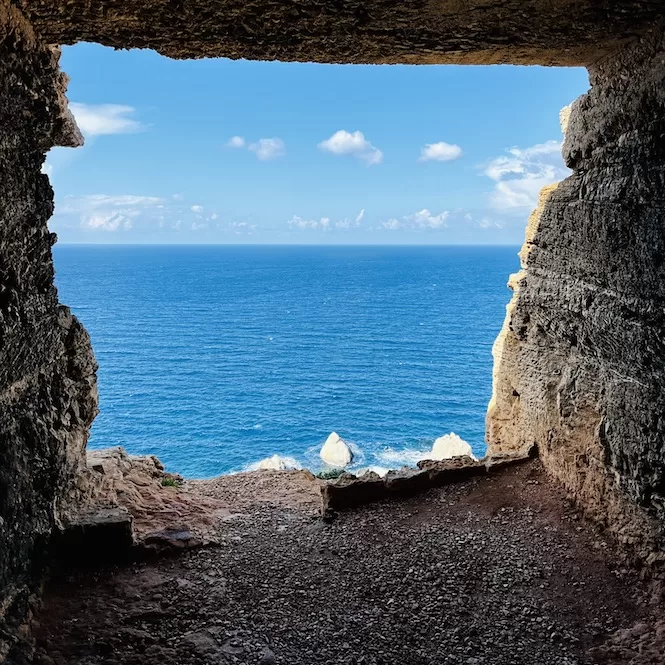 The observation post offers a beautiful view of the Mediterranean Sea and cliffs. It was built during World War II and used for surveillance and intelligence.
A Hike to Popeye Village
The path is unclear, so it is advisable to use the map I provided. Along the way, you will see a watch tower and a spectacular view of the park's northern coast. You will also pass some rock formations and see some extremely deep cracks. Be careful there.
Popeye Village will take 30 minutes to see. Originally built as a set for the 1980 musical "Popeye," it is now an open-air museum and small attraction park. Visitors can see various small houses. These houses are equipped with props used in the movie's production, as well as characters from the movie. This is a fun place for children to organize birthday parties and other events. There is also a restaurant.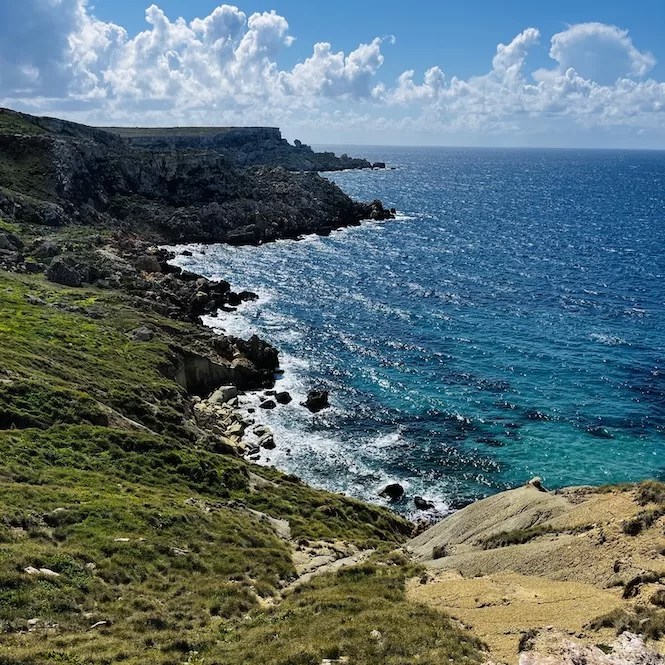 The Majjistral Nature and History Park is ideal for anyone seeking nature. You'll love its stunning views and abundant plant life. Hopefully, this blog post has opened your eyes to the wonders of this park and inspired you to explore more hiking trails in Malta. 
If you're keen on exploring Malta's natural beauty, dive into my other guides that take you through places like Il-Blata tal-Melh, from Ghajn Tuffieha to Gnejna Bay, and more. From the cliffs of Ras id-Dawwara to a trek from Marsaskala to St Peter's Pool, there's a trail for everyone. Ready to lace up and hit the trails?