Il-Blata tal-Melh is a stunning place with views from another planet. You can enjoy untouched and wild landscapes, be at one with nature, and experience it to its fullest. Even though the trail is steep and slippery, you'll love this hike. Stunning rock formations, majestic cliffs, and lunar-like scenery make this place unforgettable.
Why Visit Il-Blata tal-Melh?
Il-Blata tal-Melh has a unique atmosphere. The scenery here is wild and beautiful, with rocky cliffs and moon-like landscapes. Trust yourself and your legs to navigate the steep and slippery trails. There are fantastic rock formations and stunning views around every bend. From its salt pans to its cliffs to its deep blue sea, Il-Blata tal-Melh has something magical.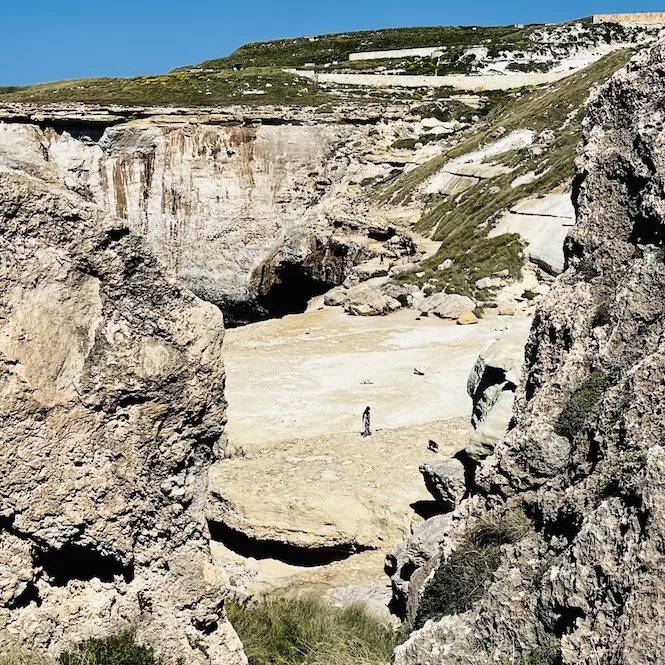 Things to Know Before Your Hike
Before you set out on a hike, here are some helpful tips:
Avoid trespassing on private land.
Wear sturdy, comfortable shoes with good grip to avoid slipping and tripping.
Make sure you have plenty of water and snacks with you.
Protect your skin with sunscreen.
Stay away from cliffs, and use caution on steep and slippery slopes.
Finally, if it's raining or windy, don't go hiking.
Il-Blata tal-Melh Hiking Map
The Komoot hiking map below includes a hike to Il-Blata tal-Melh and back, plus a walk to Fomm ir-Rih Bay viewpoint.
The hike to Il-Blata tal-Melh is very short. I suggest you also walk to the Fomm ir-Rih Bay viewpoint if you want a medium-length hike of 1-2 hrs. Otherwise, the Il-Blata tal-Melh hike alone might be too short.
After you hike Il-Blata tal-Melh, you will return to the car park where you started. You can continue your walk towards Fomm ir-Rih Bay.
Here are the details of both hiking options:
Il-Blata tal-Melh only
An option with Fomm ir-Rih Beach viewpoint
Distance: 1,75 km
Walking Time: 0 h 27 mins
Level: Intermediate
Uphill: 50 m
Downhill: 50 m
Highest Point: 100 m
Distance: 4,24 km
Walking Time: 1 h 13 mins
Level: Intermediate
Uphill: 140 m
Downhill: 130 m
Highest Point: 120 m
The Views During Il-Blata tal-Melh Hike
To get to this hike by public transport, you need to take a bus to Bahrija village and walk for around 30 minutes to the starting point. The hike down the road is beautiful. On the way back, it's more challenging because you must climb the road.  
Getting by car is faster and easier. The hike actually starts at the parking lot.
In Malta, public transportation is okay but can be very slow if you want to see more remote areas. If you plan to stay longer than a few days, it is best to rent a car. For affordable rental options, I recommend Discover Cars.
Getting There:
---
---
You should find a path from the car park that goes down and follow it. It is steep and slippery down there. Take your time and be careful. I chose to walk down the way, but I saw some people walking on a parallel path. I didn't try it, but it looks more challenging.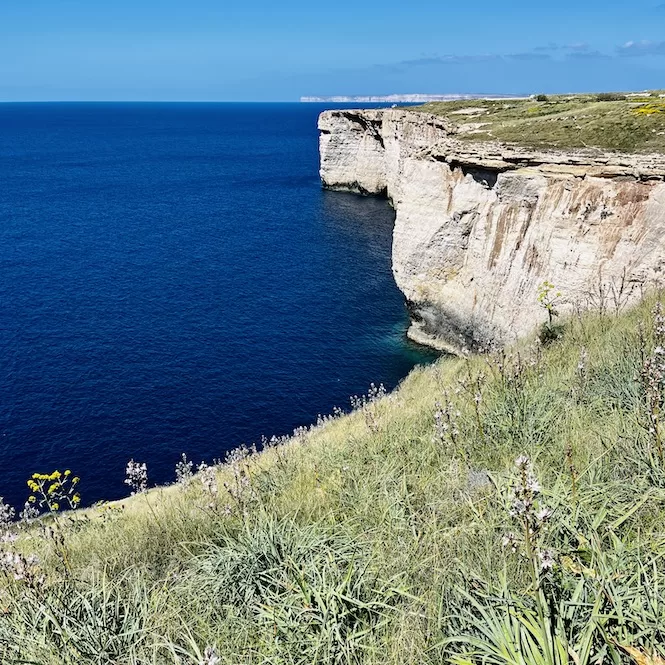 Five to ten minutes later, you'll reach a rocky plateau. It looks incredible and is one of the few wild spots on the island. From this point, you can also see the salt pans. It is mesmerizing, and the peace and tranquillity of this place are difficult to describe.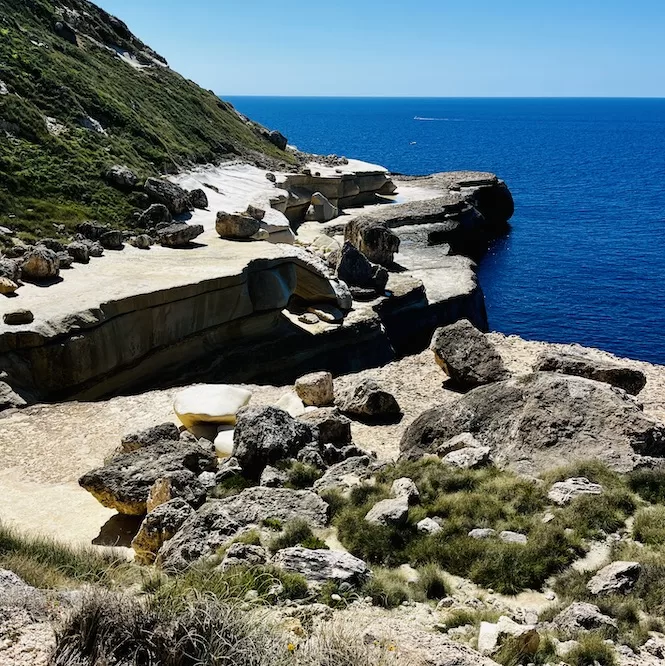 Take the path that leads through the rocks on your left. The hike continues there to the south towards Migra l-Ferha (check out this blog about a hike there).
The path will lead you to large boulders on a light-coloured rock plateau. This area was wet in spring due to fresh water dripping from the cliffs.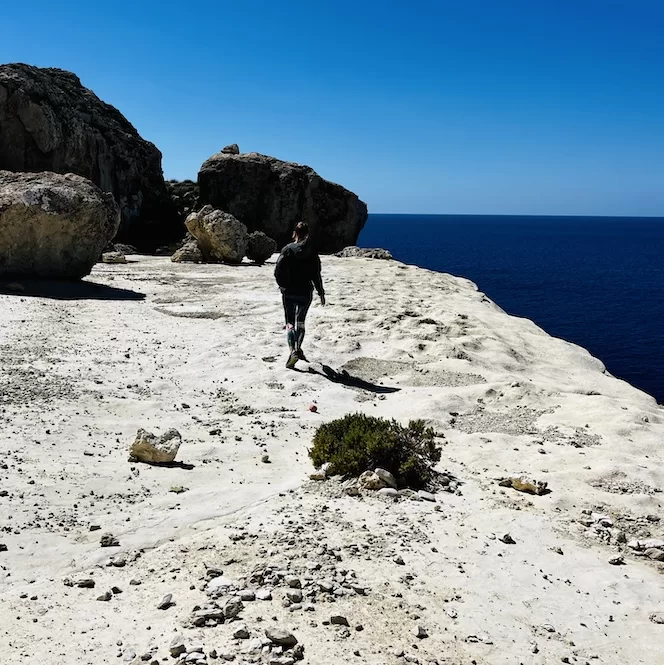 A few minutes later, you will encounter a vast area of smooth white rocks. The white cliffs may appear surreal, with wavy lunar-like surfaces. Also, on a bright day, they are strikingly contrasted with the blue sky and sea.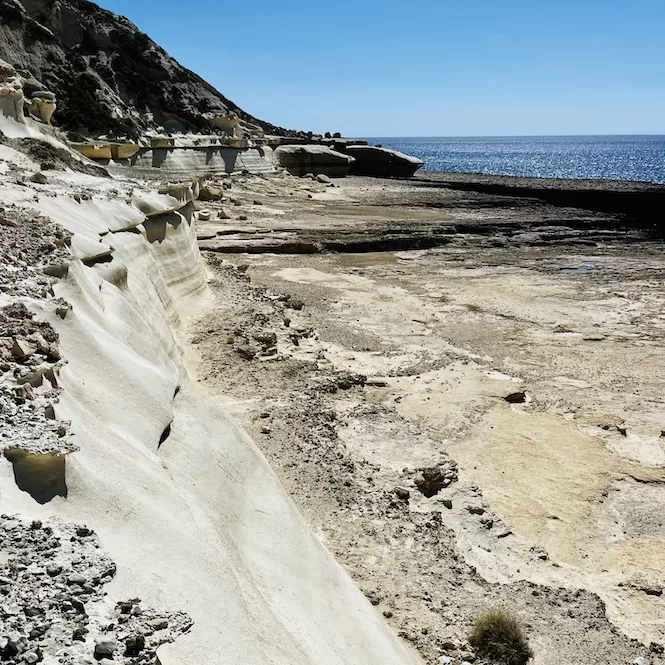 You can descend from the cliffs and explore more of the area using the rope. Once you have finished exploring, return the same way you came.
A Walk to Fomm ir-Rih Bay Viewpoint
From the car park, follow the road up to a small parking area and then turn left. You will enjoy the views on the way down the road. It was a quiet road, and no cars passed as I walked there. After 5 minutes, you will see the Fomm ir-Rih Bay.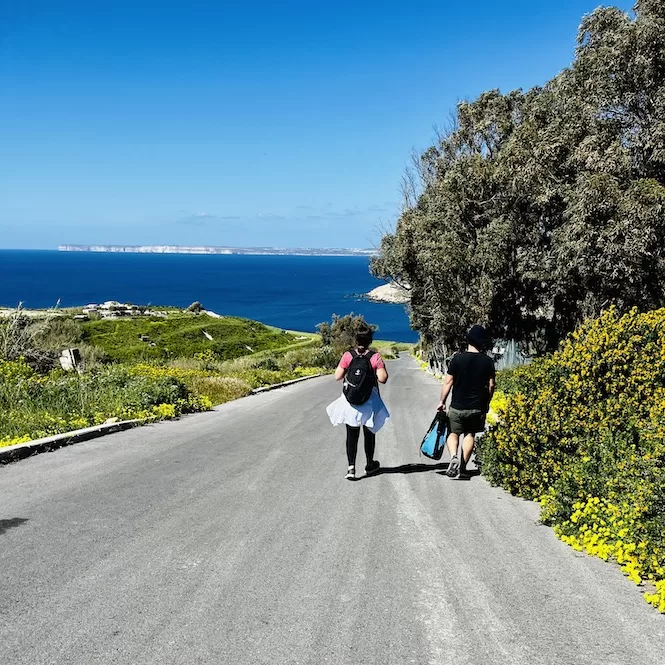 Fomm ir-Rih is a magnificent bay, which in Maltese means "mouth of the wind". It is located north of Il-Blata tal-Melh. The landscape here includes vertical cliffs and a pebble beach.
To reach the beach, you should walk down a cliff via a narrow path. Unfortunately, clay fell on the beach during the recent storm. As a result, all the pebbles are covered with clay. I didn't walk down to the beach, and I wonder if it's still possible.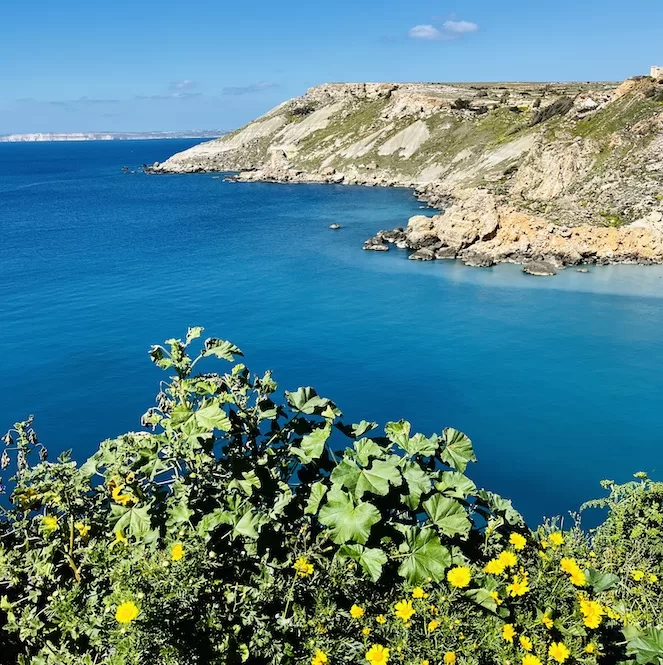 It's still a nice walk from Il-Blata tal-Melh. There are panoramic views along the way. You can stop at the beach and enjoy the view before going back.
The Il-Blata tal-Melh area has breathtaking views and an atmosphere that takes you to another world. Be careful with your surroundings, and don't fall on steep and slippery slopes. It's worth the courage, and you'll have an unforgettable experience with gorgeous rock formations, lunar-like landscapes, and amazing views from the top. 
If you liked this post, check out my guide to the best hikes in Malta and Gozo. Dive into guides that lead you through the stunning coastline hike from Ghajn Tuffieha to Gnejna Bay. In addition, explore the picturesque journey from St Thomas Bay to St Peter's Pool. Discover the historic Victoria Lines, lush Wied Babu, the majestic cliffs from Ras id-Dawwara to Miġra l-Ferħa, and the coastal walk from Paradise Bay to the Red Tower. You might also like to check out these other hidden gems in Malta.