Malta's cliffs offer some of the most breathtaking views. This guide takes you through the cliffs of Malta's west side. During this hike, you'll see the terraced hills, the Ras id-Dawwara valley, and the Miġra l-Ferħa area. There are caves, almond trees in bloom, and a small gorge leading to the sea on this scenic route. So get your hiking boots on, and let's go!
---
Distance: 7 km
Walking Time: 2 h
Level: Intermediate
Uphill: 250 m
Downhill: 250 m
Highest Point: 200 m
The best time to go: any time, but avoid the midday heat from June to September.
---
Malta's Cliffs Hike Map
How Did I Discover this Hike?
It was totally by chance that I found this fantastic hike. It was several years ago when I followed an online trekking guide. I was not too fond of the route because we had to walk along the road. Many cars and trucks passed by, and it was noisy and polluted. Then I spotted a path going towards the sea. Tempted, I followed it and soon found a gorgeous, serene chapel. I was amazed by the views and how peaceful it was.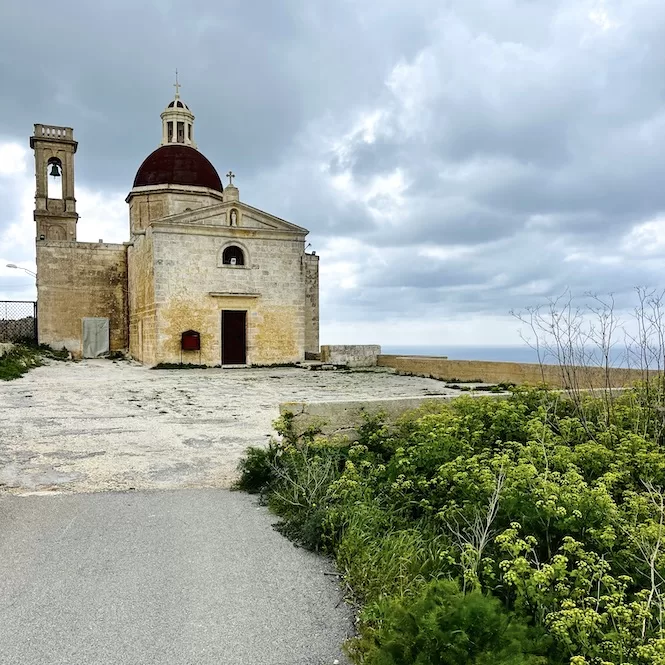 When I walked away from the medieval chapel, I decided to see the cliffs. So I pulled out Google Maps to guide me to the sea. In no time, I came to a viewpoint, and I was stunned by its beauty.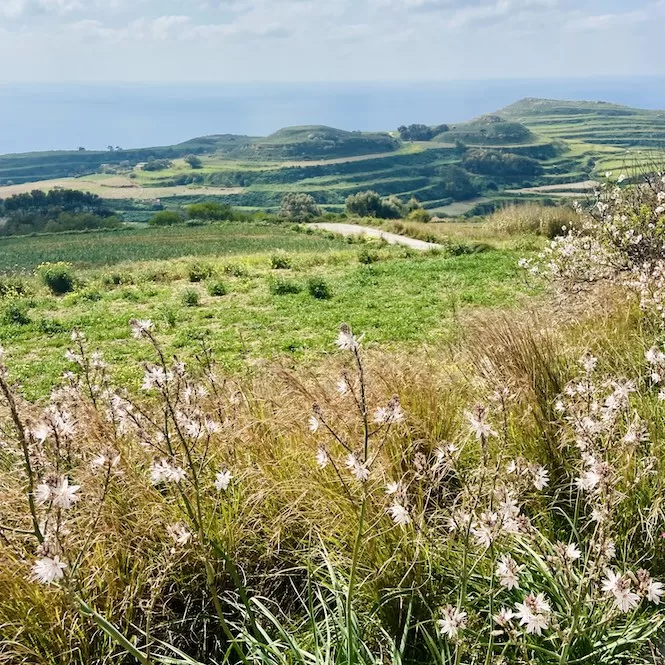 It was a breathtaking sight! I was excited to have discovered such a hidden gem in Malta. It's funny because even my Maltese friends haven't been here. There's something special about this hike, and I can't wait to share it with you.
What Should You Know Before Hiking?
This hike is 7 km long. There's a steep downhill at the beginning and an uphill at the end. You'll walk on paved and natural paths. It's wise to wear comfortable shoes. Bring your food and drinks because there won't be anything to buy.
If the wind is strong, take something to cover your ears. Also, if it's windy, stay away from the cliff edge, so you don't fall. It's also helpful to download Google Maps and Komoot maps for offline use because there's no internet connection in some parts of the hike.
Getting to the Starting Point of the Hike
To get to this amazing hike, you have to go through the town of Rabat. If you're taking public transportation, the closest bus stop is 2.3 km away. Or else, you can take a bus to Rabat and a taxi from there. Rabat is served by many buses frequently.
Getting there by car is faster and easier. Below is the exact location.
The public transportation in Malta is quite okay but it can be very slow if you want to see more remote places. It is best to rent a car, especially if you plan on staying longer than just a few days. I recommend Discover Cars which has a wide range of affordable rental options.
Getting There:
---
Location: link to Google Maps
Nearest bus stop: Bajdar (2.30 km away). There is a bus 109 that goes from Birkirkara and through Rabat.
Frequency of the buses: every hour
Parking available: Along the road, there is plenty of parking
---
Ras id-Dawwara Valley and Cliffs
A picturesque church is the starting point of your adventure. It's optional, so I didn't include it on the hiking map. You can go straight to the hike if you don't want to visit it. From there, you can walk towards a breathtaking view.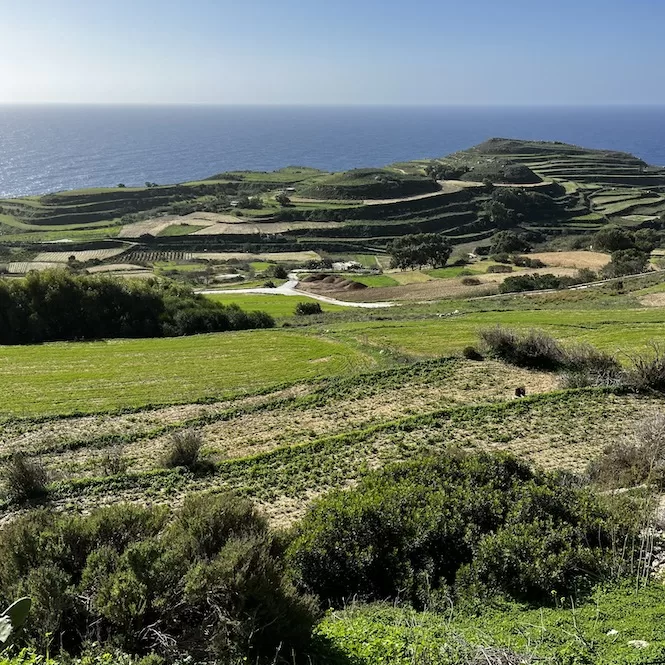 Here is the location. In winter and spring, the view is especially beautiful. The hills are bright green and look like rice fields in Asia. And in spring, you'll see almond trees blooming along the way.
Take in the scenery as you walk down the road. A farm will be on your left, where people might work in the fields. At some point, the road will end, and you'll have to follow a small path. Continue down the path until you get to Ras id-Dawwara Valley.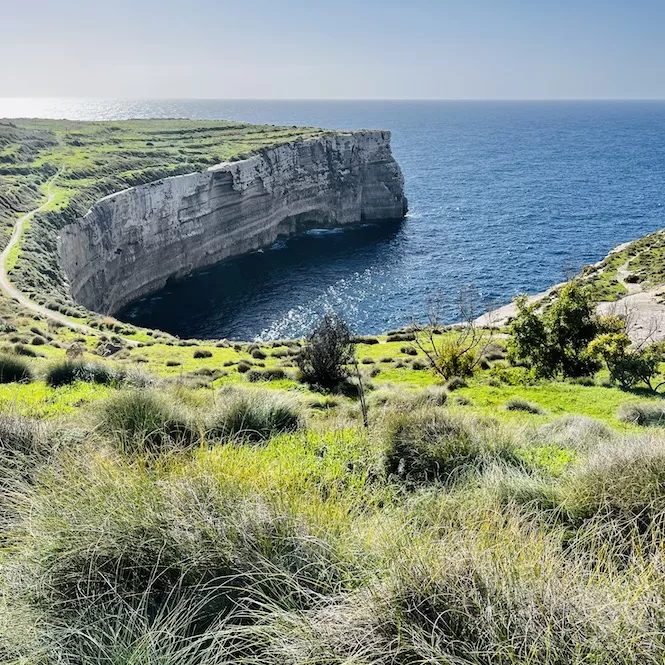 Ras id-Dawwara is a scenic walker's paradise. You'll walk along stunning cliffs with a breathtaking view of Filfa. Look out for the caves at water level – a striking sight from above. The sound of wind and waves will surround you with each step.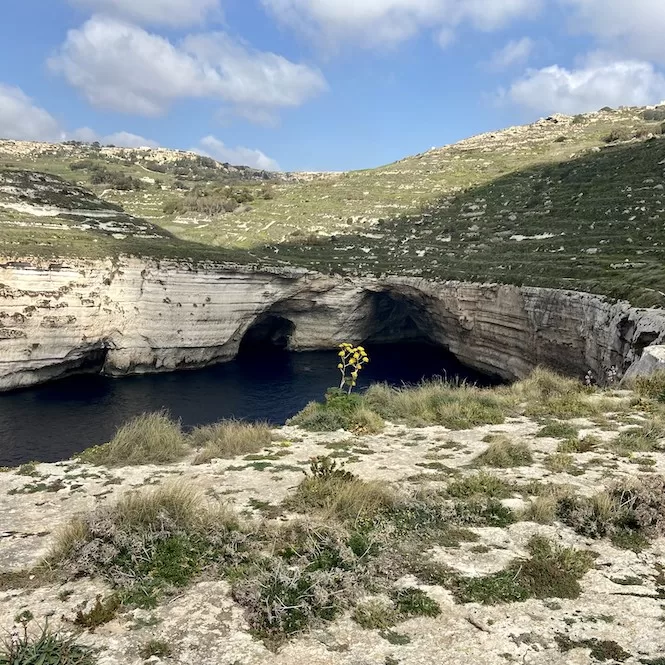 There's no better place to experience Malta's natural beauty than this remote area. There's just you and nature.
Explore Miġra l-Ferħa
Using the Kamoot map on this blog, you can see that the route turns right. Explore the cliffs from all sides if you're not in a hurry. 
Miġra l-Ferħa is next on the hike. There's a 40-minute walk from Ras id-Dawwara Valley. There's a clear path that leads to this area. You'll get to enjoy Malta's cliffs on the way. This part of the hike is a bit more popular, but it's not crowded. The large parking area at Miġra l-Ferħa makes it easily accessible. So, it is a popular place for picnics and sunset watching.
There's also a tiny gorge you can visit. There are old stairs to get down to the sea. The deep blue water below is stunning. You will also hear waves crashing against the rocks.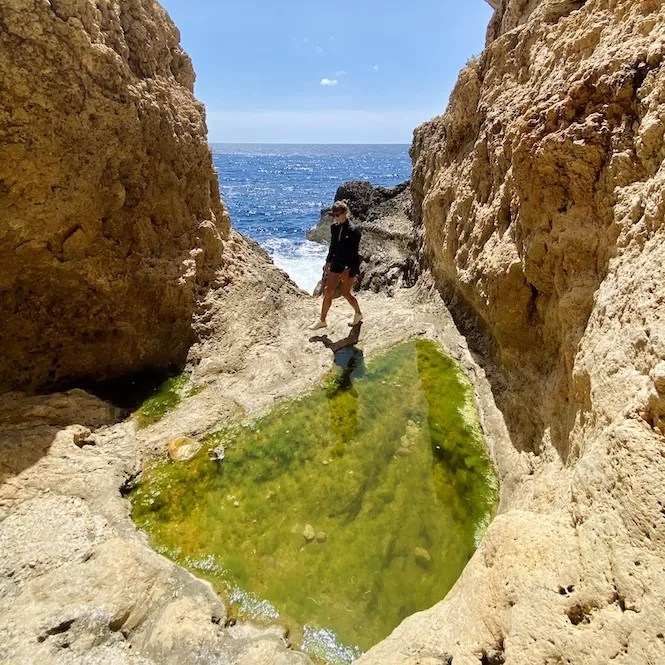 In conclusion, this 7 km hike in Malta is a hidden gem that offers breathtaking views of cliffs, valleys, and the sea. It is the perfect way to taste Malta's natural beauty.
You can find more outdoor adventures in Malta and Gozo in my other hiking blog posts.