There are some beautiful gardens in Malta. Though Malta is known for its beaches and warm climate, greenery is not one of its main attractions. Yet, Malta's gardens are picture-perfect, offering a peaceful escape for tourists and locals. Let's check out eight gorgeous gardens in Malta in this guide.
Many of these gardens are famous, like the Upper and Lower Barrakka Gardens, San Anton Gardens, and Gardjola Gardens. They're popular with tourists and locals. Others are not popular at all. I found some of them by walking around Valletta and Floriana. They're so beautiful in winter and spring. It's a peaceful green oasis that lets you escape the noisy streets. There are benches everywhere. It's a pleasant place to spend time with friends and family, take a leisurely walk or relax with a book.
A map is included in this post so that you can see the locations and navigate from garden to garden. In addition, below is a content table so you can jump quickly to a different section.
A Map of the Gardens in Malta
San Anton Gardens
The San Anton Gardens are a picturesque public park in Attard, Malta. This 16th-century park is one of the island's most picturesque gardens. The garden's name comes from San Anton Palace. The French knight Antoine de Paule built it as his private residence. San Antin Palace is now the official residence of the President of Malta.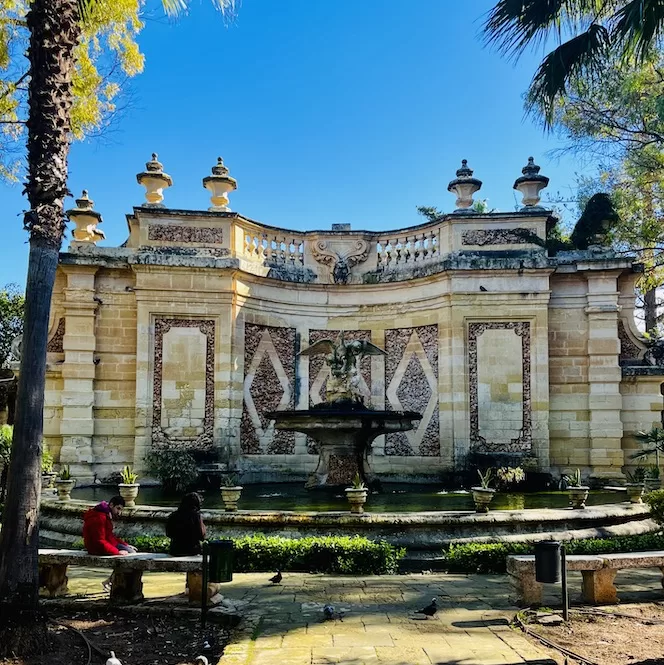 In 1882, the gardens were opened to the public, and they're now one of Malta's most popular spots. There are walkways, sculptures, and ornamental ponds in the gardens. You can see palm trees, cypress trees, jacarandas, araucarias, and other exotic plants from around the world, some of which are over 300 years old. There's also an orangery in the garden.
This park is perfect for a break from Valletta's hustle and bustle and is easily accessible by public transportation. You can admire the beautiful plants, relax in the shade, and watch turtles and peacocks roam free. It's a great place to spend an hour or two.
---
Opening times: daily, 7 am to 4:45 pm in winter, 7 am to 6 pm in summer
Entrance fee: Free
Location: Google Maps
---
Upper Barrakka Gardens
Upper Barrakka Gardens in Valletta offer a breathtaking view of the Three Cities. Knights of the Order of Saint John built the gardens for private use in the XVI century. After the French occupation, the gardens became public. The park has various monuments and memorials, including a replica of "Les Gavroches".
"Les Gavroches" is a bronze statue by Antonio Sciortino. The sculpture is of three street kids from Paris. It was inspired by Victor Hugo's novel Les Misérables. From 1904 the sculpture was in Valletta's Upper Barrakka Gardens. In 2000, it was moved to MUŻA for preservation. In Upper Barrakka, you can see its replica.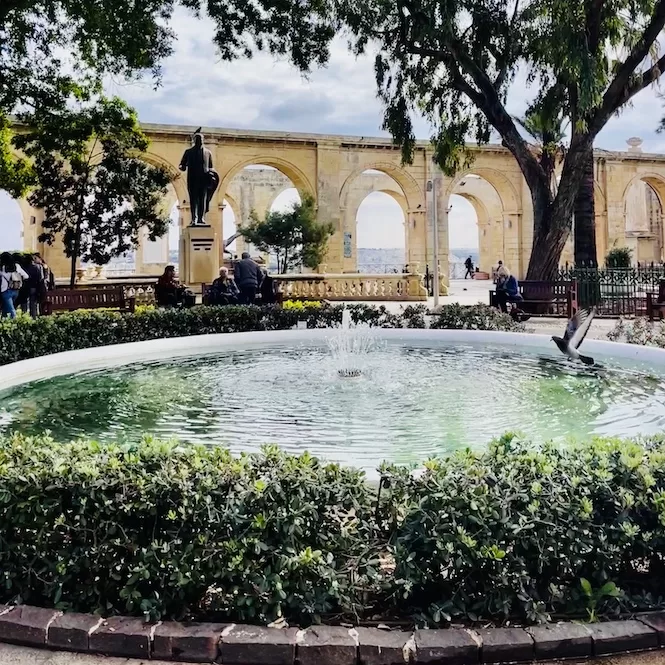 In Upper Barrakka Gardens, you can also see salute shots daily at 12 noon and 4 pm. For the prime spot to watch the daily cannon fire, get there 10-15 minutes early.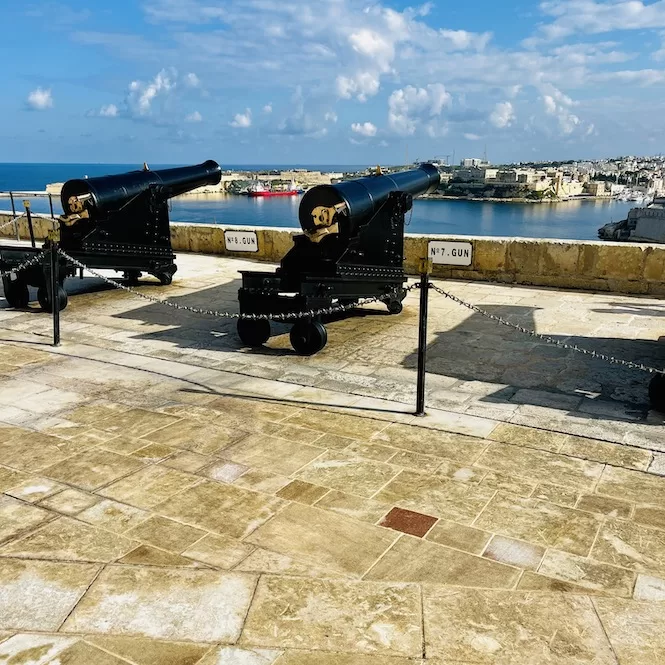 The gardens are small, but there are plenty of shaded spots and benches to rest and take in the view. Take beautiful photos or relax in the cafe while enjoying a drink or snack. You might even see some sun-loving cats! It's a great place to visit.
---
Opening times: daily, 7 am to 10 pm
Entrance fee: Free
Location: Google Maps
---
Lower Barrakka Gardens
The Lower Barrakka Gardens are a tranquil escape from Valletta's busy streets. It is the perfect place for a relaxing break in Valletta. Atop Valletta's bastions, they have breathtaking views. Valletta's breakwater, as well as Senglea, Birgu, and Cospicua, are visible.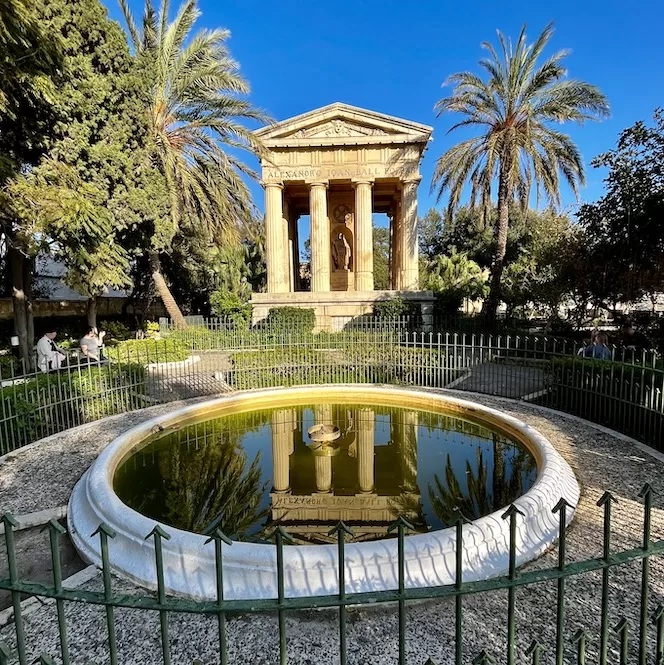 Take a break from exploring the city and relax in this peaceful oasis. You can also grab a bite or a drink from a nearby cafe. Even though Lower Barrakka Gardens are smaller than the Upper Barrakka Gardens, they're worth a visit. Olive trees and fruit are scattered on the ground. And you can see ships sailing through the harbour entrance. It's so romantic. 
---
Opening times: daily, 8 am to 9 pm
Entrance fee: Free
Location: Google Maps
---
Gardjola Gardens
In Senglea, the Gardjola Gardens offer stunning views of the Grand Harbour. The garden is on the top of the bastions and overlooks Marsa, Valletta, the Grand Harbour, and Fort St. Angelo. Grandmaster De La Sengle designed the gardens in 1551. At the tip of the bastions is a guard tower called 'Il-gardjola', hence the name of the gardens.
'Il-gardjola' tower has symbols of an eye, an ear, and the crane bird. As a symbol of protection of Maltese shores. In the garden, visitors can also enjoy the fountain and the shade of palm trees.
---
Opening times: all-day
Entrance fee: Free
Location: Google Maps
---
Argotti Botanic Gardens & Resource Centre
The Argotti Botanic Gardens & Resource Centre is in Floriana, a short walk from Valletta.
The place has two sections. There's an open garden you can access every day. There's also a Botanic Gardens & Resource Centre with plant collections and greenhouses. It has a variety of plants, including Mediterranean flora, cacti and succulents, and indigenous and endemic plants. The gardens are open Tuesdays for a tour from 9:30 am to 11:00 am. Click here for more info.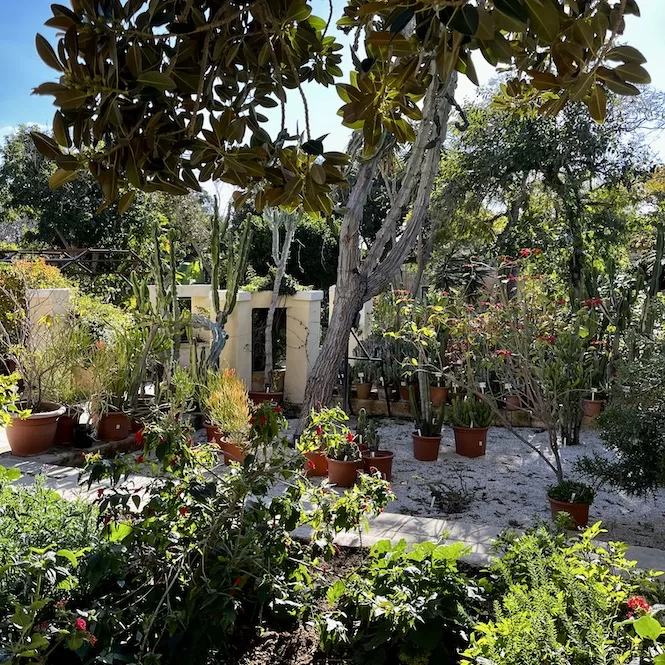 You can walk through different types of trees, flowers and a fountain in the open garden. People love this place for the picturesque views from Floriana's fortifications. The area is fantastic for taking sunset photos and for a quiet stroll. Cat lovers will be delighted to see many of them at the entrance. There hasn't been a time in my life when I've seen more cats in one place.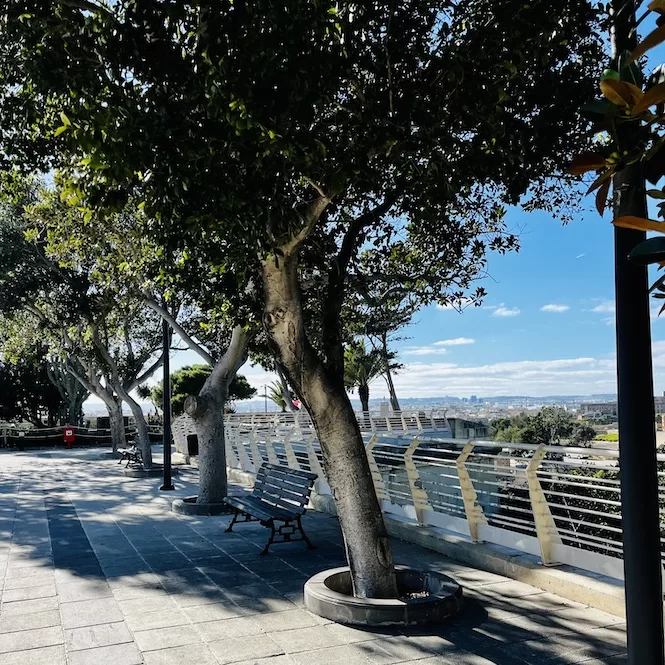 ---
Opening times: you can visit the open garden daily. The Botanic Garden is open on Tuesdays from 9:30 am to 11:00 am
Entrance fee: Free for the open garden, €5 for a guided tour of the Botanic Garden
Location: Google Maps
---
Sa Maison Garden
Sa Maison Garden in Floriana is a peaceful and hidden retreat. Located on the fortifications, it looks out over Pieta' and Marsamxett Harbour. I've been to this garden twice and never seen anyone else. It's one of the few places you can explore on your own. The park is accessible from Triq Sa Maison, which is not popular with pedestrians. That's why the garden is less popular.
Sa Maison Garden dates back to the 17th century when Fra Giovanni Minucci founded it. To enjoy the view of Marsamxett Harbour, he bought a piece of land and built a house in the large garden.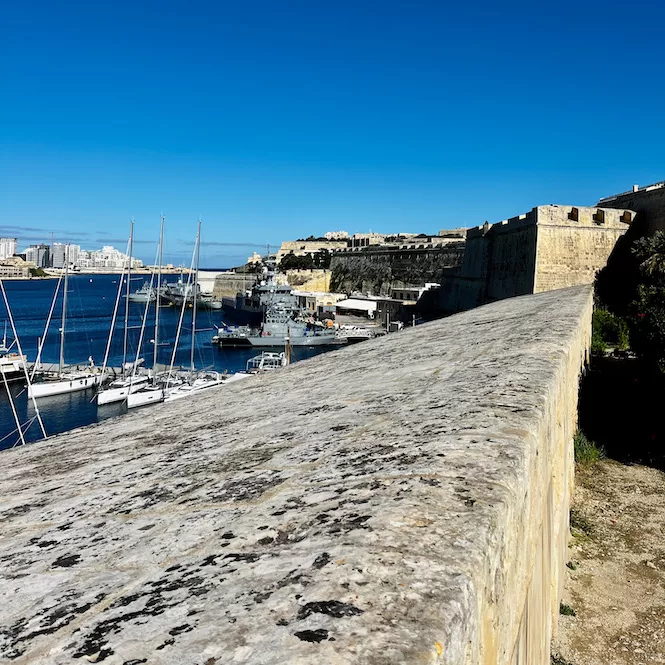 Sa Maison Garden is also known as Her Ladyship's Garden, after Lady Julia Lockwood. She lived there from 1842 to 1856. Later, her house was demolished, and the military took over the garden. Later, the British Army used the park as an observation and defence post.
Today, it has several local flora species and a conservatory. The garden has an unusual layout. You can go up and down to explore its many levels. On the highest level is the Gardjola Tower, offering a 360-degree view of the harbour, bastions and gardens. There are some sculptures on the bottom level.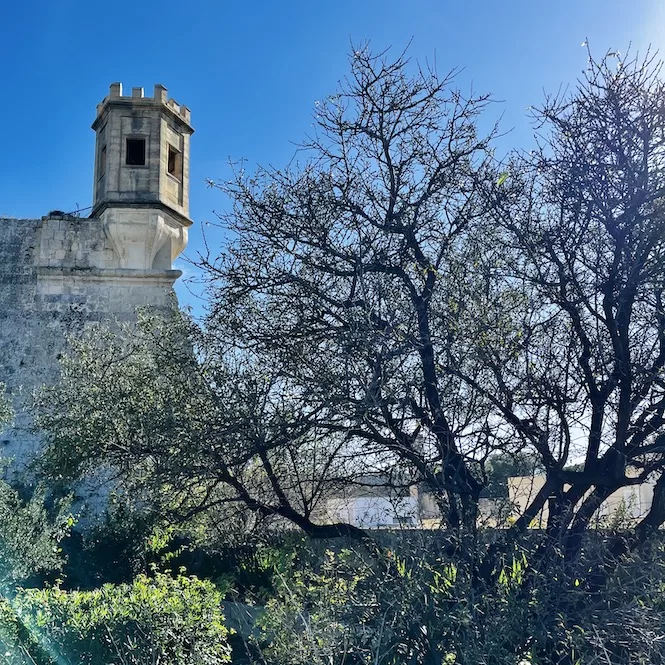 ---
Opening times: 7 am to 7 pm
Entrance fee: Free
Location: Google Maps 
---
Herbert Ganado Garden
The Herbert Ganado Garden is a small terraced garden overlooking the Grand Harbour. This site before was called Kalkara Garden. It got its name from the former Kalkara Gate, one of the gates enclosing the walls of Floriana. The gate was later demolished.
During the 19th century, the British fortified Floriana. They built barracks and used large buildings for military purposes. Also, they laid out several gardens, including the Kalkara Gardens.
During World War II, the garden housed British servicemen. In the 1990s, the park was renamed after lawyer, author, and politician Herbert Ganado.
The gardens aren't famous, and they require better care. But, despite that, they have amazing views. Actually, the views are like in the Upper Barrakka garden. But, a few people visit this park so that you can enjoy peace.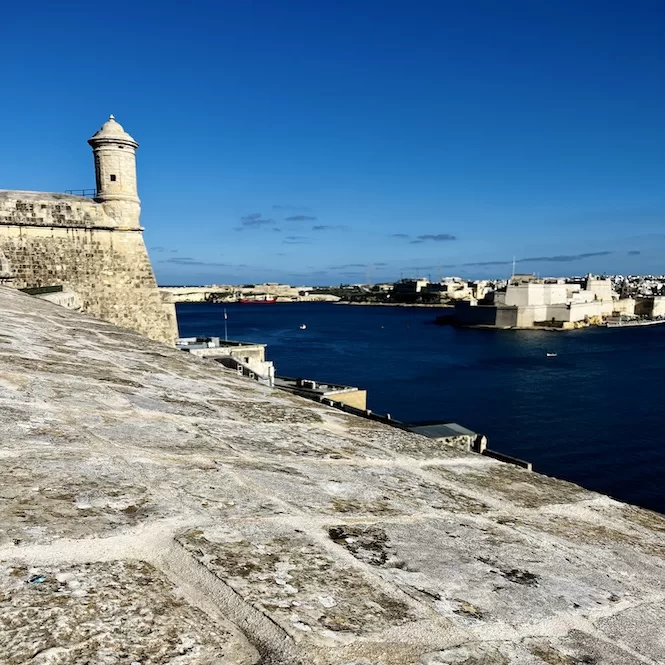 ---
Opening times: all-day
Entrance fee: Free
Location: Google Maps 
---
Hastings Gardens
Valletta's Hastings Gardens are on the west side of the City Gate. The gardens have a rich history. There is a monument dedicated to Lord Hastings, a former governor of Malta. Legend has it the gardens were built in four hours, showing how hardworking the Maltese are.
Many people don't know about Hastings Gardens, so it's a peaceful escape. You can take your time admiring the views of the harbour, Manoel Island, the Triton fountain, and the bastions.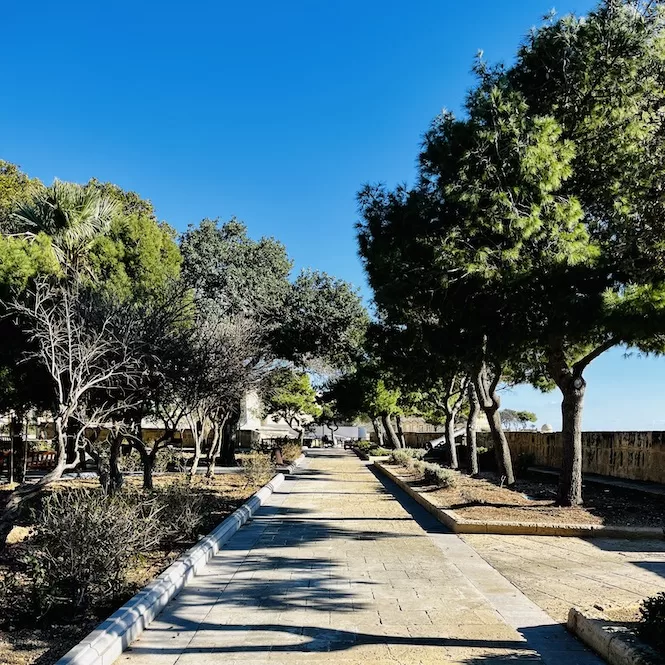 The garden is in great shape and offers a peaceful atmosphere. Enjoy a stroll among the olive trees or relax on one of the benches. Additionally, there are a few cannons in the park. Anyone seeking a peaceful escape and panoramic views of Floriana should visit this place.
---
Opening times: all-day
Entrance fee: Free
Location: Google Maps 
---
Nature and photography enthusiasts will love Malta's stunning and picturesque gardens. They're a tranquil escape from the hustle and bustle of city life. You can learn more about Malta by checking out my guides to Top Malta's Historical Sites, Valletta, Three Cities, Unesco sites, and hidden gems. You can also discover Malta's nature on a hike. Check out my trekking guides to Malta and Gozo. I hope this guide inspired you to explore some of the most picturesque gardens in Malta.