Ta' Bistra Catacombs are between Melite's ancient city and Salina. They provide insight into Malta's ancient history and attract travellers and history lovers. Simple. Mysterious. Inviting. Curious about what lies hidden beneath Malta? 
Historical Background
Ta' Bistra Catacombs date back 1,700 years. Discovered in 1891, they reveal early Maltese Christians' burial practices. These catacombs are vast, only outdone by Rabat's. With 57 tombs spread across 16 rooms, their size speaks to their importance.
Discovery of the Ta' Bistra Catacombs
These catacombs were discovered in 1886 and excavated in 1933. 
The years between 2012 and 2014 brought new discoveries. Despite disturbances over the years, new tombs, bones, and artefacts, including three lamps, were discovered. A significant find was the western area in 2004, previously thought destroyed. This revealed intact tombs and a triclinium, a dining area used in ancient times.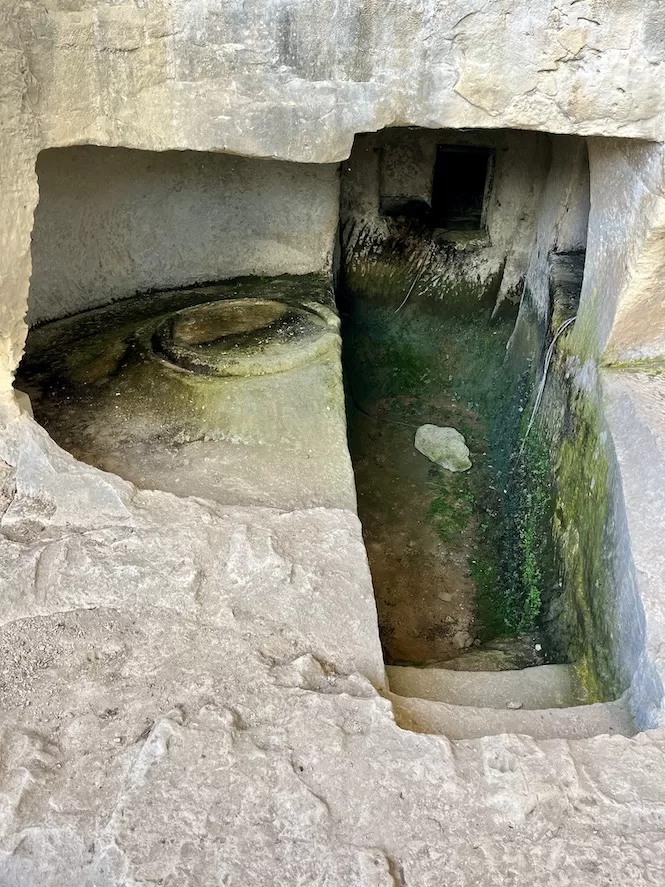 Quarrying's Impact on the Ta' Bistra Catacombs
Quarrying, Malta's age-old stone extraction practice, has affected the Ta' Bistra Catacombs. The tombs follow a ridge, leading to uncertainty: Were they shaped within a pre-existing quarry or directly along this ridge? The origins of these catacombs remain a topic of debate and mystery.
The Catacombs' Layout and Features
The catacombs' layout is tricky to understand because of old quarrying work that changed their initial shape. However, two main features are noticeable:
The 'window tomb': A common design in the catacombs.

The 'cubiculum with arcosolia': This is a burial room (cubiculum) that has arched niches (arcosolia) for placing the dead. It's a special design found in these catacombs.
Interestingly, children's tombs are absent, raising questions about burial customs of the time. Perhaps children were buried with their parents.
The window tomb, distinct in its design, is a prominent feature in the catacombs. Yet, at Ta' Bistra, these tombs lack decorations. This lack of decorative elements could indicate that society during that time had a uniform status or class. This means there weren't significant differences in wealth or rank among the people buried there.
The triclinium, used for commemorative meals, adds to the catacombs' intrigue.
Another interesting feature is the double headrest, designed uniquely with bottle holders.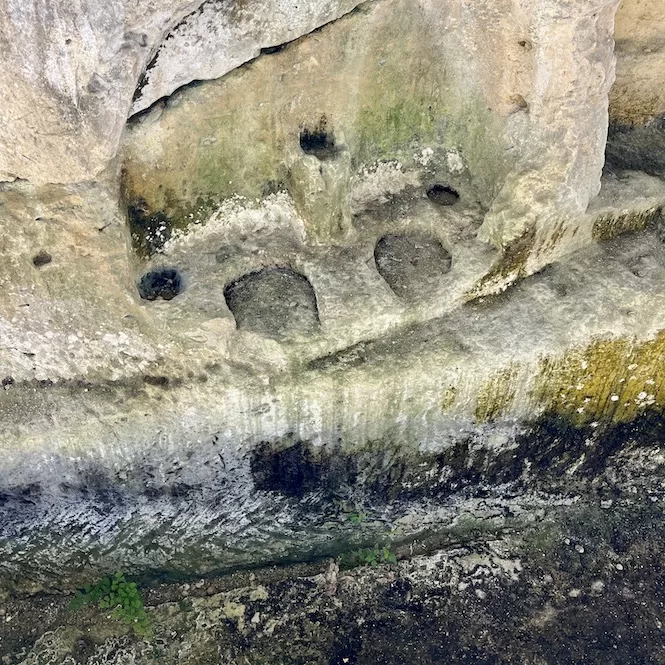 Re-Use and Abuse
A farmhouse was built on top of the Ta' Bistra Catacombs, causing damage. The catacombs were used to keep animals and as shelters during World War II. Later, more changes were made, including removing a triclinium. It was replaced with a basin, showing how the catacombs have changed over time.
Visiting the Ta' Bistra Catacombs
For those eager for discovery, the catacombs welcome visitors every last Sunday of the month. They are easily accessible and wheelchair-friendly. Visitors also have the unique opportunity to venture inside some of these ancient chambers and take photos.
A visit typically lasts around 30 minutes. After exploring the catacombs, you can relax in the adjacent garden, which features a playground for children.
Additionally, there's a parking area that accommodates about 10 cars.
If you're seeking a more in-depth experience, private tours are also available.
---
Opening times: Every last Sunday of the month from 10:00 a.m. to 4:00 p.m. Please note that the last admission is at 3:30 p.m.
Entrance fee: €5 for adults
Location: Google Maps
---
The Ta' Bistra Catacombs are more than just ancient burial sites. They show us Malta's history, offering insights into the lives and customs of those who came before us. As we walk through their hallways, we're reminded of the importance of preserving historical treasures. So, the next time you're in Malta, take a moment to step back in time and explore the mysteries of the Ta' Bistra Catacombs.
Want to experience more historical adventures in Malta? Dive into my other guides! Explore UNESCO sites, wander through Valletta's streets, uncover the Three Cities' secrets, step back in time in Mdina and Rabat, and discover top historical sites. Your journey into Malta's rich past is just a click away. Don't miss out!