Malta's natural attraction Wied Babu is a valley near Zurrieq and the famous Blue Grotto. It packs scenic beauty, adventure, and seclusion into one peaceful getaway. Think lush greenery, epic rock formations, and sea views. It's nature's paradise away from the crowds.
Things to Know Before Your Trek
What to Bring: 
Grab trekking shoes with a good grip.

Long trousers to protect your legs from sharp bushes.

Pack a water bottle.

Sunscreen.

Bring swimwear from May to October.
Terrain:
It's a mix. Expect uneven rocky paths and narrow walkways in the greenery.
Effort:
Moderate. Gear up for some climbing and uneven walking.
Heads-up:
Some spots are slippery. Climbing is required. Better not to go solo. Not for kids or the elderly.
---
Distance: 1 km
Walking Time: 60 mins
Level: Advanced
Uphill: 20 m
Downhill: 20 m
June to September is the best time to avoid the midday sun.
---
Wied Babu: An Interactive Hike Map
This hike is linear, starting and ending at the same point. It's short but adventurous. You'll follow a path, sometimes climbing stone-cut stairs. If the trail seems to end, backtrack a bit and find another path. Just head towards the sea, and you won't get lost.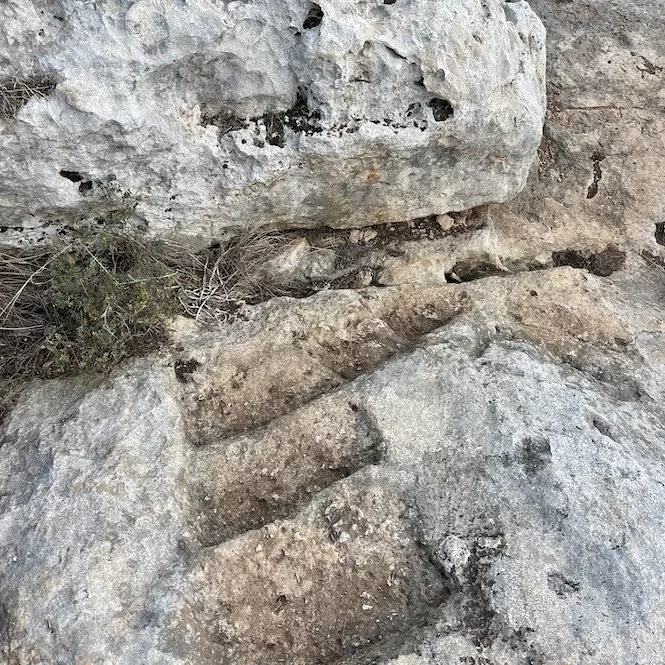 I've included a map below, created with the Komoot app. The map is more of a bonus than a necessity. The hike is straightforward, but the starting point can be difficult to find. So, the map comes in handy for that.
First, get to the Blue Grotto. You can park there or catch a bus. For detailed directions, check out my Blue Grotto guide. Once you're parked, walk 500 meters towards Zurrieq. Spot a metal ladder over the railing—that's your starting point.
The path takes you deep into the valley's heart. Stick to the trail and watch for steps. You'll navigate through thick greenery and rocky patches. It's an adventure in every sense.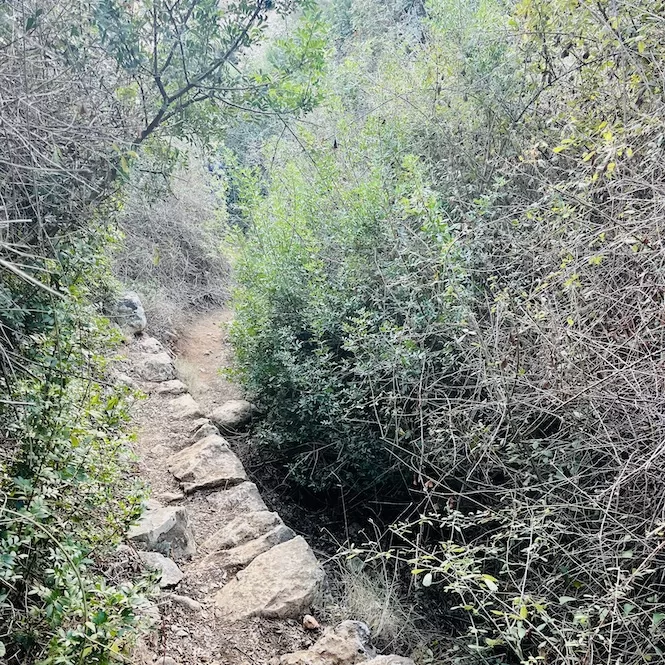 Wied Babu: Highlights Along the Way
Once you climb down the ladder, prepare for amazing views. You'll see a valley with rocky walls and rugged terrain. It's like a dried-up canyon.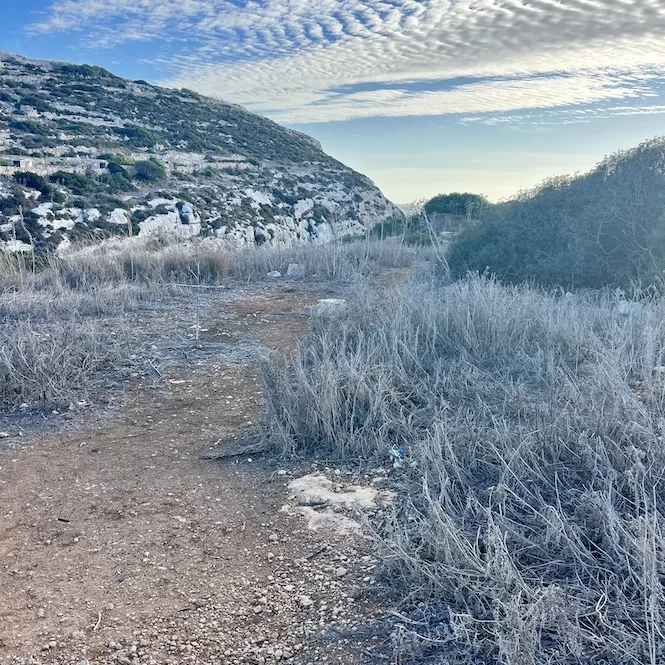 Look for a path ahead. It's rocky and has steps carved into it. Walk slowly and watch your steps. The rocks you'll walk on are ancient. They've got marks and holes that show they've been around. Plants have even grown in the cracks.
The Window
As you move along, you'll hit a real eye-catcher. Huge rocks stand tall, worn down by years of wind and rain. The rock's surface is rough, spotted with green moss patches. You will see an overhanging cliff resembling a window. It's a great spot for a photo.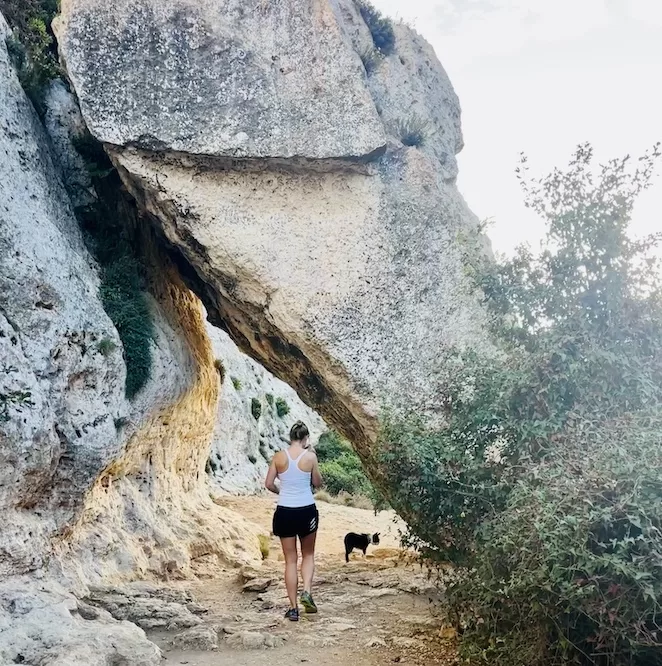 Climbing Area
Keep going and you'll stumble upon a climbing area. Chances are, you'll spot some climbers scaling the rocks. If climbing is your thing, this is your playground. If not, it's still a cool sight to see.
Blue Pool
You've made it to the end, and what a finale! The sea greets you, framed by jagged cliffs. But it's the water that steals the show. It's so clear and so blue! If the sea is calm, this blue pool is suitable for swimming.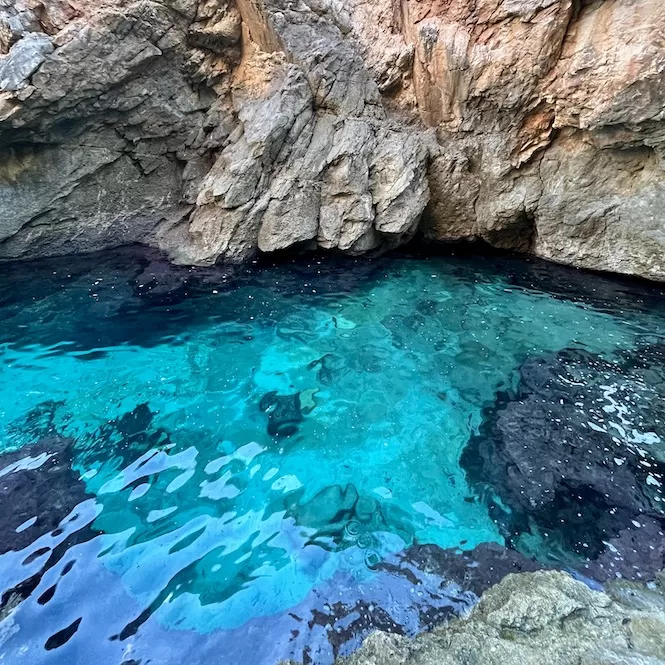 Dip in or soak it all in. Either way, this is the kind of spot that makes every hike worth it.
Extend Your Adventure
Visit the Blue Grotto: If the end of your hike leaves you craving more, consider a trip to the Blue Grotto. Just a 15-minute walk away, this natural wonder offers boat tours through caves. You can walk along the bay and have lunch in one of the many restaurants.
Another Hike? Try Hagar Qim to Ghar Lapsi: If you're up for another hike, consider the trail from Hagar Qim Temple to Ghar Lapsi (get a full guide here). It's a 5.58 km hike that takes about 1 hour and 33 minutes to complete. You'll walk through a rugged coastline and end up at Ghar Lapsi, a natural swimming pool. The hike is intermediate and takes you along cliff edges, so it's not for the faint-hearted. The hike starts at the Hagar Qim Park Visitor Centre, which is around 30 minutes on foot from the valley.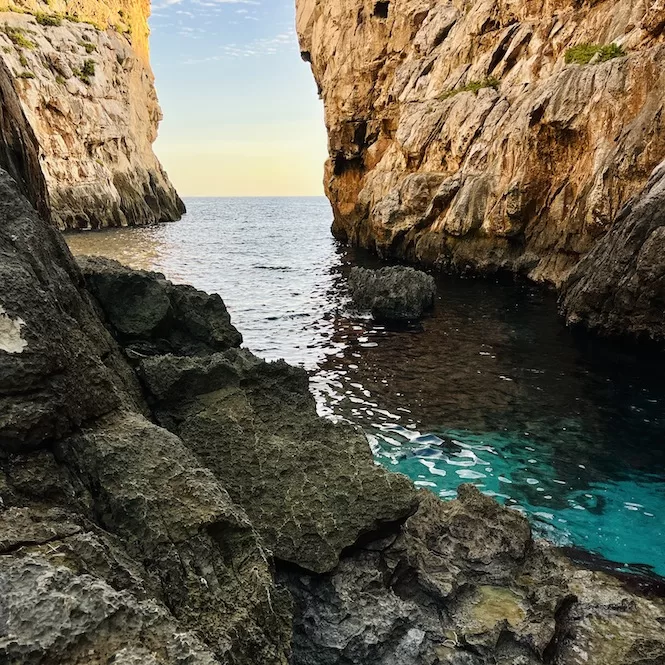 Wied Babu is more than just a trek; it's an experience that connects you with nature and quenches your thirst for adventure. So lace up those trekking shoes and discover Wied Babu.
If you enjoyed this hike, check out my other guides for more trails in Malta and Gozo. From Gozo coastal walks to the Ras id-Dawwara to Miġra l-Ferħa trek, the Fawwara hike and the loop around Paradise Bay, there's something for everyone. For a complete list of epic outdoor adventures, click on this link. Happy hiking!