Gozo hiking trails are a treat for nature lovers and adventurers. Imagine limestone cliffs and crystal-clear waters as your backdrop. These trails cater for all, from the expert hiker to the leisurely stroller. Ready to explore? Discover some of the island's most awe-inspiring routes here.
In this post, you will explore the top hiking trails in Gozo. I've included summaries for each hike detailing trail length, fitness requirements, and start-finish points. The trails are listed from the easiest to the longest. 
For seamless navigation, I highly recommend the Komoot app, a tool I often use to discover new hiking routes. I've also added Komoot hiking maps to this guide. Download the app and follow these maps.
Additionally, I added links to comprehensive guides that include valuable information on what to pack for your hike and where to find food and amenities along the way.
You can jump to different parts of this post using this table of contents.
A Hike from Mgarr Harbour to Hondoq Bay
Take on a 2.97 km trek from Mgarr Harbour to Hondoq Bay, in Gozo's south. This easy hike follows a coastal path with stunning Comino island views. It takes you through green valleys and past limestone cliffs. Along the way, you'll also find hidden bays and that classic Mediterranean vibe.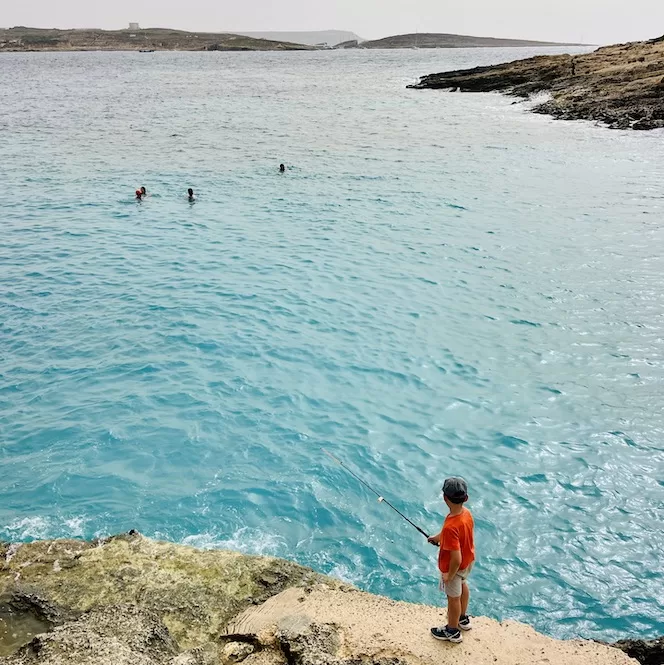 The hike begins at Mgarr Harbour, known for its picturesque marina and floating boats. From there, you'll stroll along the marina sidewalk that leads to Iz-Zewwieqa Bay. This bay is a hidden gem, surrounded by the Mediterranean waters.
After Iz-Zewwieqa Bay, you will walk along the water's edge to Barbaggan Rocks. Here, you'll enjoy limestone cliffs and the Mediterranean thyme aroma. This area is significant for its unique plants and offers a prime snorkelling spot.
---
---
Gozo Hiking Trails: Xwejni to Wied il-Ghasri
Xwejni to Wied il-Ghasri is a 4.54 km trail that offers a peaceful stroll along Gozo's northern coastline. 
The walk starts at Xwejni Bay. This bay is close to Zebbug and Marsalforn. It features a shallow pebble beach, perfect for swimming. On the western side of the bay, there's an underwater double arch and a cave famous for scuba diving.
After leaving Xwejni Bay, you'll head north and encounter the salt pans. These salt pans are the result of a centuries-old traditional salt harvesting process. They are split into rectangular pools filled with seawater, which is left to evaporate using the sun's heat. The salt pans glisten in the sunshine, creating a moon-like landscape.
Continuing on your coastal walk, you'll reach Billinghurst Cave after 20 minutes. What makes it unique is the deep blue colours and surrounding underwater caves, particularly vivid when the sun is out and the sea is calm.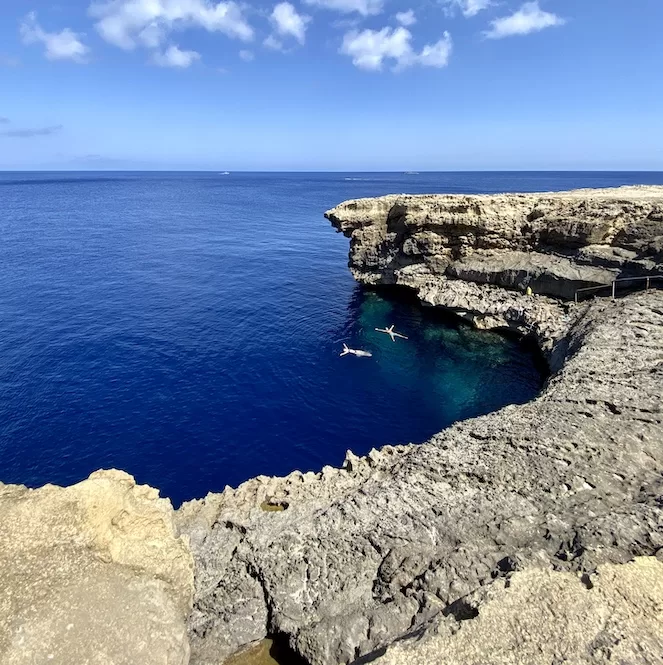 Finally, you'll arrive at the Ghasri Valley, the endpoint of this walk. This valley is a gorge-like area surrounded by high limestone walls. It's a quiet bathing area beloved by swimmers, snorkelers, and divers. The gorge is long and slender, making the waters tranquil, especially on windy days.
---
---
Wied il-Ghasri to Wied il-Mielah Arch Hike
During this intermediate 6.61 km hike, you'll enjoy views of the island's coastal cliffs, caves, and Wied il-Mielah Arch. Along the way, you'll pass through a lush valley and a cliff-edge road. Then, you'll reach the arch, offering breathtaking views of the deep blue sea.
The hike begins in Wied il-Ghasri, a gorge-like valley with a pebble beach surrounded by high limestone walls. This valley is a hidden treasure.
From there you will walk along the coastal road for about 15-20 minutes. You'll enjoy the lunar landscape and limestone formations that make Gozo unique. This area is significant for its sea caves, visible from the cliffs, and offers a peaceful and surreal atmosphere.
The Wied il-Mielah Arch is a natural wonder. You can get up close to Wied il-Mielah for a one-of-a-kind view. The arch is surrounded by deep blue waters and limestone cliffs. You can view miles of the blue sea from every angle. It's a photographer's dream and a nature lover's paradise.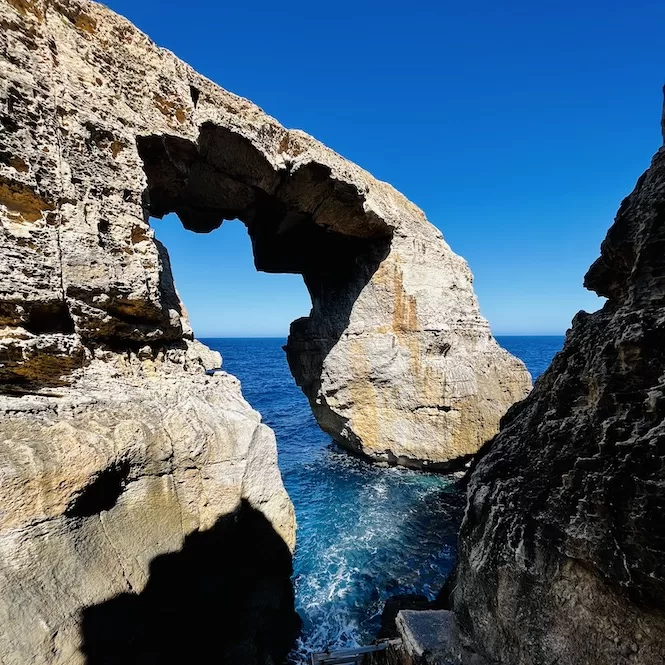 ---
---
Gozo Hiking Trails: Mgarr Harbour to Xlendi
A 12.1 km trail from Mgarr Harbour to Xlendi is my favourite. On this hike, you'll see clay slopes, salt pans, and terraced fields, offering a panoramic view of Gozo's natural beauty. Along the way, you'll pass Mgarr ix-Xini, a stunning inlet, and the Sanap Cliffs, the highest point in Gozo.
The hike starts at Mgarr Harbour, the gateway to Gozo. From here, you'll head towards Xatt L-Ahmar, a secluded rocky beach just a minute from the starting point. The beach offers a tranquil setting to relax and enjoy Malta island views.
After leaving Xatt L-Ahmar, you'll walk towards Mgarr ix-Xini. This bay is a natural valley surrounded by steep cliffs, and the water looks turquoise due to the sandy bottom. It's an ideal spot for a refreshing swim or a picnic.
Continuing your journey, you'll reach the Sanap Cliffs, which plunge vertically into the deep Mediterranean Sea. The cliffs offer an excellent vantage point to soak in the ocean's vastness and are a popular spot for bird-watching.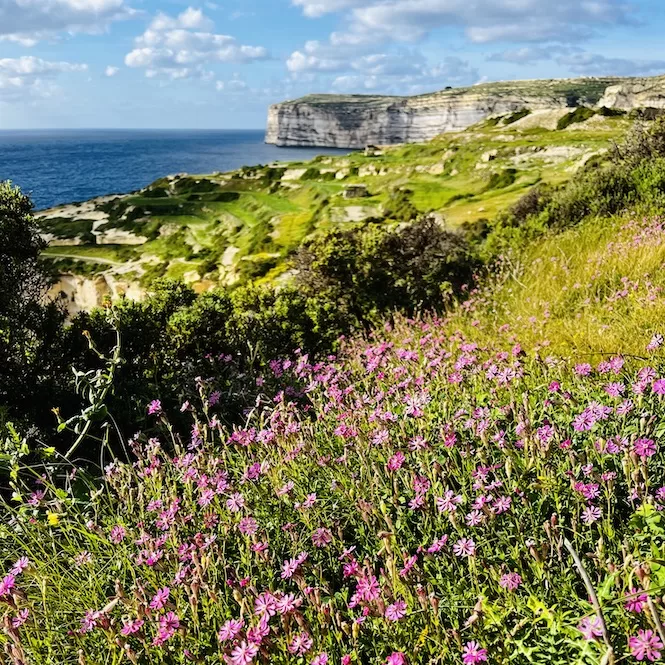 Finally, you'll arrive at Xlendi, the endpoint of this trail. Xlendi is a popular bay for both tourists and locals, offering various amenities like restaurants, cafes, kayak rental services, and diving centres. It's an ideal place to end your hike with a Mediterranean meal.
---
---
Nature and adventure lovers can't go wrong with Gozo hiking trails. Each trail offers a unique view of the island's natural beauty and geological wonders. Whether you're a beginner or an expert, Gozo has it all.
But the adventure doesn't have to stop in Gozo. Malta offers an array of equally interesting hikes you won't want to miss:
So lace up your hiking boots and explore the Maltese archipelago's stunning landscapes. Happy hiking!