Gozo salt pans are an iconic cultural landmark worth seeing. They are a checkerboard of rock-cut shallow pools used for centuries. Salt pans at Xwejni Bay are not only pretty but also a great place to learn about salt harvesting. You can also buy authentic, natural salt to support local farmers.
The Importance of Salt Pans
As a natural preservative, salt is a life-sustaining mineral. In ancient times, it was so valuable that it was used as currency.
The Maltese have harvested and processed sea salt for centuries using seawater, sun, and salt pans. Families have passed down these traditional methods from generation to generation.
A salt pan is a shallow reservoir dug out of limestone rock to collect seawater. As the water evaporates, white salt crystals remain. The crystals are then dried and packed into salt pouches.
For years, salt pans have provided salt to meet the local demand. They also gave employment and business opportunities to many islanders. It's also more sustainable to collect salt the traditional way. They don't need large amounts of energy or resources.
Sea Salt Production in Malta
There are many salt pans along Malta's and Gozo's coast where salt is collected. Historically, salt has been sold by grocers. However, in recent years, gourmet shops have sprouted, selling plain and aromatic salt in nice jars. It's a great souvenir from Malta.
Buying authentic natural sea salt from the Maltese islands supports local farmers. It is also healthier than refined table salt. Refined table salt often contains additives that have no health benefits. Natural sea salt has over 80 minerals and elements. It keeps electrolyte balances while stimulating digestive enzymes. So it's a healthier choice.
Gozo Salt Pans in Xwejni
The most famous salt pans are in Xwejni Bay, near Marsalforn in Gozo. These salt pans are known for their picturesque view. Yet, they are also old, used for more than 350 years.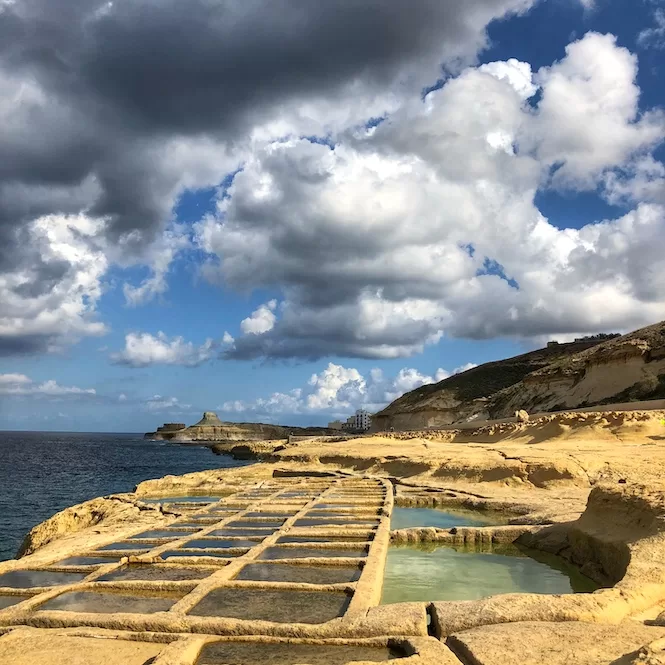 The Xwejni salt pans stretch three kilometres along the coast. They are made of shallow, rectangular pools carved into the limestone. From the above, these pools look like a giant checkerboard, each filled with seawater.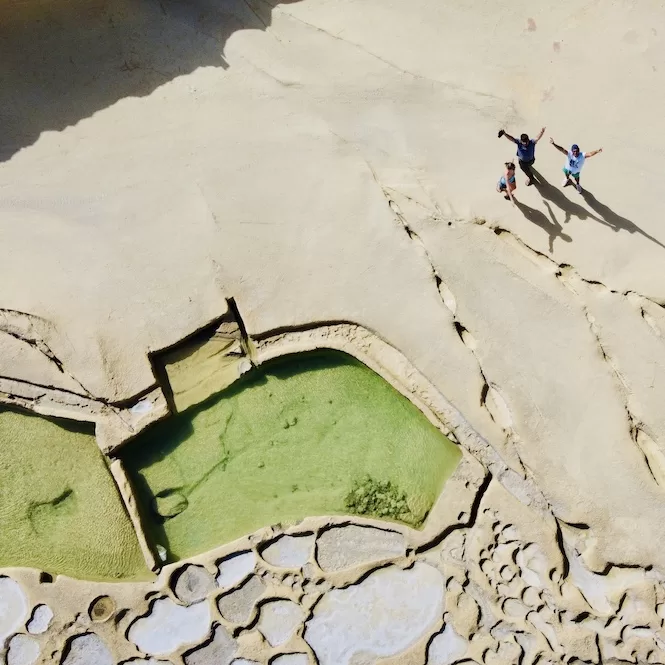 Xwejni's Salt Production Process
Xwejni salt is collected from mid-May to mid-September every seven days. Storms and rain can disrupt the collection process, so it is best harvested when it is hot and sunny.
Farmers pour seawater from larger pools into smaller salt pans. They use larger pools because the water there is already highly concentrated. Over seven days, the water evaporates, and salt pans are filled with salt crystals. The salt is then swept into tiny heaps with a brush and placed in buckets. It is then transferred to a flat surface and left to dry for 24 hours. Once dry, salt is packed into 30-kilo bags and stored for consumption. The harvested salt is then sold locally and exported to other countries.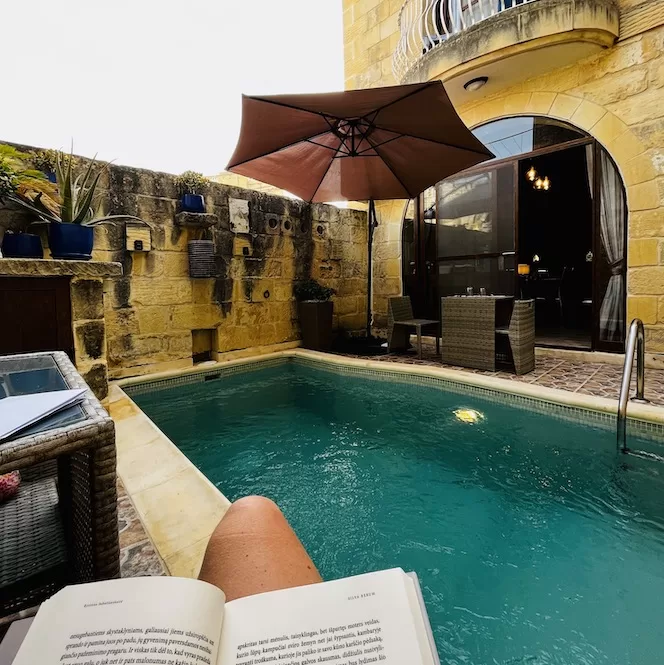 Visiting the Gozo Salt Pans in Xwejni
There is no better place to see salt pans than in Xwejni Bay, close to Marsalforn. You can explore the area and learn about salt harvesting. The shopkeeper will gladly explain how salt is collected traditionally. However, it is important not to step onto the salt pans and to respect the signs.
Getting There:
---
Location: link to Google Maps
Nearest bus stop: Xwejni – 10 mins away by foot
Frequency of the buses: every 30-45 minutes via Victoria
Parking available: It's best to park in the bay, along the road (in summer, parking is limited, so it's best to arrive earlier).
---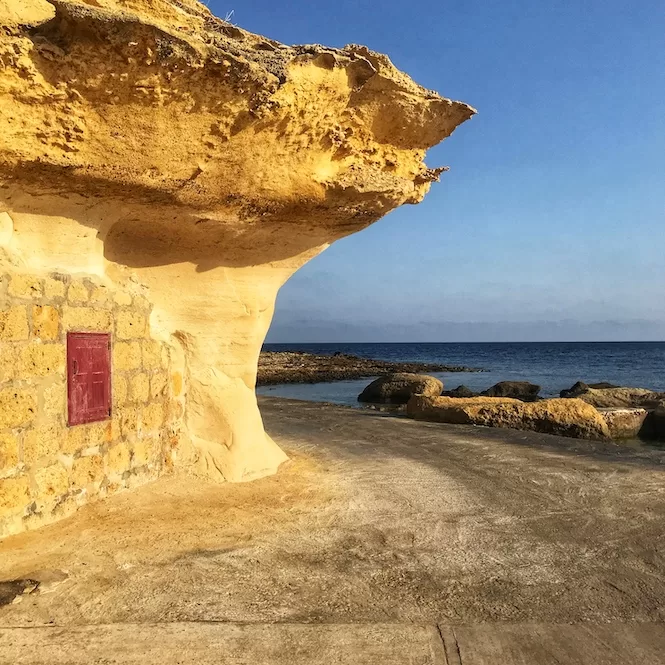 Anyone interested in its history and culture should visit the Gozo salt pans. Aside from being a fascinating attraction, the Gozo salt pans are also a beautiful area to explore and walk around. You can also hike to the Ghasri Valley, a magnificent gorge. It's just a kilometre away.
If you liked this guide, check out my other posts about things to do in Gozo, visit secret Gozo beaches, discover Xlendi, Mgarr Ix-Xini or Dwejra Bay.
Also, check out some amazing tours you can have in Gozo: