Mgarr Ix-Xini is a breathtaking, tucked-away bay on the southern coast of Gozo. Renowned for its crystal-clear waters, rich history, and dramatic landscape, it offers an unforgettable experience for visitors seeking a peaceful and secluded haven. In this comprehensive guide, I will explain everything you need to know about this stunning location, from its fascinating past to the best activities and practical advice for planning your visit.
My Top Reasons Why to Visit Mgarr Ix-Xini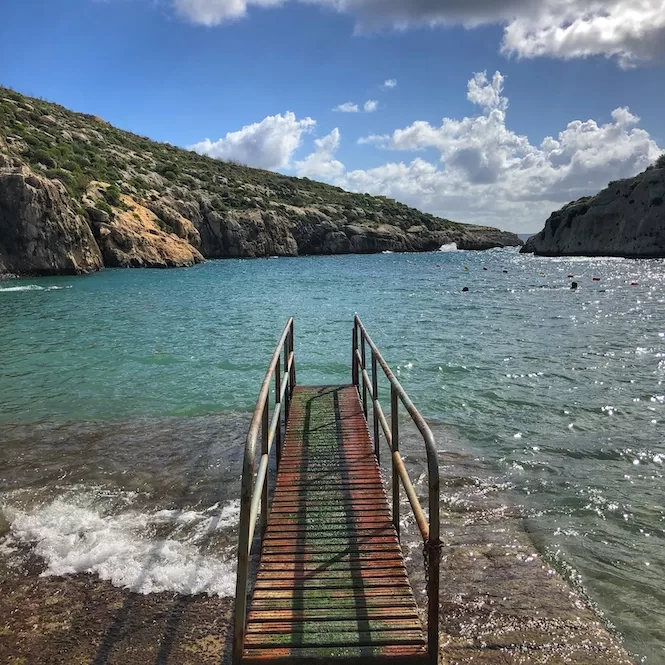 Let me tell you why this place is worth a visit!
Stunning natural beauty: Nestled within a narrow, winding gorge, Mgarr Ix-Xini is a true natural wonder. The bay has a small, pebbly beach and is surrounded by steep cliffs. And the water is so blue and refreshing! I love it there.
Peaceful atmosphere: Mgarr ix-Xini isn't as popular as other places because it's less accessible.
Snorkelling paradise: Mgarr ix-Xini's crystal clear waters invite you to dive in and discover its vibrant underwater world. I like to swim along the cliffs and observe different fish and rock formations. Divers come to Mgarr Ix-Xini to see sea horses, as it is the only place to find them.
Natural shade: While the sun can be relentless in the Maltese summer, fear not! Mgarr ix-Xini has you covered—literally. One side of the beach enjoys shade in the afternoon, providing a much-needed break from the heat.
Sheltered from the wind: The long gorge in which Mgarr ix-Xini beach is located shields it from strong winds, so you can lie on the beach without worrying about your towels flying away. Even on a windy day, the waters are calm, perfect for swimming.
Picturesque hiking trails: Aside from its sandy beaches, Mgarr ix-Xini is also a gateway to scenic hiking trails. You will enjoy breathtaking views of Gozo's unspoiled beauty.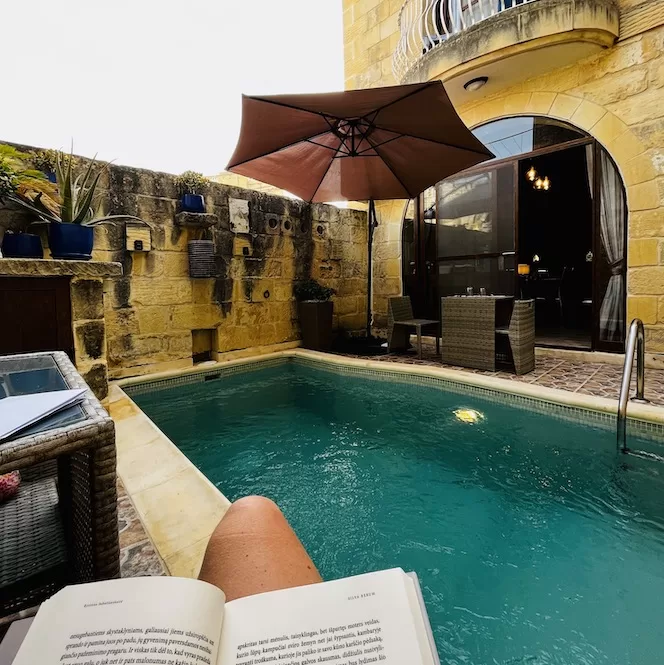 Why This Beach Might Not Be For You?
Here are some reasons why this beach might not be the right fit for everyone:
Difficult access: Mgarr ix-Xini's hidden gem status comes with a price—getting there can be challenging. The road leading to the beach is narrow, steep, and potentially risky, especially for inexperienced drivers or those uncomfortable navigating tricky terrain. Also, parking is limited, so after a challenging trip, you might be disappointed to have to return.
There's not much space: The Mgarr ix-Xini's size adds to its charm, but it also means it has limited space. The beach itself is small, so it gets crowded during summer weekends. You might find Mgarr ix-Xini a bit too cosy for you if you like broad, expansive beaches.
Pebble beach: Mgarr ix-Xini has a pebble beach, which means it has rocks instead of sand. Though this might appeal to some beachgoers who love the texture and aesthetic, it may not be as comfortable for those who prefer sand for sunbathing, building sandcastles, and just lazing around.
A Glimpse Into the Past of Mgarr Ix-Xini
Mgarr Ix-Xini has a rich and storied history, dating back to the time of the Knights of St John. The bay once served as a small harbour for the Order's galleys. It played a crucial role during the 1551 invasion by the Turks, who used the inlet to load captured Gozitans onto their ships. The Mgarr Ix-Xini Tower, constructed in 1661, is a testament to the area's strategic importance and offers a fascinating insight into the past. 
There is a coasted path on the left, which leads to the Tower. The walk is short, but it offers nice views of the area and the gorge of Mgarr Ix-Xini.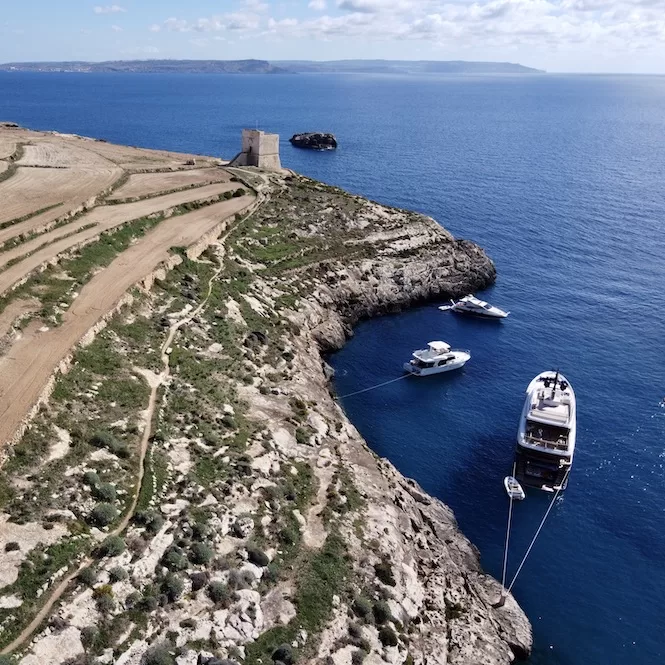 What to do in Mgar Ix-Xini?
​​Here are some must-try experiences:
Dive into crystal clear waters: Take a refreshing swim and explore underwater wonders. The clear water provides excellent snorkelling visibility, so you can see vibrant marine life beneath the surface.
Rent a kayak: This is one of the most picturesque kayaking spots around, offering breathtaking views and peaceful surroundings. Don't forget to explore the small inlet for an extra thrill. You will find kayak rentals in the bay.
Lunch with a view: Treat yourself to a delicious lunch with panoramic views. There are two restaurants in the bay. I recommend Ta' Cenc Il-Kantra. It offers a wide selection of traditional Maltese dishes as well as international cuisine.
Relax: Chill and soak up the peaceful atmosphere.
Go hiking: Mgarr Ix-Xini offers a range of hiking and climbing opportunities. The gorge itself features several trails that lead to stunning viewpoints. Check out my guide for the Mgarr Harbor to Xlendi hike. As Mgarr Ix-Xini is midway, you can find information about coastal walks on both sides of the bay.
Getting to Mgarr Ix-Xini
It can be challenging to reach Mgarr Ix-Xini because public transportation options are limited. The closest bus stop is 1.80 km away. You will have to walk on the road that might be busy.
It's best if you rent a car so you can explore Gozo at your own pace. Try Discover Cars for affordable car rentals. I'd recommend renting a car at the airport and using it throughout your stay. Check out my guide to renting a car in Malta.
A cab is the best if you don't have a car. Or else, you can take a scenic hike from Mgarr Harbour. It takes 40-50 minutes and offers wonderful scenery.
Getting There:
---
Location: link to Google Maps
Nearest bus stop: Heliport
Walking distance from the bus stop: 1.80 km, 22 minutes
Frequency of the buses: every hour or less
Parking available: small free parking next to the beach
---
Tips for the Best Experience
Here are some tips to make the most of your experience:
Bring your own food and snacks: While there are two restaurants at Mgarr Ix Xini, they are pricey. Bring your own snacks and food if you'd like to save money.
Don't forget sun protection: Malta's weather is usually sunny, and Mgarr Ix Xini is no exception. Make sure you have sunscreen, hats, and sunglasses to protect yourself from sun rays. Sunburn can easily occur if you spend hours in the water or on the beach, so reapply sunscreen every few hours.
Snorkelling gear: Mgarr Ix Xini has a fascinating underwater world, so bring your own snorkelling gear. It has beautiful clear waters and marine life to discover.
Arrive early in the morning: By getting there early in the morning, you'll have the chance to secure a good spot on the beach and appreciate the tranquil beauty of the bay.
Beware of jellyfish: Before heading to Mgarr Ix-Xini, be sure to check my guide on jellyfish, along with online resources, to ensure the beach is jellyfish-free.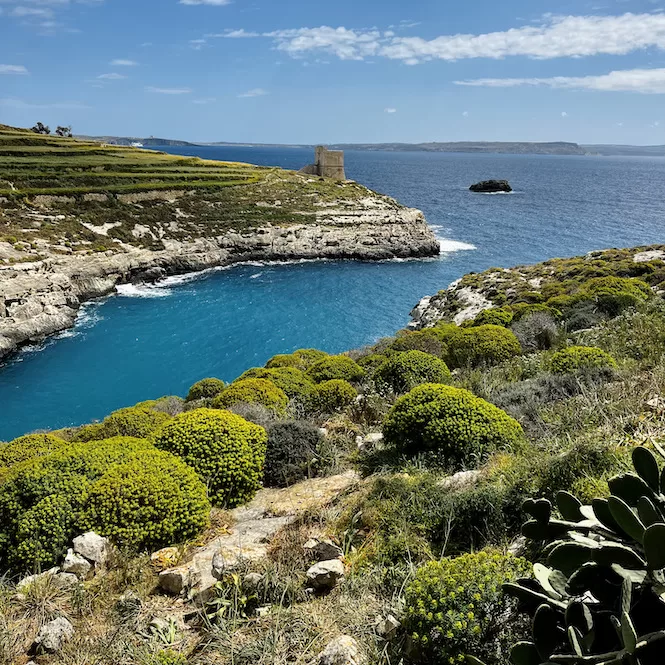 So, if you're planning a trip to Gozo, do not miss this incredible destination. Its captivating landscape, crystal-clear waters, and rich history make it an unforgettable experience. I am sure you will want to return.
But wait, there's more! I've got a bunch of tips for you to make the most of your trip to Gozo. Here's my guide to Gozo's activities and must-see spots and my guides to Xlendi, Hondoq Bay, salt pans and Gozo's secret beaches.
Also, discover the best tours in Gozo – quad bike tour, food and wine tasting, or a kayak tour from Gozo to Comino island with snorkelling.