Coral Lagoon in Malta is a lesser-known but equally stunning sight. It's a natural sea pool surrounded by cliffs and connected to the open sea through a tunnel. This stunning spot is a must-see for adventure seekers, nature lovers, and photography enthusiasts alike. In this guide, I'll give you the highlights, the dos and don'ts, and everything you need to know before setting foot in this hidden gem.
Why Visit the Coral Lagoon?
Nature's hidden gem: This gorgeous hole in the ground with blue waters is nature's miracle. Don't miss your chance to see it.
Amazing views: Imagine being surrounded by the sea and the views of Comino Island in front of your eyes.
Usually not crowded: It's amazing to have this paradise all to yourself, and you'll have plenty of room to relax and unwind. Compared to many other tourist spots, Coral Lagoon is peaceful and serene.
Gorgeous sunsets: Sunset views from the lagoon are spectacular! Make sure you visit the Coral Lagoon during this magical time.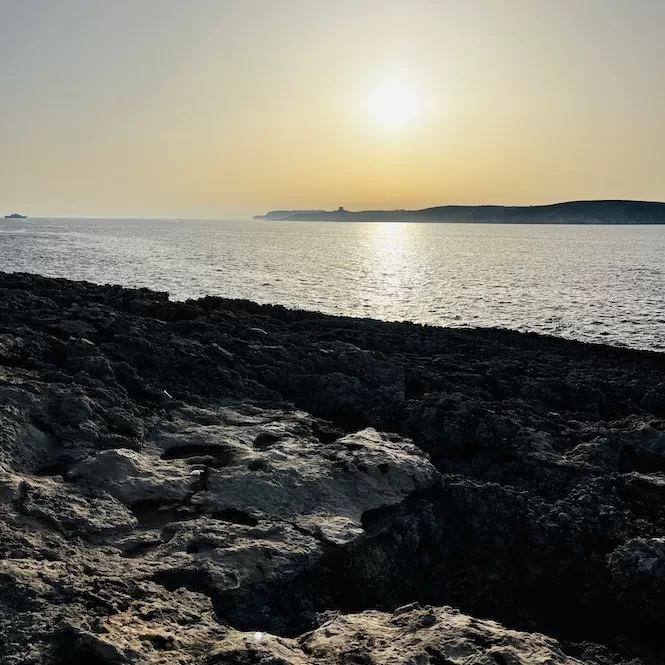 Amazing swimming opportunities: Coral Lagoon is great for kayaking, snorkelling, and swimming. However, you have to remember that jumping is forbidden to ensure your safety. Also, you should only swim when it's calm and if you have excellent swimming skills.
A front-row seat to watch boats: Enjoy a panoramic view of the Mediterranean Sea while boats sail gracefully across the horizon. From small fishing boats to luxury yachts, you'll see a variety of vessels at play.
Why This Place Might Not Be for You?
It is undeniable that Coral Lagoon is captivating, but it might not be the right destination for everyone. Before planning your trip, consider these factors:
Accessibility: The coral lagoon can be challenging to reach due to its rough terrain and sharp edges. You'll need sturdy shoes and a good fitness level to get there.
Swimming: If the sea is rough, it can be dangerous for inexperienced swimmers. I would advise you to swim only if you are a good swimmer and if the sea is calm. In this lagoon, there have been many accidents lately.
Not for young kids: Coral Lagoon isn't recommended for families with young kids because of the rugged terrain.
How to Get to Coral Lagoon?
Located near Mellieha the Coral Lagoon is accessible by car or public transport. Here's how to get there:
By car: Drive to the parking lot next to the campsite, then walk up a small hill 500 meters to reach the lagoon. Parking is free and available.

By public transportation: It's harder to get there by bus. The closest bus stop, Xmajjar, is half an hour's walk away.
It's hard to get to hidden spots like Coral Lagoon without a car. So, it's best if you rent a car so you can explore Malta at your own pace. Try Discover Cars for affordable car rentals. I'd recommend renting a car at the airport and using it throughout your stay.
Getting There:
---
Location: link to Google Maps
Nearest bus stop: Xmajjar
Walking distance from the bus stop: 2.30 km, 30 minutes
Frequency of the buses: every hour or less
Parking available: free parking on the road next to the camping
---
What to Do at Coral Lagoon?
Coral Lagoon is an excellent spot to visit and enjoy the scenery. But there are also some other things you can do there:
Kayaking: Paddle through the turquoise waters and explore the lagoon from a different angle. You can rent a kayak at Tortuga Beach and get to Coral Lagoon in 30 minutes.
Swimming or snorkelling: You can see colourful fish and sea urchins in the lagoon. The sea entrance is opposite the tunnel. When walking, watch out for sharp rocks. It's wise to wear sandals or aqua shoes. Get down to the sea and you'll find a submerged ledge sloping into the water. It's easy to get in. The cave mouth is about 75 metres away. There are shallow spots in the lagoon to stand and rest.
Cliff jumping: For adrenaline junkies, the cliffs surrounding the lagoon provide a thrilling opportunity to plunge into the refreshing waters below. However, please note that cliff jumping is officially banned, and should only be attempted by experienced jumpers in calm sea conditions. There have been many lethal accidents in this area.
Hiking: In winter, you can just hike around and explore the area.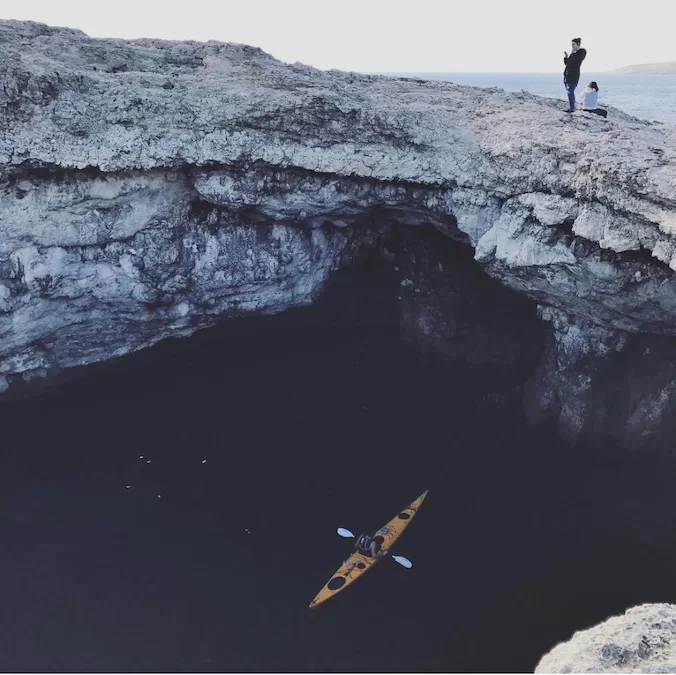 Tips for a Memorable Visit
Check out these essential tips to make the most of your Coral Lagoon visit:
Wear appropriate footwear: The terrain around the lagoon is rough and rocky, so sturdy shoes are necessary.
Bring your equipment: If you plan on kayaking or snorkelling, consider bringing your gear or renting it beforehand, as there are no rental facilities available at the lagoon.
Be cautious: It can be dangerous out there, so use caution when being adventurous.
Respect the environment: Don't litter and respect Coral Lagoon's fragile ecosystem.
Plan your visit: This place is best enjoyed during off-peak hours or on weekdays when there are fewer people.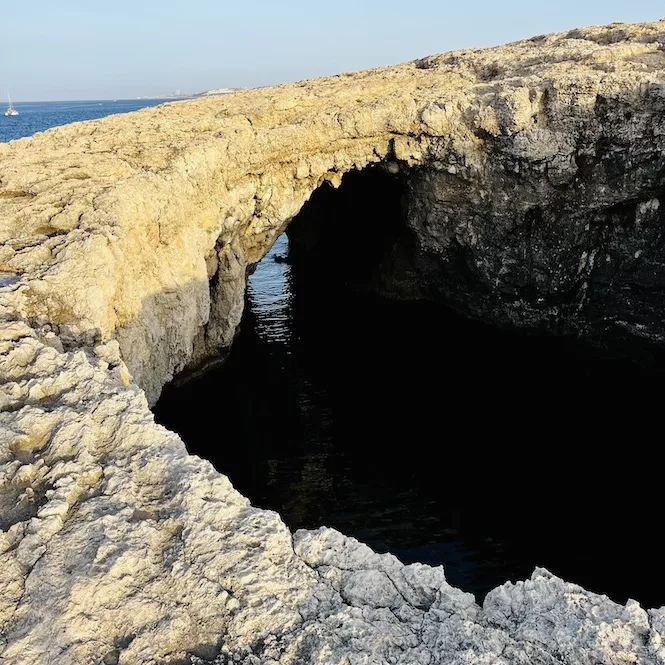 A visit to the Coral Lagoon on your next Malta trip will be a memorable experience for anyone looking for adventure or beautiful views. So, put on your sturdy shoes, grab your camera, and discover Malta's Coral Lagoon.
I hope you find this post informative. If you enjoy water sports, look at my guides to scuba diving, paddle boarding, and snorkelling.
Also, check out my other guides on Malta's hidden gems, Malta beaches, best sunset spots or Comino. If you haven't been to Comino yet, book a tour. It's totally worth seeing the Blue Lagoon.