The Malta Beaches Map is the ultimate guide to planning your next sun-soaked getaway! It features secluded coves and action-packed beaches with water sports equipment for rent. With its insider tips and invaluable info, this guide will ensure you don't miss the island's gorgeous beaches.
Malta Beaches Map
Here is the map of beaches I'm sharing with you in this post. Each beach title has a hyperlink that takes you to Google Maps, so you can navigate easily.
Ghadira Bay
What To Love About This Beach?
Ghadira Bay is Malta's largest sandy beach, located at Mellieha. Due to its shallow water, it is an excellent spot for families with young children.
There's a big parking lot at Ghadira Beach, so you don't have to worry about anything. Relax on a sunbed, drink a cocktail, and let the warm sun caress your skin.
Ghadira Beach isn't just for sunbathing. It's also a water sports paradise! Sailing, paddle boarding, kayaking, or jet skiing-take your pick and have a blast!
Why This Beach Might Not Be for You?
Let's get into the nitty-gritty and see why Ghadira Beach may not be for you. It's a popular beach destination, but it's helpful to know if it fits your preferences.
Ghadira Beach is a popular spot, so if you want a more secluded and tranquil beach experience, this might not be the right choice. It gets crowded during the high season.
Also, remember that Ghadira Beach is close to the road, so there might be noise and occasional traffic. If you're someone who prefers to be further away from civilization's hustle and bustle and wants a more secluded beach experience, this might not be the right fit for you.
As Ghadira Beach is mostly sandy, snorkelling options are limited compared to rocky beaches. So you might want to look at other beaches with more diverse snorkelling options.
Things to Do, Facilities, and Amenities
You'll find restaurants, bars, and kiosks along Ghadira Beach. Whether you're looking for a tasty snack, a delicious meal, or a refreshing cocktail, there's something for everyone.
Ghadira Beach offers a wide range of water sports equipment. You can rent paddleboards, kayaks, jet skis or banana rides. You can also book a private boat tour to Comino.
Getting There
---
Location: link to Google Maps
Nearest bus stop: Ghadira
Walking distance from the bus stop: a few meters
Frequency of the buses: every 30 minutes or less
Parking available: Ghadira free car park and along the road
---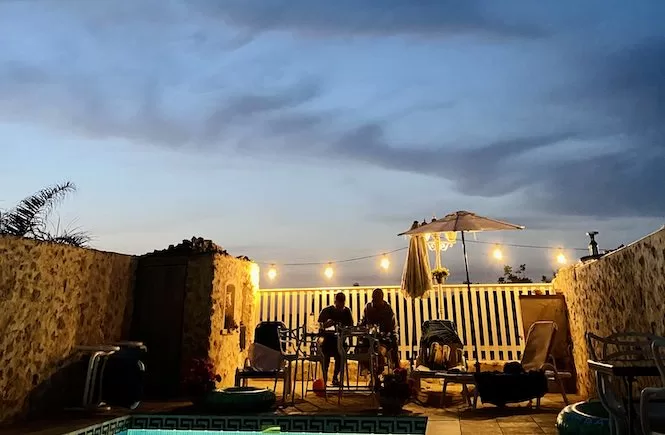 Paradise Bay Beach – The Northernmost Beach on the Malta Beaches Map
What's so Great About Paradise Bay Beach?
Paradise Bay Beach is a sandy beach with views of Comino and Gozo surrounded by rugged cliffs. The beach is sheltered from the wind and is shallow, making it an ideal getaway for families with small children.
Paradise Bay Beach offers a wide range of attractions. It has stunning scenery and crystal-clear waters making it a must-visit.
It's not just about the beach scenery – there are also thrilling water sports activities. Rent a kayak or paddleboard and explore the enchanting coastline at your own pace, or snorkel to see marine life. Forgot your snorkel gear? Don't worry! Paradise Bay Beach rents equipment to enjoy underwater wonders.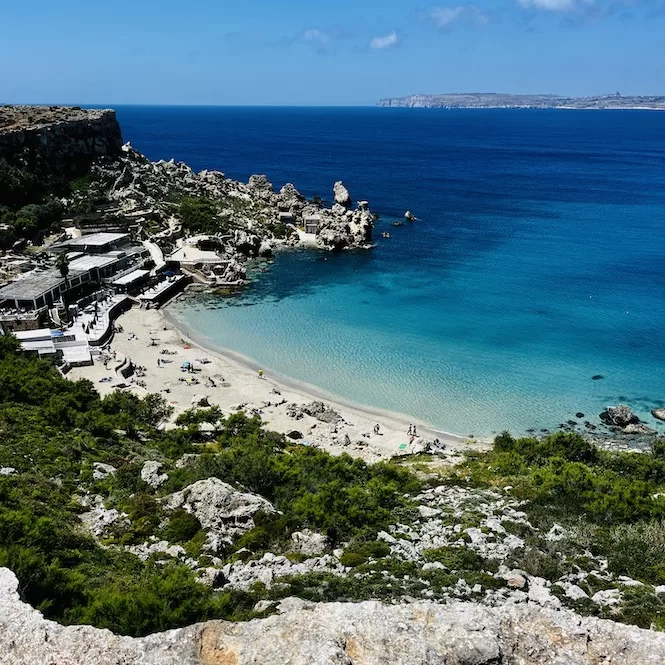 Is this Beach for You?
While Paradise Bay Beach has numerous appealing features, it may not be the ideal choice for everyone. Before planning your trip, you should consider a few things. It's pretty small, so it gets crowded, especially during peak season.
Furthermore, getting to the beach involves descending a set of steps, which could pose a challenge for people with mobility issues. If you or someone in your group has mobility challenges, you might consider an alternative beach.
Furthermore, if you rely on convenient public transportation options, you should know that Paradise Bay Beach has a bus stop but the buses are very limited. The nearest bus stop with frequent buses is in Cirkewwa, about 15 minutes away. This makes it less suitable for beachgoers who like easy access.
Amenities and Things to Do
In addition to water sports, Paradise Bay Beach boasts a range of amenities. With ample parking available, you don't have to worry about getting there. Also, take advantage of the facilities, such as restrooms, showers, sunbeds and umbrellas for rent. Need some refuelling? There's a beach bar and restaurant to satisfy your appetite. Additionally, Paradise Bay Beach is close to hiking trails and a stunning sunset viewpoint. Check out my blog for more information about Paradise Bay Beach.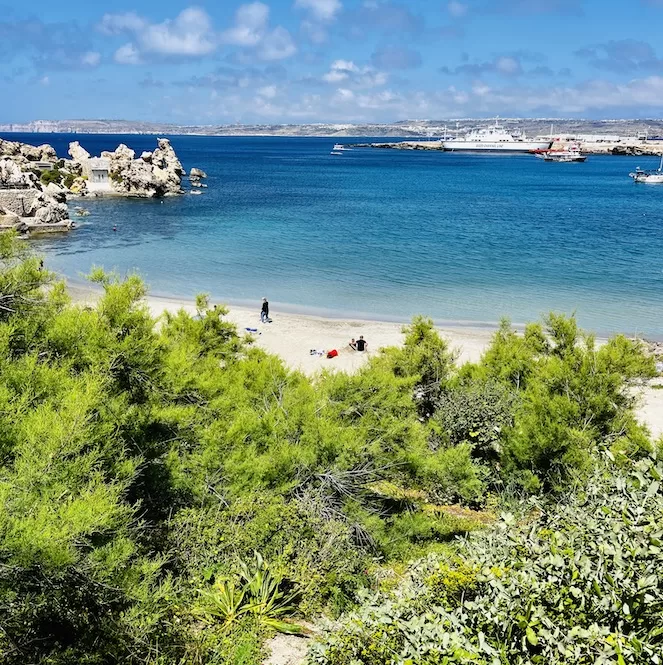 Getting There
---
Location: link to Google Maps
Nearest bus stop: Paradise, however, the bus service is infrequent. The best place to get off is Musa. It's 15 minutes on foot to Paradise Bay.
Frequency of the buses: infrequent if you travel to the Paradise bus stop, but frequent at Musa.
Parking: there is plenty of space here
---
Imgiebah Bay
Imgiebah Bay: What's There to Love?
If you're looking for a secluded and serene atmosphere, Imgiebah Beach is for you. Imgiebah Beach provides a private and peaceful experience due to its secluded location. Whether you're looking for a romantic getaway or just want a quiet beach setting, Imgiebah Beach is the place to visit. Also, its untouched natural beauty makes it a great place to relax.
Dogs are welcome at Imgiebah Beach, so if you're a pet owner, you'll love taking your furry companion along for a day of sun and sand.
If you like snorkelling, Imgiebah Beach is perfect. The water is so clear and you can dive into it and see rock formations and marine life beneath.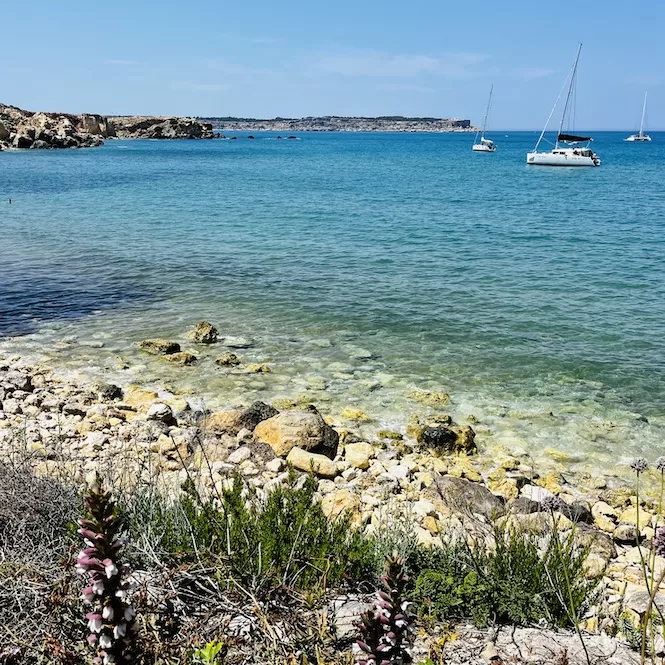 Here's Why This Might Not Be for You
Whether you're looking for a fancy bar and refreshing cocktails at the beach, Imgiebah Beach might not be for you. Imgiebah Beach offers no facilities.
In addition, Imgiebah Bay is not very accessible, so it might not be the right choice for those who prefer an easy-to-reach beach. My Imgiebah beach guide has more information on how to get there.
Imgiebah Beach, on the other hand, might be the place for you if you're looking for off-the-beaten-path experiences.
Facilities at Imgiebah Beach
Make sure to pack enough water and food for your visit to Imgiebah Bay, as there are no lidos or food trucks here. Umbrellas and sunbeds are also not available.
Getting There
---
Location: link to Google Maps
Nearest bus stop: Melieha
Walking distance from the bus stop: 30 minutes
Bus frequency: every half an hour
Parking available: small car park near the beach
---
Golden Bay
What to Love About Golden Bay?
Golden Bay Beach is one of the three beaches next to each other on the Malta Beaches Map – Golden Bay, Ghajn Tuffieha and Gnejna. It's a true gem with much to love. The first thing that catches your eye is the stunning scenery, surrounded by majestic cliffs and crystal-clear waters.
Families and non-swimmers will enjoy the beach's shallow waters, providing a safe environment for swimming and water play. Lifeguards are always watching and keeping an eye on things. Golden Bay Beach's watersports activities are exhilarating, including kayaking, paddle boarding, snorkelling, and jet skiing for those who want more excitement.
Golden Bay Beach offers stunning sunset views. There's no better way to end the day than with a delicious meal and a refreshing drink from one of the nearby restaurants.
Several hiking trails surround Golden Bay Beach. Explore scenic viewpoints, hidden coves, and diverse flora and fauna.
Sports enthusiasts can get their game on at the beach volleyball court, so bring your net and secure a spot early.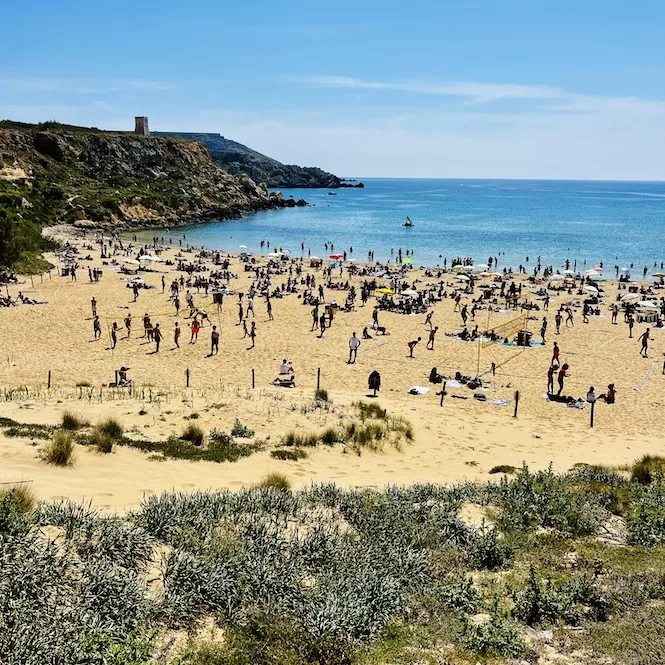 Is this Beach for You?
Even though Golden Bay Beach is amazing, it's not for everyone. One thing to remember is that it gets really crowded, especially during the peak season.
It can be difficult to find parking or a towel spot at the beach due to its popularity. Limited parking availability can frustrate you and waste time searching for a spot. You might want to consider alternative options to Golden Bay Beach if convenience and ease of access are really critical to you.
There's nothing not to love about Golden Bay Beach besides the above considerations. In addition to its stunning scenery, safe swimming conditions, watersports activities, sunset views, beachside dining, hiking trails, beach facilities, accessibility, and diversity of attractions, it's an excellent place to visit.
Activities and Facilities at Golden Bay Beach
You can enjoy a comfortable and enjoyable time on the sand with a range of amenities available. You can rent sunbeds and umbrellas to soak up the sun. Showers and bathrooms are easy to access, so you can stay comfy all day.
You can get delicious snacks, refreshing drinks, and even complete meals at Golden Bay Beach. Whether you're craving a quick bite or a leisurely beachside feast, you'll find a variety of dining options to suit your taste.
Getting There
---
---
Ghajn Tuffieha Beach
What's so Great about Ghajn Tuffieha Beach?
Ghajn Tuffieha Bay is the second one from the trio. It's a must-see for many reasons. Its shallow sandy shore and crystal-clear waters make it the ideal spot for a day of sun, sea, and relaxation.
There's no doubt Ghajn Tuffieha Bay is one of Malta's finest beaches to watch sunsets. Towards the end of the day, the bay transforms into a breathtaking setting, with the light casting striking silhouettes and creating a peaceful atmosphere.
The beach is surrounded by rocky hills and hiking paths, and it's a must-see for nature lovers. Start your day with a hike and reward yourself with a refreshing dip in the water.
Ghajn Tuffieha Bay is less crowded than Golden Bay. A big reason for that is that there are 187 steps from the top, which can be a challenge for some people.
Interested in water sports? Ghajn Tuffieha Bay has paddleboard rentals available to explore the coast. If you want a thrill, you can also take surf lessons or rent a surfboard when the seas are rough. Plus, you can snorkel on the rocky sides of the bay, seeing marine ecosystems up close.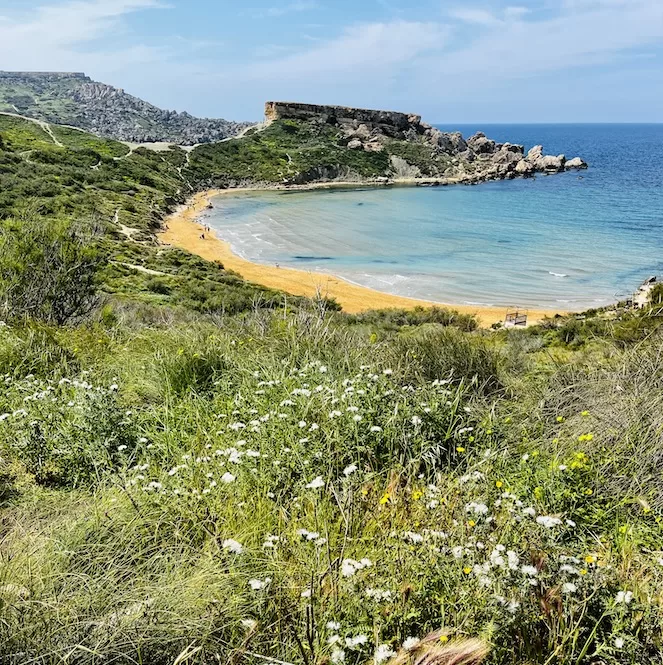 Some Reasons Why You Might Not Enjoy This Beach
There are a few things to consider in Ghajn Tuffieha Bay that might make it less suitable for some people. This is despite being a fantastic beach. It's a 187-step staircase to get to the beach, so that's a major consideration. Although it's worth the trip, it can be challenging for people with mobility issues or lots of stuff to carry.
There's also limited parking at Ghajn Tuffieha Bay. Since both Golden Bay and Ghajn Tuffieha share the same parking lot, it's difficult to find a spot during peak hours.
Amenities, Facilities, and Things to Do
Hiking in the area is one of the main highlights. Check out my detailed guide. You'll get breathtaking views of clay cliffs and one of the most picturesque coastlines.
As the day winds down, Ghajn Tuffieha Bay presents an idyllic setting to witness a sunset. Find a serene spot along the beach and marvel at the kaleidoscope of colours painting the sky.
When hunger strikes, you don't have to venture far to satisfy your cravings. The beach features a restaurant where you can enjoy a delicious meal while enjoying the views.
Ghajn Tuffieha Bay offers rentals of paddleboards, umbrellas, and sunbeds. Take to the water on a paddleboard and explore the nearby coastline, or simply relax on a sunbed or under an umbrella, basking in the tranquil atmosphere of this picturesque beach.
Getting There
---
---
Now that you've read this article, I hope you're ready to check out the most picturesque beaches on this gorgeous Mediterranean island. The island of Malta has it all, whether you're looking for a serene cove, a vibrant beach, or a sunset to die for. 
Prior to hitting the beach, take a look at my jellyfish guide or use online resources to confirm that the beach you're planning to visit is free of jellyfish, ensuring a safe and stress-free swim.
Don't forget to check out Travel2Malta's trekking guides. The beaches mentioned in this guide are close to scenic hiking trails. To make the most of it, you can combine a hike with beach relaxation.