Golden Bay Beach is one of Malta's most popular and beloved beaches. Aside from its sandy shore and crystal-clear waters, this beach has stunning natural surroundings. The picturesque location is ideal for relaxation and sun, as well as for water sports enthusiasts.
My Top Reasons To Visit Golden Bay Beach
Here is some information about what this beach has to offer:
The spectacular scenery: Golden Bay Beach is surrounded by stunning cliffs and clear waters. This idyllic setting makes for incredible photos and memories.
Shallow water and safe swimming: The beach's shallow waters are perfect for families with young children or those who aren't strong swimmers. Lifeguards on duty ensure everyone stays safe.
Water sports: The beach has a variety of water sports, like kayaking, paddle boarding and snorkelling. You can even rent a jet ski and take a banana ride.
Sunset views: I love Golden Bay Beach for its sunsets. It's a great place to enjoy a meal or drink while watching the sun go down. If you like sunsets, check out my guide to the best sunset spots in Malta.
Beachside dining: Several restaurants and bars are near the beach. So, you can sip a cocktail or eat a tasty meal while enjoying the views.
Hiking trails: For those who love exploring nature, Golden Bay Beach has several hiking trails with scenic viewpoints and hidden coves. These trails offer an ideal way to see the diverse flora and fauna of the area.
Beach facilities: Golden Bay Beach has plenty of amenities to make your visit comfortable and enjoyable. You can rent sunbeds and umbrellas, and find showers and bathrooms.
Accessibility: There's a spacious parking lot nearby, and regular bus services connect Golden Bay Beach to other parts of Malta.
Beach volleyball: Golden Bay Beach has a beach volleyball court. Bring your net and arrive early to get a spot.
A variety of activities and attractions: There's a lot to do around Golden Bay Beach, like hiking, horseback riding, and exploring historical sites.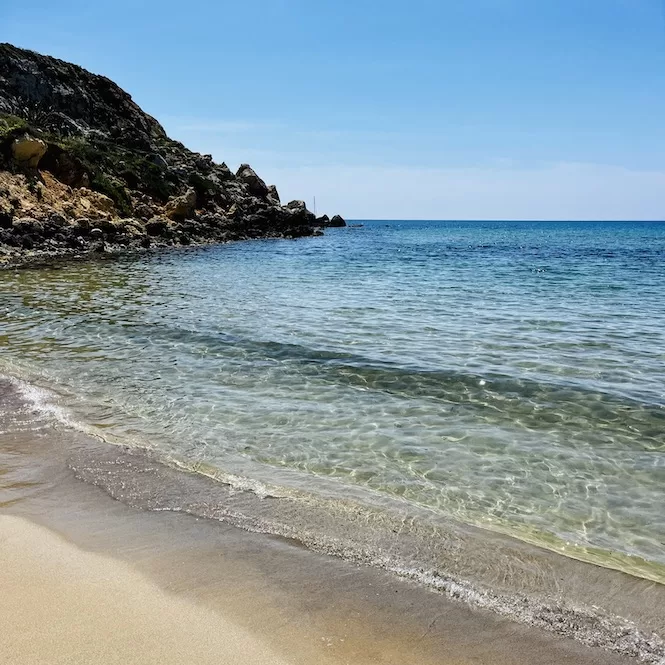 How to get to Golden Bay Beach?
Golden Bay Beach is easy to reach via public transport, so you don't have to worry about getting there. It takes 45-60 minutes to reach the beach by bus from Valletta. By car or taxi, you can get there from Valletta in 30 minutes. There are 3 parking lots, but finding a free spot on weekends can be hard. Arrive early in the morning or late in the afternoon.
Getting There:
---
---
Activities in Golden Bay
Here are some summer activities at Golden Bay Beach:
Soak up the sun.

Spend hours swimming or chatting in the water. It won't be cold because the seawater is nearly 30°C in July and August.

Explore the underwater world by snorkelling. For the most spectacular views, follow the rocky coastline to the right or left. You can spot sting rays, flying fish and other species.

Enjoy a barbecue at night.

Watch the spectacular sunsets.

Try watersports like kayaking and paddle boarding.

Get your friends or other beachgoers together for a game of beach volleyball.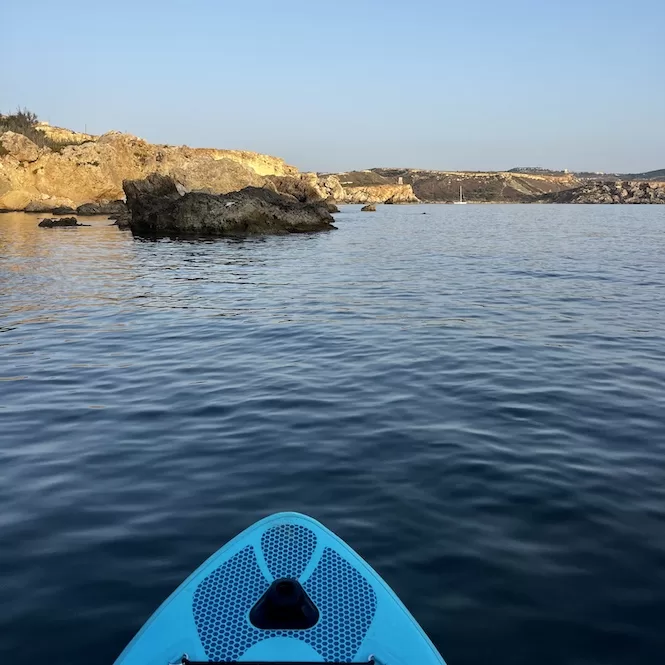 Golden Bay Beach offers a variety of activities not only in the summer but all year round. Here are some ideas for colder seasons:
Discover the beach's green landscapes and blooming wildflowers.

Discover nearby hiking trails. Here is a hiking guide to Majjistral Park and a Ghajn Tuffieha to Gnejna Bay.

Take in the beach's tranquil atmosphere.

Try horseback riding tours through the scenic countryside.

During winter you get windy days, so surfing or windsurfing is an excellent option.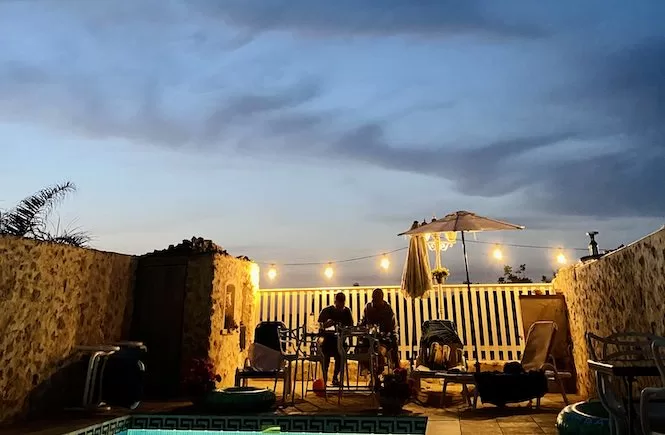 Nearby Attractions
Besides being a great beach destination, Golden Bay Beach is also an excellent base for exploring the nearby area. Here's what's close by:
Ghajn Tuffieha Tower: Located just a short walk from Golden Bay Beach, this watchtower offers a stunning panoramic view of the coastline.
Majjistral Nature and History Park: You can walk along the park's trails and discover its rich history.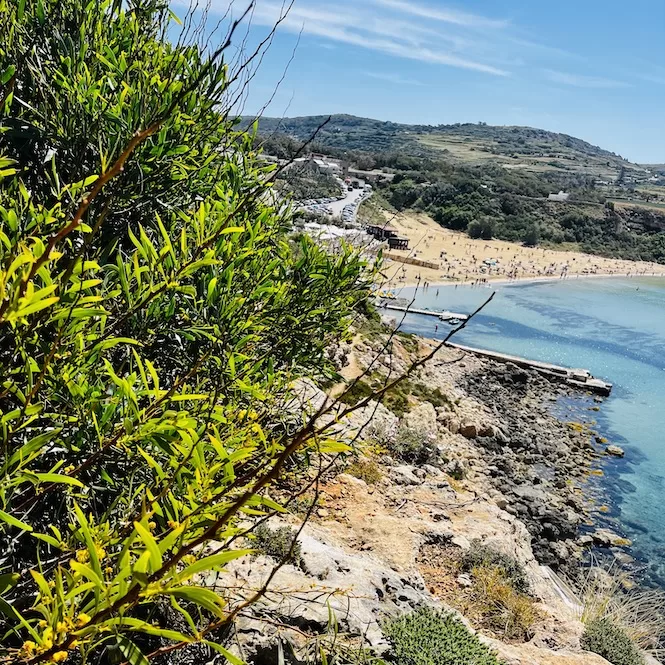 Horseback riding: Horseback riding tours are available for visitors of all levels. Experience Malta's countryside while riding scenic trails.
Popeye Village: Popeye Village, just a short drive from Golden Bay Beach, was originally built as the set for the 1980 Popeye movie. Now it's a fun-filled theme park with shows and activities for the whole family.
Ghajn Tuffieħa Bay: Just a short walk from Golden Bay Beach is the equally stunning Għajn Tuffieħa Bay, another picturesque beach offering soft sands and crystal-clear waters. This beach is slightly quieter and more secluded, making it suitable for a tranquil beach experience.
Tips for an Unforgettable Golden Bay Beach Experience
During the summer, Golden Bay gets crowded. So, avoid Sundays if possible and arrive early.
Don't forget your sunscreen, hat, and cover-up. Stay hydrated by drinking plenty of water and reapplying sunscreen frequently. Take a break from the sun in the shade, or use an umbrella.
When swimming at the beach, you should be aware of the currents, which can be strong at times. Additionally, consult my jellyfish guide to ensure a jellyfish-free beach experience and familiarise yourself with what to do in case of a jellyfish sting.
Golden Bay Beach offers you natural beauty, fun activities and a vibrant atmosphere. If you're interested in exploring other beaches, click here. There are many beaches in Malta, including quiet as well as busy and vibrant beaches. The choice is yours.