Imgiebah Beach, also known as Selmun Beach, is a beautiful secluded pebble beach on Malta's northeastern coast. If you're into exploring natural places, this beach is for you. This blog post will give you Imgiebah Beach's highlights, how to get there, nearby attractions, and essential tips for an enjoyable beach day.
My Top Reasons to Visit Imgiebah Beach
Here's why Imgiebah Beach should be at the top of your bucket list:
Scenic beauty: Prepare for some untouched natural beauty. Unspoiled landscapes with rocky areas, cliffs, and scenic views will let you connect with nature and appreciate Malta's raw charm.
Secluded and quiet: At Selmun Beach, you won't find the maddening crowds of popular tourist spots. Here you can relax, soak up the sun, and forget about the chaos of the outside world. You'll love it.
Hiking haven: Besides offering a scenic coastal escape, Imgiebah Beach offers hiking trails that wind through one of Malta's most breathtaking landscapes. Connect with the raw beauty of Malta's countryside on the rugged trails that wind through the surrounding cliffs.
Chill in the shade: On a scorching summer day, Imgiebah Beach can provide relief from the heat. The left side of the beach is rocky, and the limestone rock formations provide natural shade in the afternoon.
Dog-friendly: Calling all dog lovers! Imgiebah Beach welcomes our furry friends with open arms. Get ready for some sun and fun with your loyal companion. It's Woof-tastic!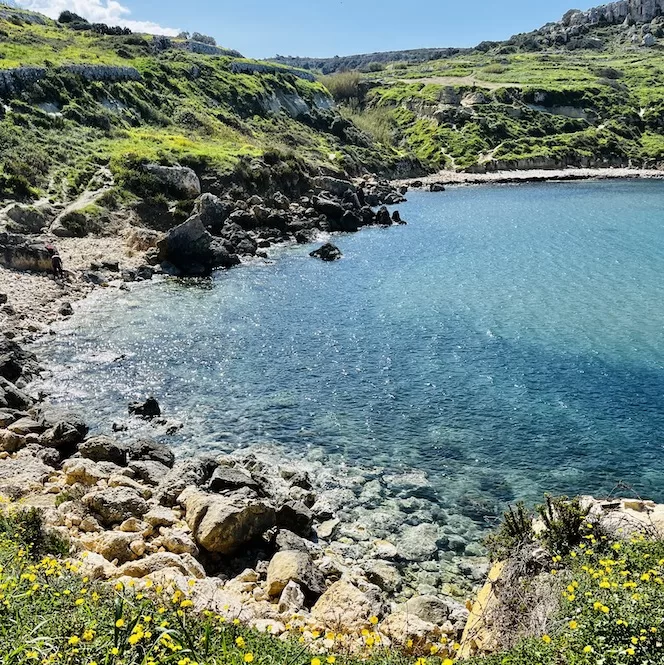 What Might Make You Not Like Imgiebah Beach?
Imgiebah Beach might not be your cup of tea if you're looking for a beach experience with a fancy bar and refreshing cocktails. There are no facilities or bars at this delightful haven. On the other hand, Selmun Beach offers more adventure and off-the-beaten-path experiences. If you plan to visit, keep in mind that it's not the easiest beach to access.
There are pebbles on the beach, which may not provide the most comfortable laying down surface. But hey, sometimes some discomfort is worth it when you're surrounded by stunning natural beauty. So, if you're up for an unconventional beach day, Selmun Beach is waiting to be discovered.
How to Get to Imgiebah Beach
Alright, let's talk logistics. Here's how to reach Imgiebah Beach:
By car: You can reach Imgiebah Beach by car if you prefer the freedom of your own wheels. But brace yourself for an adventure! Roads leading to the beach are narrow, steep, and rough. Two cars cannot pass each other, so you may have to reverse if oncoming traffic approaches. One time I tried driving there and didn't like it. But hey, nothing worthwhile comes easy, does it? Near the beach, there is an unpaved parking area.
By foot: Embrace adventure by walking to Selmun Beach. There are two ways to get there: walking down the village road from Mellieha or hiking from Selmun Palace. The hike takes longer, but it's worth it. You'll pass through the countryside and along clay cliffs. Check out this guide to learn more. Enjoy the journey, soak up the sights, and feel the anticipation building as you near this hidden gem.
By kayak or paddleboard: If you're in Ghadira Bay, you're in luck! Imgiebah Beach is just a kayak or paddleboard trip away. You can rent the necessary equipment at Ghadira Bay. The rowing trip from Ghadira Bay to Selmun Beach takes approximately 30 minutes. As you glide across the sparkling waters, you will feel the cool spray on your face and soak up the sun's rays.
It might be fun to walk or kayak, but it's not always convenient. The best way to explore Malta is to rent a car. This is especially if you want to see places like Selmun Beach that aren't on the beaten path. Get an affordable car rental from Discover Cars. The airport has more choices and cheaper prices so I recommend renting a car there.
Getting There:
---
Location: link to Google Maps
Nearest bus stop: Barkazza is 15 minutes away from Selmun Palace if you want to take a hike, Melieha if you prefer walking on the village road
Walking distance from the bus stop: 30-50 minutes
Bus frequency: every half an hour
Parking available: free car park near the beach
---
Imgiebah Beach Nearby Attractions
Here are some nearby attractions near Imgiebah Beach:
Explore Selmun Palace: It was built by the Knights of St John in 1783. Even though it's no longer accessible to the public, you can still admire its magnificent baroque design. Imagine the grandeur of this former hunting lodge as you soak in its rich history.
Hike along the limestone coast to St Paul's Island: You can walk along the coast from Imgiebah Beach to Ghajn Hadid Bay, then hike up to the clay cliffs. Look over the rocky shorelines and see St. Paul's island. Legend says Paul was shipwrecked here on his way to Rome. St. Paul's statue remains, a powerful symbol of faith and history.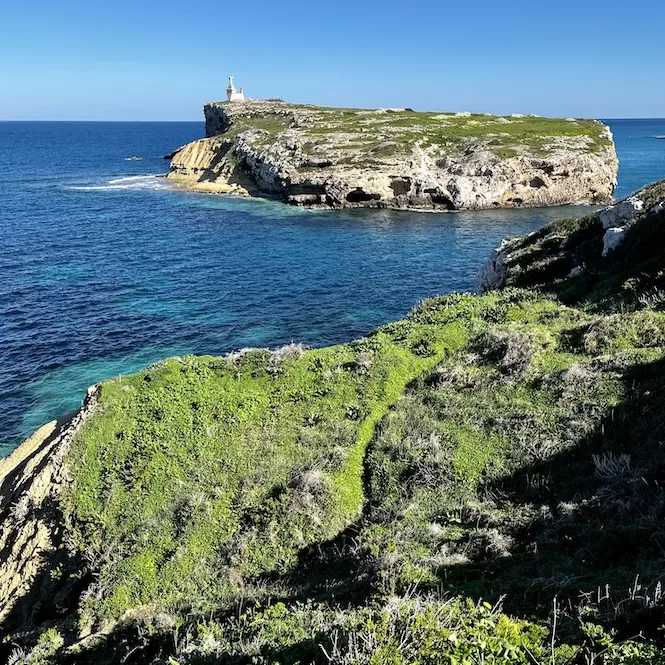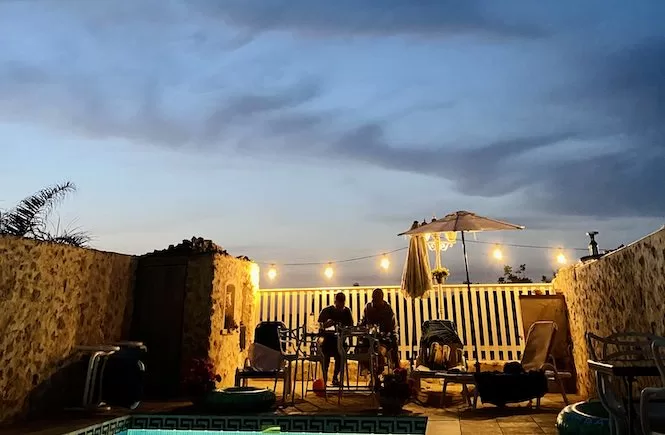 Tips for an Unforgettable Experience
Let me share a few tips to ensure you have an enjoyable time at Imgiebah Beach:
Best time to visit: If you're looking for a laid-back atmosphere, visit in autumn. The crowds thin out, the weather remains pleasant, and you'll have more space to explore.
Arrive early: Get there in the morning to claim your slice of paradise before it gets crowded. With limited space, you'll have the prime spot to soak up the sun and enjoy the refreshing water.
Pack your bag: The beach doesn't have amenities, so bring your own water, snacks, and any other beach essentials. This way, you can kick back, relax, and enjoy your day without worrying about anything.
Safety first: Be careful on Selmun Beach because it's wild and untamed. Remember to watch out for falling rocks, navigate slippery paths with caution, and don't underestimate the power of the sea. Also, beware of jellyfish. Refer to my jellyfish guide or other online resources to ensure a worry-free swim.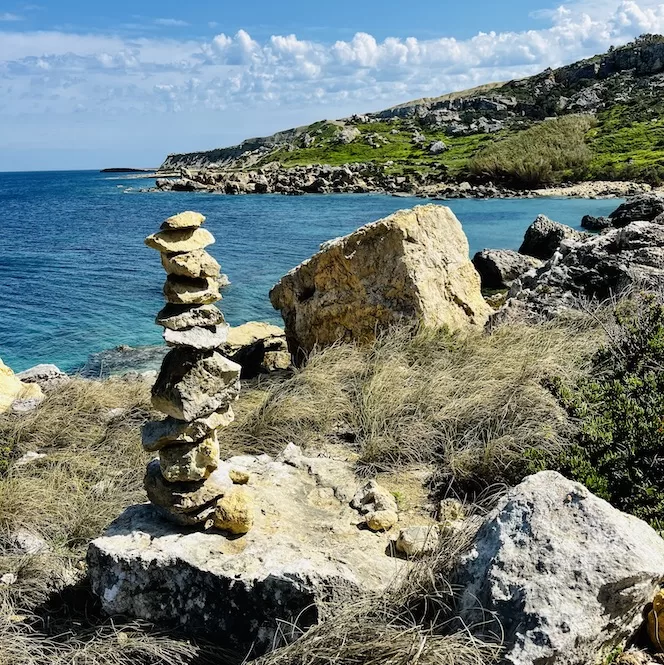 This hidden gem of Malta will steal your heart. With its gorgeous views and serene atmosphere, Imgiebah Beach is a must-go for nature lovers. So, pack your bags, grab your furry friend, and have a great beach day.
Check out my blog post on hidden gems in Malta and a guide to other beaches.