Trying to avoid the crowds in Malta's touristy places? Getting out in the fresh air with a hike through eastern Malta's majestic landscapes is a beautiful way to do that. This walk is one of the best hikes in Malta. This route takes you around three of the most iconic places in Malta – Selmun Palace, Imgiebah Beach and St Paul's Island. Embrace the adventure on one of the best hikes in Malta and explore some great sites!
---
Distance: 7.88 km
Walking Time: 2 h 12 mins
Level: Intermediate
Uphill: 150 m
Downhill: 150 m
Highest Point: 100 m
Best time to go: anytime, but avoid mid-day heat between June and September.
---
A Map of the Hike
Selmun Palace – the Starting Point of the Hike
The hike starts at Selmun Palace. Selmun Palace is a gorgeous historic landmark in Malta, built by the Knights of St John in 1783. The renowned architect Duminku Cachia was responsible for its baroque design. According to some, it's like Verdala Palace in Buskett Gardens! When the Knights of Malta owned this land, it was known as one of the finest hunting lodges. In recent history, ceremonies like weddings used to be celebrated in this palace. Unfortunately, it's not open to the public anymore, but plans are to renovate it and open it again soon. You can look outside, but don't go inside as it could be dangerous.
Getting to Selmun Palace is pretty straightforward if you have a car. Below are the exact directions and parking info.
Getting here by bus requires taking one to Cirkewwa and getting off at the Barkazza stop in Mellieha. This is 15 minutes from Selmun Palace. Bus journeys can take longer, so leave plenty of time for that.
You can get around Malta and Gozo by public transportation, but it takes a lot of time. I suggest renting a car. Check out Discover Cars for cheap rental cars.
Getting There:
---
Location: link to Google Maps
Nearest bus stop: Barkazza is 15 mins away
Walking distance from the bus stop: 30-50 mins
Bus frequency: every half an hour
Parking available: there is ample space on the road near Selmun Palace
---
Għajn Ħadid Beach
Afterwards, hike downhill on a quiet road lined with lush green terraced fields. A 2km walk will lead you to a view of the sea and clay cliffs.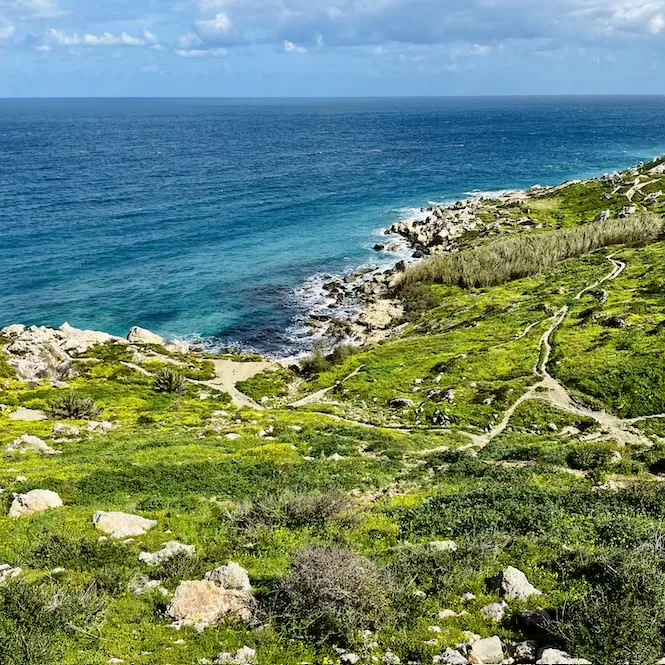 The road ends there, so you'll have to take a steep path to go down. Be careful; the rocks might be unstable. 
The clay cliffs are on your left.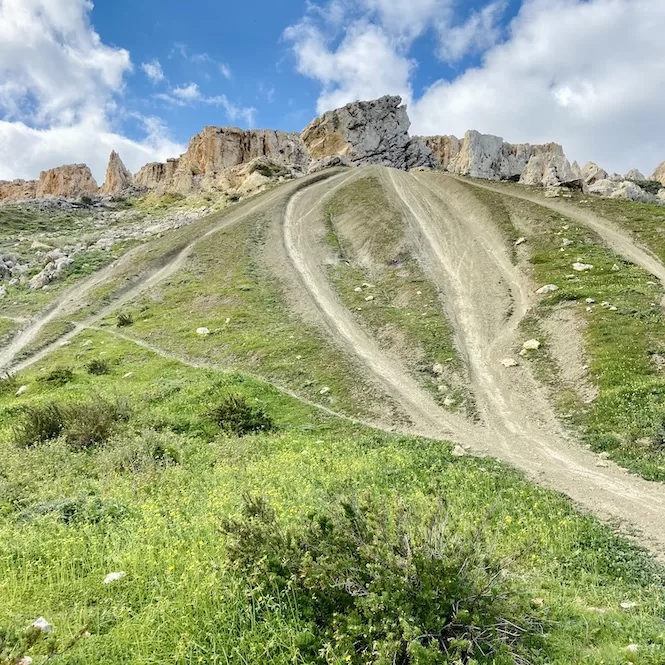 Nature does amazing things with clay cliffs. Whenever the sun shines, it reflects off the surface like a glossy glacier.
Keep walking down the path until you reach a small bay called Ghajn Hadid.
Ghajn Hadid is a cute and secluded beach. Its name originates from the ruins of Għajn Ħadid Tower, located right above the shore. Even though it's small, it offers plenty of privacy. Also great for picnics in the cooler months.
Imgiebah Beach
Then you can go left to Imgiebah Beach (also called Selmun Beach) or right to continue the circular walk. I recommend visiting Imgiebah Beach. If you don't, your walk will be shorter by a few kilometres.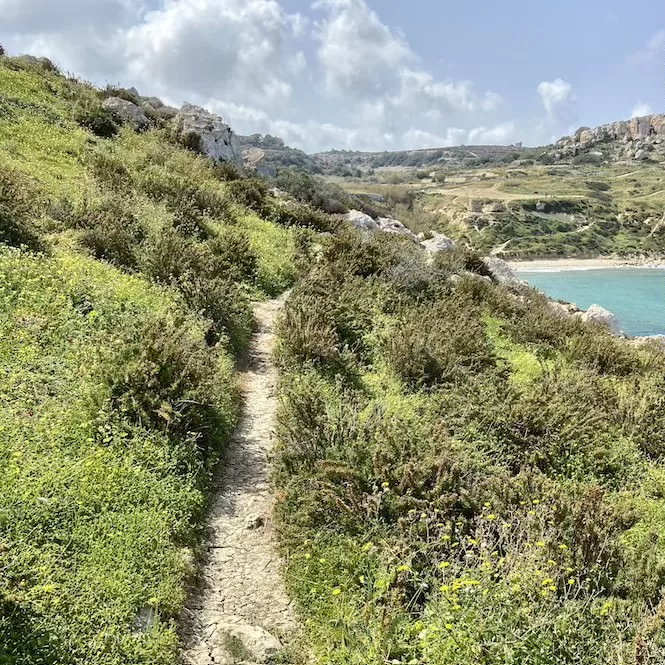 Imgiebah Beach is a beautiful pebble beach. This is indeed a paradise in summer but also a great hiking spot in winter. On the way, you'll enjoy stunning shorelines, cliffs and greenfields. Take a break at the beach and get something to eat. This beach is one of the few dog-friendly beaches. It's the happiest place to let your dog play with you! So if you like a challenge, don't skip the walk to Imgiebah Beach.
Follow the same route back to the Ghajn Hadid Bay after visiting the Imgiebah beach. After, you'll hike uphill to the clay cliffs. Take it slow, especially if the cliffs are slippery. Keep an eye out for motorbikes. This area is popular with off-road bikers.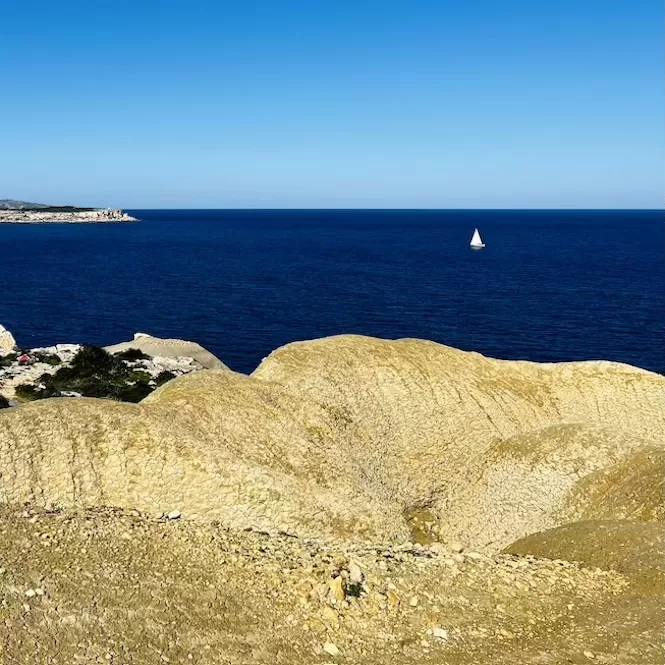 Limestone Coast
At the top, the path winds down. Turn left at the end to see the limestone coast. There is so much beauty in rocky shorelines. Waves create arches and sea stacks. Look under your feet for shells and sea urchin fossils on this hike.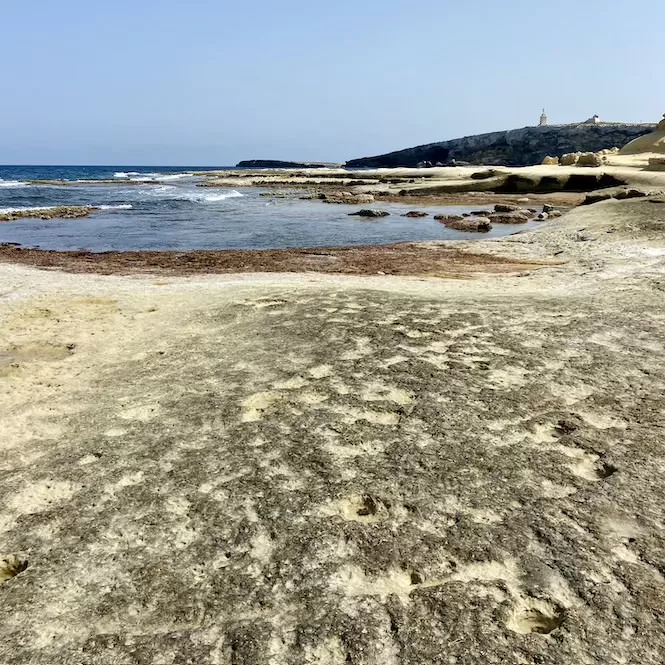 St. Paul's Island
St. Paul's Island, also known as Selmunett, is a renowned historical site in Malta. The only structure standing is the statue of St. Paul. Seen from miles away, it was built in 1845.
According to the biblical story, Paul was shipwrecked on his way to Rome in 60 AD. Paul and his crew swam to shore and were taken care of by the Maltese people until they could proceed on their way. In the meantime, Paul taught Christianity to the locals. According to the story, the shipwreck occurred in St Paul's Bay, nearby St Paul's Island.
On the Way Back to Selmun Palace
Follow the map and walk uphill along the coast after enjoying the view of St Paul's Island. Approximately ten minutes later, you'll reach Ras il-Miġnuna, another fantastic viewpoint. It's 5 meters above the sea and overlooks a crystal clear bay accessible by boat. St Paul's Bay is visible in the distance.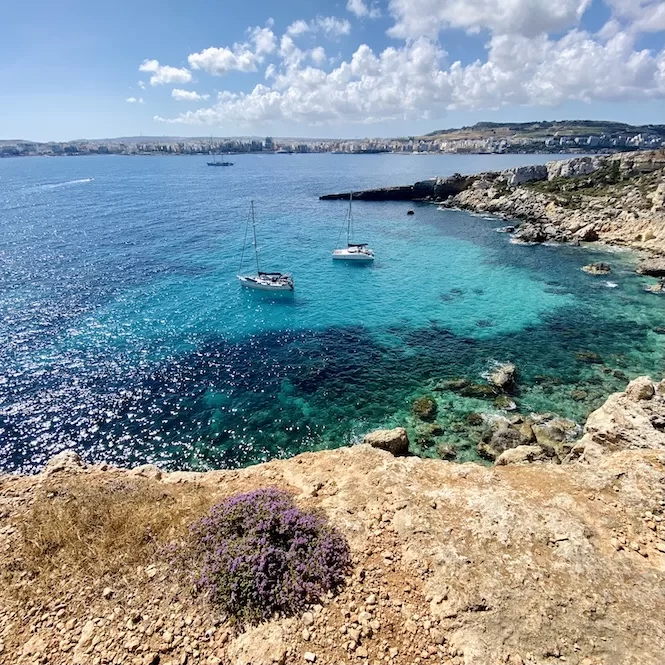 Follow the path to the right to walk inland. You'll have to walk uphill for about 10-15 minutes, then stop to enjoy the view of the lush green valley. At the bottom of a steep valley lies Mistra Bay. The beach isn't big, but it's shallow and has clear water, making it ideal for snorkelling.
Fort Campbell, a bleak reminder of the past, lies to your left. It used to be a powerful and respected military base. In 1937 and 1938, the British built Fort Campbell to protect Mellieħa Bay and St. Paul's Bay, as well as British seaplanes landing in Mistra Bay. Barracks and radars were built at the fort during World War II. It's not clear when it was decommissioned. After World War II, the military abandoned the fort, but a watchman stayed on the fort until the 1970s. Since then, Fort Campbell has fallen into disrepair and neglect.
Walk straight along the road surrounded by pine trees. Stay alert for cars since the road is also used for driving. After about 10 minutes, you'll be back at Selmun Palace.
This is my favourite hike in Malta, so don't miss it. The hike offers spectacular views and allows you to immerse yourself in history. During the winter, the walk is especially beautiful because of the greenery and blossoms surrounding it. During the summer, it is less green, but you can enjoy swimming in one of the secluded bays.
There are also other trekking guides on this site. Check them out!