A hike from Mgarr Harbour to Hondoq Bay is the best way to get in touch with nature. It's short, flat, and easy. You'll wander through valleys and pass limestone cliffs. This trail is more than a walk; it's a peace found under Gozo's sky.
Things to Know Before Your Hike
Take advantage of this list to get ready for the day!
What to bring: Lace up sturdy hiking shoes, pack water and light snacks. Bring a swimsuit; there are places to swim.

The best time: October to May. Dodge the midday sun in the summer.

Trail info: The terrain is uneven. Pushchairs are a no-go.

Effort: Easy and flat. You'll be done in less than an hour.

Heads-up: Some parts of the trail are on the water's edge. It's low but could scare some.
---
Distance: 2,97 km
Walking Time: 46 mins
Level: Beginner
Uphill: 10 m
Downhill: 10 m
Highest point: 17 m
Avoid the midday sun from June to September.
---
Hike from Mgarr Harbour to Hondoq Bay: An Interactive Map
Start at Mgarr Harbour and finish at Hondoq Bay. In between you will have some picture-worthy stops like Barbaggan Rocks and Ta' Bamberin. Red markers will help you find the way. Just watch your steps; some parts of the path get tricky.
You'll find tiny shrubs and that classic Mediterranean vibe along the shoreline. Snap photos, take it all in. You'll be done in an hour or less.
Don't worry about getting lost. The path is clear. But keep your eyes wide open near the cliffs. Get the right shoes, drink enough water, and you're good to go.
Mgarr Harbour: The Starting Point of the Hike
Mgarr Harbour isn't just a starting point for your hike; it's beautiful. Boats float in the water, and a path runs along the marina. Fancy a drink? There are cafés along the way. Perfect for that pre-hike caffeine fix.
Don't miss the big Luzzu boat. It is a restored fishing boat that explains Maltese fishing traditions.
Getting to Mgarr Harbour
To get to Mgarr Harbour in Gozo, start from Malta. Your two main options are Ċirkewwa and Valletta ferry terminals. The Ċirkewwa ferry is a 30-minute ride. Buses make it easy to get to this terminal. Heads up: It's busy on Friday afternoons and Sunday evenings.
Alternatively, take a Fast Ferry from Valletta. These are quick and meant for foot passengers.
Hike from Mgarr Harbour to Hondoq Bay: Points of Interest
Iz-Zewwieqa Bay
A 10-15 minute stroll along the marina sidewalk takes you to a small car park. From there, a path leads you to the water. Follow it. Soon, you'll find a tiny beach called Iz-Zewwieqa Bay.
You might recognise this bay from your ferry ride. But hold off on swimming. Better spots await you ahead. Unless, of course, you're returning from a hike and want to swim.
Barbaggan Rocks
Continue your walk by the water. Stick to the path and its red dots. About 15 minutes later, you'll find Barbaggan Rocks. There's a hidden bay here. A narrow trail leads to a tiny sandy beach. Prime spot for snorkelling.
Look around and you'll see limestone rocks. They are wild and beautiful. Smell that? It's wild Mediterranean Thyme, thriving on these cliffs. If you're lucky, catch it in bloom come June.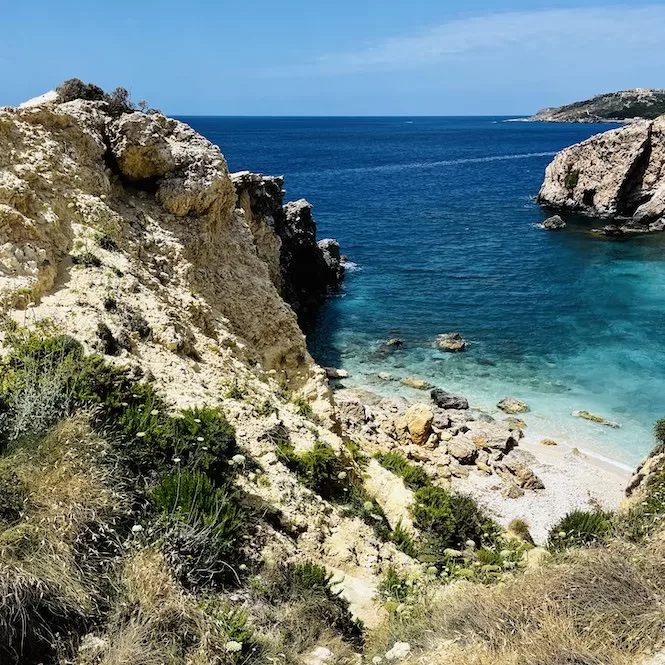 Ta' Bamberin
Keep moving along the water's edge. Soon, you'll spot Ta' Bamberin. This bay is halfway between Barbaggan Rocks and Hondoq Bay. Just 300 metres apart. Think of it as a small fjord. The water? Crystal clear. The shore is all rocks but don't worry, there's a ladder. Ideal for a nice swim.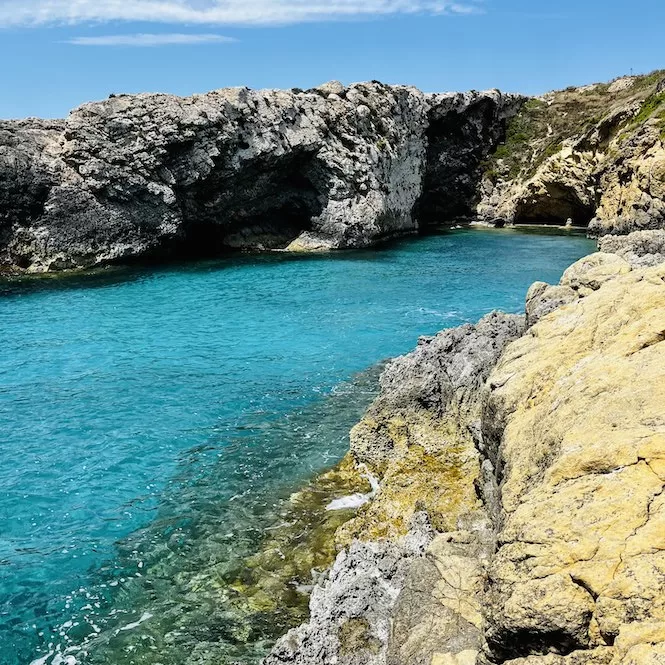 Hike from Mgarr Harbour to Hondoq Bay: End Point
You've arrived at Hondoq Bay, the last stop on your trek. Imagine the water so clear that it looks like glass. Enjoy the view of Comino, right there in front of you. This bay is where the locals come to relax.
If you're not ready to call it a day, extend your adventure! You can retrace your steps back to Mgarr Harbour or venture up to Qala for a meal. My favourite restaurant in Qala is Il-Bukket. Their calamari fritti is the most delicious in Malta, hands down. And the view? Jaw-dropping. Visiting on the weekend? Secure a table in advance.
Walk up Triq Tac Cawl, a road leading uphill to Qala. It's a 20 to 30-minute steep uphill walk.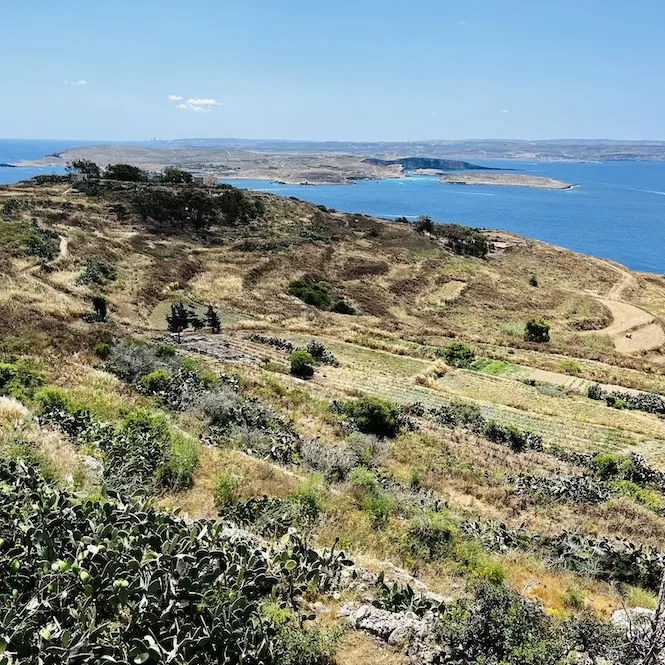 A hike from Mgarr Harbour to Hondoq Bay offers an excellent slice of Gozo's natural beauty. It's an easy and short hike that anybody can tackle, making it a must-add to your outdoor adventure list.
If you've enjoyed this guide and are hungry for more, don't miss out on my guide to the best hikes in Malta and Gozo. Or of secret Gozo beaches and hidden gems in Malta. Your next adventure is just a click away!