Malta car rental is easy when you know how it works. You're in the perfect place to get all the details! We'll cover tips to avoid common errors and unexpected charges. We'll also talk about the insurance you need for car rentals in Malta. And, don't miss the FAQ section where I answer popular questions about renting cars here.
Top Malta Car Rental Choice: Discover Cars
Wondering where to rent a car? I always choose Discover Cars. They check prices from many companies to give you the most competitive deal. They look at both big brands and small local businesses. I like using them because they often have the lowest prices, and they let you cancel for FREE up to 48 hours before your booking.
Booking Online with Discover Cars
Choose Full Coverage with Discover Cars
I always go for the Full Coverage w

ith Discover Cars. It'

s like a safety net for me.

For just 10 euros a day, they cover up to 3000 euros of damages. This includes scratches, lost keys, and more.


Did You Know?

Many rental companies will still try to convince you to get their insurance (which is 3-4 times more expensive). It's okay to decline.




If you skip the rental company's insurance, they'll hold an amount on your credit card. Return the car damage-free, and you get your full deposit back. If there's damage, they'll deduct repair costs. If it's under 3000 euros, Discover Cars has got your back.


Making a Claim with Discover Cars?

It's simple. Log in using the details from your booking confirmation and you will be refunded in 48 hours. Most users give their claim process a 9.5 out of 10 rating.
📝 NOTE: This is based on my own experiences. Every rental might be different, but I hope this helps you. If you have questions about Discover Cars, ask them directly. They have excellent customer service. Their Trustpilot rating is 4.6 stars, and they have over 120,000 reviews.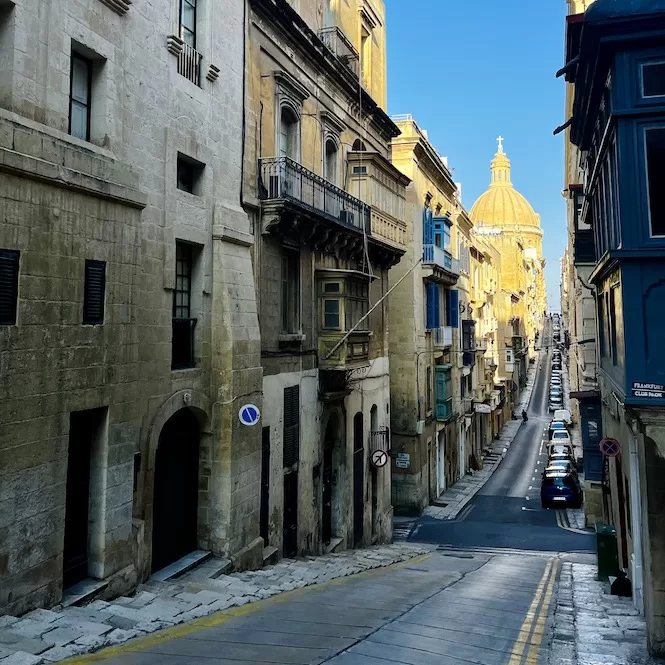 Malta Car Rental: Frequently Asked Questions
Should I rent a car in Malta?
If you plan to stay in Malta for more than just a long weekend and want to explore remote areas, do some hiking, or visit hidden gems, renting a car is a good idea. Having a car will save you a lot of time and give you the freedom to discover the island at your own pace.
Why shouldn't I rent a car in Malta?
If you are only visiting Malta for a weekend, renting a car might not be necessary. The main attractions are easily accessible by taxis or buses, especially if you're staying in central locations like Sliema, St Julians, or Valletta. These areas provide easy access to the main sites, and public transportation is convenient for short stays.
What's the best Malta car rental?
There isn't a single "best" car rental in Malta that stands out above all others. I really wish there was one clear winner because it would make my choices easier too! In Malta, you'll find all the big names like Avis, Hertz, and Budget, as well as many smaller local companies. It's super helpful to read reviews before deciding.
Personally, I like Discover Cars. One of the things I love about them is that they show reviews from recent customers.
What is the Malta car rental cost per day?
Malta car rental costs can change depending on the season. Usually, you might spend around 30-40 euros per day during the busier times and maybe half of that during the quieter seasons. Remember, if you want full coverage insurance, that's an extra charge.
If you're thinking of using Discover Cars, you might find prices that are 20-50% cheaper. But, if those deals seem too good to be true, sometimes they are. Always read the details and reviews before booking.
What driving licence is required to rent a car in Malta?
If you have a licence from an EU country or the UK, it's accepted. But if your licence has special characters from languages like Arabic or Japanese, you'll need an International Driving Permit.
Are there any Malta car rental age restrictions or other requirements?
To rent a car in Malta, you need to be at least 21 years old and have held a driving licence for a minimum of 2 years. Additionally, a young driver fee applies to drivers under 25.
Do I need a credit card for a Malta car rental?
Yes, most car rental companies in Malta require a Visa or MasterCard credit card. When you rent a car, a deposit ranging from 600 to 1200 euros will be blocked on your credit card. This deposit is returned at the end of the rental period. It's essential to check the specific terms before booking a car, as the exact deposit amount can vary based on vehicle type.
The credit card must be in the main driver's name. Companies won't take cards from someone else, even if they're family. Debit, prepaid cards, and cash are often refused. Additionally, many companies do not accept American Express or Maestro Credit Cards.
Is it better to rent a car at the airport or in Malta's central towns?
It's generally better to rent a car at the airport in Malta. Most rental companies have their vehicles stationed there. While you can rent cars in the central towns, the companies often need to deliver the cars from the airport, which makes it more expensive.
Is Malta safe to drive?
Yes, it's safe to drive in Malta. However, traffic can sometimes be chaotic, so it's essential to be patient and not rush. For a smoother driving experience, avoid travelling during rush hours. Stay alert and drive cautiously, and you'll navigate the roads just fine. Check out this post for more driving tips.
How are Malta's roads?
Malta's main roads are generally in decent condition. However, when you venture into some villages, you might find the roads narrow and bumpy. Take your time and do not rush.
Is it hard to drive on the left side in Malta?
In Malta, we drive on the left side, just like in Britain. For those not used to it, it might feel challenging at first. However, with time, you'll adjust. A helpful tip is to always follow the flow of traffic. Since you're never alone on the road, observing other drivers can guide you and make the transition smoother.
Is it difficult to find parking in Malta?
Street parking in Malta is free, but you should always park in the white boxes. In certain areas, you might come across signs that limit parking to 90 minutes or more. It's essential to pay close attention to these signs to avoid fines. In busy towns like Sliema, St. Julians, Valletta, or Gzira, finding a parking spot can be challenging. However, there are private car parks available, and they're usually reasonably priced. Typically, they won't cost you more than 10 euros for a full day.
So, renting a car in Malta is pretty easy if you know the steps. Always stick to trusted companies and get full coverage for a worry-free trip.
And hey, while you're in Malta, there's so much cool stuff to do! Whether you're diving into the ocean, enjoying water sports, hiking, or just relaxing on the beach, I've got travel guides for it all. Are you looking for authentic accommodation options? Check out my guide to budget-friendly travelling in Malta and how to find authentic places to stay in Malta and Gozo. You can find my packing guide, surprising facts about Malta and answers to the most common questions here. If you want more tips on getting around, check out my transportation guide. Have an awesome trip!