Just a quick heads up – some of the links I share on this site are affiliate links. That means if you click on one and make a purchase, I may earn a small commission at no extra cost to you. Your support through these links helps me create valuable content.
---
Malta in December isn't about snowflakes and frost; it's about mild weather and unique experiences. I'm here to guide you through the ins and outs of a December trip to Malta, ensuring you have a fantastic time. The article has everything you need to know about the weather and activities that will make your vacation great.
Is It a Good Time to Visit Malta in December?
Yes, it's a great time to visit the island, but know what you're in for. While London shivers at 8ºC and Berlin freezes at 0ºC, Malta enjoys a mild 18ºC. No winter boots are needed! But don't be fooled; the weather can be unpredictable. Expect windy days and rain. The good news? Plenty of sunshine too. It's not bikini weather, but it's far away from the European chill. With fewer tourists, the island vibe is more authentic.
Ditch the beach towel; there's a whole island to explore. While beach bars hibernate, Malta's rich history and nature don't. Museums and ancient ruins welcome you. And let's talk about food – Maltese cuisine is a hidden gem you won't want to miss. As for your wallet, it'll do a happy dance. December accommodation rates and flight fees are often lower, making it a budget-friendly choice. But that's not all. Malta makes it all out for Christmas. Streets are busy with Christmas markets and festivities are in full swing, adding magic to your trip.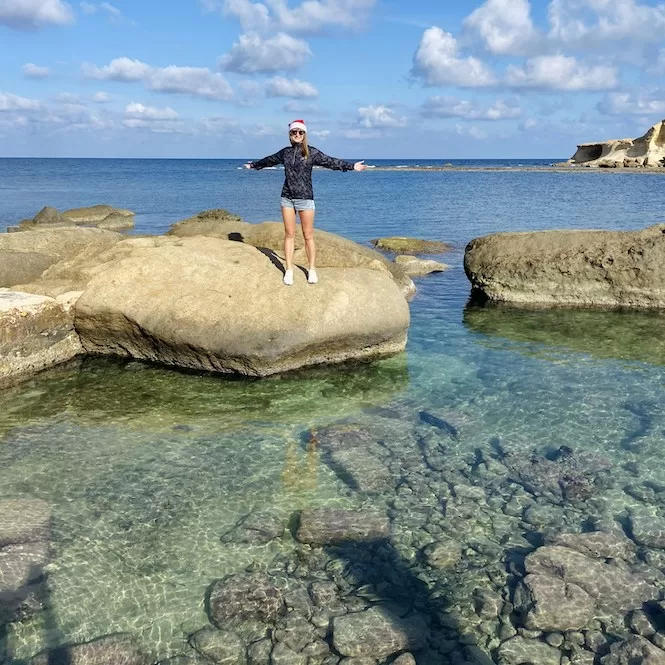 The Reality of Malta Weather in December
Don't let the calendar fool you. Malta weather in December feels like spring in other countries. The average high is around 17°C and the low hovers around 11°C. But here's the kicker: the weather can be unpredictable. You'll get sunny days, sure, but also wind and rain. Yet, there's nothing like winter gloom in Northern Europe.
Sun and coffee, anyone? It's always nice to have some winter sun, and Maltese Islands deliver. Imagine sipping your coffee in an outdoor café, soaking up the sun. You might even get a tan. And for Northern Europe's brave souls, the sea is still inviting at around 18°C.
Green is the new white. While snow blankets the North of Europe, Malta's countryside turns green. It's a great time to go hiking in Malta and Gozo. Check out the best hikes.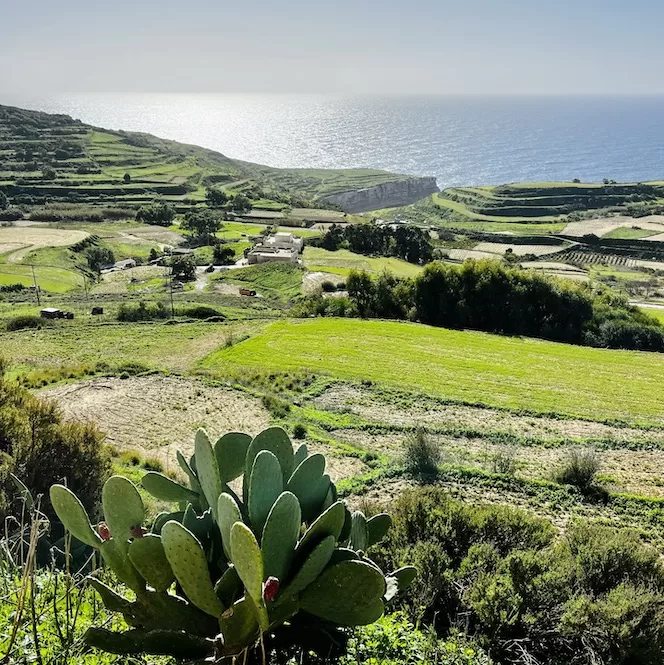 Things to Do in Malta in December
Historical Exploration: December's mild temperatures and fewer crowds make it the right time to delve into Malta's rich history. Must-see sites include the Megalithic Temples, Hal Saflieni Hypogeum, and the historical towns of Mdina and Valletta. For a comprehensive guide, check out my post about top historical places and UNESCO sites in Malta.
Wellness Getaway: Many hotels offer spa treatments, making December an ideal month for wellness retreats in Malta. Relax and rejuvenate!
Try Scuba Diving: Scuba diving isn't just for summer. Some diving centres even decorate underwater Christmas trees! For more, check out my guide to scuba diving in Malta.
Watersports: On a sunny day, you can still kayak along Malta's coastline. Just call ahead, as some rental shops might be closed. For tips, check out my guide to kayaking in Malta.
Hit the Trails: For trail suggestions, see my guide to the most scenic coastal walks in Gozo and my top hikes in Malta: Victoria Lines, Selmun, Paradise Loop, St Thomas Bay to St Peter's Pool hike in the south of Malta.
Festival Frenzy: December 13th marks Republic Day, featuring an award ceremony and a military parade. Christmas in Malta is a spectacle, with Nativity scenes, carol singing, and festive markets. 
Café Culture: The weather in Malta in December is so nice that you can enjoy your coffee outside. Imagine that!
Beach Time: On a good day, sunbathing or even a quick swim is possible.
Picnic in the Green: The countryside turns lush and green, perfect for a picnic. It's like spring in other countries!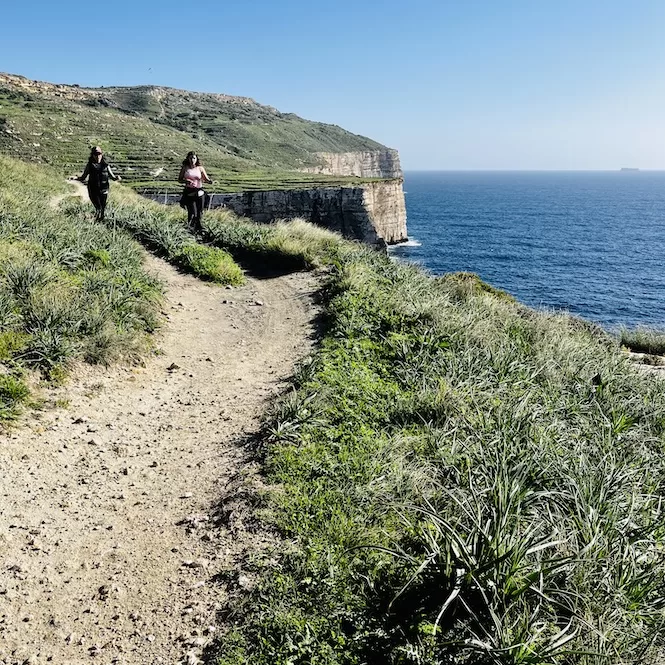 What to Pack for Your Trip to Malta in December?
Packing for Malta in December? Think about layers. The weather can swing from sunny to rainy, so be prepared. A light jacket is necessary. It keeps you warm during cooler evenings and fends off the wind.
Don't forget your swim gear. Believe it or not, some Northern Europeans find the sea warm enough for a dip. Toss on a swimsuit, just in case. And yes, pack sunscreen. The winter sun can still tan you while sipping coffee outdoors.
Footwear matters. A pair of comfortable walking shoes will serve you well, whether you're exploring historical sites or hiking through the countryside.
Ready to pack? Keep it simple and versatile. You've got it.
Staying Warm in Malta in December
Central heating here is as rare as snow. Most locals rely on electric heaters, portable gas heaters, or air conditioners to warm their spaces. Before booking your stay, ask if your accommodation has heating. If not, you might want to consider a place that does. 
But don't let the lack of central heating deter you. Extra layers are your best friend. Pack some warm clothes and socks. It's all about adapting and staying comfy. So layer up and enjoy your Malta adventure, chill-free.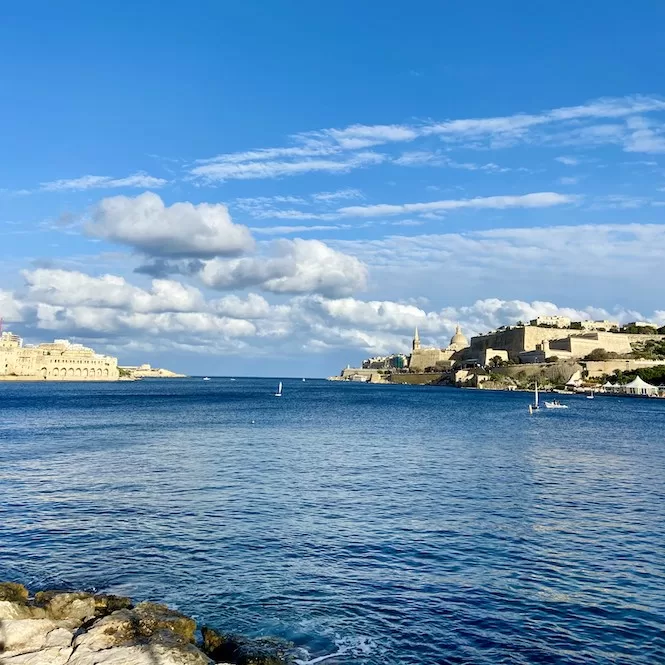 Malta in December? Definitely worth. At this time of the year, you will avoid the crowds and get great deals. Sure, you swap bikinis for light jackets, but the island's charm doesn't stop in winter. From scuba diving to history, it's all here. 
Craving more? Explore my other guides. Get the ins and outs of Malta travel info that includes frequently asked questions by tourists, learn how to get around and explore Malta's hidden gems. See you on the island!
Malta in December FAQ
How much will the trip cost?
December offers lower hotel rates and cheaper flights. Want a hot tip? Booking.com offers free cancellation options. Rates often drop weeks before your trip. Spot a better deal? Rebook! Get the hottest deals here.
Is Malta safe for tourists?
Malta is safe. Just keep your head up.
Do most people in Malta speak English?
Yep, English is official here. No sweat on the chat front. Check out my guide on the Maltese language.
Should I pack beachwear for my trip in December?
If you come from Northern Europe, you might be tempted to take a dip. So, pack your swimsuit.
Are museums and tourist attractions open in December?
Yep, but double-check their websites for the latest info.
Do I need to rent a car?
Do you plan a long stay and want to explore Malta's hidden gems? Rent a car. Short trip? Stick to taxis or buses. For rentals, customer reviews are gold. I like Discover Cars – good prices and free cancellations.