Get ready to splash at Ghar Lapsi, a charming natural pool in Malta. It's more than just a swimming hole—it's a beloved local treasure you need to check out. The place offers breathtaking coastal views, along with incredibly clear water home to vibrant marine life.
My Top Reasons for Visiting Ghar Lapsi
Learn my top reasons for visiting Ghar Lapsi and why this idyllic cove should be on your travel list.
Coastal charm: Stunning coastal views await you at Ghar Lapsi. Imagine standing on the edge of a cove, surrounded by rugged cliffs, gazing out at a blue shimmering sea. Filfla, an uninhabited island, can be seen in the distance.
Crystal clear waters: Because Ghar Lapsi is nestled away from crowded towns and has little boat traffic, the water here is undisturbed and pure. It is so clear that you can see straight through it as if looking through a glass. I love sitting down with my feet in the water and watching small fish swim around.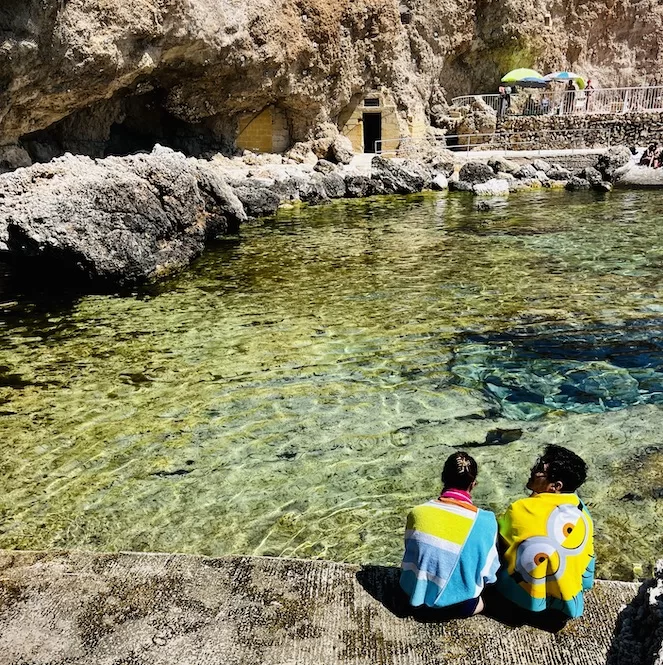 Underwater wonderland: Ghar Lapsi is known for great underwater visibility which makes it easy to explore caves and underwater life. Divers have access to a 40-meter-long cave system with numerous cracks and holes, and various reefs with gorgeous walls and caves. Snorkelers can marvel at rock formations and swim alongside dazzling fish.
Safe for kids: Families with children love Ghar Lapsi because it has shallow waters. Parents can relax and take in the surroundings while their little ones splash and play in the gentle embrace of the sea. Additionally, there is a newly renovated playground nearby, which adds to children's enjoyment and entertainment.
Explorers' delight: There are fishing boats, a cave, and rocks to climb at Ghar Lapsi. Hikers will enjoy exploring the rugged coastline and stunning natural landscapes. You can hike to the Hagar Qim temple from Ghar Lapsi. If you are interested, please check out my guide. You will see small coves, orange rocks, and turquoise waters.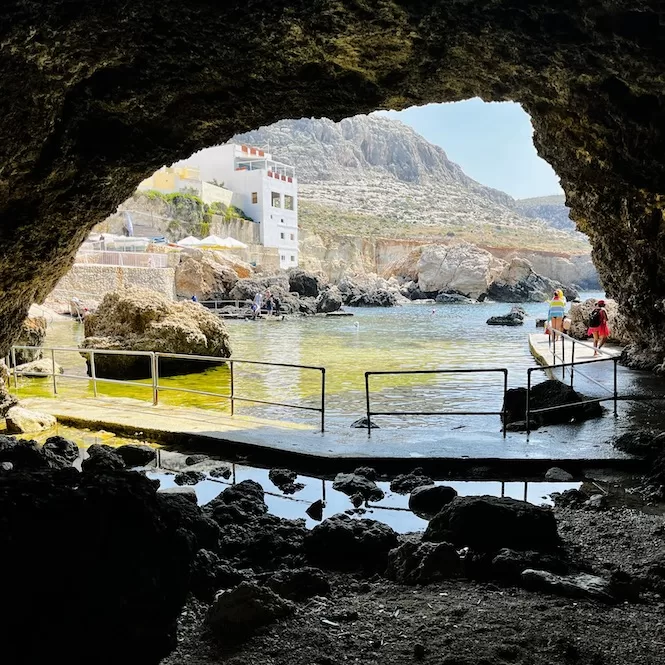 Why Ghar Lapsi Might Not Be for You
Ghar Lapsi is a true gem, but let's be honest, it might not be for everyone. If you're a fan of sandy beaches where you can pitch a beach umbrella, Ghar Lapsi might disappoint you. Small and rocky, this place offers a different coastal experience.
In some areas of the cove, it can be quite slippery, and the slideway leading down can be quite steep. It might be challenging to navigate if you have mobility issues or are pushing a stroller. It's also worth mentioning that, if you depend on rented umbrellas and sunbeds for ultimate relaxation, Ghar Lapsi does not provide those amenities.
However, don't let these factors discourage you completely! Ghar Lapsi offers charm and rewards for those who want to swap sandy beaches for rocky coves bursting with natural beauty.
How to Get There?
If you prefer travelling by public transport, you need to first get to the airport and hop on the bus that travels via the Blue Grotto. You will certainly be impressed by the scenery on this route. However, there is no bus stop next to Ghar Lapsi. You'll need to walk for approximately 25 minutes or 1.80 kilometres to reach it.
Getting to Ghar Lapsi by car is easy. There is a large parking area nearby where your vehicle can be left safely.
If you're planning a vacation in Malta, renting a car is the best way to explore it because you can take your time and discover hidden gems such as Ghar Lapsi. I recommend renting from the airport. Discover Cars has a lot of options for a good price.
Getting There:
---
Location: link to Google Maps
Nearest bus stop: Bajjada
Walking distance from the bus stop: 25 minutes or 1.80 kilometres away
Frequency of the buses: every 60 minutes or less
Parking available: car park near the beach
---
Ghar Lapsi Beach Nearby Attractions
Discover nearby attractions if you want to venture beyond Ghar Lapsi.
Blue Grotto: Take advantage of boat trips to see the blue waters and sea caves of the Blue Grotto, located just a few kilometres away from Ghar Lapsi.
Hagar Qim and Mnajdra Temples: You can explore Malta's rich history by visiting the Hagar Qim and Mnajdra temples. The two are UNESCO sites and date back to 3600-3200 BC.
Hiking Opportunities: Ghar Lapsi is your gateway to rugged and wild coastal landscapes. You will enjoy panoramic views of the sparkling sea and the untouched beauty of the Maltese coast. Look out for more secluded coves suitable for swimming.
Things to Prepare for a Great Experience
Ghar Lapsi is best enjoyed in the early morning or late afternoon when the sun casts a magical glow over the cove. The cove also has a beautiful sunset to enjoy. Avoid peak hours because it may get noisy and crowded.
Get your snorkelling gear ready! You don't want to miss snorkelling in Ghar Lapsi. There is lots to see under the water.
Safety first! It's imperative to exercise caution at Ghar Lapsi. Some areas can be slippery, so wear appropriate footwear and be careful. You should also be cautious in the water because of no lifeguards.
Malta beaches are occasionally affected by jellyfish influxes, which can make swimming difficult. Check local reports for jellyfish-free beaches.
Don't forget to protect your skin from the sun when at Ghar Lapsi. The Mediterranean sun can be intense, so make sure your sunscreen has a high SPF rating to shield your skin from harmful UV rays. Be sure to wear a wide-brimmed hat to prevent sunburn on your face and neck.
Ghar Lapsi's restaurants tend to fill up quickly on weekends, so it's advisable to book a table in advance if you want a delicious meal while you're there.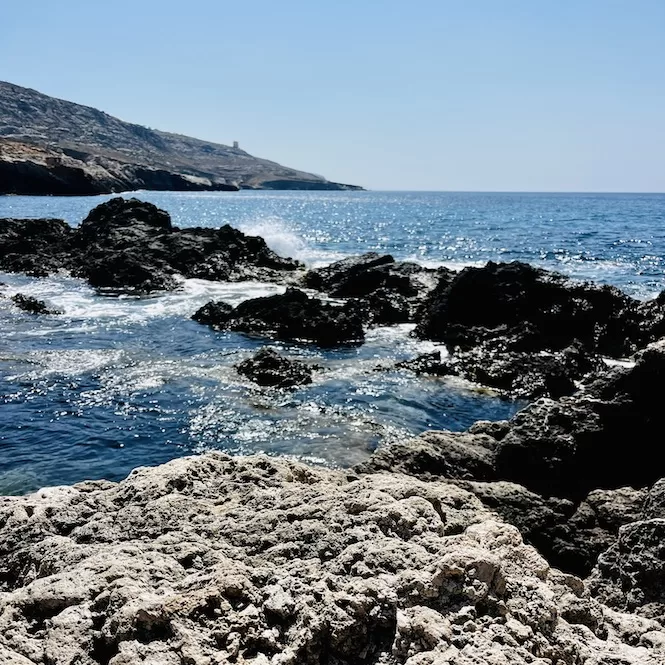 I hope this article has helped showcase the wonders of Ghar Lapsi and encouraged you to visit it. But hey, the adventure doesn't stop there! If you're eager to explore more of Malta's incredible destinations, check out Travel2Malta's guides to other stunning beaches, also to Coral Lagoon, another natural pool. In addition, check out a map of the island's hidden gems, best sunset spots and trekking guides.