Malta's St Thomas Bay stretches south of the island, with sandy and rocky shores. The beach may be less beautiful than those in the north or on Gozo, but it has a great vibe. It's located away from tourist hotspots and is mainly visited by locals looking to relax, swim and sunbathe on the beach. You can also enjoy snorkelling and exploring marine life. This is a great place to avoid over-saturated tourist areas.
Beaches in St Thomas Bay
St Thomas Bay has two small sandy beaches. This one is 7 meters wide, but you can swim from the rocks on its left. Ladders provide easy access. There's another sandy beach in front of Zion Bar. It's slightly bigger but still tiny. Both are shallow and safe for kids. Many boats are in the bay, so stay in the swimmers' area.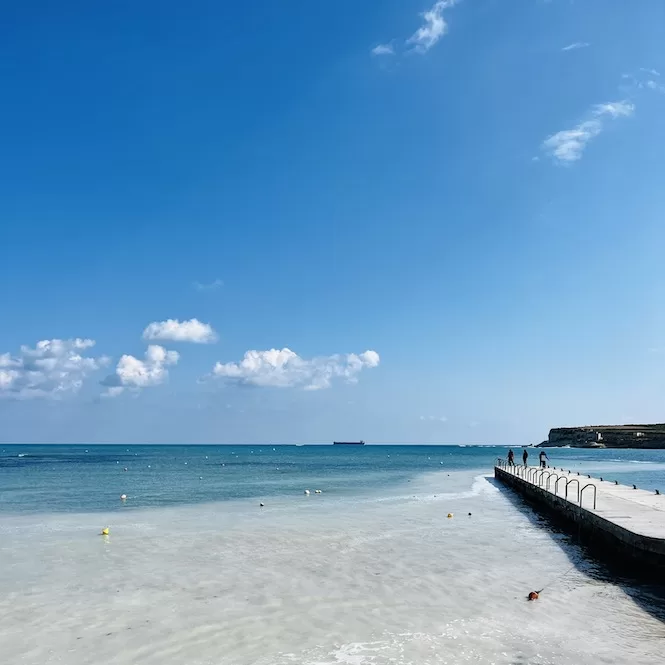 You can also walk to Munxar Point, a hidden gem with a limestone arch you can swim through and a rocky beach to sunbathe. There are ladders for getting into the water, but it's deep. So, it's not for kids or people who cannot swim.
My Top Reasons to Visit St Thomas Bay
St Thomas Bay offers plenty of compelling reasons to visit. Here are a few of the highlights:
This place is excellent for families because the water is shallow. Also, parking is nearby, so if you have to carry lots of beach stuff for your kids, the place is convenient.

St Thomas Bay is an ideal starting point for paddle boarding or kayaking. I love paddling to Munxar Window, a limestone arch. You can even swim through it if the waters are calm. You will find white limestone cliffs behind the arch. Their colour is lighter than other limestone cliffs in Malta, creating a striking contrast against the turquoise waters. If interested, book a paddle boarding or kayaking adventure.  Craving a rush of adrenaline? Click here to book a jet ski adventure and see Malta's Southeast from a whole new perspective!

If you stay in Malta's Southeast, St Thomas Bay is the closest. So, it may be the most accessible place to visit for a quick swim or relaxing afternoon.

The reggae bar Zion with an outdoor garden is a great place to enjoy the summer evening after swimming. There are usually parties and concerts at Zion.

St Thomas Bay offers plenty of walking opportunities. You can stroll along the 5-kilometre-long promenade in Marsaskala or hike to the Munxar cliffs for stunning nature views.
How to Get There?
The Bay of St Thomas is in southeastern Malta, close to Marsaskala town. You can reach it by bus or by driving to Marsaskala. Free parking along the road is a few minutes walk from the beach. Arrive early in the morning to avoid crowds.
---
Location: link to Google Maps
Nearest bus stop: Bajja
Walking distance from the bus stop: 0.5 kilometres
Frequency of the buses: every 30 minutes
Parking available: Parking is available along the road.
---
Things to Do at St Thomas Bay
Swim in the clear blue waters, sunbathe on the beach and explore the rock formations. Remember your snorkelling gear; the bay is teeming with marine life! On the seafloor, you can view sea bream, sea bass, octopus, and other fish alongside aquatic vegetation resembling an underwater meadow.
Hike to Munxar Point to view the white cliffs, and take many pictures. Unfortunately, there's no way to go down the cliffs, but you have a great view from the top. You can hike from there to St. Peter's Pool. Check my trekking guide.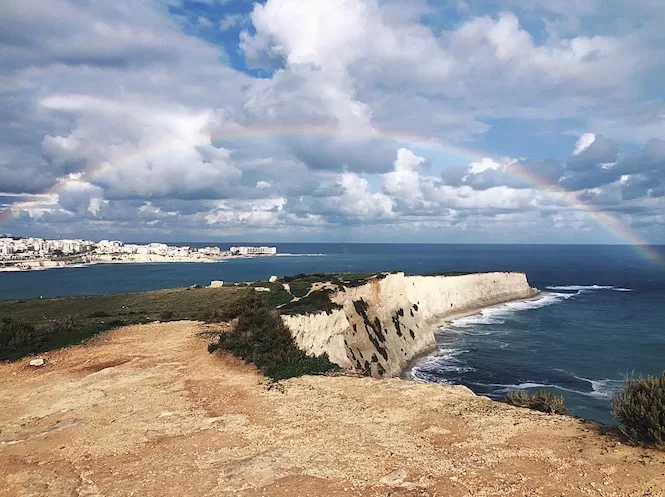 You explore the white Munxar cliffs by kayak. It's a great way to see caves, swim, and experience nature's beauty in Malta's South. Click here to book a kayaking adventure.
There are a few restaurants and food trucks in the bay. You can grab lunch and eat next to the sea. Also, visit the local reggae bar, Zion, for drinks, music and dance. 
Tips for a Perfect Experience
To avoid crowds, arrive early in the morning or late in the afternoon.
Remember to bring sunscreen and a hat because the sun is very intense.
Step carefully on the rocks because they might be slippery.
Don't disturb marine life or vegetation if you snorkel.
There is a pier where boats get in and out of the water. Use the swim buoy to be visible if you want to snorkel out of the swimmers' zone.
St Thomas Bay is an excellent place to spend a day away from the tourist crowds. Swim in the crystal clear sea, sunbathe, explore the limestone arch, enjoy the reggae bar and take a hike to see the stunning views. It's a great way to spend a summer day. If you liked this post, check out my guides to other beaches and hidden places in Malta.