Marsaskala is in Malta's southeast corner. It's a sunny seaside town, untouched and full of charm. Some folks might miss it when visiting Malta. But if you love peace and quiet, Marsaskala is a hidden treasure. You'll love walks by the sea, refreshing swims, and tasty food. Let's see why Marsaskala could be right for your Maltese vacation. I'll reveal some secrets and share tips to make your visit special.
Is Marsaskala a Good Place to Stay During Your Holidays?
If you're looking for a calm vacation away from a busy life, you will love Marsaskala. This is a relaxed place and has a small-town feel.
In the evenings, locals love to hang out on the promenade. You'll see families, couples, and friends enjoying the cooler night air, eating pizza, and drinking sodas. And they're sitting on benches, watching the sea.
The sea is close to the town, making Marsaskala an ideal spot. You'll have many chances to take lovely walks and swims. It's a quiet place to relax, away from the crowded tourist areas.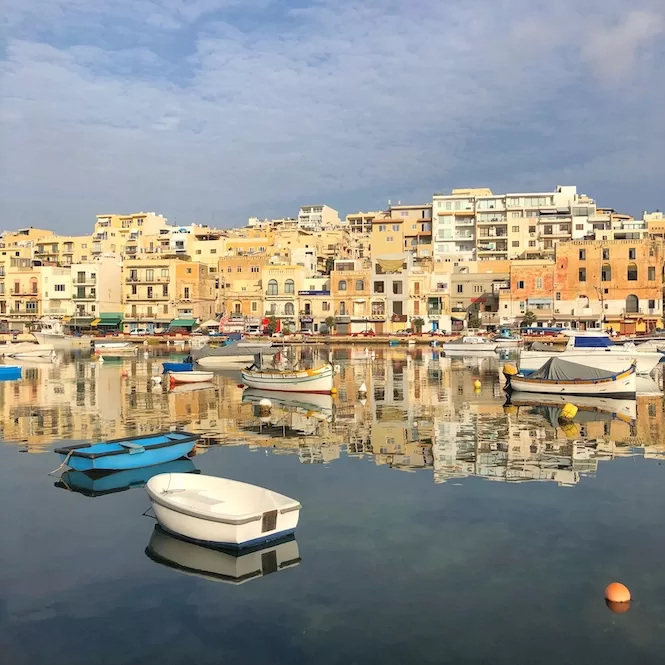 But Marsaskala might not be for everyone. The town is the southeast of Malta, away from tourist spots. If you're relying on public transport, it might be difficult to get around the island. So, it's a wise idea to rent a car to visit other attractions. For the best price and choice, use Discover Cars. You can pick up a car at the airport and use it throughout your stay. Check out my guide to renting a car in Malta.
Marsaskala has simple and charming places to stay. There are several hotels and apartments for rent options (see your options here). But if you're looking for a 5-star resort, Marsaskala might not be the place for you.
If you're after lively nightlife, Marsaskala might not suit you. The town is about quiet nights by the sea, not wild parties.
But in short, Marsaskala is a lovely choice if you want a quiet, real Maltese experience. The town is peaceful, near the sea, and has a charming community. It's perfect for those who want calm instead of busy tourist spots.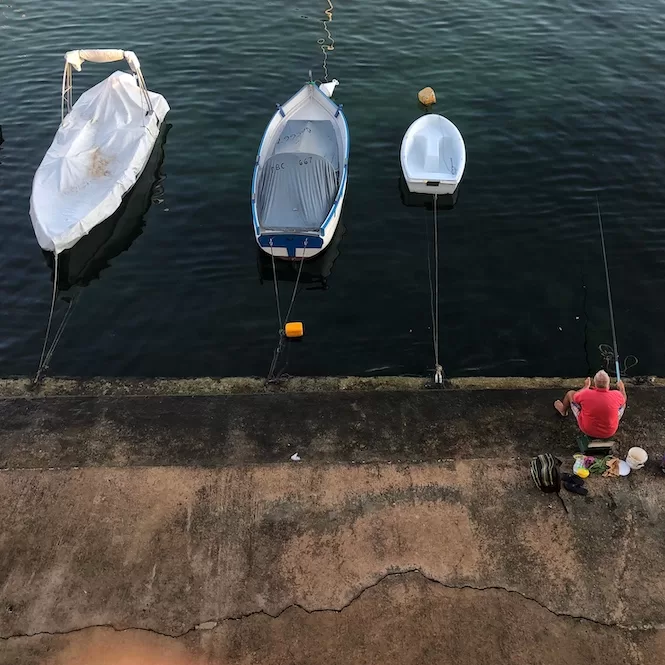 Is There a Beach in Marsaskala?
Marsaskala's coast is mostly rocky and you can swim anywhere. It's a different kind of beach that some people love. But the rocks are pretty, and there are ladders to help you get into the sea. If you love snorkelling, remember your gear. The waters are clear and full of local marine life.
If you prefer sandy beaches, there's good news. St Thomas Bay is nearby, with two small sandy beaches. It's not crowded with tourists and locals love to go there. They love to relax, swim, and enjoy the sun. Snorkelling is also popular there, with fascinating marine life to see.
The two sandy areas in St Thomas Bay are small. This one is about 7 meters wide. There are also rocks nearby where you can swim. The other sandy area is more spacious and in front of Zion Bar. Both beaches are shallow and safe for kids. Make sure you stay in the swimmers' area and watch out for the boats in the bay.
Fun Things to Do in Marsaskala
Take a walk on the promenade: Marsaskala's waterfront is amazing for slow strolls. The path is full of palm trees and places to sit. It's a spot to chill and soak in the local vibes.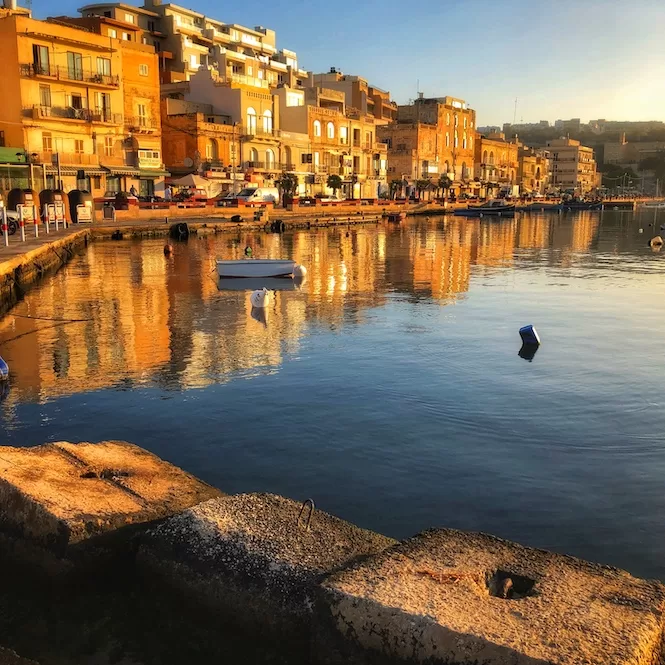 Jump into the sea: Marsaskala's rocky shores invite a refreshing swim. There are ladders to get in and out of the clear blue waters.
Try water sports at St Thomas Bay: Want some fun? St Thomas Bay offers a wide range of water sports. You can go kayaking or paddle boarding. Try a jet ski (book here). Or watch dolphins in their natural habitat. And make sure you explore the limestone arch and the white cliffs of Munxar Bay.
Explore the underwater world: Marsaskala has a dive centre for you. You can join a guided dive or learn to dive. Get ready to meet some underwater locals and discover the hidden beauty beneath the waves.
Go hiking: Marsaskala has some solid hiking options. A very enjoyable hike is from St Thomas Bay to St Peter's Pool. Check out this hiking guide for the route.
Have fun at playgrounds with kids: If you have kids along, they'll have fun in Marsaskala. There are well-kept playgrounds for them to enjoy. One is near the promenade and another is just a short walk away. The kids are sure to stay busy and happy during your stay.
My Go-To Food and Drink Spots
Here are my top three recommendations.
Zion: It's a bar and restaurant with a cool reggae vibe. Sit among the olive trees, listen to live music and enjoy tasty pizza. They also have vegan dishes, pasta, and fresh fish.
Coffee Circus: This tiny café is a coffee lover's paradise. Not just for their coffee, but for their sandwiches, salads and cakes too.
Nargile Lounge: For fans of Indian and Arabian food, this is your spot. Their dishes are top-notch, offering unique tastes you'll love.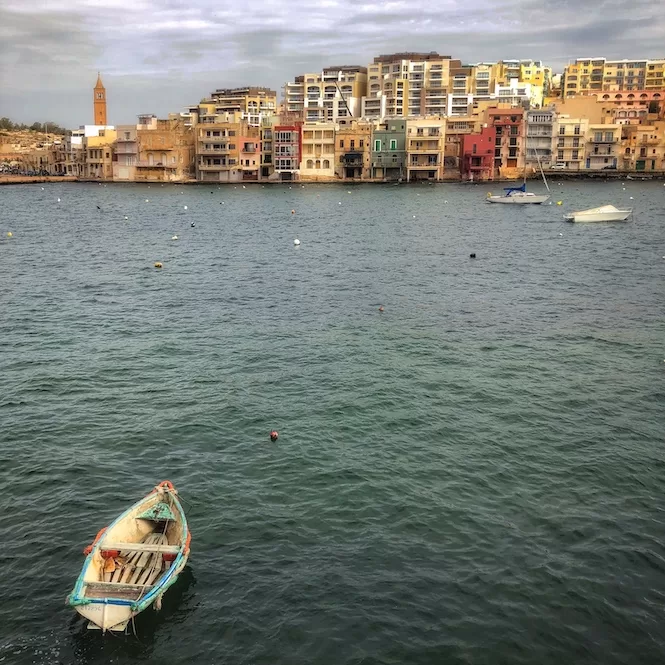 So, Marsaskala. It's a quiet place. And it's real. It's Malta without the crowds. You get a calm sea, friendly locals, and peace away from busy tourist spots.
But Malta has more. Check out my other posts. There's one about Sliema and St Julians. These towns mix modern city life with old stories. Then there are guides to Valletta and the Three Cities.