Boat trips in Malta are a gateway to the Mediterranean's best-kept secrets. It's a paradise for sailors, with crystal-clear waters, cliffs, and hidden bays. In this guide, you'll uncover the difference between boat tours and private charters. You'll find top destinations, and get tips on choosing operators and preparing for your trip. So, let's dive in to make the most of your Maltese maritime adventure.
Discover the Best Times to Sail
Summer in Malta is the right time to anchor your boat and dive in for hours of swimming. But – a little heads up – Malta shores draw a crowd, especially in the heat of the season.
Malta's charm isn't confined to summer vacations. We're blessed with pleasant sailing weather year-round. Although winter can have its choppy days, our boating season typically starts in April and lasts until November. My favourite time is October. It's a sweet spot with fewer tourists and milder sun, with the sea still warm at 25°C.
Are you wondering what time of day is best for sailing? You can catch the morning sun and have a quiet boat trip. Also, you can chase the island's breathtaking sunsets or enjoy sailing at night.
Boat Trips in Malta: Boat Tours vs. Private Boat Charters
Exploring Malta's seascape is a treat, and there's more than one way to enjoy it. Depending on your preferences, there are two types of boat trips in Malta to consider: Boat Tours and Private Boat Charters.
Boat Tours in Large Vessels
Why and When To Choose a Boat Tour? 
Budget-friendly:

Perfect for smaller groups or solo travellers, boat tours can be a more economical way to experience Malta's seascape.

Convenience:

No need to make reservations in advance or plan extensively.
Where Do They Go?
Most boat tours have Comino's Blue Lagoon and Crystal Lagoon on their itinerary, with some extending to Gozo. These tours include multiple swimming stops, allowing you to enjoy Malta's clear waters. However, it's wise to remember that during peak times, these boats can be crowded.
What's Included in the Price?
Sundecks:

Most of these vessels feature sundecks, but be prepared; on a busy day, it might be difficult to get a spot.

Lockers:

Generally available, usually at an added fee.

Refreshments:

Drinks and snacks are available at an extra cost.
Booking Strategies for Boat Tours in Malta:
Last-minute plans:

It's usually okay to book a few days in advance, so it's an excellent option for spontaneous travellers.

Flexible cancellations:

Many offer free cancellations up to 24 hours before the trip.
Check out these boat tours. They are well-priced, have flexible cancellations and have lots of good reviews.
Private Boat Charters
Why Choose a Private Charter?
Personalised experience:

On a private boat, you're the captain (figuratively, of course). Want to visit the Blue Lagoon or discover a hidden bay? Your choice.

No overcrowding:

Just you, your friends or family, and Malta's endless waters.
What's Included in a Private Charter?
Complimentary drinks:

Stay hydrated with water and soft drinks.

Culinary freedom:

Use the fridge and onboard kitchen facilities. Most boats even offer barbecue setups for mid-sea grills.

Recreational equipment:

Includes paddle boards and snorkelling gear.

Expert guidance:

Private skippers don't just navigate; they share experiences and insights about Malta and its waters.

Music onboard:

Connect your phone and groove to your favourite tracks.
Booking Strategies for Private Boat Trips in Malta:
Pricing and capacity: Prices start at 350 euros, varying based on time of year, boat size and trip duration. Boats can accommodate 8 to 20 people.
Early birds win: Book several months in advance for July and August.
Deposit details: Typically, a 10-20% non-refundable deposit is needed.
Flexible timing: Opt for a full-day trip or, if pressed for time, consider a sunset or half-day morning trip.
Off-peak discounts: Booking outside the peak season can bring reduced rates and quieter experiences. Plus, early bookings sometimes come with discounts.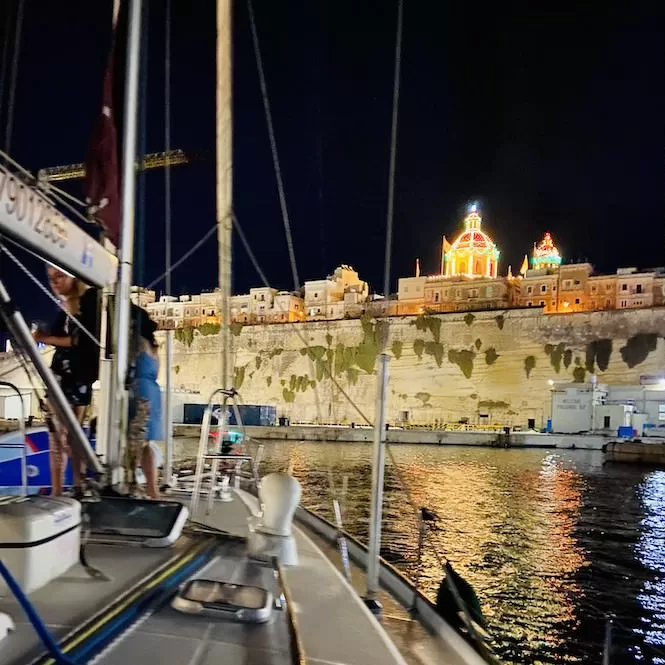 Boat Trips in Malta: Choosing the Right Operator
Malta's marine scene has many boat operators promising a slice of paradise. Yet, like any other service, it's essential to be selective. Instead of jumping aboard the first boat you see, do your research. Read through reviews and engage with past clients to get a feel for their experiences.
Finding the Perfect Boat Trip:
Don't just look at the boat's images. Check out photos of past trips, the locations they stopped at, and any added experiences they offer. Are you seeing overcrowded boats or serene, uncrowded spots?

A review that reads "Amazing trip!" is always encouraging to see. However, "Sailed into a secluded cove and had fun paddle boarding into a cave" has authenticity written all over it.

Most people make up their minds after reading the first reviews. Go beyond. Scroll further to find genuine experience gems.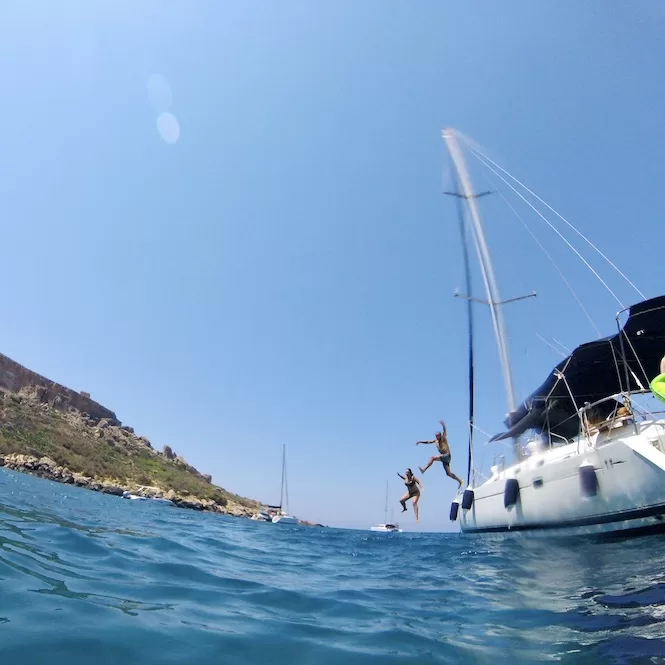 Exploring Coastal Gems with Private Boat Trips in Malta
Boat trips in Malta vary depending on the kind of trip you choose. While boat tours typically have predefined locations, often covering Comino's Blue Lagoon, Crystal Lagoon, and occasionally Gozo, private boat trips offer a more tailored experience, letting you explore the less-travelled waters. I have a post on the best boat tours to Blue Lagoon. Check it out!
In Malta, the majority of boats anchor on the east side, favoured for its flat shores that allow for smoother parking than the cliff-dominated west. Thus, more boats cruise eastern waters. Some boats head to the bays in the west such as Golden Bay, Ghajn Tuffieha or Gnejna Bay, but the trip is way longer. Many boaters skip those bays and prioritise this time for swimming or relaxation rather than long navigation.
Some private boat trips in Malta focus on coastal areas that are difficult or impossible to reach by foot, giving travellers an exclusive view of these hidden gems. Meanwhile, others anchor in well-known bays, allowing boaters to view popular beaches from a different perspective.
This section will cover some famous spots as well as some quiet seaside hidden gems.
Interactive Map of Boat Trip Destinations
Most Popular Places (Blue Pins):
Coastal Hidden Gems (Turquoise Pins):
Most Popular Places for Boat Trips in Malta
Comino's Blue Lagoon
Everyone wants to see Comino's Blue Lagoon in Malta. Why? It's stunning. Big boat tours full of tourists operate there. Private small boats travel there too. You'll even see fancy yachts.
The Blue Lagoon has clear water. You can see to the bottom. It's like looking through glass. The white sand makes it even better. It's like swimming in a large, natural pool. Some say it's the finest swimming spot in the Mediterranean.
But it's popular. Really popular. My tip? Skip it in July and August, or avoid weekends.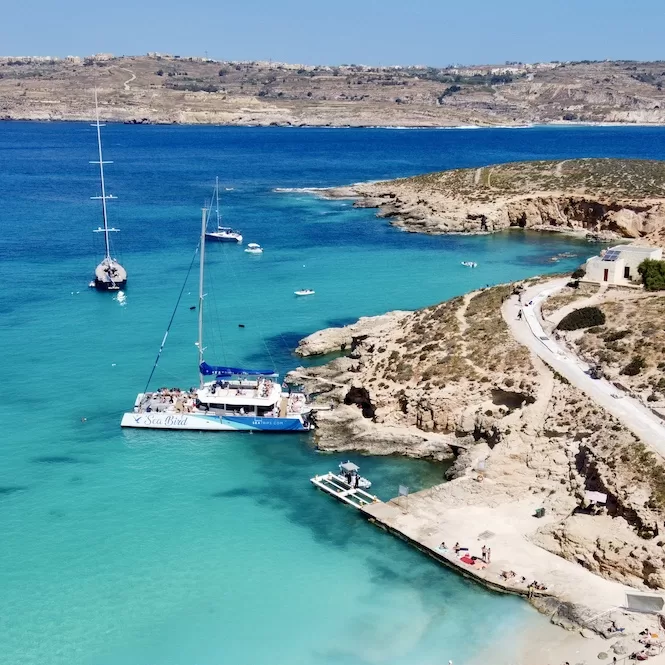 Comino's Crystal Lagoon
If the Blue Lagoon is too crowded, head to the Crystal Lagoon. It's less busy and just as pretty. It's next to the Blue Lagoon.
Crystal Lagoon is protected by cliffs. When you dive in, it's about 5-6 meters deep. The bottom is sandy and the water is clear. The water changes from light blue to really deep blue. It's gorgeous.
For snorkelers, this is your place. There are reefs and caves everywhere. And get this: there's a cave tunnel 30 meters long with its own small sandy beach. Small boats can pass inside, but you can swim through it too.
Ghadira Bay
Ghadira Bay is a popular spot among locals. Look around and you'll see boats of all sizes, many staying overnight. Boats are often tied side-by-side, creating a floating party zone. Imagine laughter, music, and boats rocking under the stars.
Besides, if you're hungry, you don't even need to go to land. Ghadira Bay boats sell ice cream, drinks and food. So, while dancing, you can grab a snack.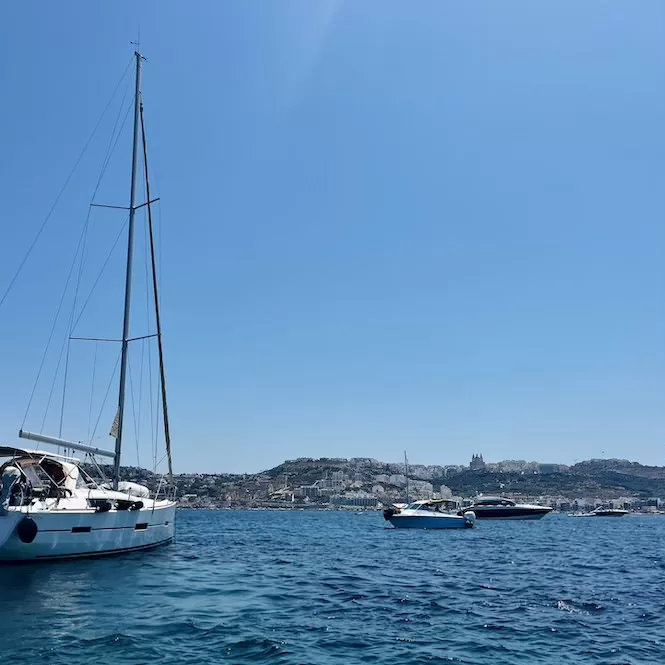 Ramla Bay
Ramla is Gozo's biggest beach and a true red-sand paradise. Boaters love it here, making it a hotspot to drop anchor and soak in the view. Oh, what a view! Look around, and you'll see fantastic scenery.
Ramla Bay is less popular with chartered tourist boats, but Gozitans and Maltese love it. While it's calmer than Comino or Ghadira Bay, don't be fooled. Ramla has its own lively vibe.
If you're looking for peace and quiet, Malta has some hidden coastal treasures for you. Check out these lesser-known spots and have a different kind of sea adventure. 
These spots might not be entirely deserted, but they're certainly more peaceful. Given Malta's compact size, stumbling upon a completely private beach in the summer is a rare treat.
Mgarr Ix-Xini
In the south of Gozo, there's a spot called Mgarr Ix-Xini, located in a narrow gorge. This sheltered bay is a haven, even on a windy day. And the water is so blue that you'll want to jump in right away.
This bay is one of my favourite snorkelling spots. Crystal-clear waters reveal colourful fish and rock formations. For divers, the area is home to sea horses.
Though it's out of the way, that means fewer crowds. But remember, it's a compact bay. Just a few boats can make it seem full. From my visits, I've noticed a few boats, but it's never been too busy.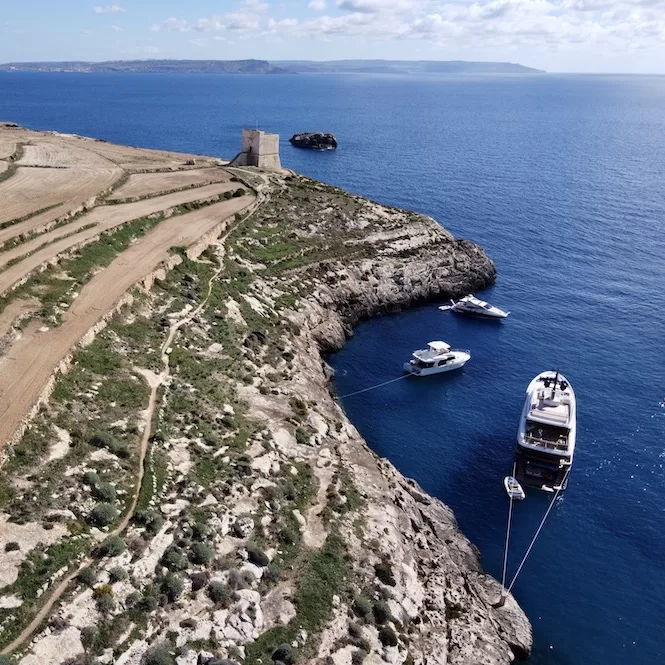 San Blas Bay
There's a small sandy beach called San Blas in Gozo's north. It's got the same red sand as Ramla Bay, and you get amazing valley views.
A big storm a few years back took a lot of sand away. Now, the finest way to enjoy San Blas is from a boat. The water's clear blue, suitable for swimming and snorkelling around the rocks. Underwater, there's a whole world to explore. You might spot seabass, eels, starfish, crabs, and even sneaky octopuses. 
Imgiebah Bay
Imgiebah Bay, also known as Selmun Bay is another spot to have a quiet day on a boat. The bay is pretty spacious, so it never feels too packed. 
This bay remains beautifully untouched. The sand beneath the water gives it a bright blue glow. The blue sea stands out against the yellow cliffs. And it's surrounded by nature – from fields and rocks to striking clay cliffs.
Recently, I took a sunset boat trip from Sliema to Imgiebah Bay. The journey was magical, with the setting sun painting the sky with gold and pink. Once we reached the bay, the water was incredibly calm, making it perfect for a night swim. 
Hofriet, Delimara
Hofriet in Delimara is another great boat trip location on Malta's south side. Close to the famous St. Peter's Pool, these two coves are hidden treasures. Known as 'the holes' in Maltese, these round coves are connected by a natural arch called the Hofriet Window. The bay is surrounded by smooth white cliffs and clear blue waters. 
You know what's even better? Only boats can get there. It's a top spot to see Malta's amazing water and chill without many people around. Sometimes dolphins swing by on the way to this bay.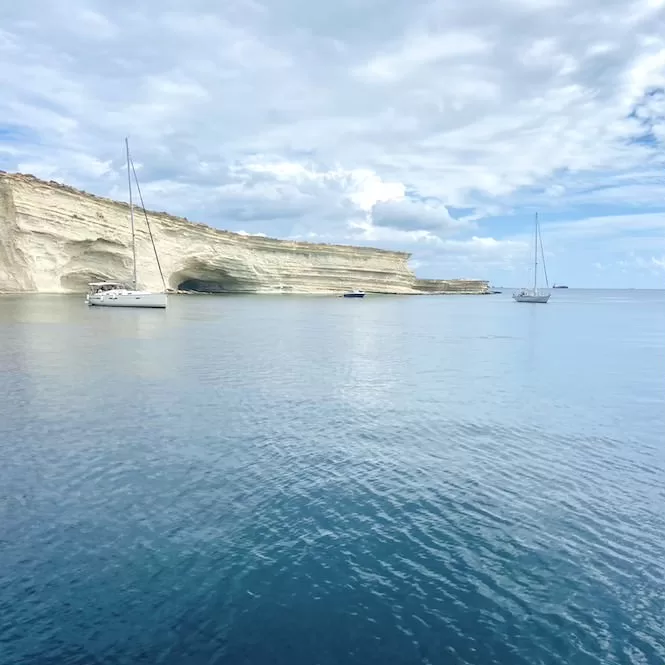 Preparation Tips for a Day on a Boat
Combatting seasickness:
If you're someone who feels dizzy on the waves, it's good to come prepared. Take anti-nausea medication an hour before the trip to ensure a comfortable journey. You can get them at any pharmacy.
Essentials to pack:
Make sure you're prepared for the experience:
Sunscreen: The Maltese sun can be intense. Always put on 50+SPF to protect your skin.
Hats: They shield you from the sun and keep you looking stylish!
Swimwear: Ready for a dip? Make sure you have your swim attire on or easily accessible.
Camera: Those breathtaking views deserve capture.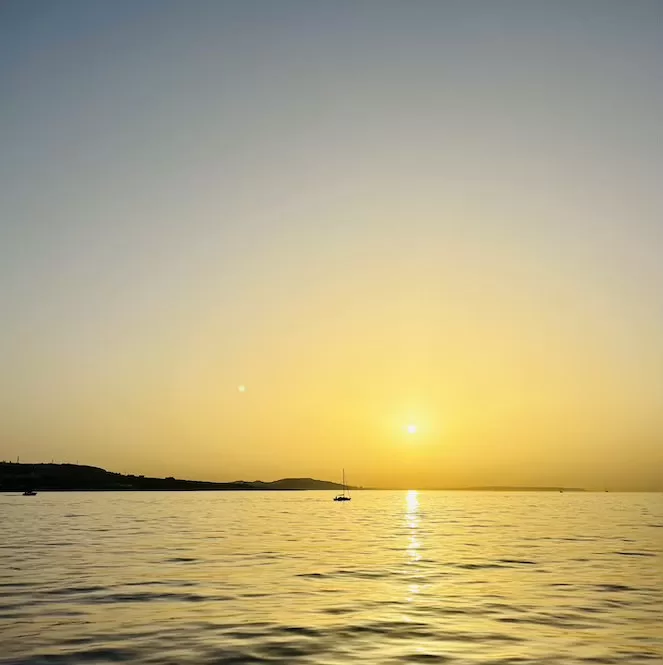 Boat trips in Malta promise sun, sea, and scenic views. And with these preparation tips in hand, you're ready for an unforgettable maritime adventure in Malta!
I hope you found this guide helpful. However, beyond the sailing in sea, Malta has a lot to offer. Check out our guides for Malta's beaches, water sports, historic Valletta and Mdina, and more.