Bugibba, a lively part of St. Paul's Bay in Malta, is renowned for its vibe and seaside promenade. The main square, always alive, is the centre for nightlife and fun. In this guide, you'll learn about Bugibba, how to get there, and things to do. Whether you're staying in Bugibba or just visiting, you'll find helpful tips here. From beaches to food, I've got you covered.
History and Culture
Bugibba has a long history. It started as a Phoenician trading port. Then the Romans came, leaving old ruins we can still see. Knights of St. John built fortifications and a harbour. If you're interested in Malta's history, check out my guide to the top historical sites.
You can immerse in Bugibba's culture by joining events like St. Paul's Shipwreck Feast in February. Locals celebrate it with music, dancing, and tasty dishes. 
How to Get There
Planning a trip to this town in Malta? It's easy to get there. Here's how:
By bus:

Bugibba's bus station is conveniently located, offering regular services to the airport and other towns in Malta.

By taxi:

There are 3 ride-hailing apps – Uber, Bold and eCabs. It is sometimes worth checking them all since prices can be quite different.

Rent a car:

Staying in Malta for a week or more? Rent a c

ar. I use Discover Cars. They offer many options, good deals, and excellent customer service. Plus, you can cancel for free up to

48 hours before your trip.
Getting Around Bugibba
Bugibba is small, so it is best explored on foot, especially along its picturesque seaside promenade. This promenade, lined with palm trees, connects to Qawra, the neighbouring area. You can also follow the seafront to Xemxija and enjoy the Mediterranean views.
Is Bugibba Worth Visiting on Vacation?
If you're not staying in Bugibba, you might skip it. It has a nice promenade for walking and lots of places to eat. But it's not as special as other spots in Malta. It's suitable for a quick visit, maybe on the way to Malta's National Aquarium or another attraction nearby. If you have many days in Malta, you could stop by Bugibba, but it's not a must-see.
Is This Town a Good Place to Stay During Your Holidays?
Bugibba is cheaper than St. Julian's or Sliema and has many all-inclusive resorts. The town is full of hotels, restaurants, and bars.
It offers boat trips to Comino and Gozo. Also, getting around is easy with convenient transport links.
Keep in mind that Bugibba doesn't have sandy beaches. It's busy, noisy, and can get dirty in summer. There's also quite a bit of construction.
I prefer St. Julian's, Sliema, or Valletta, but Bugibba is a decent choice for your holiday.
Things to Do
If you're staying in Bugibba and prefer exploring local sites, here are some things to do:
Stroll the promenade: Walk along the scenic seaside promenade. You can go all the way to Qawra or Xemxija. You can walk along the sea for at least 5 kilometres.
Beach time: Chill or swim on rocky beaches.
Snorkeling: See marine life in clear waters.
Scuba diving: Try diving at local schools. Do a scuba diving test or a full course.
Visit the main square: See where the town comes alive. There are bars, restaurants, and delicious ice cream.
Enjoy local cuisine: Taste Maltese dishes in different eateries.
Explore the Malta's National Aquarium: It's in Qawra, but still a walk away. See ocean creatures and fish from Malta. Kids will love it. Book your ticket here.
Take a boat trip to Comino: Click here to see my top recommended boat tours to Blue Lagoon. 
Nightlife: Check out the bars and clubs for fun evenings.
Historical sites: See Torri ta' Wignacourt, a museum in a 1610 watchtower with sea views.
Take a Xemxija Hill heritage walk: Walk and find ancient tombs and caves. Here is a full guide to the Xemxija Heritage Trail.
Is There a Beach in Bugibba?
Yes, Bugibba has a beach. It is called Bugibba Perched Beach. It's an artificial sandy beach, which was originally rocky. Lifeguards are on duty. The beach is clear and great for snorkelling, but pebbly. 
Qawra Point Beach is within walking distance from Bugibba. It's a rocky beach with ladders to the water. It's great when other places are windy. It has clear water, beach rentals, and a nearby bar. Suitable for a peaceful swim or lounging on the rocks. Parking and a restaurant are also available.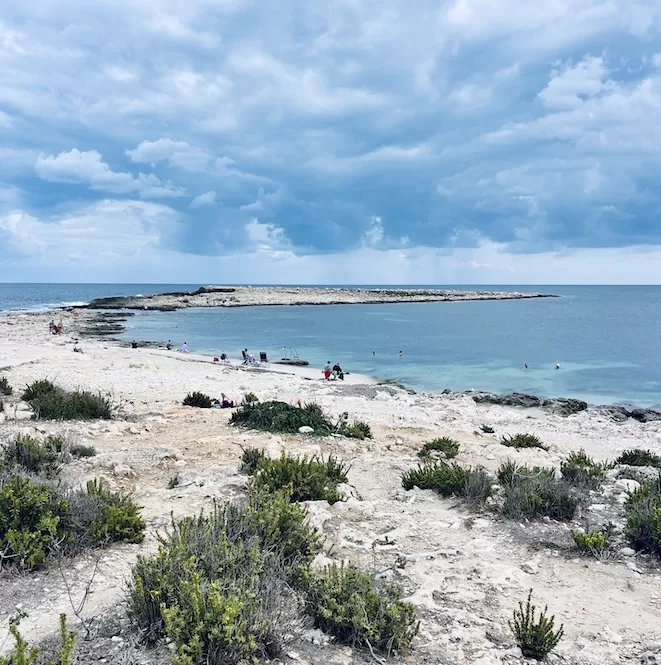 Overall, you can swim anywhere in Bugibba, except the harbour. If there's a ladder, it's safe to use. Avoid rough sea days.
For sandy beaches, try Golden Bay, Ghajn Tuffieha Bay, or Ghadira Bay. They're 15 minutes by taxi or 30 minutes by bus. They have sunbed rentals and water sports. I've linked guides to them.
Bugibba Dining
In Bugibba, there are many restaurants and cafes. You can try Maltese food or dishes from around the world. It's great for anyone who loves trying different things.
Try Maltese food first in Bugibba. Try places like Ta' Pawla. They have rabbit stew, pastizzi (pastries with ricotta or peas), and fried rabbit. Enjoy fresh seafood too. Try Dorado fish and calamari, fresh right from the sea.
Bugibba has lots of international food to offer. There are Italian and Indian restaurants. Enjoy pizzas, pasta, and kebabs. Or try curries, tandoori, and biryani for something spicy.
Tava Terrace brunch is delicious. They have a big Turkish breakfast and tasty mezes. Don't miss Turkish tea.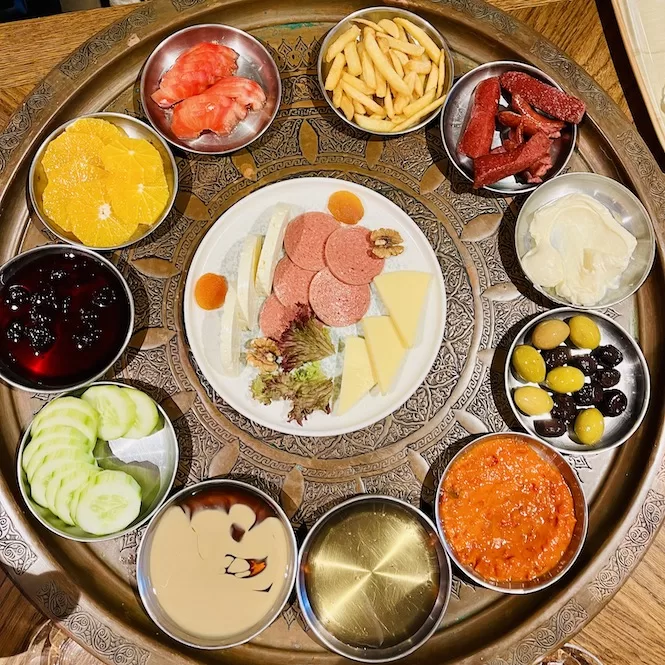 The most delicious ice cream place in Buggiba is Con Gusto Gelato Naturale. We visited many times and the ice cream is always tasty. For coffee lovers, their Italian espresso is top-notch.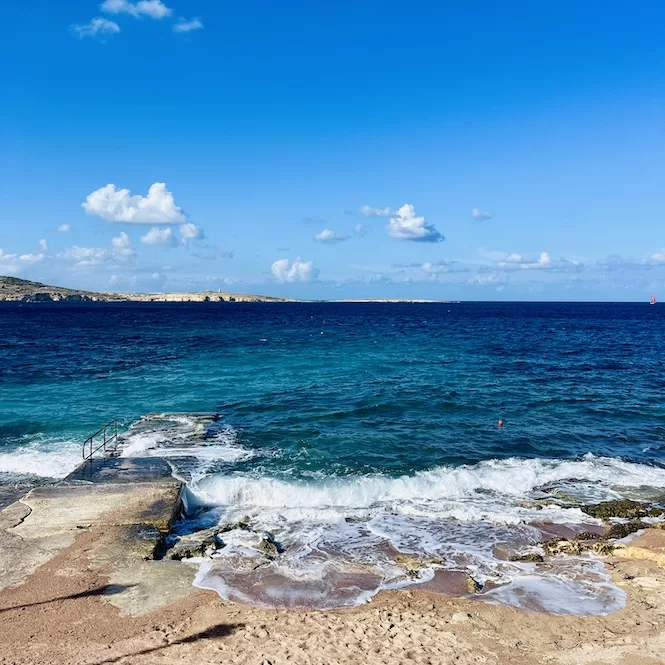 In conclusion, Bugibba is a vibrant destination in Malta known for its seaside charm and affordable options. Whether you're interested in its history, delicious cuisine, or enjoying the promenade, there's something for everyone. However, consider exploring other Maltese towns like Valletta, Sliema, St. Julians, Gzira, Marsaxlokk and Rabat. Don't miss my guides to boat trips, beaches, and exploring Gozo and Comino for more adventures in Malta. Bugibba is just the beginning of your Maltese journey!
Questions and Answers
When is the best time to visit Bugibba?
Spring (April to June) or early autumn (September to October) are ideal, offering pleasant weather and fewer crowds.
How do I reach Bugibba from Malta International Airport?
You can take a bus, taxi, or a rental car. It's about a 30 to 40-minute drive. Check this website for bus routes and schedules.
Is Bugibba suitable for families with children?
Yes, with activities and attractions suitable for children, including beaches and the aquarium.
What is nightlife like in Bugibba?
Bugibba offers bars, pubs, and several clubs. The Bugibba Square area comes alive after dark.
How reliable is public transport in and around Bugibba?
Buses in Bugibba are cheap and well-connected. They can get crowded or run late sometimes. With some patience, you'll reach your destination easily.
How do you pronounce Bugibba?
It's pronounced "boo-jib-buh."
What is Bugibba known for?
It's famous for its lovely seaside promenade, hotels, and numerous dining options. Additionally, it's more budget-friendly than other tourist hotspots like St. Julians or Sliema, making it a popular choice for travellers looking for value.