Marsaxlokk is a picturesque fishing village, known for its iconic 'luzzus' and lively waterfront market. The village offers scenic views, cultural spots, and delicious seafood. Find out more about his charming fishing village, its history and things to do in the following paragraphs.
Understanding Marsaxlokk: Meaning and Pronunciation
Origin: The name "Marsaxlokk" is rooted in the Maltese language. It's a combination of two words: "marsa" meaning "harbour" and "xlokk" which translates to "southeast."
Pronunciation: To pronounce Marsaxlokk correctly, follow this phonetic guide: /mar.saʃˈlɔk/.
Is Marsaxlokk Still Authentic?
Marsaxlokk (click here for location) has long been celebrated for its vibrant 'luzzus' and rich maritime history. But as with many beautiful places, it became popular with tourists. The harbour, once solely fishermen's domain, now sees travellers with their luggage filling up seafront cafes. The market, while still a hub of activity, has stalls selling souvenirs.
Yet, amidst the evolving landscape, the character of this fishing village lives on. The 'luzzus', with their bright colours, dominate the harbour. Its authenticity shines through in the stories of fishermen, the taste of fresh seafood, and the sound of waves against the boats.
Is it worth visiting, you ask? It depends on how long you plan to stay in Malta. If it's a short 3-4 day trip, you might want to prioritise. But if you're here for a week or more, definitely plan some time for Marsaxlokk fishing village. Enjoy a seafood lunch, take a stroll along the bay, and if you're up for it, combine your visit with a trip to St. Peter's pool (and hey, check out my guide for more on that!).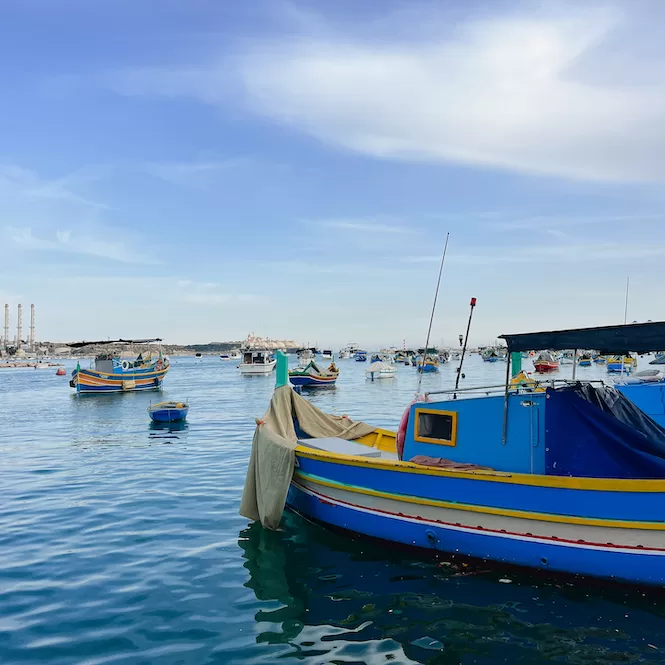 Marsaxlokk Fishing Village: Discovering Its History
The village's history stretches back to the Neolithic era. Tas-Silġ, a site nearby, showcases relics from this period, revealing the area's Mediterranean significance.
But Marsaxlokk's shores have seen more than just fishermen. During the Middle Ages, pirates came to this village. Its easy port access and links to other Mediterranean hubs made it a prime target. The Ottomans launched their infamous 1565 Great Siege from here. After the 1565 siege, fortifications rose around the harbour, many of which still stand today.
During World War II, Marsaxlokk was a base for the Fleet Air Arm. Later, it also hosted the pivotal US-Soviet summit in 1989 between U.S. President George Bush and Soviet leader Mikhail Gorbachev, signalling the end of the Cold War.
Fishing in Marsaxlokk: More Than Just a Tradition
The passion for fishing is deeply rooted here. 'Luzzus' in the harbour aren't just for display. They carry stories of fishermen who've navigated the Mediterranean for generations.
'Luzzu's' design was inspired by Italian vessels from the 1880s. Today, while some serve tourists, most remain true to their fishing roots. Their vibrant colors aren't random. For instance, a red band might hint at a boat from St. Paul's Bay, while ochre yellow suggests Marsaxlokk origins. And those eyes on the bow? They're adorned with the Eye of Osiris, an ancient Egyptian symbol believed to offer protection to the fishermen at sea.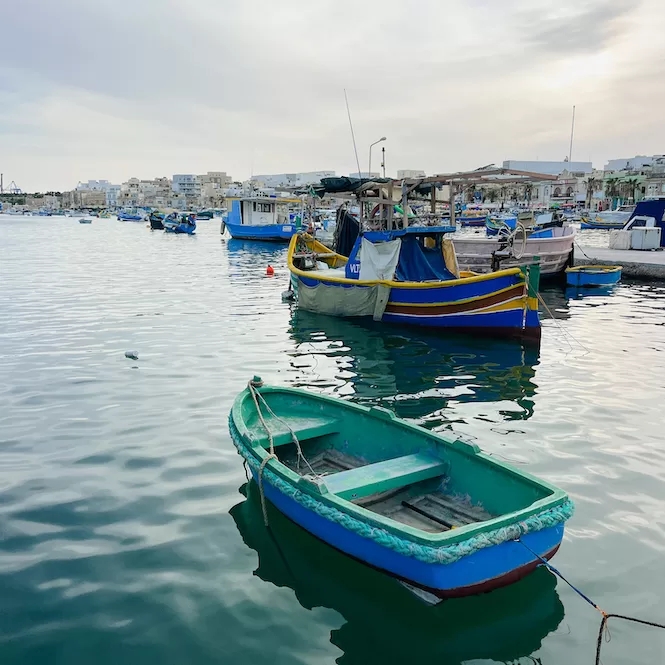 How to Get to Marsaxlokk
By car, Marsaxlokk is just 10 minutes from the airport. If you're starting from St. Julians, Sliema or Valletta, it's about 30 minutes. The main roads are smooth but be prepared for narrower and bumpier paths if you're heading to spots like St. Peter's Pool.
A heads-up for Sunday visitors: Parking on the waterfront can be tricky. Arrive early or look for spots on side streets.
If you don't plan on renting a car, you can take the bus. Direct routes run from the airport and from Valletta. For those in St. Julians, Sliema, or nearby towns, head to Valletta first and switch buses there. You can find the most up-to-date routes and schedules on this website.
Sightseers take note: the hop-on-hop-off bus tour is a treat. Opt for the South route if you're in Valletta or the northern areas. You'll see Marsaxlokk and more. Grab your ticket here.
Short on time? Consider the half-day Sunday tour. It combines Marsaxlokk with the breathtaking Blue Grotto. They'll pick you up and drop you back at your accommodation. Simple and stress-free! Book here.
Things to Do in Marsaxlokk Fishing Village
Indulge in Fresh Seafood
Marsaxlokk is a paradise for seafood lovers. As you stroll along the harbour, you'll find restaurants bursting with the aroma of the day's fresh catch. Lobster pasta influenced by Sicilian tastes or tender octopus dishes won't leave you disappointed.
But there's one fish that stands out in Marsaxlokk's seafood repertoire: the lampuki. Come mid-August, lampuki season kicks in, lasting until the end of the year. This fish, also known as dolphin fish or mahi-mahi, graces many a plate in various forms, be it the savoury lampuki pie, the hearty aljotta fish soup, or simply seasoned and baked.
In true Maltese style, the start of the lampuki season is marked with ceremony. A mass is held on the Marsaxlokk waterfront, followed by blessings for every 'luzzu' and its crew, ensuring a prosperous catch. So, when in Marsaxlokk, taste this seasonal fish.
Visit Sunday Market in Marsaxlokk
Every Sunday, Marsaxlokk's waterfront comes alive in a vibrant display of local culture. While the market operates daily, Sundays are special. Fishermen bring in their fresh catch, laying them out for you to see (and buy!). But it's not just about fish. Stalls overflow with local produce like honey, jam, traditional biscuits, and even wine.
Now, a heads-up: This market is popular. Locals and tourists alike flock here, so it's always busy. So, if you're keen on experiencing it, aim to get there early. Some say the best deals and freshest fish are found in the morning hours.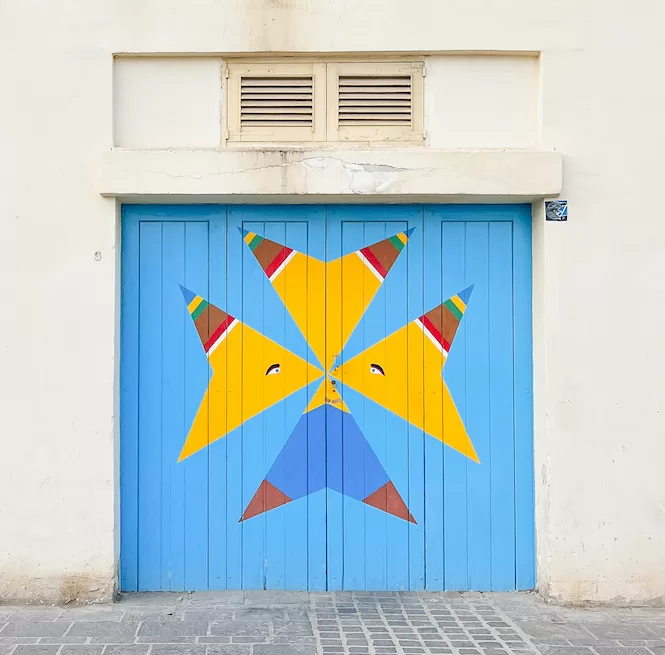 Soak in Marsaxlokk's Local Culture
Marsaxlokk is more than just a picturesque village; it's a gateway to authentic Maltese culture. Wander its streets, watch locals go about their day, or simply relax by the harbour, letting the world drift by. Marsaxlokk's unhurried pace and heartwarming friendly people make it the perfect spot to experience real Maltese life.
But there's more. Dive into Marsaxlokk's vibrant events, from the village feast in July to local fishing contests. Also, engage with the community. Chat with a fisherman as he ties up his nets. You will hear lots of interesting stories.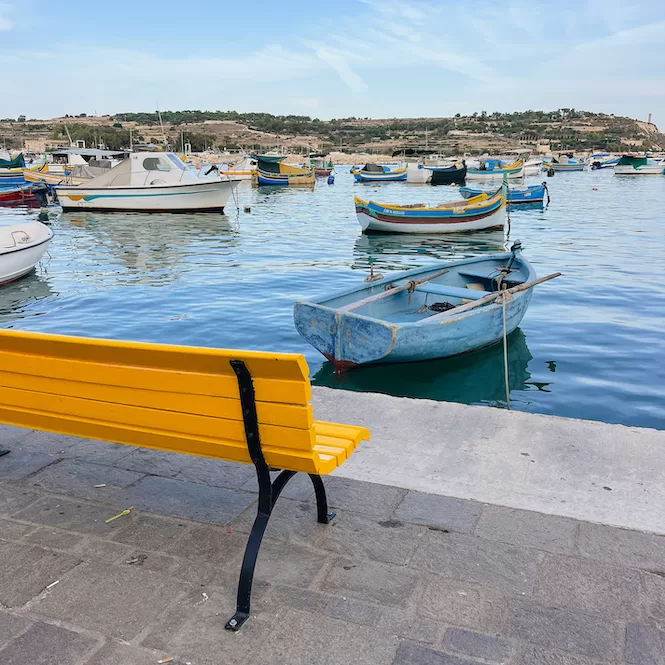 Explore Marsaxlokk's Architecture
Marsaxlokk is more than its bustling harbour. There's a lot of history here. Take the Parish Church of Our Lady of Pompei, for instance. It's a 19th-century gem that features elegant architecture.
Fort San Lucjan, with its storied walls, stood strong against the Turkish invasion in 1614. It's closed right now, but you can see it from outside.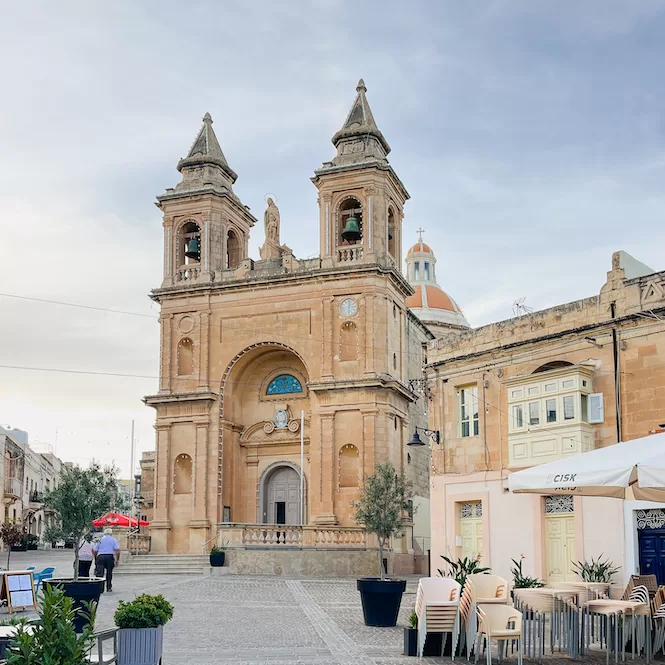 Go Swimming in Nearby Beaches
This fishing village might not have the sandy stretches you'd expect, but it's got its own hidden gems for water lovers. Fancy a calm swim? Head to Ballut ta' Marsaxlokk or Għar Aħmar Bay. These spots offer peaceful waters suitable for a relaxing dip.
For the adventurous, St. Peter's Pool. This cove isn't just for swimming; it's a haven for cliff-jumping thrill-seekers. Il-Kalanka is another great swimming spot. It's like St. Peter's Pool but with fewer people and more shade along the edge.
Is Marsaxlokk a Good Base for Your Holidays?
Considering a stay in Marsaxlokk? This village is a breath of authentic Maltese air. It's quieter and cheaper than Sliema or Valletta. It has many accommodation options and good restaurants. So, it could be a great place to stay, especially for families seeking a genuine experience.
If you want nightlife, Marsaxlokk might not be a good choice. It's more about serene evenings than vibrant parties.
And while its charm is undeniable, its location isn't central. If you're planning to explore Malta, a car is essential. Relying on public transport would mean spending lots of time on the bus.
I suggest renting a car from the airport. For great rental options, try Discover Cars. They're my go-to for easy car rentals in Malta. Also, check out my guide on how to get around Malta. It's packed with handy tips for navigating the island.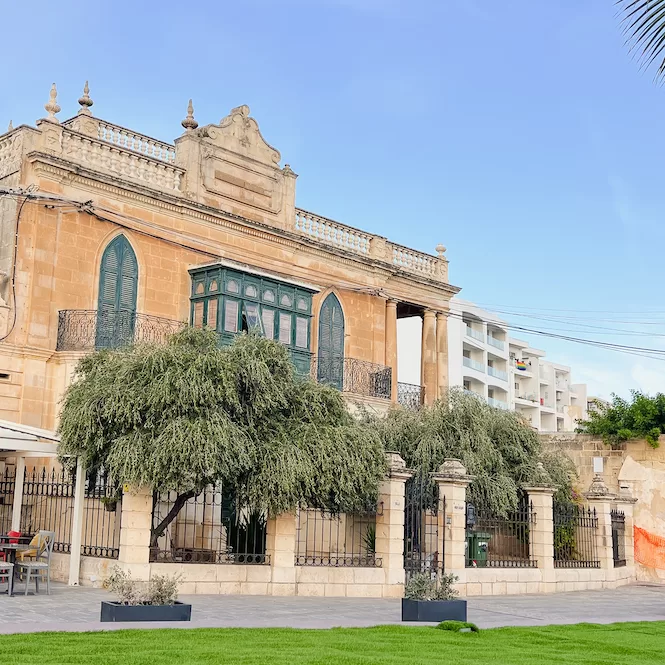 The charming town of Marsaxlokk is filled with maritime history, tasty seafood, and real Maltese life. It's a place where every 'luzzu' has a story, and where seafood is as fresh as the morning breeze.
But Malta has more to offer. Explore the grandeur of Valletta, the charm of the Three Cities, the thrill of hiking, the serenity of beaches, and the beauty of Gozo and Comino. Check out my guides and discover Malta's wonders.