A snorkelling holiday in Malta is the perfect way to enjoy the Mediterranean Sea. Malta's waters are one of the most transparent in the region, and there is a wide variety of fish and underwater plants. In addition to its calm waters and excellent visibility, it also offers warm temperatures, making it an ideal snorkelling destination.
Why Choose Malta for Your Next Snorkelling Holiday?
Here are my top reasons:
Malta's rocky coastline creates numerous sheltered habitats where fish, sea life and plants thrive.
Malta has excellent visibility in the water. Even in depths of 30 metres, visibility can reach 40-50 meters.
With weak currents and little tidal activity, the area is ideal for novice snorkellers. A joke is that swimming in Malta is like swimming in a pool.
You can snorkel anywhere except in the ports.
You will see coastal views from a new angle. Many great holiday photos are guaranteed.
Snorkelling gear is available for purchase or rental from dive shops across the island.
There are snorkelling tours available for booking. You will get a briefing and transport to the snorkelling spot. Book a tour here.
You don't need a boat. Any rocky beach is suitable for snorkelling.
Malta's waters are home to octopuses, moray eels, groupers, snappers, and more marine life.
There are many caves to be explored in Malta. It's fun discovering unique rock formations and finding plants and animals that don't live in open water.
There are many fun snorkelling opportunities on other islands of Malta, like Comino and Gozo. Both are very close and easy to reach. Check out the map of the Maltese islands.
The water temperature in Malta's sea is pleasant. For people from Northern Europe, it is like swimming in a jacuzzi. No wetsuits are required.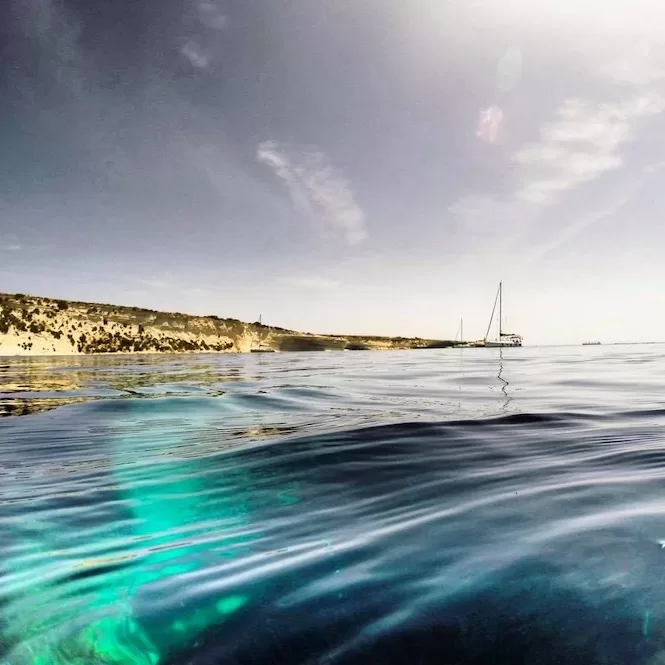 Malta's Marine Life
Malta's waters provide an array of marine life, such as groupers, snappers, moray eels, barracuda, octopus, sea bass, rays, lobsters, shrimp, crabs and more. Additionally, you'll find algae, molluscs, and sponges.
Best Spots for Your Snorkelling Holiday in Malta
Listed below are some of the best snorkelling spots. The names of the spots are hyperlinks with the Google Maps locations. I have also created a map with pins. The pins are blue for Malta, yellow for Comino, and green for Gozo.
Most sites listed below are deep and unsuitable for beginners. But I will indicate the shallow spots.
Here are some of Malta's most popular snorkelling spots (blue pins on the map):
Comino Snorkelling Sites
Here is what Comino offers (yellow pins on the map):
Blue Lagoon: The water is like swimming in a pool. You will see much marine life if you explore rocky areas. Watch out for boats. Comino is usually crowded with people on the beach and ships in the water. There are shallow areas, good for beginners.
Santa Marija Caves: They are on the northwest side of Comino. It is challenging to find, so use the provided map. It has a natural swimming pool with two sea openings. In addition, a ladder leads to the sea so you can swim to other caves.
Crystal Lagoon Cave: On a boat tour to Comino, boats stop at Crystal Lagoon. In the middle of the bay is a long cave. Small boats enter inside, so be careful and swim along the wall. I have swum there many times. It's pretty dark because the cave is 30-meters long. It will be shallow at the end and have sand on the bottom. It's like a small beach. This cave is my favourite snorkelling spot in Comino.
Book here a kayaking tour from Gozo to Comino that also includes snorkelling.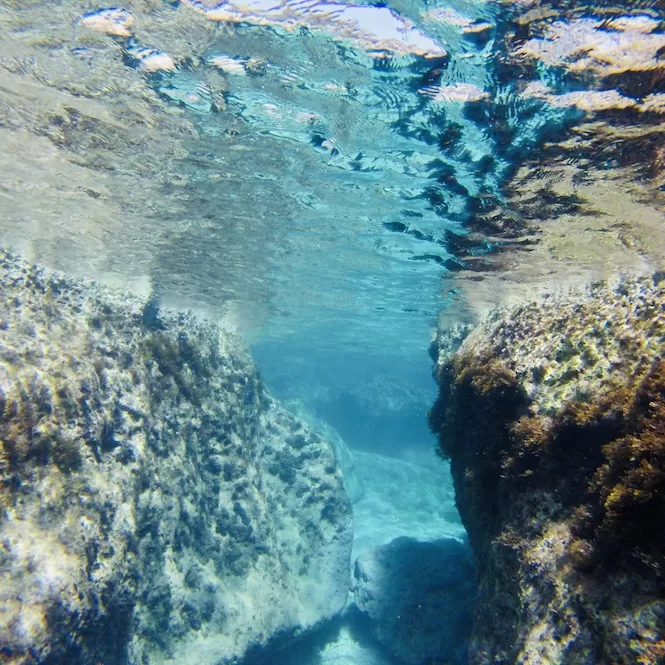 Unforgettable Gozo Snorkelling Spots
Last but not least, here is what Gozo has to offer (green pins):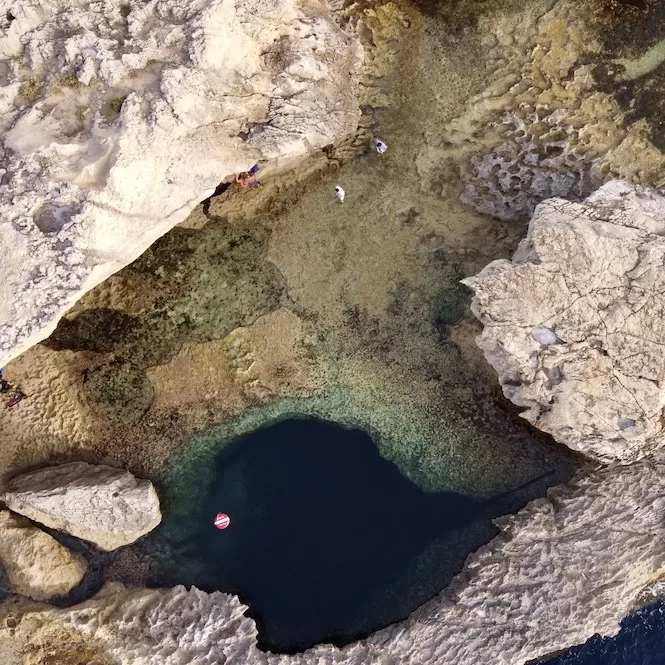 Safety Tips for Your Snorkelling Holiday in Malta
Think about a few things for your safety when snorkelling:
The first rule is to always snorkel with a buddy so that you can look out for each other.
Be careful of undercurrents. Never swim against a current. Swim diagonally across it if you get caught in it.
Use sunblock, lots of it. If you plan on snorkelling all day, cover yourself with a T-shirt and cap. Summer on the Maltese Islands can get hotter than it looks; a nasty sunburn is not the way to go on your snorkelling holidays!
To be visible to the boat drivers, wear a brightly coloured mask and fins. It would help if you also got a snorkel buoy, a small floaty that attaches to the snorkel tube and acts as a surface marker.
Advise for Beginners
Snorkelling is easy and fun. It requires little preparation or equipment. Here are some tips for beginners or first-time snorkelers:
It's best to start with shallow areas until you become accustomed to using your snorkel and fins.
Use fins for swimming and manoeuvring in the water. They help you move around more efficiently.
Put your face in the water and come up a few seconds later. Some people are nervous about breathing with a mask, so practising in shallow waters is a good idea.
Do you Need a Guide on Your Snorkelling Holiday in Malta?
In general, you don't need a guide for snorkelling. First, all snorkelling spots are easily accessible on foot. Secondly, you should be fine if you follow a few simple safety tips and have some common sense. A guide can offer extra information and safety tips for inexperienced snorkelers, but in most cases, a guided trip is unnecessary.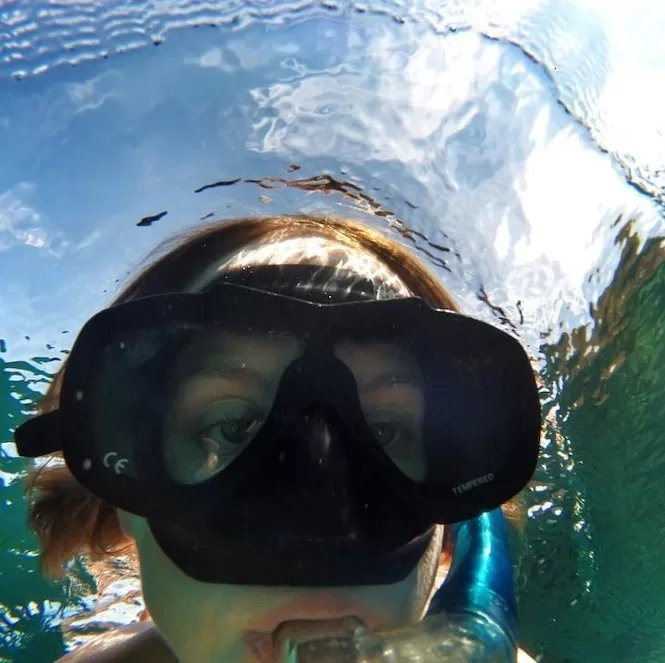 A snorkelling holiday in Malta offers an unforgettable experience. The sandy and rocky coastline provides plenty of exploration opportunities. Make sure you follow safety tips. Enjoy it, and stay safe!
Are you interested in scuba diving in Malta? Check out my guide. Book a test dive below to see what it's all about.