Inland Sea in Gozo – ever heard of it? If not, you're in for a treat. It's a natural wonder on Gozo. It's a place where you can dive, relax, and explore. This guide is your key to the Inland Sea. It's a simple and clear way to plan your visit. Enjoy!
What is the Inland Sea in Gozo?
The Inland Sea, sometimes called "Il-Qawra" in Maltese, is a lagoon connected to the Mediterranean Sea through a narrow tunnel. Dramatic cliffs and a small fishing village add charm to the landscape. It's a place where time stands still, and nature's beauty takes centre stage.
Long ago, there was probably a sea cave. Then the cave roof collapsed. That's how the Inland Sea formed.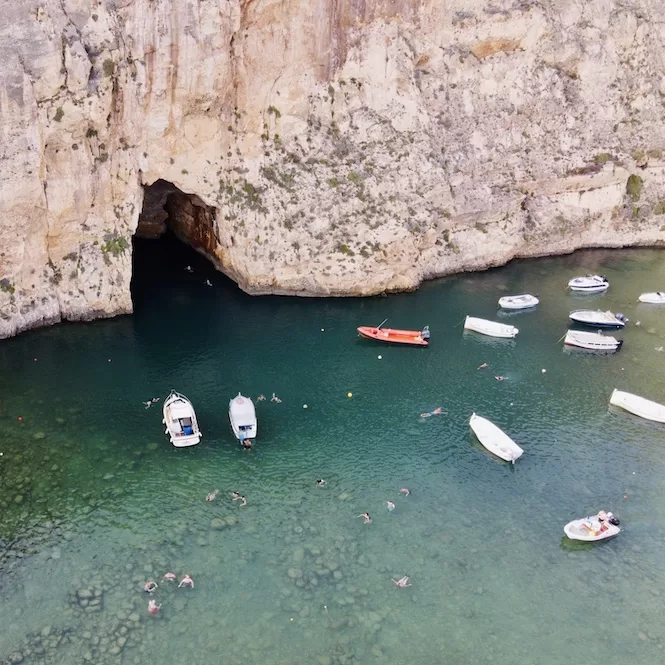 There's a pebble beach on one side. Fishermen have boathouses there. They pull their boats up onto the beach. The lagoon's bottom is shallow with pebbles and rocks. Only when you pass through the tunnel to the open sea, it gets deeper. It can be up to 35 meters deep on the outside.
Divers and snorkelers are drawn to the underwater tunnel, where marine life awaits. But don't worry if diving's not your thing; the Inland Sea offers a beautiful setting for relaxation, photography, or simply soaking in the views.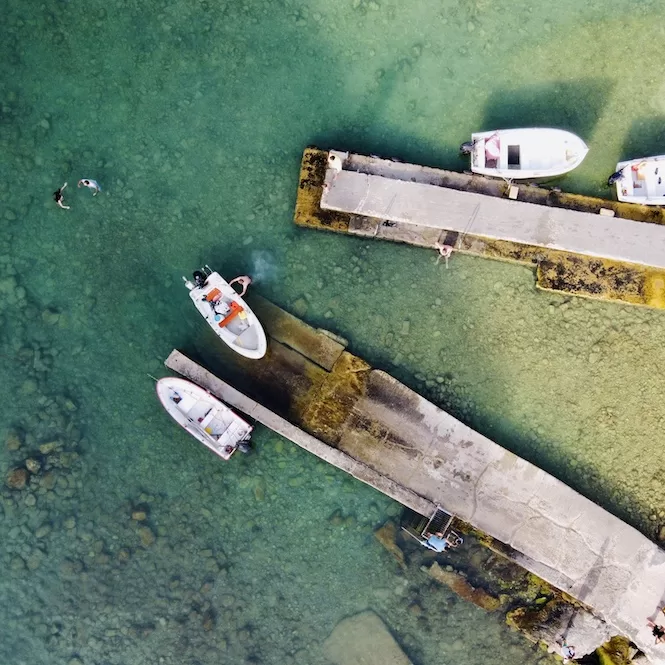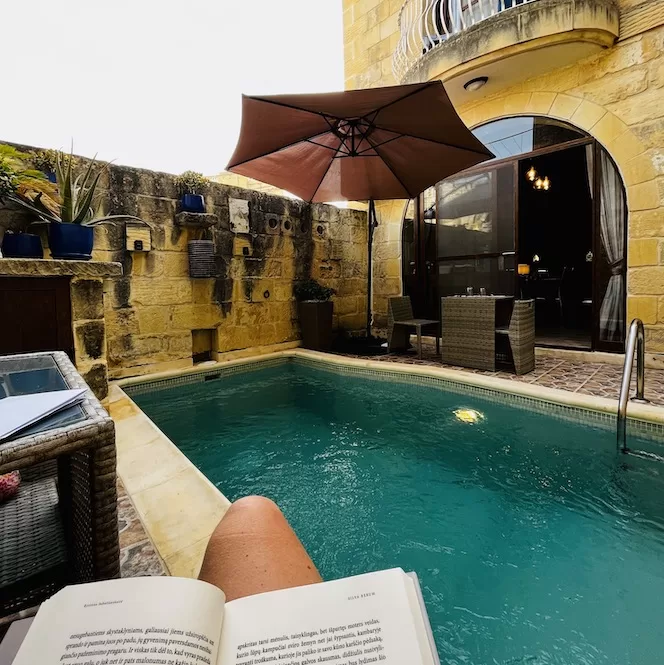 Why Visit the Inland Sea in Gozo?
This geological wonder is more than just a scenic spot. Here's why you should check it out:
Geological marvel: The Inland Sea is a geological marvel and a visual feast. It's a place that makes you stop and look.
Affordable boat tours: For 5 euros, you can take a boat tour. You'll see caves, Crocodile and Fungus Rocks.
A diver's paradise: If you like scuba diving, this place is one of the most spectacular diving sites in the Mediterranean. There is a diving centre nearby. You can also book a Dwejra scuba diving adventure from one of the many diving centres in Malta and Gozo. Check out my guide to scuba diving in Malta.
Safe for children: Unlike Blue Hole, the water is shallow so kids can swim here too. You might even find crabs and fish swimming around.
Nearby exploration: There's more to explore nearby. You can check out the Blue Hole and Fungus Rock. The area around the Inland Sea has cool things to see. Here's my guide to Dwejra Bay and all its sights.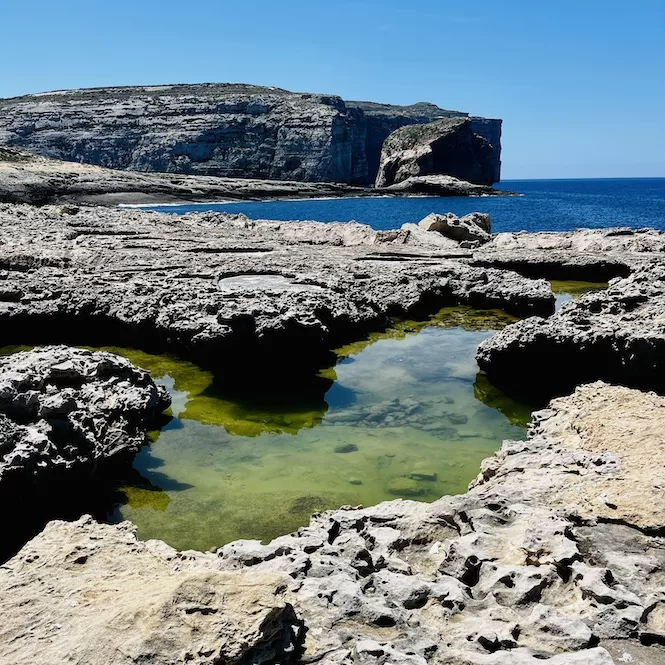 How to Get to the Inland Sea
If you come from Malta, take a bus from Mgarr Harbour to Victoria. A bus runs from Victoria every hour, but it doesn't run late at night. They are also not that frequent. Check this website for routes and timetables.
It's easier to get there by car. Parking is plentiful. I recommend renting a car to discover Gozo at your own pace. Check out Discover Cars; they have a huge selection and affordable rates.
Getting There:
---
Location: link to Google Maps
Nearest bus stop: Dwejra
Walking distance from the bus stop: 200 meters
Frequency of the buses: every hour. Buses don't run late at night, so check the schedule.
Parking available: in the car park here
---
You can also visit the Inland Sea and many other Gozo attractions on a Jeep Tour. Book it below!
What to Do at Inland Sea in Gozo?
If you want to see caves, orange coral, and blue waters, you can take a 15-minute boat ride through a cave. If you want to see a vibrant underwater world, dive or snorkel. Those with kids can have a safe and fun day at the pebble beach. Don't forget to stroll along the jetty, where divers, swimmers, fishermen, and sunbathers enjoy this fascinating inland cove. And if you have time, visit the nearby Blue Hole and Fungus Rock. Lastly, enjoy a peaceful coastal walk and watch the sunset for a magical end to your day.
Tips for the Most Enjoyable Experience
Best time to visit: The Inland Sea is a year-round destination, but consider the weather and your preferences for activities like diving or hiking. The water temperature is still quite warm at the end of September. Hiking is most enjoyable from October to May.
Safety first: Be mindful of sea conditions, especially if you plan to swim or dive. Wear appropriate footwear and be cautious on the rocks. It's wise to bring water shoes, as the stony beach can be uncomfortable barefoot.
Respect nature: Help preserve the area's beauty by respecting the environment. Leave no trace!
Plan your transportation: Getting to the Inland Sea requires taking two buses. Plan ahead to make your journey smooth.
Places of Interest Nearby
Don't forget to walk around the area. Dwejra Bay has more amazing places to see.
Blue Hole

: A roofless cave where sunlight shines through the water. Great for snorkelling and swimming.

Dwejra Tower

: This historical 17th-century tower offers fantastic views of Dwejra Bay.

Crocodile Rock

: Shaped like a crocodile, this rock is a popular dive spot mid-way between Fungus Rock and the Blue Hole.

Fungus Rock

: Known for the infamous Maltese Fungus, this rock has a rich history and unique flora.
Dwejra Bay's main sites are on this map.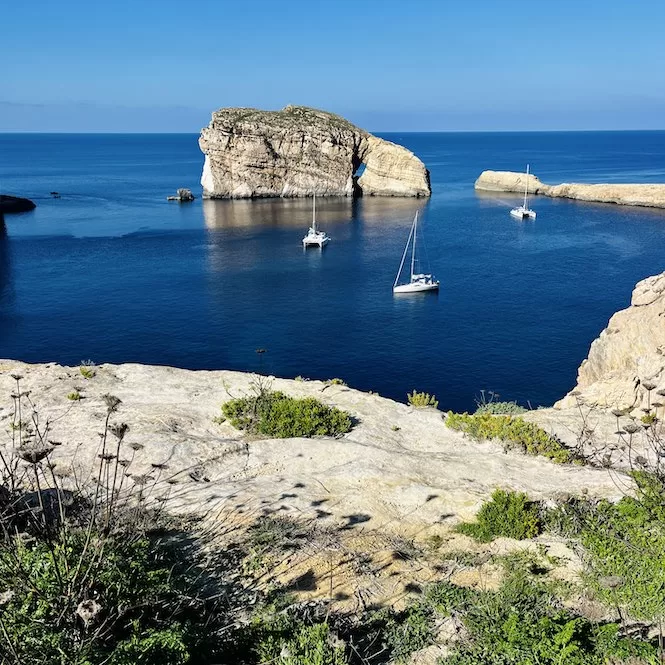 There's so much to see and do at the Inland Sea of Gozo. From the geological wonders to the boat tours, from the diving paradise to the family-friendly shores, the Inland Sea has something for everyone.
But don't stop there! Gozo has more to offer. For the best day in Gozo, check out my guide to the best things to do and see in Gozo. Discover famous sites like Xlendi, Mgarr Ix-Xini, and Wied il Ghasri. If you're up for more adventure, consider taking a quad bike tour or Jeep tour to explore Gozo's hidden gems. And don't miss the chance to indulge in local flavours with a wine-tasting experience.