Malta in winter is not to be overlooked. Even though people think of Malta for its sunny beaches and summer parties, winter is full of surprises. It's one of the warmest places in Europe during winter, so you won't shiver in the cold! Imagine a place where it's rarely colder than 16°C (50°F), and the rain makes everything green and fresh. 
Instead of snow and ice, you can explore gardens, take walks by the sea, and visit old fortifications. This is without bumping into many other tourists. So, if you're looking for a different kind of winter adventure, Malta might be the most ideal spot for you!
Malta in Winter: Typical Weather
If you're used to really cold winters like in Northern Europe, Malta in winter will feel super different. It's like a spring day back home.
One wonderful thing about Malta in winter is how warm the sea is. In December, the water is still warm enough for a swim. And even in March, it's not too cold. You'll see many people, especially those from cold places, enjoying a winter dip in the sea.
It rains in Malta during winter, but not like the long rainy days you might be used to. It's more like quick rain showers. And the most exciting part? Right after the rain, the sun usually comes out and shines bright. So, even in winter, you'll see many sunny days in Malta.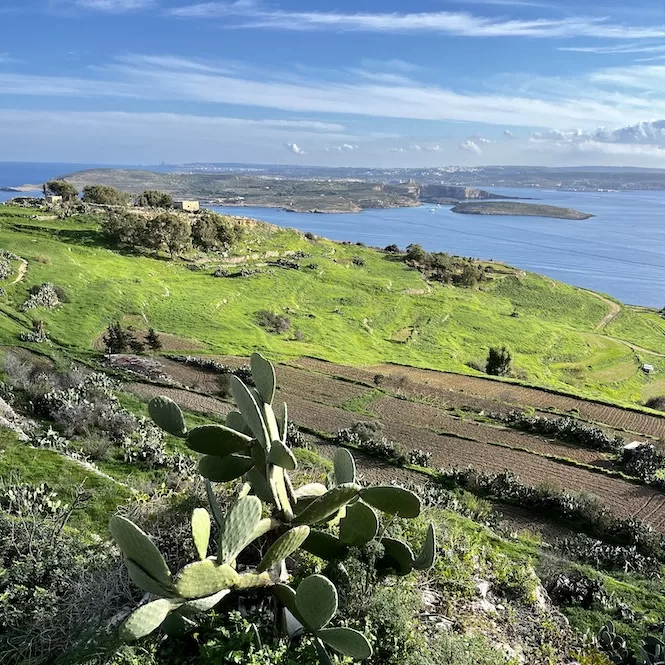 Malta's winter can be damp because of humidity. This means the air can seem cooler than what the thermometer says, especially in the morning and evening. So, it's an excellent idea to wear several layers of clothes. This way, you can add or take off a layer if you feel too warm or cold. And wearing light clothes that let your skin breathe will make you feel just right during your winter trip to Malta.
Why You Should Visit Malta in Winter?
Here are five reasons why a winter getaway to Malta should be at the top of your list:
1. Fewer People Around
Winter means fewer tourists in Malta. So, the streets are less crowded. This means you can explore and see things without too many people around.
2. Save Money
Winter trips to Malta can save you money. During the winter, hotels are much less expensive than during the busy months. Even fancy hotels are cheaper! Check out the hottest deals here:
And if you want to rent a car, those prices are lower too. There's a website, Discover Cars, where you can find good deals.
3. Cool Exploring
Summer in Malta can be super hot. But in winter, the weather is cooler and right for exploring. You can visit old temples, walk around Valletta, or see forts without feeling too hot.
4. Everything Turns Green
If you're tired of grey and snowy winters, Malta is the place to be. Malta in winter turns green and colourful. Flowers bloom, and the air smells fresh. It's a great time to visit parks and gardens.
5. Feels Like Spring
Even though it's winter, Malta feels warmer than many places in Northern Europe. The sun shines, and there's a gentle breeze. It's like a long spring break from cold weather back home.
Things to do in Malta in Winter
Take Coastal Walks
Winter is an excellent time to hike by the sea in Malta. It's not too hot, so you won't get tired quickly. Plus, you get to see some really pretty views! I'll list some of the most scenic places to walk and will add links to full guides for each walk.
Xwejni Bay to Wied il-Ghasri, Gozo:
An easy 4.5 km round trip that takes you past traditional salt pans and limestone cliffs. It ends in the secluded Wied il-Ghasri Valley, a sea canyon perfect for a refreshing swim. Link to a trekking guide.
Selmun Circular Hike, Malta:
An 8 km trail starts at the historical Selmun Palace, leading through terraced fields and clay cliffs. It offers panoramic views of the Mediterranean Sea and St. Paul's Island. Link to a trekking guide.
Mgarr Harbour to Xlendi, Gozo: A 12.1 km walk that takes you through red clay cliffs, and watchtowers built by the Knights of Malta, and ends in the scenic coastal village of Xlendi. Link to a trekking guide.
Victoria Lines Hike, Malta: Trek along the historical fortification line that runs through Malta, offering views of the countryside. Link to a trekking guide.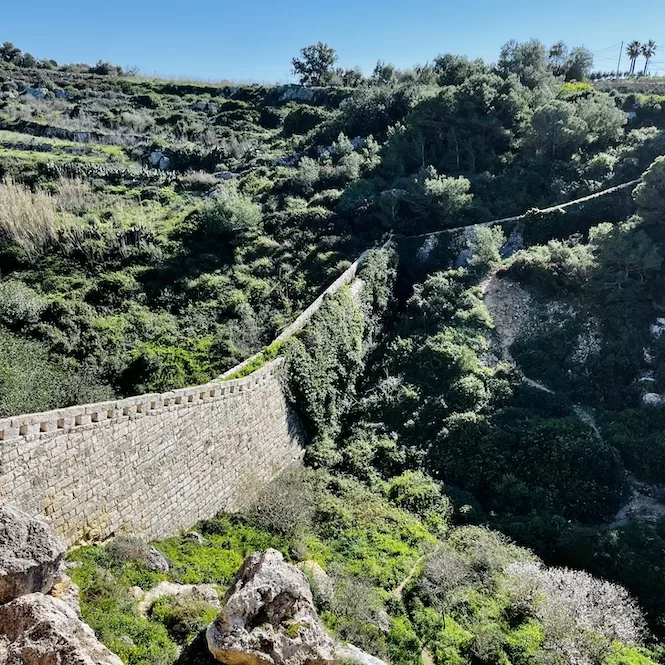 Paradise Bay Circular Hike, Malta: An 8 km circular walk that takes you through cliffs, and rocks, and offers breathtaking views of Gozo and Majjistral Park. Link to a trekking guide.
Tips for hiking in Malta and Gozo:
Wear comfortable, supportive shoes and lightweight clothing.

Bring plenty of water, especially on hot days.

Make sure you have a map on your phone for offline use (you will find the Komoot maps on my trekking guides).

Weather can change quickly, so be prepared for rain and strong winds.
Visit the Top Historical Places
Malta has many historical sites to see. Visit them in winter. It's even better because there aren't many people around. So, you can look around and learn without waiting in long lines.
Malta's Megalithic Temples: These ancient temples are impressive. They're some of the oldest buildings in the world, even older than Egypt's pyramids! Want to know more? Check out my guide to UNESCO sites in Malta.
Mdina, Malta's Silent City: Inside Mdina, there are stunning places like St. Paul's Cathedral and the Palazzo Falson Museum. They give us a peek into Malta's old times. I've written an article with a map for those who want to explore Mdina on their own. But if you'd like a tour, you can book one here.
Valletta, UNESCO World Heritage Site: This city is like an outdoor history book. One must-see spot is St. John's Co-Cathedral, which has amazing art from the Knights' time. I've made a walking tour map guide for those who want to wander around Valletta. If you'd rather have a guide, there's a walking tour you can book.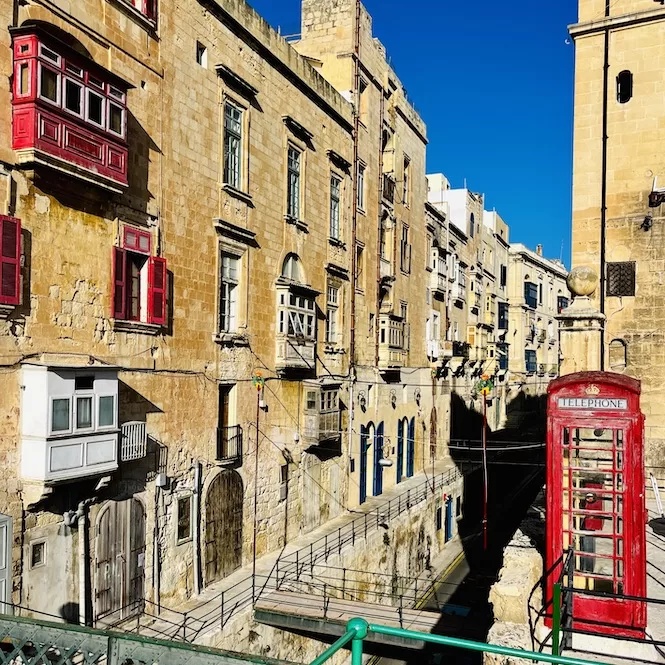 The Three Cities: Vittoriosa, Senglea, and Cospicua: Across the Grand Harbour from Valletta lie the historic Three Cities. Vittoriosa (Birgu) boasts medieval charm and significance from the Great Siege of 1565. Senglea (L-Isla) offers panoramic views from its iconic watchtower, while Cospicua (Bormla) impresses with its vast dockyards. Check out my guide here.
WWII-Related Historical Sites: Malta played a pivotal role during World War II, and remnants of this era can still be explored. The Lascaris War Rooms, once the heart of Malta's wartime operations, have now been converted into a museum. They offer insights into Malta's wartime strategies and challenges. Find more information in my guide to the top historical places in Malta.
Explore Malta's Gardens
Malta in winter offers an excellent opportunity to explore the island's gardens, which come alive with blossoming flora. These gardens are ideal for strolls and reflection. Here are some suggestions.
San Anton Gardens: In Attard, this 16th-century garden surrounds the San Anton Palace, featuring exotic plants and roaming peacocks.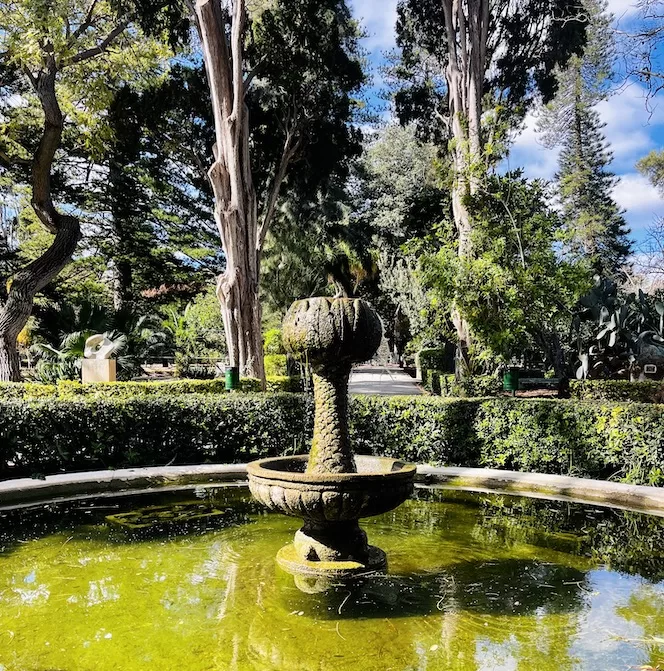 Upper Barrakka Gardens: Located in Valletta, it offers panoramic views of the Three Cities and houses historical monuments, including a replica of "Les Gavroches."
Lower Barrakka Gardens: A serene spot in Valletta with views of the Grand Harbour, adorned with olive and fruit trees.
Gardjola Gardens: In Senglea, this garden overlooks the Grand Harbour and is named after the protective 'Il-Gardjola' tower.
Sa Maison Garden: A hidden retreat in Floriana, it offers multi-level exploration with views over Pieta and Marsamxett Harbour.
For a deeper dive into Malta's gardens, check out my detailed guide.
Malta in Winter: Packing Tips
While Malta's winter is milder than many expect, it's essential to pack smartly, balancing staying warm, preparing for occasional showers, and making the most of the sunny days. Here are some packing tips to ensure you're well-equipped for your Maltese winter getaway:
Layer Up: While daytime temperatures are relatively mild, evenings can get cooler, especially with humidity. Packing layers is key. Consider lightweight sweaters, short and long-sleeve tops, and a medium-weight jacket. This way, you can add or remove layers as the temperature changes. Check out my packing guide for Malta.
Waterproof Essentials: Given the occasional rain showers during winter, it's wise to pack a waterproof jacket or compact umbrella. Waterproof shoes or boots can also be beneficial, especially if you plan on exploring the countryside or taking coastal walks.
Sun Protection: Yes, even in winter! The Maltese sun can still be strong, and on clear days, you'll appreciate sunglasses, a hat, and sunscreen.
Comfortable Footwear: Whether you're wandering through Valletta's historical streets, hiking coastal trails, or exploring ancient temples, comfortable walking shoes are a must. Consider packing sneakers or hiking boots.
Swimwear: Given Malta's inviting sea temperatures in winter, you might be tempted to swim. Packing swimwear is a smart idea, especially if you're from colder climates and find sea temperatures appealing.
Warm Accessories: A scarf and a fleece can be handy for chillier days or if you're planning to venture out in the early mornings or late evenings.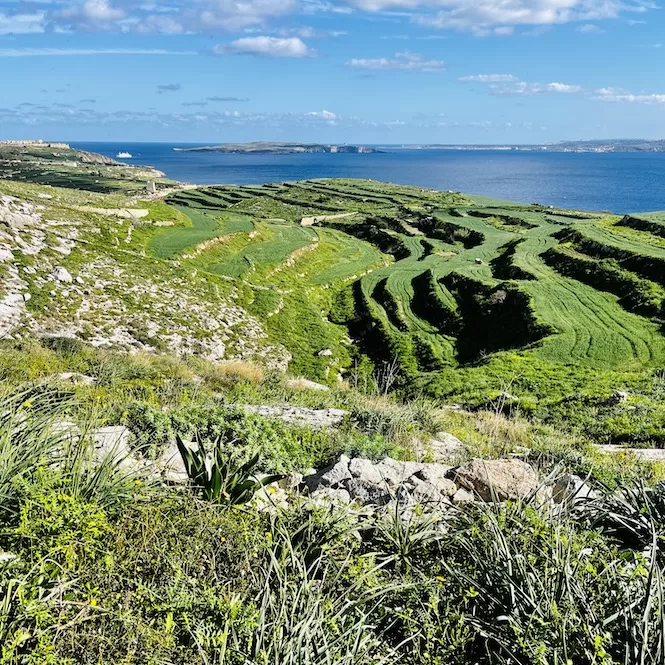 While many people think of Malta as a summer destination, winter has its magic. The streets are quiet, everything is green, and there's so much to see and do. And there are no crowds! Plus, the temperature is much warmer than in many places in Europe.
If you plan a trip to Malta, check out my other guides. I have tips on travelling to Malta on a budget, moving around Malta, renting a car, solo travel and picking the right time to visit. Check out my posts about Malta facts and frequently asked questions.
If you are interested in learning more about specific months and getting travel advice, check out my guides to travelling in Malta in November and December.
Come and enjoy Malta in winter!